I'm not at all surprised the SNP are doing so well in the opinion polls at the moment.
Because
apart from her 'human shield' performance over Dr Catherine Calderwood,
Nicola Sturgeon has been reasonably sure-footed while letting the UK Government take most of the flak for not imposing 'lockdown' earlier, on mass Coronavirus testing, the shortage of PPE and over the change of policy over wearing face masks.
On all of these issues the Scottish Government has been in lockstep with
the UK Government, you couldn't get the proverbial fag paper between the two administrations, yet Boris Johnson and Westminster tend to get the blame when the political going gets tough.
Masks On, Masks Off vs 'Do What You Want' (29/04/20)
The Scottish Government's advice on face masks is now essentially the same as Donald Trump's: officially we are in favour of 'Masks On', but also everyone is free to do what they Goddam well please.
Now I know that wearing face masks is not a substitute for hand washing, or social distancing (where possible) and that the availability of mass testing might be a game changer going forward (though not now).
But in the meantime I can't see people putting up with such a 'facing both ways' policy as public transport gets underway again, for example on busy commuter trains between Glasgow and Edinburgh or on the London Tube.
Masks are at their most effective when worn by people who are already infected because they prevent the virus being spread by unprotected coughing and sneezing.
But some people who have the virus have no symptoms, so how is anyone meant to know who's who?
Another more practical issue is where do people get these masks from because at the moment non-surgical, re-usable, washable masks made from cloth are not easy to buy?
Coronavirus in Scotland: Face coverings recommended in shops and public transport

Coronavirus in Scotland: Face coverings recommended in shops and public transport


SCOTS should consider wearing face coverings when they visit shops or use public transport to protect against
coronavirus
, the Scottish Government has said.
New guidance suggests "there may be some benefit" to coverings such as scarves in enclosed spaces.
But Nicola Sturgeon said the coverings were not being made mandatory due to the relatively weak evidence around them.
At Westminster, the UK Government's expert advisory group SAGE has come to its recommendation on the use of face masks and coverings and has handed it to Boris Johnson and his colleagues but as yet there has been no announcement of a decision. One could come later this week.
The guidance,
published on the Scottish Government website
, says: "Physical distancing, hand washing and respiratory hygiene, are the most important and effective measures we can all adopt to prevent the spread of coronavirus.
"Therefore the wearing of facial coverings must not be used as an alternative to any of these other precautions.
"The evidence on the use of face coverings is limited but there may be some benefit in wearing a facial covering when you leave the house and enter enclosed spaces, especially where physical distancing is more difficult and where there is a risk of close contact with multiple people you do not usually meet.
"Examples include, traveling on public
transport
or entering a food shop where it is not always possible to maintain a two metre distance from another customer.
"There is no evidence to suggest there might be a benefit outdoors, unless in an unavoidable crowded situation, where there may be some benefit
"As some people can have the virus but experience no symptoms (asymptomatic infection), wearing a face covering in the situations outlined above may provide some level of protection against transmission to other people in close proximity.
"However, it remains the case that anyone with symptoms and all members of their household (whether they have symptoms or not), must self-isolate and adhere to the guidance on individual and household isolation on NHS Inform.
"By face coverings we do not mean the wearing of a surgical or other medical grade mask but a facial covering of the mouth and nose, that is made of cloth or other textiles and through which you can breathe, for example a scarf.
"When applying or removing the covering, it is important that you wash your hands first and avoid touching your face.
"After each use, you must wash the face covering at 60 degrees centigrade or dispose of safely.
"Face coverings should not be used for children under the age of two years.
"We are recommending that you consider using face coverings in the limited circumstances described above as a precautionary measure.
"Given that the evidence of impact on transmission is relatively weak, the public use of facial coverings is not being made mandatory and will not be enforced at this
stage
.
"However, we will keep this guidance under ongoing review as we consider any easing of lockdown restrictions in the weeks ahead."
Meanwhile, Downing St hinted that the UK Government might soon follow suit south of the border on guidance on face coverings in public places.
The Prime Minister's spokesman said SAGE, the expert group advising Whitehall on the pandemic, had drawn up advice and this had been given to UK ministers. "Once any decision has been reached, we will announce it publicly."
Asked if the First Minister's announcement was helpful to the four-nation strategy to the outbreak and if it signalled a growing divergence of approach to it between
Scotland
and England, the spokesman said: "There have been points in the response so far where announcements have been made at ever so slightly different times but by and large we have moved forward with a single four-nations' approach.
"The devolved administrations in Scotland, Wales and Northern Ireland have all said this seems to be the case and we would agree with that and we continue to work closely with them."
It was pointed out how Ms Sturgeon had been a few hours ahead of London when she announced school closures, did that mean the UK Government would be following suit later today on the issue of wearing face coverings in public places, the spokesman was asked.
"I'm not expecting anything today, no," he replied.
Governments, Catch-Up and PPE (27/04/20)
I think it's fair to say that the issue of getting Personal Protection Equipment (PPE) to essential, front-line workers during the Coronavirus crisis has been less than sure-footed.
The Scottish and UK governments have both been behind the curve along with other major players including the NHS and local councils.
Who knows, maybe the army ought to have been deployed earlier in the day because, until recently, care staff in both home care and residential settings had to fight to get the supplies they desperately needed.
Even now the official advice to home care staff in Glasgow, Scotland's largest council, is that the wearing of face masks is 'voluntary' and whether to mask up or not is left for individuals to decide which is a crazy policy if you ask me.
What's next: opting in on wearing seat belts, cycling helmets for kids, a voluntary smoking ban?
Now things seems to have improved on the PPE front of late which is good news, but it always feels like the authorities are playing 'catch up' instead of seizing the initiative.
I think it's only a matter of time before the government announces that we must all start wearing face masks at certain, obvious times when social distancing is difficult or impossible - for example when travelling on public transport.
How offers of PPE were 'ignored' by government as Scottish Covid-19 deaths soared
Suppliers say they contacted the Scottish government and had offered to provide supplies as early as mid-March - GETTY IMAGES
By John Boothman, Jason Allardyce and

Mark Macaskill -

The Sunday Times





At least six firms who offered to provide life-saving personal protection equipment (PPE) to the Scottish government were "ignored" as the coronavirus death toll mounted.





The suppliers were poised to deliver millions of face masks, gloves, gowns and hand sanitiser to NHS staff and carers as early as mid-March but the deals failed to materialise due to alleged inaction by government officials.





The disclosure prompted fresh criticism of Nicola Sturgeon's handling of the crisis last night as it also emerged that the first minister failed to attend a string of UK-level cabinet meetings in the build-up to the pandemic.





Boris Johnson, the prime minister, has been challenged for missing five Cobra meetings in January and February, at which the UK's response to the coronavirus threat was drawn up. Sturgeon was also absent, it has been confirmed.





Monica Lennon, health and sport spokeswoman for Scottish Labour, said the public may be "surprised" to learn that the SNP leader failed to attend "those crucial early meetings". Pointing to low levels of testing and tracing, a crisis in care homes, and the "shambolic" provision of PPE for front-line workers, Lennon added: "The first minister is accountable to people in Scotland for her part in this."





Miles Briggs, Conservative MSP for Lothian, revealed that he had referred to ministers and civil servants five firms that could provide PPE, yet most had seen "little to no response".





In a separate case, the owner of an Edinburgh-based company that had partnered with a Chinese supplier gave the Scottish government first option more than six weeks ago on a shipment of millions of test kits, masks and protective clothing. The firm duly completed an application form to become an approved supplier but, after four weeks without word from Holyrood, the shipment was sent elsewhere. "They found it impossible to speak to anyone in the Scottish government who could pursue the offer," said a well-placed source.





The disclosures follow a claim by UK Labour Party leader Sir Keir Starmer that the Westminster government had ignored 36 British firms offering PPE despite warnings of a desperate shortage in NHS hospitals and care homes.





Scottish ministers have indicated a preference for dealing with approved Scottish suppliers to meet "exceptionally high demand" for PPE, but Briggs described standard procurement channels as "slow and clunky".





A former high-ranking Scottish civil servant, who was recently asked by an international PPE firm for assistance in their efforts to reach decision-makers, added: "The government has to ensure value for money and quality, but this all sounds a bit like asking a soldier to fill out a form for more bullets in the middle of a battle."





Figures released yesterday by Health Protection Scotland confirmed that 1,231 patients had died in hospital from Covid-19. Deaths in care homes, not included in that number, stood at 537 on April 19.





A spokeswoman for the Scottish government said it had received 1,600 offers of help from Scottish businesses and individuals to supply or manufacture PPE. A dedicated team and mailbox have been set up to focus on offers from both local and global businesses and manufacturing companies.





"We understand that potential suppliers will desire prompt decisions, but our priority focus is to quickly identify those offers that can supply the largest volumes at the correct quality specifications and timescales necessary to meet the requirements of frontline services," added the spokeswoman.
Protecting Service Users and Essential Workers (21/04/20)
The BBC reports another incident of multiple deaths due to Coronavirus in a Scottish care home - this time in Crosslet House run by West Dunbartonshire Council.
As with other incidents, the authorities are clearly working hard to safeguard residents and staff, but it does seem to have been a real struggle to get the right kind of Personal Protective Equipment (PPE) to essential workers on the front line, in this case to home carers and carers in residential homes.
Coronavirus: '15 dead' after outbreak at care home in Dumbarton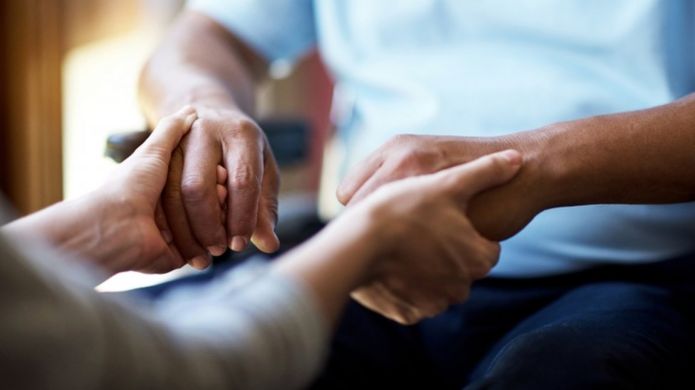 Image copyright - GETTY IMAGES Image caption - A quarter of Scotland's coronavirus deaths have occurred in care homes
Scottish Labour's deputy leader said 15 residents have died following an outbreak of Covid-19 at a care home in Dumbarton.
Jackie Baillie, who is also the local MSP, described the reports from Crosslet House as "devastating".
West Dunbartonshire Council said it has suspended new admissions to the 70-bed home for the time being but declined to comment on the number of deaths.
The
Daily Record reported
the cases were highlighted by a whistleblower.
Ms Baillie tweeted: "Devastating to hear 15 people have died at Crosslet House. My thoughts are with the families who have lost loved ones. Serious questions need to be asked as to the handling of this outbreak. Every staff member and resident must be tested for Covid. There must be no new admissions."
Meanwhile, six residents at an Aberdeen care home are believed to have died with suspected coronavirus symptoms.
Bon Accord Care, the operators of the Kingswells home have confirmed there have been a number of deaths there, and said it has "robust infection control in place throughout the home".
There have been a number of suspected Covid-19 outbreaks in recent weeks.
The largest known have occurred at
Berelands Care Home
, Prestwick;
Burlington Court Care Home
, Cranhill;
Elderslie Nursing Home
, Paisley; and
Hill View
, Clydebank.
Crosslet House is the second Dumbarton home to experience a number of suspected Covid-19 deaths after it emerged eight residents had died in the privately operated
Castle View
.
Last week official figures showed a quarter of Scotland's coronavirus deaths have occurred in care homes.

In response to the outbreak, a West Dunbartonshire Council spokeswoman said: "Our dedicated team of carers at Crosslet House is working round the clock to provide essential care and support to residents and their families during these unprecedented and hugely challenging weeks.

"Testing of staff and residents has already been undertaken in line with guidance and the care home is already closed to new admissions."

The council said its procedures are "thorough" and added: "Morale among our staff remains high and we are hugely grateful for the vital role they are playing in caring for and protecting residents most in need."

A Care Inspectorate spokesman said: "We are aware of the tragic deaths of residents at this care home as a result of suspected cases of Covid-19.

"Our thoughts are with the loved ones of those affected as well as the staff and wider community of the home.

"We have been notified of the circumstances and we are in contact with the care service and the local health and social care partnership during this difficult time."
Face Masks and Essential Workers (19/04/20)
No one else seems to have picked up on The Herald's story about the Scottish Police Federation demanding better face masks for officers who can't observe social distancing in dealing with members of the public.
Now as I said yesterday I don't understand what wrong with the face masks currently supplied to police officers in Scotland, not least because the SPF haven't shred their 'expert evidence'.
But what really surprises me is the special pleading involved because there are lots of other groups of essential workers whose safety needs to be taken into account as well - Home Carers and Residential Care staff being just two obvious examples.
Masks On vs Masks Off (18/04/20)
Here's an odd story from The Herald which reports that the Scottish Police Federation (SPF) are unhappy with the quality of the Personal Protection Equipment (PPE) provided during the Coronavirus pandemic.
What seems odd to me is that the SPF claim that their expert advisers are advising that their PPE supply is 'rubbish' - yet they fail to provide any evidence to back up this claim.
I understand that PPE is now being organised centrally by the Scottish Government which is what you would expect in an emergency situation, otherwise different groups of essential workers would have to compete and scrabble over scarce resources.
But the ordering and distribution system does seem to have real problems because I know that Glasgow's care workers had a real fight on their hands about wearing face masks - and even now the Government and Council policy is that individual workers should be left to decide whether to wear them or not.
https://www.heraldscotland.com/news/18387306.coronavirus-scotland-police-body-raises-concerns-face-masks/
Coronavirus in Scotland: Police body raises concerns over face masks

By Alistair Grant - The Herald

Coronavirus in Scotland: Police raise concerns over face masks

POLICE representatives have raised concerns newly announced protective equipment for officers will not provide any "meaningful protection" against coronavirus.

Police Scotland revealed on Thursday staff will be given surgical face masks to wear when working where it is not possible to adhere to social distancing measures.

But the Scottish Police Federation claimed the scientific case for the personal protective equipment (PPE), known as type two masks, had not been made.

Nicola Sturgeon has pledged to listen and respond to concerns being raised over equipment.

David Hamilton, chairman of the SPF, said: "The demand for PPE amongst our members is understandably high and whilst we note the service is now able to issue type two surgical masks, these will not provide any meaningful protection to officers.

"The advice of our expert panel means that the Scottish Police Federation cannot endorse their use as PPE.

"Our panel is unanimous in its views that the primary aim of the surgical mask is to prevent the wearer from infecting anyone else; and that they offer little effective barrier to the wearer from contracting the virus.

"In short the scientific case that these masks can be used as PPE against Covid-19 has yet to be made."

Police Scotland has secured "initial stocks" of type two fluid resistant surgical masks and is distributing them in response to advice from HealthProtection Scotland, Public Health England and the UK Government.

Officers and staff will be able to use the PPE in low risk situations where they are unable to maintain a two-metre distance from their colleagues or members of the public.

A total of 4,000 of the police workforce have been supplied with the FFP3 mask, which offers an enhanced level of protection through a face-fitted respirator.

Ms Sturgeon was asked about the concerns raised by the SPF during the Scottish Government's daily coronavirus briefing.

She said Police Scotland was using the masks on the basis of scientific evidence from Health Protection Scotland and others.

She said: "We work closely with, not just health and care – although primarily with health and care – but with other parts of the public sector to make sure we have the right supplies, but also that the quality of what is being used is sufficient.

"We will continue to listen to and try to respond to any concerns that are being raised by staff groups, and in this case obviously by the Scottish Police Federation."

Deputy Chief Constable Malcolm Graham said: "We are committed to doing everything we can to protect the public and limit the spread of the virus, and to protect our own people as they carry out their duties.

"We recognise that every day our officers and staff are putting themselves in harm's way and we want them to have the right protection to do their job.

"In line with scientific advice, these surgical masks will be available for use as a precaution for officers and staff dealing with incidents where social distancing measures are not possible."