A reminder of how the fight against Coronavirus looked back in the second week of March 2020
By the time we get to Sunday afternoon Glasgow will have played host to two big football matches, in just three days, attended by over 100,000 people - around one sixth of the city's population.
Yet the very next day the Scottish Government is to ban public gatherings of more than 500 people in an effort to slow down the spread of coronavirus or Covid-19.
Doesn't make much sense if you ask me, especially when these football matches could have been televised and played behind closed doors.


https://www.bbc.co.uk/news/uk-scotland-51851341
Coronavirus: Mass events ban as Scottish virus cases spike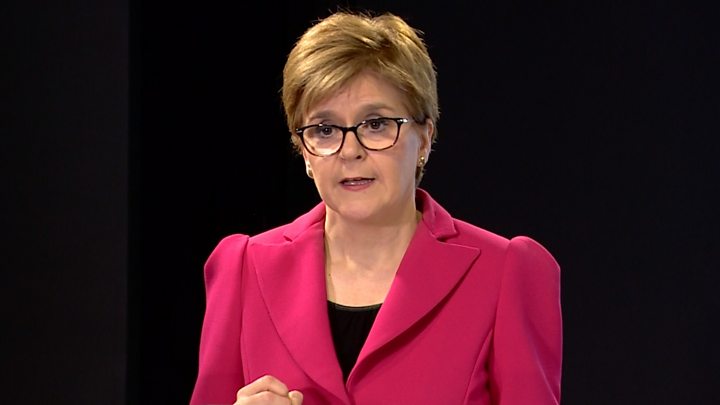 Media caption - Nicola Sturgeon announces advice that all overseas school trips will be cancelled


Gatherings of more than 500 people should be cancelled from next week, the Scottish government has advised.
First Minister Nicola Sturgeon said this was to free up emergency services, including police and ambulance crews, to deal with the coronavirus outbreak.
She said it was not yet necessary to close schools, but advised all overseas school trips should be cancelled.
There have now been 60 cases of Covid-19 confirmed in Scotland - a rise of 24 from Wednesday.

NHS Lothian has the highest number of cases with 11. NHS Greater Glasgow and Clyde has 10.

The first case of coronavirus transmitted within the community was detected in Scotland on Wednesday.

Ms Sturgeon confirmed the UK had now entered the delay phase of controlling coronavirus which would mean a change in guidance.

From Friday, people with coronavirus symptoms should stay at home for a period of seven days. They should not call their GP or NHS 24 unless their condition deteriorates.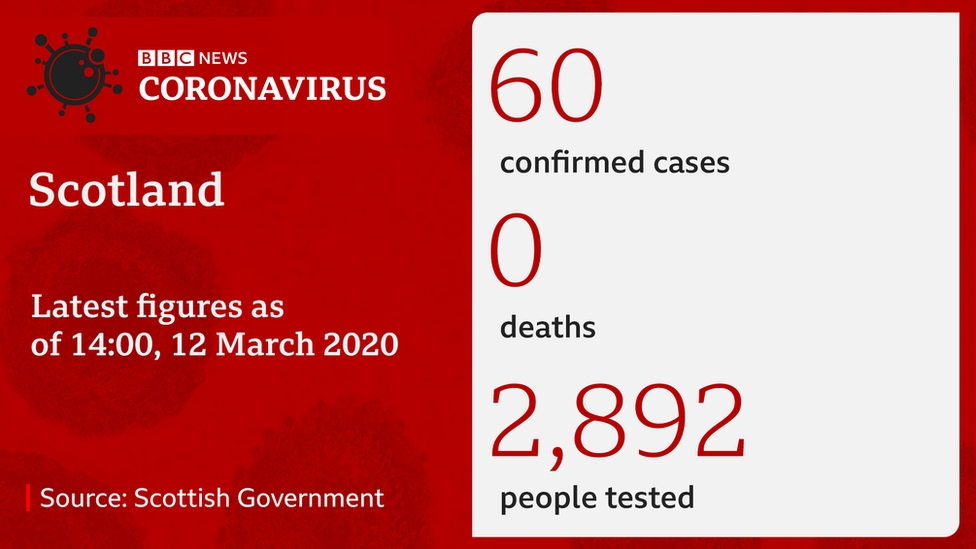 The first minister said the advice on mass gatherings was a Scottish government decision designed to reduce the impact on the emergency services, rather then preventing the spread of the virus.

"We know that certain events have an impact on our policing and frontline health services," she said.

"Our health services in particular will be under acute pressure in the weeks and months to come. I think it is incumbent on the government to do what we can to remove unnecessary burdens on our public services."

Ms Sturgeon said she also wanted to send a clear message that the outbreak should not be treated as "business as usual".
How is coronavirus affecting Scotland?
The Scottish Green Party has cancelled its spring conference
Offshore oil and gas industry says installations will be placed on immediate "lockdown" if a worker on board tests positive for coronavirus
The VisitScotland Expo in Aberdeen, due to take place on 1 and 2 April, has been cancelled after a "significant number of cancellations"
Loganair has announced a reduction in its flights after a "marked drop" in bookings
The Courier newspaper has cancelled its annual Menu Food and Drink Awards ceremony
The Who concert in Glasgow on 23 March is off after the band postponed its UK tour
Another new measure announced by the first minister was the cancellation of all school trips.

But she said that schools, colleges and universities would remain open as their closure would have a "very direct affect on the ability to keep key workers at work".

There are also concerns that young people would instead gather in informal settings where the risk of spreading the virus was higher.

Ms Sturgeon said "complex judgements" needed to be made around school closures as they could potentially last until the end of the summer term.

"If it gets to a stage where the advice is to close schools, this will not be for a week or two weeks," she said.

"This would be something that was advised to last throughout the peak of this infection and that is potentially until the summer period."

The matter would be kept under "very close" review, she added.
Glasgow - Bans and Balls (2) (13/03/20)
So the Scottish Government and footballing authorities have seen sense at the 11th hour by deciding not to proceed with Sunday's Old Firm derby between Rangers and Celtic.
In fact all Scottish football matches have been called off until further notice although
why the authorities have acted so late in the day is beyond me.

Also Sunday's Old Firm game could have gone ahead since the match was already scheduled to be shown live on TV unless, of course, there were any issues with the health and fitness of the players.
https://www.bbc.co.uk/sport/football/51858736
Coronavirus: Scottish football postponed until further notice
BBC Scotland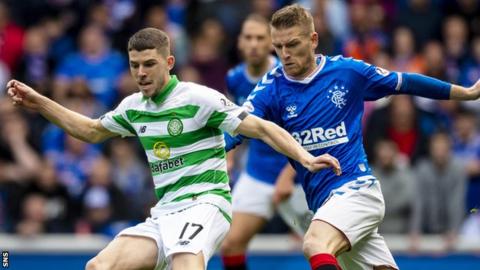 The Scottish football season has been suspended until further notice over fears about coronavirus, the SPFL has confirmed.
SPFL chief executive Neil Doncaster said it was "neither realistic nor possible" to continue with games.
The postponements begin with Friday's Premiership match between Motherwell and Aberdeen, and Queen of the South against Ayr United in the Championship.
Sunday's Old Firm derby at Ibrox will also not be played.
The second leg of Rangers' Europa League last 16 clash with Bayer Leverkusen was earlier postponed by Uefa.
All domestic professional and grassroots football under the jurisdiction of the Scottish FA will be suspended, which includes the Scottish Women's Premier League.
The SPFL has acted after the UK government escalated its response and First Minister Nicola Sturgeon had advised events of more than 500 people should be cancelled.
Scottish FA chief executive Ian Maxwell said: "Today's announcement is made in the interests of public health but, equally, the health and safety of players, match officials, and staff across the game. This is of paramount importance as the country enters the 'delay' phase of the coronavirus pandemic.
"It is also why the Scottish FA is compelled to ensure that the suspension is cascaded through the non-professional and grassroots games until further notice."
SPFL says no money to cover closed door games
Doncaster warns of 'dire financial consequences'
SPFL and Scottish FA chief executives Neil Doncaster and Ian Maxwell

SPFL chief executive Doncaster had previously warned of "dire financial consequences" for clubs if matches were to take place without fans.

Scottish clubs rely heavily on ticket sales, with Uefa's latest benchmark report revealing that 43% of the Scottish top flight's revenue was made up of gate receipts in 2018.

And the league body warned clubs earlier this week that there were no cash reserves to help them in the event of matches taking place without spectators.

Clubs were encouraged to examine their insurance arrangements and that "Every single penny of income from sponsorships, broadcast deals and cup revenue is already paid to the clubs as fees."

One Premiership club told BBC Scotland earlier this week they would be forced to rely on the goodwill of fans to not demand refunds should they not be permitted to attended games.

The spread of the virus has gradually escalated measures across Europe, with games postponed and played without spectators.

Uefa is meeting on Tuesday to discuss its response to the outbreak, and discussions will cover all domestic and European competitions, including Euro 2020.