Spin, Spies and Russian Lies
Vladimir Putin is a lying, dog-faced despot who rules over a rogue Russian state which is an ongoing enemy of peace in the world.
Sending Russian troops to invade eastern Ukraine is just the latest in a long line of ghastly offences including:
1) The invasion and annexation of Crimea in 2014
2) The hounding and imprisonment of Russian opposition leader Alexei Navalny
3) The March 2018 attack on Salisbury using a deadly nerve agent, Novichok, which killed a UK citizen
4) The assassination of domestic critics in Russia including journalists (eg Anna Politkovskaya) and rival political leaders such as Boris Nemtsov in 2015
5) The shooting down of Flight MH17 over Ukraine killing all 298 people on board in July 2014
6) The cowardly murder of Alexander Litvinenko in London using radioactive polonium in November 2006
The west needs to wake up and develop a robust strategy for dealing with Putin and his rogue Russian state.
Donald Trump has said nothing about the poisoning of Alexei Navalny presumably because he doesn't want to upset his friend President Putin.
But politicians in Germany are calling for Europe to take sanctions over the latest use of a weapons grade nerve agent to assassinate President Putin's critics.
https://www.bbc.co.uk/news/world-europe-54010741
Alexei Navalny: Germany urges EU action over Novichok poisoning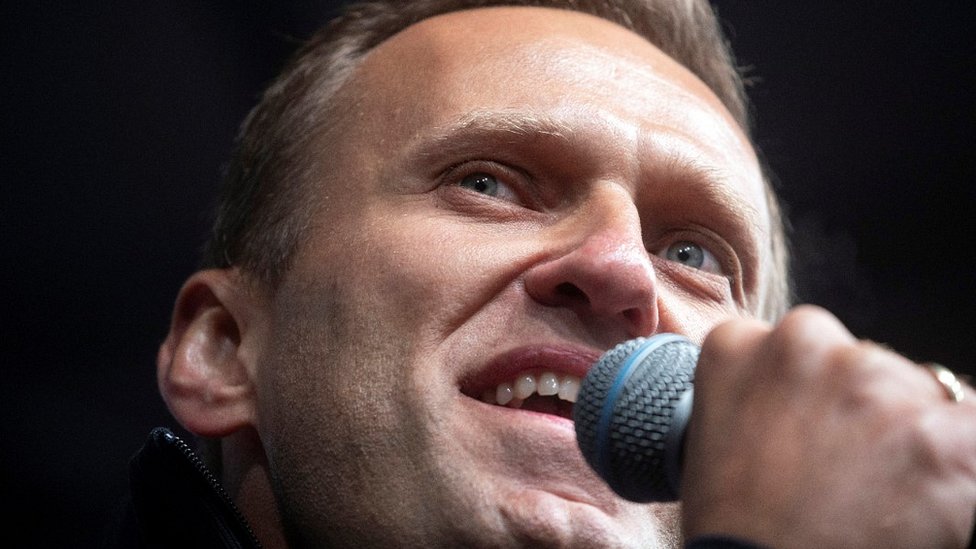 IMAGE COPYRIGHT - EPA image caption - Alexei Navalny is Russia's best-known anti-corruption campaigner


A top ally of German Chancellor Angela Merkel has warned that the EU risks becoming irrelevant if it fails to act against Russia over the poisoning of opposition politician Alexei Navalny.

Norbert Röttgen said a major gas deal with Russia must now be reconsidered.

The Russian government has been widely condemned after Germany confirmed on Wednesday that Mr Navalny had been poisoned with a Novichok nerve agent.

He is gravely ill in intensive care in Berlin's Charité hospital.

Mr Röttgen, chair of the German parliament's foreign affairs committee, demanded a tough EU response in the Navalny case. Novichok is an extremely toxic, military-grade weapon that experts say must have come from a state facility.

"Now, again, we are brutally confronted with the reality of the Putin regime, which treats people with contempt," Mr Röttgen told German public broadcaster ARD.

He noted that President Vladimir Putin had projected Russian power in Syria, Libya and Belarus, and said: "The question is, are the Europeans always going to end up doing nothing? If so, then we'll become irrelevant, we won't be taken seriously."

Earlier Mrs Merkel said Mr Navalny was a victim of attempted murder and the world would look to Russia for answers.

She said there would be an "appropriate joint response" by the EU and Nato, describing the poisoning of Mr Navalny as "an attack on the fundamental values and basic rights to which we are committed".

The Kremlin has rejected the German diagnosis, saying it has not seen the German data on Mr Navalny's condition.

Doubts over Russian gas deal

Mr Röttgen warned that Germany would risk becoming dependent on Russia by completing Nord Stream 2, a controversial 1,225km (760-mile) gas pipeline owned by Russia's Gazprom.

He also warned that doing so would encourage Mr Putin to ignore Western protestations over the Navalny case and other attacks on his political opponents. Mr Röttgen is a candidate to succeed Mrs Merkel as chancellor next year.

On Tuesday Mrs Merkel reiterated her wish to see Nord Stream 2 completed.
President Donald Trump has imposed sanctions on any firm that helps Gazprom to complete the project.
However, his critics are asking why he has not commented on the targeting of Mr Navalny.

"Donald Trump has refused to confront Putin, calling him a 'terrific person'," Mr Biden said.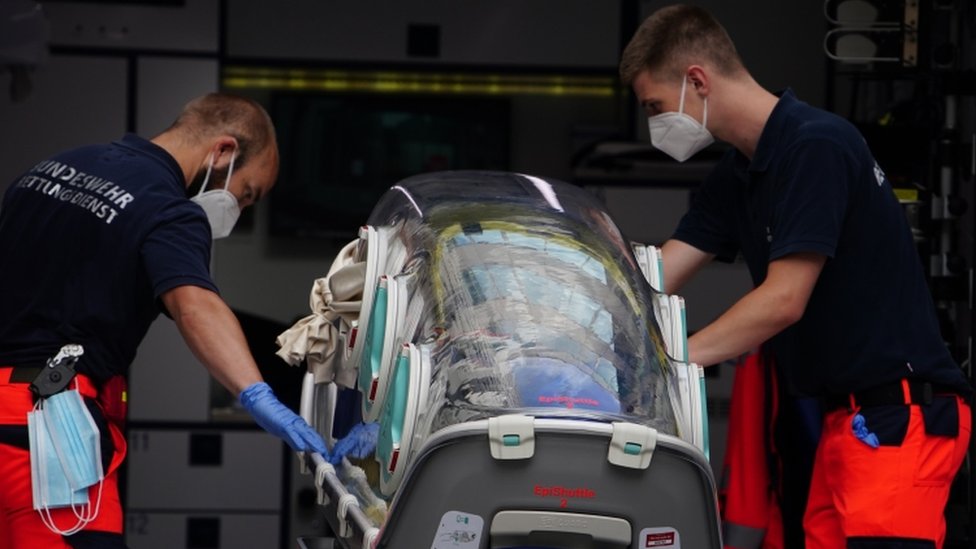 IMAGE COPYRIGHT - EPA image caption Mr Navalny was flown to Berlin on an emergency flight from Omsk in Siberia


Mr Navalny was flown to Berlin after collapsing in pain on a flight in Siberia on 20 August. He was put into a medically induced coma.

His team says he was poisoned on President Putin's orders. The Kremlin has dismissed the allegation.

A team of German specialists has found "unequivocal proof" that Novichok nerve agent was used.
The Charité hospital says it expects Mr Navalny's recovery to take a long time and cannot rule out long-term after-effects, but the agent's blockage of his cholinesterase enzyme is declining.

On Wednesday the Kremlin spokesman called on Germany for a full exchange of information and foreign ministry spokeswoman Maria Zakharova complained the Novichok allegations were not backed up by evidence. "Where are the facts, where are the formulas, at least some kind of information?" she asked.

International outrage

A Novichok nerve agent was used to poison former Russian spy Sergei Skripal and his daughter in the UK in 2018. While they survived, a British woman later died in hospital. The UK accused Russia's military intelligence of carrying out that attack.
In a co-ordinated move, 20 countries expelled more than 100 Russian diplomats and spies, in response to the attack.

The EU has demanded a "transparent" investigation by the Russian government. "Those responsible must be brought to justice,"
a statement read
.
European Council President Charles Michel said "I condemn in the strongest possible terms the attempt to silence opposition leader Navalny with a military grade nerve agent".

Nato Secretary-General Jens Stoltenberg also called for an inquiry
in a tweet
, while the US National Security Council (NSC) said the suspected poisoning was "completely reprehensible".

"We will work with allies and the international community to hold those in Russia accountable, wherever the evidence leads, and restrict funds for their malign activities,"
an NSC spokesman said
.


Alexei Navalny is a name President Putin refuses to say out loud.

It's an attempt to diminish his political significance, but the endless prosecutions, police detentions and giant fines Mr Navalny has faced over the years tell a different story about his impact.

He's certainly annoyed a lot of people, from those targeted by his anti-corruption investigations to Vladimir Putin himself. So it is possible someone wanted to resolve the "Navalny problem" for good.
The timing is largely irrelevant. Why now? Well, why not. But if whoever did this hoped to contain the fallout - a mysterious collapse, never explained by Russian doctors - the fact Navalny's team got him to Germany has blown that calculation.

The "collapse" is now a deliberate attack, and a major international scandal. The Kremlin response so far is familiar: deny, obfuscate, demand proof. Mr Putin's spokesman has even hinted that if Mr Navalny had been poisoned, then it must have happened in Germany because doctors here detected nothing suspicious.

Expect to hear a lot more along those lines in the days to come.
Putin's Russia (25/08/20)
Doctors in Germany confirm that the Russian opposition leader, Alexei Navalny was the victim of a deliberate poisoning attack.
Read the full report via the link below to The Guardian.
https://www.theguardian.com/world/2020/aug/24/alexei-navalny-was-probably-poisoned-says-germany
Tests indicate Alexei Navalny was poisoned, says German clinic

Kremlin critic being treated with same antidote used after 2018 nerve agent attack in Salisbury

By Andrew Roth - The Guardian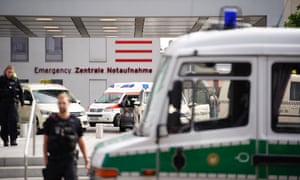 Tests indicate that Alexei Navalny was the victim of a poisoning and he is being treated with atropine, the same antidote used after the 2018 nerve agent attack in Salisbury, the German clinic where the Kremlin critic is a patient said on Monday.

While Berlin's Charité hospital did not identify the specific poison responsible for Navalny's sudden illness on an internal Russian flight last Thursday, the substance was part of a group that affects the central nervous system, and includes nerve agents and pesticides, as well as some drugs.

The statement was the first medical corroboration of a poisoning attack on Navalny and marked him as likely the latest Kremlin opponent to face an attempt on his life.

In a statement, the hospital said Navalny had fallen ill because of contamination from a cholinesterase inhibitor, adding that the specific substance was not known and analysis was ongoing. Cholinesterase inhibitors block an enzyme that is necessary for the proper function of the nervous system.
Putin's Russia (27/05/18)
The BBC reports that a Joint Investigating Team (JIT) representing the Netherlands, Australia, Belgium, Malaysia and Ukraine has concluded that Russia was responsible for the murder of 298 innocent people when Flight MH17 was shot down over eastern Ukraine in 2014.
At the time President Putin denied all responsibility and no doubt will continue to doing so even though there is a clear pattern of Russia's culpability on the world stage:
The murder of Alexander Litvinenko with radioactive Polonium in 2006

Team Russia's systematic cheating in the Sochi Winter Olympics 2014

Large-scale, organised Russian interference in America's presidential election in 2016

The attempted assassination of a former Russian spy, Sergei Skripal, and his daughter Yulia on UK soil in 2018 with a military grade nerve agent
No wonder Russia is widely regarded as a rogue state these days, even if Donald Trump and Jeremy Corbyn are both badly out of step with public opinion.
http://www.bbc.com/news/world-europe-44235402
MH17 missile owned by Russian brigade, investigators say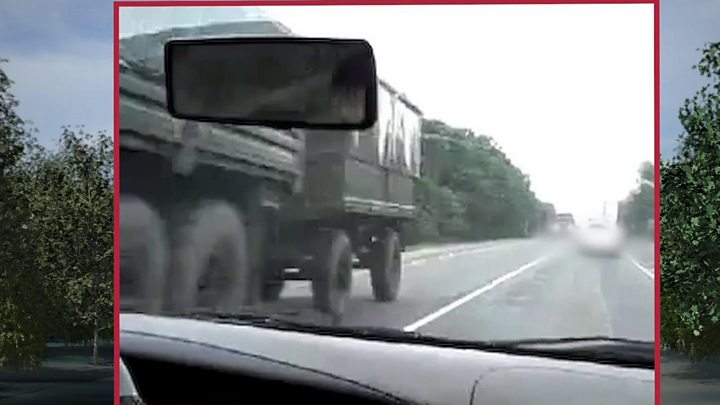 Media caption - Investigators said they had evidence of the route taken by a Russian missile convoy

The missile that downed a Malaysia Airlines flight over eastern Ukraine in 2014 belonged to a Russian brigade, international investigators say.

For the first time, the Dutch-led team said the missile had come from a unit based in western Russia.

All 298 people on board the Boeing 777 died when it broke apart in mid-air flying from Amsterdam to Kuala Lumpur.

It was hit by a missile fired from rebel-held territory in Ukraine. Russia says none of its weapons was used.

But on Thursday Wilbert Paulissen, a Dutch official from the Joint Investigation Team (JIT), told reporters: "All the vehicles in a convoy carrying the missile were part of the Russian armed forces."

He restated the JIT's conclusion that the plane had been destroyed by a Russian-made Buk missile, adding that it had been supplied by the country's 53rd anti-aircraft brigade in Kursk.

At a news conference in the Dutch city of Utrecht, the investigators also showed social media pictures which they said traced the route the missile convoy had taken to reach eastern Ukraine.

What happened to MH17?

The incident occurred at the height of the conflict between government troops and pro-Russian separatists.

The plane left Amsterdam's Schiphol Airport on 17 July 2014 and was due to arrive at Kuala Lumpur in Malaysia on the following day.
Malaysia plane crash: What we know
MH17: Our special report
Who were the victims?

The plane lost contact with air traffic control about 50km (30 miles) from the Russia-Ukraine border.

Media captionIn 2015, the Dutch Safety Board released an animated video showing the flight path of the plane

It crashed in the Donetsk area, in territory controlled by pro-Russian separatists.

Footage was later released by the Ukrainian government suggesting that a Buk missile had been brought in from Russia on the day of the crash, and then taken back across the border the next day.

What has been said about the incident?

In October 2015 the Dutch Safety Board concluded that the plane had indeed been hit by a Buk missile.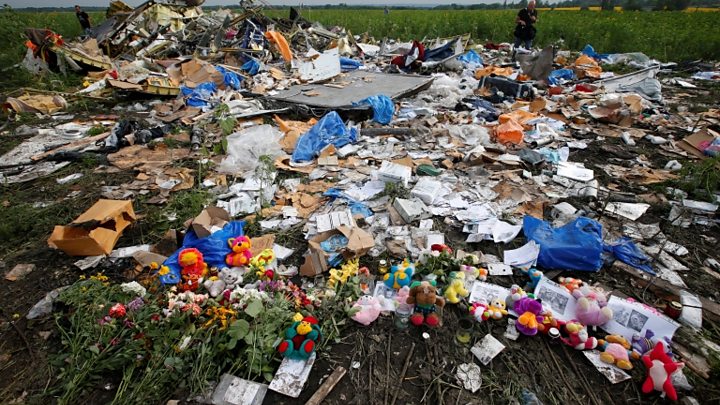 How does a Buk missile system work?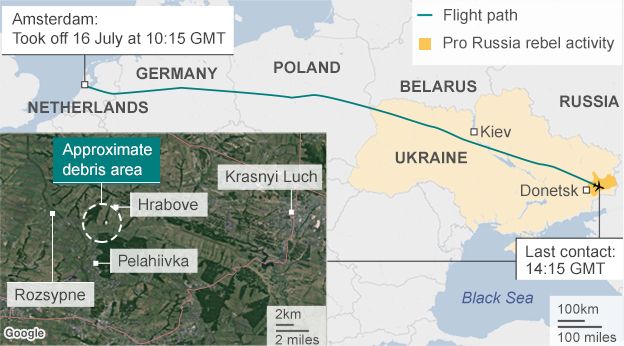 Putin's










Russia and 'Disinformation' (07/04/18)
While Russia continues to pour out disinformation about the chemical weapon attack in Salisbury, here's how the Kremlin responded to the independent investigation into the biggest doping scandal in world sport - there's ever been.
If you ask me, Jeremy Corbyn supporters and their fellow conspiracy theorists are being had - big time!