SNP - Hypocrisy Over Council Pay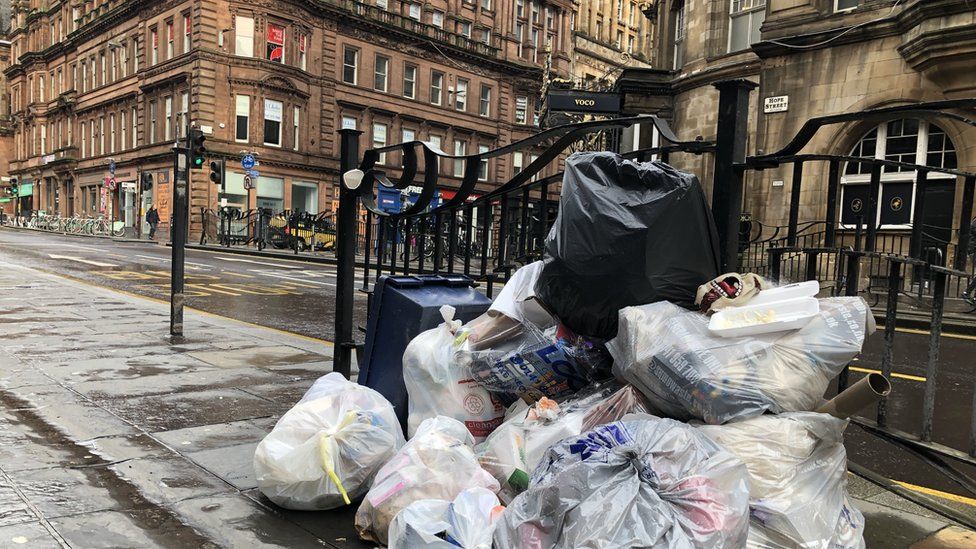 Thousands of council workers across Scotland have voted to take industrial action after rejecting a pay offer of 2%. https://t.co/hWxaizqwWZ

— BBC Scotland News (@BBCScotlandNews) July 26, 2022
SNP ministers face a confrontation with Scotland's council workers who have rejected an insulting 2% pay offer and voted to go on strike.
SNP ministers recently funded a 5.2% pay increase for council leaders (on top of 4.2% last year) with the promise of more to come after a review of councillors pay in 2023.
No wonder council workers are angry.
Council Leaders Receive 9.4% Pay Increase (June 30, 2022)



Since I wrote the original post in this series on councillors' pay - the salary of Glasgow City Council's leader, Cllr Susan Aitken, has jumped up to £58,719
Yes, a whopping increase of £5,152 or 9.4% - in the space of just one year.
Yet a Glasgow council employee on the same salary scale as Cllr Aitken £53,567 will have seen their pay rise by just 1% - or a mere £536.
How can this be social justice and what kind of example does it set when other council workers are being offered so much less?
Glasgow Councillors - Meet Cllr Aitken (May 03, 2022)
I said I would revisit the issue of councillor salaries in Glasgow ahead local council elections, so where better to start than with the SNP Leader, Cllr Susan Aitken.
Cllr Aitken declares a salary of £55, 817 on the council's Register of Interests unlike many of her SNP colleagues who fail to declare their council salaries on the register.
I suspect this is because councillors are not keen for the wider public to understand that they are, in fact, relatively well paid and not low paid.
Now according to the council register Cllr Aitken does not have any other paid employment which is exactly what you would expect, of course.
Because her job as Council Leader has been previously assessed as a full-time role and every local council across Scotland has an agreed allocation of senior (full-time) and backbench (part-time) councillors.
But what Cllr Aitken's entry does not explain is that her £55,817 salary jumped by 4.2% in 2021 - an increase of £2,250 on top of her previous year's salary of £53,567.
Whereas a Glasgow council employee on the same salary (£53,567) as Cllr Aitken saw their pay rise by just 1% - or £536 a year.
Team Sturgeon - High Horses, Pay Rises and Backyards (March 16, 2022)
Nicola Sturgeon is on her high horse about politicians in Westminster accepting pay rises which she seems to think are unfair, but is less keen on what's happening in her own Glasgow backyard.
The First Minister had nothing to say about the bumper 4.2% pay rise awarded to the SNP leader of Glasgow City Council, Cllr Susan Aitken, when other staff on the same salary received an increase of just 1%.
In fact Cllr Aitken's pay increase of £2,250 seems to have beat the increase of 'just over £2,200' paid to Westminster MPs - which includes SNP MPs, of course.
Now who thinks this is could be deliberate?
Scottish Ministers, Dodgy Deals and Council Bosses (March 11, 2022)
Gordy inquired about the pay rise awarded to Glasgow City Council's SNP leader, Cllr Susan Aitken.
And, yes, it's true - the SNP leader received a pay increase of 4.2% while council employees on the same salary were awarded just 1%.
So while the GCC leader says she can't understand why council employees are going on strike - I can't understand how SNP politicians can justify this dodgy councillor pay deal.
Scottish Ministers, Dodgy Deals and Council Bosses (February 08, 2022)




SNP supporters have been engaged in a silly row on social media over something which has zero impact on people's daily lives - the relative number (percentage) of Covid cases in Scotland compared to England.
Meanwhile SNP supporters are curiously silent over an issue which is of real significance to tens of thousands of council employees - the hugely better pay increase awarded to council bosses in Scotland.
Take Glasgow's council leader, Cllr Susan Aitken, as an example - Cllr Aitken received a 4.2% cost of living pay increase last year or an extra £2,250 on top of her old £53,567 salary.
Yet a council employee on the same salary as Cllr Aitken received just 1% - an increase of £536 (rounded up) on top of their £53,567 and a big difference of £1,714 a year.
Similar differences exist further down the council pay scales, but as an experienced negotiator, Unison's former Head of Local Government in Scotland and Joint Secretary of the COSLA bargaining machinery I can think of no good reason for council bosses being given such preferential treatment.
To my mind these pay arrangements are shameful and the exact opposite of leadership, yet they were introduced by Scottish Ministers back in 2017 and have been operating for the past 5 years - without any independent oversight.
For those keen on percentages the pay rise awarded to Cllr Aitken amounts to a 420% increase compared to a council employee in the same pay bracket.
Anyone for social justice and equal pay for work of equal value - instead of the SNP's hidden, deceitful and decidedly dodgy deals?