Starmer: "At bloody last - a leader who is capable and competent"
I didn't see the virtual PMQs (Prime Minister's Questions) at Westminster yesterday, but apparently Keir Starmer had an impressive debut without resorting to politicking or windy rhetoric.
Most Guardian readers seems to agree if the following readers' comments are anything to go by:
The difference between Starmer and Corbyn is instantly obvious. Starmer can think on his feet based on the answer (or lack of) given, Corbyn read from the notes his advisers gave him. I will look forward to seeing Starmer up against Johnson.
R
'At bloody last – a leader who is capable and competent'
M
Starmer has laid down the narrative. He was quick on his feet. Forensic and looked like a winner. A dramatic improvement and a proper opposition.
B
A new day has dawned, indeed.
Top Trolling By Keir Starmer (22/04/20)
Labour's new leader Keir Starmer engages in some top trolling by lavishing praise on the Chief Rabbi, Ephraim Mirvis, who said Jeremy Corbyn was 'unfit' to become Prime Minister.
https://www.politicshome.com/news/article/keir-starmer-heaps-praise-on-chief-rabbi-who-said-jeremy-corbyn-was-unfit-for-high-office?
Keir Starmer heaps praise on Chief Rabbi who said Jeremy Corbyn was 'unfit for high office'

Keir Starmer said it was 'an honour and privilege' to speak to Chief Rabbi Mirvis - Photo (PA)

By Alain Tolhurst - Politics Home

Keir Starmer has praised on the UK's Chief Rabbi just months after he declared that Jeremy Corbyn was "unfit" to become Prime Minister.

The Labour leader said it was "an honour and privilege" to speak to Ephraim Mirvis on Holocaust Remembrance Day.

Rabbi Mirvis was criticised by Mr Corbyn's supporters following his dramatic intervention in the general election campaign last November.

Writing in The Times, he said: "A new poison - sanctioned from the very top - has taken root in the Labour Party."

Rabbi Mirvis said Jews had "been treated by many as an irritant, as opposed to a minority community with genuine concerns" for questioning Labour's attempts to tackle anti-Jewish racism.



EXCL Lord Mandelson accuses Labour officials behind leaked anti-semitism report of trying to 're-write history'

And he added: "How complicit in prejudice would a leader of Her Majesty's Opposition have to be to be considered unfit for office?

"Would associations with those who have incited hatred against Jews be enough? Would describing as 'friends' those who endorse the murder of Jews be enough? It seems not."

But following their talks on Tuesday, Sir Keir tweeted: "It was an honour and privilege to speak to the Chief Rabbi Ephraim Mirvis on such a solemn day.

"I welcomed the opportunity to express my solidarity with the Jewish community on Yom HaShoah. Thank you for your time and I look forward to strengthening our ties."

In respinse, Rabbi Mirvis tweeted: "Thank you to Sir Keir Starmer for his personal call today to convey his solidarity with the Jewish community as we mark Yom Hashoah.

"I welcomed hearing directly of his commitment to take the necessary action to root out antisemitism from the Labour Party as a top priority.

"It is heartening that the task of rebuilding the Jewish community's trust in the Labour Party has begun."

Sir Keir has pledged to "tear out the poison" of anti-semitism from the party in his first speech after his landslide victory in the leadership election.

He said he was "sorry" for the hurt caused during Mr Corbyn's leadership and vowed to make Labour a welcoming environment for Jews again.

It also emerged that senior members of the Jewish community will be invited in to Labour's HQ to provide staff with training on tackling anti-semitism, saying there was a "cultural problem" with anti-Jewish racism which needed to be solved.
A New Day Has Dawned (08/04/20)
Given all the big breaking news stories over the weekend I didn't get round to saying much about the new Labour leader, Sir Keith Starmer.
I'll get round to this in the days ahead, but I do think Starmer made a good start with his passionate commitment to get tough with the antisemitism in Labour's ranks.
"Antisemitism has been a stain on our party. I have seen the grief that it's brought to so many Jewish communities.

"On behalf of the Labour Party, I am sorry.

"And I will tear out this poison by its roots and judge success by the return of Jewish members and those who felt that they could no longer support us."
The sad truth is that Jeremy Corbyn could never have spoken these words or been taken seriously if he had promised to take such action.
Keir Starmer elected as new Labour leader

Sir Keir Starmer has been elected as the new leader of the Labour Party.

The 57-year old defeated Rebecca Long-Bailey and Lisa Nandy in a ballot of party members, trade unionists and registered supporters and will succeed Jeremy Corbyn as opposition leader.

The lawyer, who became an MP in 2015, won on the first round of voting, with more than 50% of the vote.

He said his task was to "lead this great party into a new era, with confidence and hope".

In a video message released by the party, he said it was an "honour and privilege" to have been elected and he hoped Labour "when the time comes can serve our country again - in government".
Live: Reaction to Starmer victory
Profile: Sir Keir Starmer

The full results of the leadership contest were:
Sir Keir Starmer - 275,780 votes (56.2%).
Rebecca Long-Bailey - 135,218 votes (27.6%)
Lisa Nandy - 79,597 votes (16.2%)

Meanwhile, shadow Education Secretary Angela Rayner has been elected deputy leader. She defeated four other candidates but the contest was much closer, going to a third round of voting.

Sir Keir, the MP for Holborn and St Pancras, in London, had been the odds-on favourite to win the contest, having received the backing of more MPs and local Labour branches than his rivals as well as significant union support.

During the three month campaign, he argued he was best placed to unite the party and set it back on the road to power after its heavy defeat in December's general election - which prompted Mr Corbyn to say he would stand down.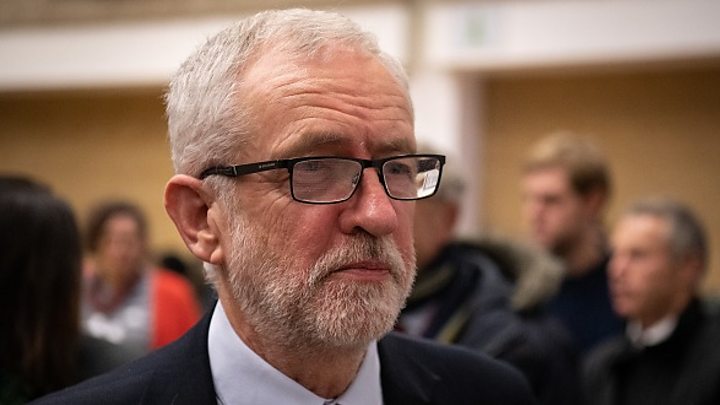 Media caption - Jeremy Corbyn's Labour leadership in two minutes


He has described himself as a socialist but not a Corbynite, and vowed to keep key policies from the Corbyn era, such as nationalising rail, mail and water and repealing anti-union laws, in a
10-point plan
.
But his first task will be to lead Labour's response to the coronavirus emergency, and he has been invited to take part in cross-party talks with Prime Minister Boris Johnson and the government's top scientific advisers next week, to "work together" on the crisis.

'Constructive opposition'

Sir Keir said he had been elected "at a moment like no other" and promised to work "constructively" with the government to confront the pandemic and not engage in "opposition for opposition's sake".

But he added: "We will shine a torch on critical issues and where we see mistakes or faltering government or things not happening as quickly as they should we'll challenge that and call that out."

Sir Keir led the Crown Prosecution Service before entering frontline politics. He served in Mr Corbyn's top team for more than three years where he was responsible for the party's Brexit policy.

Saturday's result was announced by e-mail after plans for a public event were dropped due to the coronavirus crisis.

The outcome means that Labour's long wait for its first permanent female leader goes on - Harriet Harman and Margaret Beckett have both been interim leaders in the past.

In the deputy leadership contest, the 40-year old Ms Rayner beat Ian Murray, Richard Burgon, Dawn Butler and Rosena Allin-Khan. The position has been vacant since Tom Watson stood down at the general election.


Jeremy the Jellyfish (08/11/19)