Donald Trump shows how not to act like a proper leader by 'shooting the messenger' who did his job by bringing a whistleblowing complaint to the attention America's Congress.
Read the full story via the link below to the BBC.
https://www.bbc.co.uk/news/world-us-canada-52164706
Michael Atkinson: Trump fires intelligence chief involved in impeachment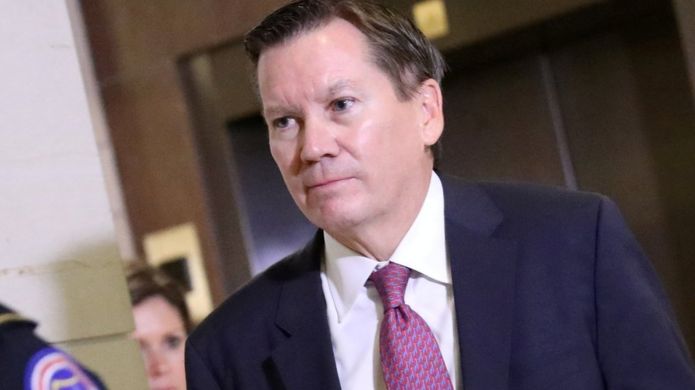 Image copyright - REUTERS Image caption - Democrats accuse the president of trying to settle scores by firing senior official Michael Atkinson


US President Donald Trump has fired a senior official who first alerted Congress to a whistleblower complaint that led to his impeachment trial.
Mr Trump said he no longer had confidence in Michael Atkinson, the inspector general of the intelligence community.
Democrats said the president was settling scores during a national emergency caused by the coronavirus.
They also accused him of trying to undermine the intelligence community.
Last year, Mr Atkinson informed Congress of the complaint that President Trump had allegedly abused his office by pressuring Ukraine to open an investigation into Democratic presidential candidate Joe Biden and his son.
In letters to Congress, Mr Atkinson described the complaint as "urgent" and "credible".
The Democratic-majority House of Representatives voted to impeach the president, but a trial in the Republican-led Senate later acquitted him of all charges.
On Friday, Mr Trump notified Congress that Mr Atkinson would be removed from his post within 30 days. Sources told the Associated Press the official had been placed on administrative leave and would not serve out his 30 days.
"It is vital that I have the fullest confidence in the appointees serving as inspectors general," Mr Trump wrote. "This is no longer the case with regard to this inspector general."
He said he would name a successor "at a later date". Officials quoted by Reuters said Thomas Monheim, a career intelligence professional, would serve as acting inspector general in the meantime.
Democrats reacted angrily to the move.
"In the midst of a national emergency, it is unconscionable that the president is once again attempting to undermine the integrity of the intelligence community by firing yet another intelligence official simply for doing his job," said Senator Mark Warner, the most senior Democrat on the Senate Intelligence Committee.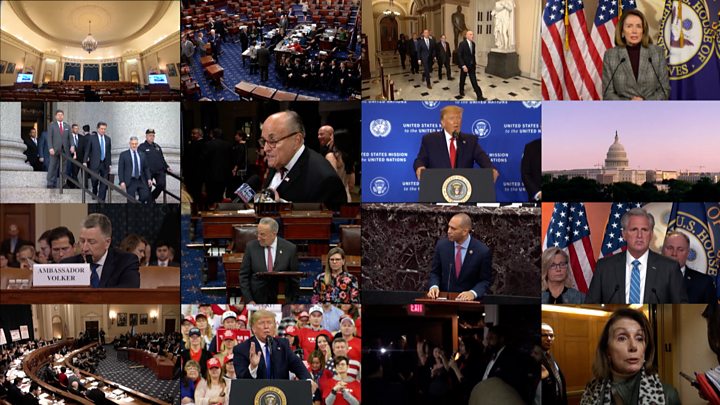 Media caption - The impeachment saga from beginning to end


Congressman Adam Schiff, who chaired the House impeachment hearings, said "the president's dead of night decision puts our country and national security at even greater risk."
"President Trump's decision to fire intelligence community inspector General Michael Atkinson is yet another blatant attempt by the president to gut the independence of the intelligence community and retaliate against those who dare to expose presidential wrongdoing," he said.
Last month
President Trump replaced his acting chief of staff, Mick Mulvaney
, who was perceived to have implicated the president in the impeachment inquiry with an off-the-cuff remark at the White House podium.
Mr Trump has recently come under fire for his handling of the coronavirus outbreak in the US which has so far claimed more than 7,000 lives.
Trump - Coward and Bully-in-Chief (22/11/20)
Lieutenant Colonel Alexander Vindman, a decorated Iraq War veteran, gave sworn testimony in the American Congress the other day detailing his concerns about the behaviour of Trump administration over its foreign policy towards Ukraine.
No sooner had Lt Col Vindman finished giving evidence than the White House (his employer) decided to try and undermine Vindman's credibility on Twitter with the following ugly tweet:
In response to Donald Trump's rabble rousing and attempts at witness intimidation, the US Army placed Lt Col Vindman, and his family, under 24-hour security monitoring.
Donald Trump was, of course, born with a silver spoon in his mouth and is a five times draft dodger from the Vietnam War.
Draft Dodger-In-Chief (16/06/18)
Here's a great photo of America's Draft-Dodger-In-Chief saluting a North Korean general during the recent summit with Kim Jong-un in
Singapore.
Draft Dodger Trump (11/03/18)
D
onald Trump is posing here in a flight jacket and admiral's cap during a recent visit to an aircraft carrier, but it's worth pointing out that America's commander-in-chief is a 'draft dodger' who received no less than five deferments from serving in the Vietnam War.
Apparently one of these deferments was down to 'bone spurs' in both heels although this condition didn't seem to hold Trump back during his four years at university during which time he was regarded as a 'student athlete' who played football, basketball, baseball tennis and squash.
Clearly, self-obsessed narcissists like Trump have no qualms about indulging in such cowardly. shameless behaviour.
Donald J. Trump, center, as a high school senior in 1964 at the New York Military Academy.CreditNew York Military Academy
Draft Dodger Trump (27/02/18)
Donald Trump 'ran the other way' five times during the Vietnam War using the lame excuse of having bone spurs in his heels which had no effect on his ability to play a wide range of sports, of course.
Yet now Trump would have people believe that he would have run towards danger had he been on the scene at America's latest mass shooting incident at Parkland School in Florida.
The man's been 'tested' alright - and even on his own Donald Trump been exposed as a terrible blowhard and blabbermouth.


http://www.bbc.co.uk/news/43202075
Florida school shooting: Trump says 'I'd have run in'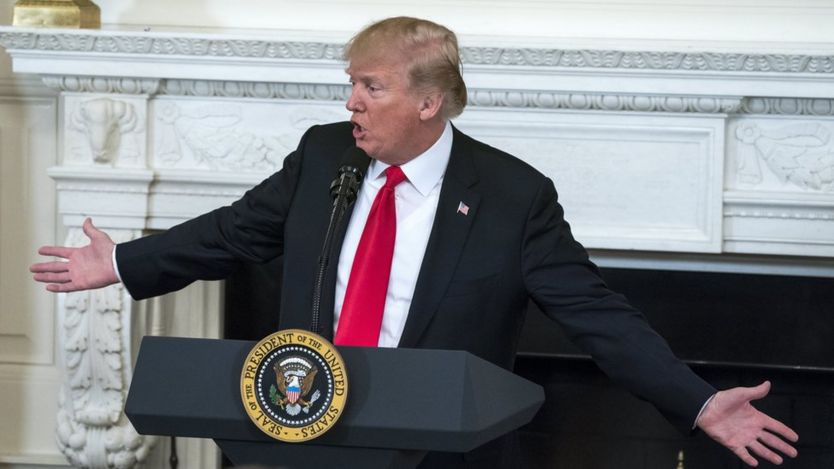 Image copyright - EPAImage caption - President Trump discussing policies to combat mass shootings

US President Donald Trump has said he would have run into the Florida high school where 17 people were shot dead this month even if he was not armed.

"I really believe I'd run in there even if I didn't have a weapon," the president told a group of state governors gathered at the White House.

Mr Trump also said it was "disgusting" that officers reportedly did not confront the suspect on 14 February.

The massacre was the second-deadliest shooting at a US school.

"I think most of the people in this room would have done that, too," said the US president on Monday of his assertion that he would have rushed into the school.

He added: "You never know until you're tested."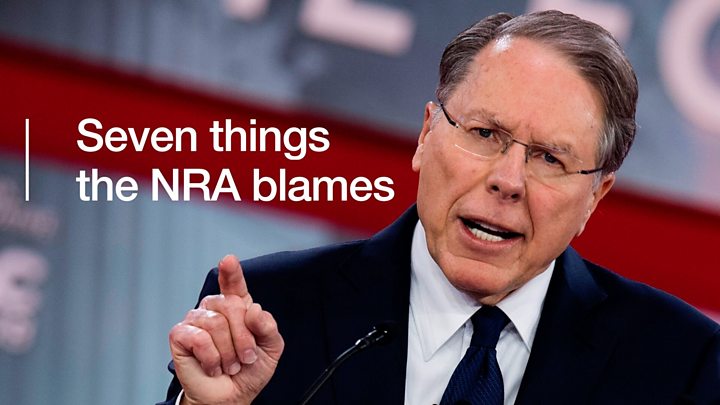 Media caption - Seven things the NRA blames after Florida

A state inquiry was launched on Sunday into law enforcement's response to the massacre at Marjory Stoneman Douglas High School.

Scot Peterson, a sheriff's officer who had been assigned to the high school, resigned last week as it emerged he had remained outside during the shooting,

Broward County Sheriff's Office is reportedly also investigating why three of its deputies apparently remained outside the building as the attack unfolded.

But Sheriff Scott Israel has defended himself from criticism.

"I've given amazing leadership to this agency," he said during an interview with CNN on Sunday.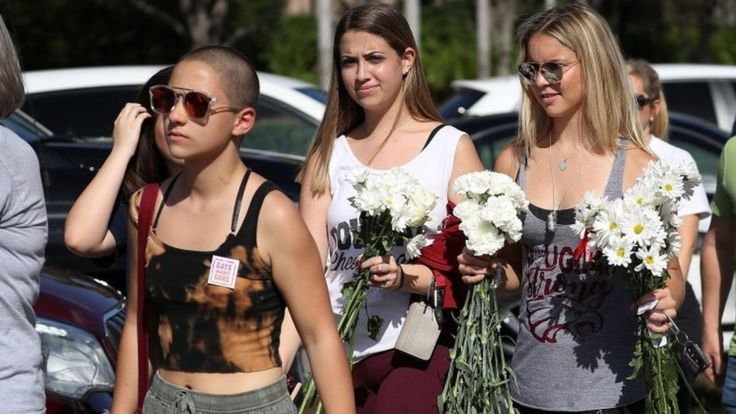 Image copyright - GETTY IMAGES Image caption - Students, including activist Emma Gonzalez (L), returned to school on Sunday for the afternoon.