Emmerson Mnangagwa was President Mugabe's right-hand man and feared enforcer for many years which earned him the nickname of the 'Crocodile'.
But like many despots and demagogues around the world the new President of Zimbabwe appears to have 'got religion' as he prepares to assume power in his troubled country.
So while it's good to see the back of Robert Mugabe, whom Mnangagwa described as his "father, mentor, comrade in arms and my leader", the crucial question is whether Zimbabwe is substituting one tyrant for another.
Zimbabwe's Mnangagwa takes power and vows to serve all citizens



BBC Africa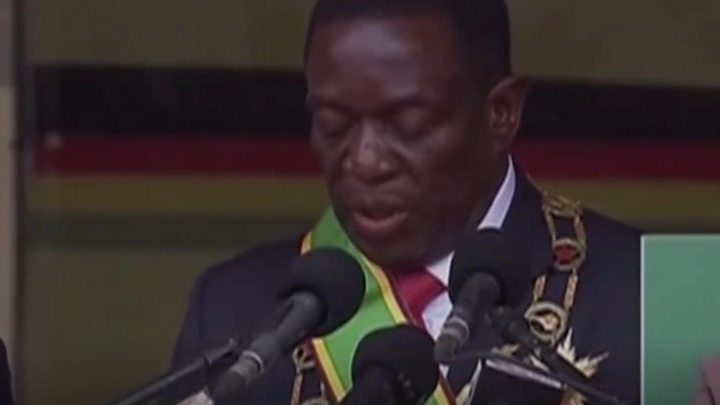 Media caption - President Mnangagwa called Robert Mugabe "a father, mentor, comrade-in-arms and my leader"

Zimbabwe's new President Emmerson Mnangagwa has addressed a packed stadium, vowing to serve all citizens.

He said he felt "deeply humbled" to take the role.

And he said he was "not oblivious to the many Zimbabweans from across the political and racial divide who have helped make this day."

He paid tribute to his predecessor Robert Mugabe - to muted applause - calling him "a father, mentor, comrade-in-arms and my leader".

Mr Mugabe left office dramatically this week after 37 years of authoritarian rule. His departure followed a power struggle in which Mr Mnangagwa was sacked as vice president to pave the way for Grace Mugabe, the then-first lady, to take up the presidency.

Mr Mnangagwa fled the country but returned to a hero's welcome and on Friday struck a conciliatory tone.

"The task at hand is that of rebuilding our country," he said.

"I am required to serve our country as the president of all citizens regardless of colour, creed, religion, tribe, totem or political affiliation."

Although Mr Mnangagwa has unseated Zimbabwe's long-time ruler, he is still associated by many with some of the worst atrocities committed under the ruling Zanu-PF party since the country gained independence in 1980.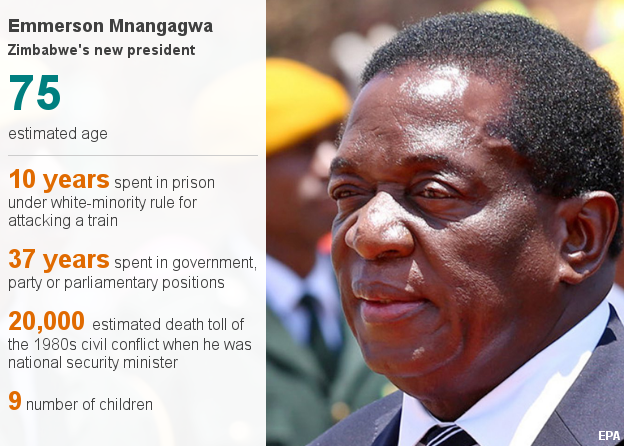 He was the country's spymaster during the 1980s civil conflict, in which thousands of civilians were killed. But he has denied any role in the massacres, blaming the army.
How did the inauguration unfold?

Tens of thousands of people packed the National Sports Stadium in Zimbabwe's capital, Harare, to witness the inauguration. Pop singer Jah Prayzer provided the entertainment and, as people in the crowd danced, the atmosphere was closer to that of a concert.

Dignitaries, including leaders from various African countries, filed in to cheers.

Opposition leaders Morgan Tsvangirai and Joice Mujuru - who both had their sights on the presidency at various times - were there.
Was Mr Mugabe there?

No - and the official reason given was that at 93, the former president needed to rest.

But the fact he is not attending is a reminder that this is no ordinary transition, the BBC's Andrew Harding reports, and that despite Mr Mugabe's official resignation he was forced out by the military.

On Thursday, several reports suggested Mr Mugabe had been granted immunity from prosecution.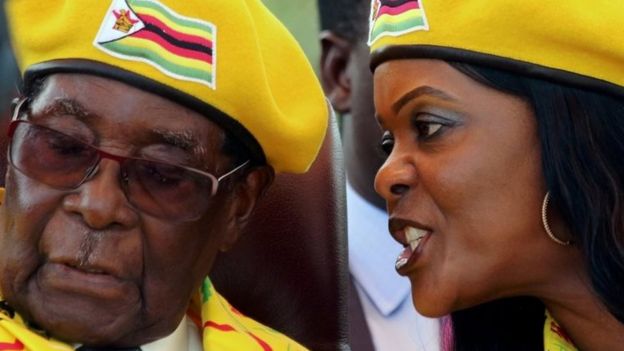 Image copyright - REUTERS Image caption - President Mugabe was accused of preparing the presidency for his wife Grace

Local media are reporting that Mr Mnangagwa has offered the Mugabe family "maximum security and welfare".

The former president "expressed his good wishes and support for the incoming president," the Herald newspaper reports.
How did Zimbabwe get to this point?

The news on Tuesday that Mr Mugabe was stepping down sparked wild celebrations.

It came in the form of a letter read out in parliament, abruptly halting impeachment proceedings against him.

He had been under pressure since the military took control of the country a week before, seizing the headquarters of the national broadcaster.

Although Mr Mugabe was largely under house arrest for several days, he appeared to be resisting pressure to stand down.

On Saturday, tens of thousands of Zimbabweans took to the streets of Harare to urge him to go. The demonstration was led by veterans of the country's war of independence, who last year turned against him.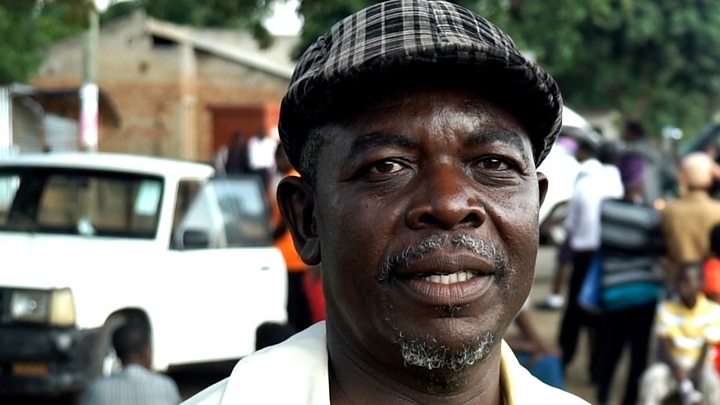 Media caption - A pensioner, an activist and a white farmer share hopes for Zimbabwe's future

On Sunday, Zanu-PF sacked Mr Mugabe as its leader. Two days later, he resigned as president.

In his letter, he said he was resigning to allow a smooth and peaceful transfer of power, and that his decision was voluntary.
Will the change be good for the economy?

Zimbabwe's economy is in a very bad state. It has not recovered fully from crises in the last decade, when rampant inflation grew so bad the country had to abandon its own currency. Now, according to some estimates, 90% of people there are unemployed.

Its main industrial index has slumped by 40% since last week's military intervention and the stock market has shed $6bn (£4.5bn) in a week.
Five things Zimbabwe's economy urgently needs
Ten numbers that will help you understand what's going on

Analysts say the market is now correcting itself, optimistic of a change of economic policy under Mr Mnangagwa.

However, the International Monetary Fund has warned that Zimbabwe must act quickly to dig its economy out of a hole and access international financial aid.

In his speech, Mr Mnangagwa said he would base a new economic policy on agriculture and foreign direct investment. He has pledged to create jobs.

He also said the country's land reform programme would not be reversed, but pledged to compensate farmers for the land that was confiscated from them.

The seizure of land from white farmers is seen as a key factor in the country's economic meltdown.
What comes next?

On Thursday, Zimbabwe's main opposition MDC party called for deep-rooted political reform to dismantle the repressive apparatus that sustained Mr Mugabe's regime.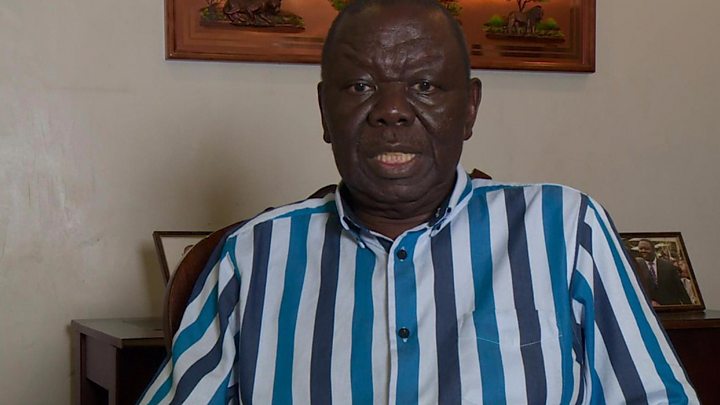 Media caption - Leader of the opposition MDC party, Morgan Tsvangirai, warns of a "power retention agenda"

MDC leader Morgan Tsvangirai said the "culture of violence" and "culture of corruption" had to be changed after "after so many years of Zanu-PF misrule".

It is unclear whether Zanu-PF will govern alone ahead of scheduled elections next year, or whether a coalition government of national unity that includes opposition groups will be formed.

Mr Mnangagwa confirmed in his speech that elections would be held as planned.
Demagogues and Dictators (24/02/17)
Donald Trump brags that if he shot somebody on 5th Avenue and his loyal supporters wouldn't mind.
I think that's probably true, sadly, but if you ask me this is the ugly language of dictators and demagogues.
In fact it's quite similar to a comment made by Grace Mugabe (51) that her 92-year-old husband President Robert Mugabe could stand for election as a corpse.
I think that's probably true as well and Isn't it curious that both Mugabe and Trump have much younger 'trophy wives'.
http://www.bbc.com/news/world-africa-39010667
Even a dead Robert Mugabe could stand in Zimbabwe election - wife



BBC Africa


Image copyright - REUTERS Image caption - Grace Mugabe (left) has often professed undying loyalty to her nonagenarian husband

The wife of Zimbabwe's 92-year-old President, Robert Mugabe, has said that he is so popular that if he died, he could run as a corpse in next year's election and still win votes.

Grace Mugabe, 51, was addressing a rally of the governing Zanu-PF party.

Mr Mugabe has governed Zimbabwe since the end of white-majority rule in 1980 following a bitterly fought war.

His wife, who has often professed her undying loyalty to her husband, has assumed an increasingly high profile.

"One day when God decides that Mugabe dies, we will have his corpse appear as a candidate on the ballot paper," Mrs Mugabe told the rally in Buhera, south-east of the capital Harare.
Zimbabwe pastor held over death prophecy
Mugabe jokes over health rumours
Zimbabwe sculptor denies mocking president

"You will see people voting for Mugabe as a corpse. I am seriously telling you - just to show people how people love their president."

President Mugabe has been backed by his party to stand again in next year's election, but recently cut back on his public engagements.

Grace Mugabe has warned contemporaries of Mr Mugabe from the guerrilla war era that they are not in a position to replace him because they likewise would be too old.

"Anyone who was with Mugabe in 1980 has no right to tell him he is old. If you want Mugabe to go, then you leave together. You also have to leave. Then we take over because we were not there in 1980," she said, gesticulating towards herself.
Image copyright - REUTERS Image caption - Mr Mugabe, 92, has mocked previous rumours of his death

Last September, the president was rumoured to have died after he reportedly cut short his attendance of an AU summit to fly to Dubai for a health check.

Mr Mugabe later joked about the rumours, saying he indeed died but was only resurrecte
d.
Democracy vs Demagogues (01/01/17)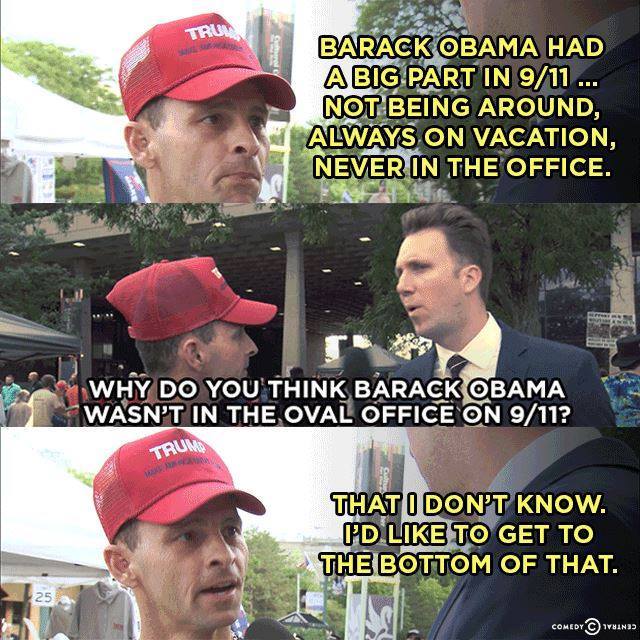 Jordan Klepper and the The Daily Show provide a valuable insight into the mind the average Trump supporter.
Scary, if you ask me, and a big wake-up call that democrats everywhere have their work cut out in dealing with demagogues like Donald Trump.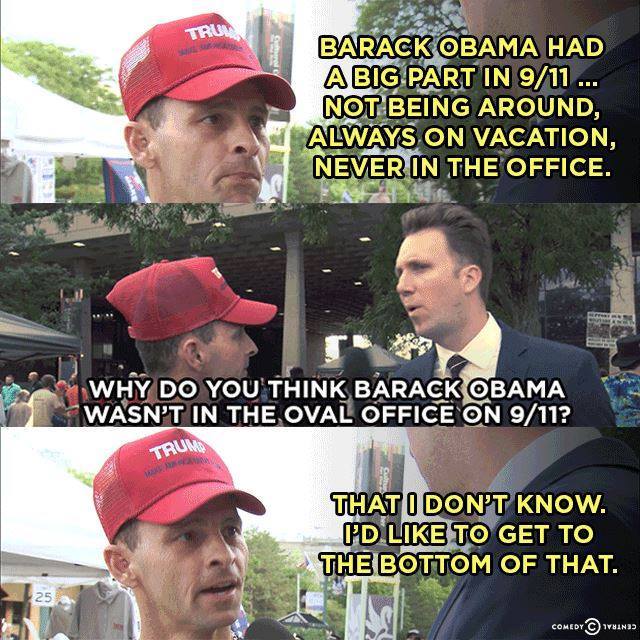 Lots of Donald Trump's supporters are successful, intelligent and often people, but a significant number are lumpen 'hillbillies' like this chap who believes that Barack Obama played a big part in the 9/11 terror attacks on America in 2001.
Now that was fully seven years before Barack Obama won his first presidential election in 2008, but why let the facts get in the way of a good story, as the saying goes.
But that's the state of American politics these days where ugly lies and fake 'news' stories are all 'grist to the mill' of Trump's right wing supporters who have taken over the Republican Party.
Mr and Mrs (23/08/14)
Robert Mugabe has been in power continuously for 34 years, but according to this report in The Scotsman the old despot is planning to cement his grip on power from beyond the grave by helping his wife Grace to join Zimbabwe's Government, which bears more than a passing resemblance to the way 'democracy' works in China.
But it will all end in tears if you ask me, because look what happened to many of the Spanish banks (to use a non-political analogy) which went bust after promoting people without any relevant experience or skills to their boards of directors - a completely corrupt and short-sighted practice that brought Spain's financial sector to its knees.
So what passes for democracy in Zimbabwe is about to become even more of a laughing stock.
Robert Mugabe's wife step closer to top job

Robert Mugabe, 90, kisses his wife Grace, 49, who has a seat on Zanu-PF s top decision-making body. Photograph: AP

By JANE FIELDS - The Scotsman

ZIMBABWE'S ruling party's women's league has picked president Robert Mugabe's wife Grace to be its new head in an appointment that will ­cement his hold on power – even after he dies.

Grace Mugabe, 49, was the only candidate for the post which now guarantees her a seat on her husband's Soviet-style politburo, Zanu-PF's top decision-making body.

The former State House ­typist appeared nervous as she delivered her acceptance speech in front of Mugabe late on Friday, telling him and the 4,000 delegates gathered for the women's league elections in Harare that she would "work for the nation".

"I know that you'll be there for me," she said. "You'll teach me as we go and I know if I make mistakes you're going to correct me and hopefully we're going to keep this unity of ­purpose."


Her sudden entry into politics is reported to have been prompted by her 90-year-old husband's anger at factional fighting within Zanu-PF, which threatens to split his party ­after more than 30 years in power.

Best known for her love of designer outfits and sanctions-busting shopping in western capitals, Grace Mugabe has until now confined herself to charity work, her study of the Chinese language and overseeing the family's vast business interests.

She married Mugabe in 1996, though this month she said she had been in a relationship with him for "nearly 
30 years". They have three ­children.

Analysts say she has been propelled forward to dilute the power of vice-president Joice Mujuru, a party "moderate" who until recently was a favourite in the battle to succeed as president.

Mujuru, whose army general husband Solomon was killed in a suspicious housefire three years ago, was defiant at the conference, opening her speech with the Shona song Some People In Our Midst Are Plotting Against Us.

The elevation of "Mother Mugabe" – as state media calls Grace – appears to benefit for now Mujuru's main rival, ­justice minister Emmerson Mnangagwa. But there is speculation that Robert Mugabe is grooming his wife to take over the presidency to safeguard his property and business empire and to stop the ruling party disintegrating. He has been in power in Zimbabwe since independence in 1980 and has said he cannot step down while Zanu-PF is so divided.

In her speech, Grace Mugabe appeared to echo her husband's concerns, saying: "I hope this animal called factionalism will come to an end. And hopefully one day this word factionalism is something we will not talk about."

In a sign of his frustration, the Zimbabwe president told the women's league that all members of his politburo and central committee would have to resign before December "so new ones can be chosen". If ­implemented, the move will ­affect more than 230 Zanu-PF officials. His wife's position will only be made official at a party congress at the end of the year so she will not be ­affected.

Yesterday prominent Zimbab­wean newspaper publisher Trevor Ncube tweeted: "President Grace Mugabe… It now looks possible."

The previous head of the women's league was Oppah Muchinguri, widely believed to have had a relationship with Robert Mugabe during the 1970s war for independence.

Meanwhile, his wife has ­recently moved into chocolate production, according to official Herald newspaper reports. Her Alpha Omega dairy in ­Mazowe has imported equipment from Europe that will allow it to double milk output and start producing chocolate and "sandwich" ice-cream, said ­Alpha Omega group general manager Stanley Nhari. The dairy, bankrolled by the president, is one of the biggest in southern Africa. The Mugabes have taken over several white-owned commercial farms since the start of the land reform programme in 2000.