Alex Salmond continues his slide towards political irrelevance with the news that the former SNP leader has lost his complaint against The Herald to an independent press watchdog - IPSO.
Now some people do believe in the old adage that 'all publicity is good publicity', but all Alex has managed to achieve here is to draw attention to the fact that he is helping to promote a 'fake news' TV channel.
Read he full report via the link below to The Herald - some of the angry comments from diehard Alex Salmond supporters are hilarious.
http://www.heraldscotland.com/news/16156093.Press_watchdog_rejects_Salmond_complaint_against_The_Herald/
Press watchdog rejects Salmond complaint against The Herald
By Tom Gordon - The Herald


THE independent press watchdog has rejected a complaint from former First Minister Alex Salmond about The Herald's reporting of his debut show on a Kremlin-funded TV channel.

Mr Salmond had complained about The Herald's coverage of discrepancies among a series of tweets shown on the Alex Salmond Show on RT on November 16.

Described as coming from an "avalanche" of contacts from the public, these included a tweet from an account which had never tweeted, and a tweet from the show's series director.

Mr Salmond complained an article headlined "Salmond sparks 'fake news' row with new TV show" published online breached the Editor's Code of Practice with regard to accuracy.

However the Independent Press Standards Organisation (IPSO) agreed there had been discrepancies in the comments broadcast on RT and The Herald "had a reasonable basis for characterising the response to this as a 'fake news' row."

IPSO said there was no breach of the accuracy clause of the Code, and hence no need to publish a correction.

Read the full IPSO ruling

IPSO also rejected a parallel complaint from former SNP MP Tasmina Ahmed-Sheikh, who is Mr Salmond's business partner and co-presenter on the RT show, after a report on November 18 about her position on the SNP's ruling national executive committee (NEC).

The story reported a disability rights campaigner urging the SNP to remove her from the NEC on the grounds her role as equalities convener was "not compatible" with having a business relationship with RT, given Russia's record on gay rights.

Ms Ahmed-Sheikh complained The Herald had inaccurately reported that she had declined to respond to a request for comment about the criticism.

Alex Salmond denies he works for Kremlin "propaganda" channel

However IPSO ruled that, while Ms Ahmed-Sheikh, had replied to The Herald, she had attacked the paper, rather than addressing the criticism about her.

The IPSO judgment said: "The comment provided by the complainant did not engage with this criticism; but criticised the newspaper instead. The newspaper's interpretation of Ms Ahmed-Sheikh's response to its enquiries was not unreasonable."

Alex Salmond RT show to be probed by Ofcom

The broadcasting regulator Ofcom is currently investigating the Alex Salmond Show over the accuracy of the tweets on the November 16 show.
Propaganda TV Channel
I don't know Andrew Tickell, nor am I familiar with his political opinions, but he does seem to be genuinely baffled that a former First Minister of Scotland seems willing to destroy his reputation over a Kremlin controlled, propaganda TV channel.
Ashen faces round wreck of Salmond's career



By Andrew Tickell - The Times

The unrepentant behaviour of a Scottish political giant is baffling to former friends and allies

In human affairs, there are known knowns, known unknowns, and unknown unknowns, as Donald Rumsfeld said. So let's start with the known knowns. We know the Russian Federation invaded Georgia in 2008 in an overwhelming display of aggression. We know it has de facto control of Abkhazia and South Ossetia. We know it compounded the fault in 2014, forcibly annexing Sevastopol from Ukraine under a false flag of self-determination.

We know the Russian authorities lied about the involvement of their armed forces in illegally occupying Crimea. We know that RT, formerly Russia Today, continues, biddably, to parrot these lies. We know Russia has been responsible for cyberattacks across Europe. We know it interfered in the EU referendum and the US presidential elections.

We know Sergei Skripal and his daughter have been poisoned on the streets of Salisbury. We also know the Russian state was responsible for the murder of Alexander Litvinenko in London in 2006, and goodness knows who else in the intervening period. And that's not counting Russia's internal repression of inconvenient political opponents.

And, before a single ballot box is opened, before a single vote is counted, we also know that the Russian Federation will wake up today to Vladimir Putin's fourth term as president. As the SNP MP Stephen Gethins observed yesterday, any attentive student of current affairs must know that "in terms of human rights activists, journalists and politicians, Russia is one of the most dangerous places to be".

The Russian government's character as self-interested, shady, authoritarian, propagandising and indifferent to the rule of law can strike no thinking person as a startling revelation of the spring of 2018, least of all a senior politician whose lengthy and distinguished career has disclosed a continuing preoccupation with foreign affairs. So the curious question remains: why did Alex Salmond get himself in hock with RT in the first place? The former first minister signed on in November last year, under the long shadow of Robert Mueller's investigation in Washington, and the grim weight of the known knowns about Mr Putin's government and how it operates. With his piercing intelligence, and all his understanding of the guts and gore of modern politics, the idea that Mr Salmond doesn't understand Mr Putin's butcher's bill is fanciful.

I'm at a loss as to how he keeps going. The leading Scottish politician I remember — the democrat, the defender of regional autonomy, the supporter of gay rights and of self-determination exercised within the limits of international law — surely ought to look at Mr Putin's regime and baulk. And in contemplating the complicity of RT, Mr Putin's state megaphone? Well, think of it this way. If Mr Salmond's media analysis is sufficiently penetrating to detect bias in the BBC's output on the Scottish national question, the idea that Mr Putin's Pravda for the Facebook age is beyond reproach is — similarly — fanciful.

However, Mr Salmond seems determined to double down on it. Why he has done so is one of the great unknowns of Scottish politics. His behaviour seems baffling to former friends and allies, though its effects are palpable. His spectre loomed over first minister's questions at Holyrood, conveniently allowing Ruth Davidson to avoid scrutiny of the roubles swilling around her own Russian fundraising.

Thundering columns argue he must demit the Kremlin's channel for good. Granted, some of these people hate and have always hated Mr Salmond. Many have branded him RT's "useful idiot" but this kind of invective misses the sadder reading of his decisions. Because Mr Salmond is no fool. In my experience, even his direst foes once treated him as a force to be reckoned with. They had no alternative. You might disagree with his ends, you might finds the ends disagreeable, but Alex was undeniably the indispensable politician of his day. For his allies, he was a good luck talisman, our man, putting the nationalist case during the lean years and the good with gusto, character and without fear.

His opponents learnt he achieved several impossible things before leaving office. He pushed independence into the mainstream. He led it to a narrow defeat in 2014. He left the once indomitable Labour Party a smouldering wreck behind him and the battered remnants of the Liberal Democrats tucked away in a glove compartment.

By tilting Scottish politics towards constitutional matters, he is as much the parent of the Scottish Tory revival as Mrs Thatcher was for demands for greater self-government during the 1980s. The political reactions may not be equal and opposite, but consciously or unconsciously, everyone in modern Scottish politics falls under Mr Salmond's shadow.

Perhaps that's why, round the decay of the colossal wreck of his political career, in the rubble of its successes and failures, you see so many ashen faces.

We're invested in our heroes, but although we often miss it, we're invested in our nemeses too. When their feet crumble into clay, we all find we've lost something.

Magnus Linklater is away
Moscow Mocks Assassination Attempts (10/03/18)
The Guardian reports that Russian state TV has been 'mocking' the assassination attempt on a former spy, Sergie Skripal, and his daughter, Yulia, as well as making fun of the demise of other Russian nationals who have died in mysterious circumstances while living in the UK.
Moscow has complained that the coverage of these terrible events in the western media amounts to an 'anti-Russian campaign', but the facts speak for themselves and the pattern of behaviour point to a deliberate policy of state sanctioned murder.
https://www.theguardian.com/world/2018/mar/09/russian-state-tv-warns-traitors-not-to-settle-in-england
Russian state TV warns 'traitors' not to settle in England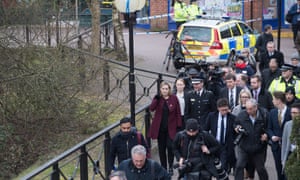 After Salisbury poisoning, host says there have been 'too many strange incidents' in recent years

By Marc Bennetts - The Guardian

Russian state television has warned "traitors" and Kremlin critics that they should not settle in England because of an increased risk of dying in mysterious circumstances.

"Don't choose England as a place to live. Whatever the reasons, whether you're a professional traitor to the motherland or you just hate your country in your spare time, I repeat, no matter, don't move to England," the presenter Kirill Kleymenov said during a news programme on Channel One, state TV's flagship station.

"Something is not right there. Maybe it's the climate. But in recent years there have been too many strange incidents with a grave outcome. People get hanged, poisoned, they die in helicopter crashes and fall out of windows in industrial quantities," Kleymenov said.

The stark warning comes as the former Russian double agent Sergei Skripal and his daughter, Yulia, remain critically ill in hospital after being poisoned with a nerve agent in Salisbury. Moscow has labelled speculation that they were targeted by the Kremlin security services as an "anti-Russian campaign".

A number of Kremlin critics have met grisly ends in Britain in recent years. Boris Berezovsky, an oligarch turned government critic, was found hanged at his home in Berkshire in March 2013. The coroner delivered an open verdict. Alexander Litvinenko, a former FSB security service officer, died in 2006 after being poisoned with polonium-210 in the lobby of a Mayfair hotel, allegedly by Russian hitmen. Vladimir Putin dismissed accusations of Russian involvement.

In 2012, Alexander Perepilichnyy, a former banker who was helping Swiss prosecutors investigate a Russian-linked money-laundering scheme, died after collapsing in Surrey. A pre-inquest hearing heard that traces of a chemical that can be found in the poisonous plant gelsemium were later found in his stomach. The inquest is due to resume next month.

Stephen Curtis, a millionaire lawyer with close ties to the exiled Russian tycoon Mikhail Khodorkovsky, died when his helicopter crashed close to Bournemouth airport in 2004. Curtis is reported to have told a close relative that if he were to die, it would not be an accident. One of Curtis's associates, Scot Young, who had business links to Berezovsky, was found impaled on railings after falling from his apartment in Marylebone, central London, in 2014. The coroner found insufficient evidence to rule it a suicide, and his family suspect he was murdered.
Putin's Russia (06/03/18)

The BBC reports on a incident in the normally quiet county of Wiltshire involving a former Russian spy, Sergei Skripal, who appears to be the victim of some kind of mysterious poisoning.
Lots more to follow on this story I'm sure including, no doubt, a statement from President Vladimir Putin denying any involvement of the Russian state.
Putin's denial will follow a long line of similar denials such as:
The murder of Alexander Litvinenko with radioactive Polonium in 2006

Team Russia's systematic cheating in the Sochi Winter Olympics 2014

The shooting down of civilian Flight MH17 over Eastern Ukraine in 2014

Large, scale organised Russian interference in America's presidential election in 2016
In addition many of Putin's internal critics have died suddenly and violently including the Russian journalist Anna Politkovskaya and opposition politician Boris Nemtsov, both of whom were gunned down by assassins in Moscow.
http://www.bbc.co.uk/news/uk-43295134
Critically ill man is former Russian spy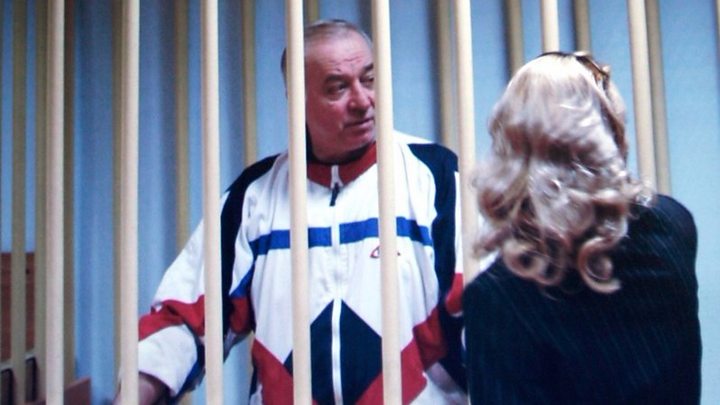 Media caption - "He was doing strange hand movements, looking up to the sky": What we know so far

A man who is critically ill after being exposed to an unknown substance in Wiltshire is a Russian national convicted of spying for Britain, the BBC understands.

Sergei Skripal, 66, was granted refuge in the UK following a "spy swap" between the US and Russia in 2010.

He and a woman, 33, were found unconscious on a bench at a shopping centre in Salisbury on Sunday.

Zizzi restaurant in Salisbury has been closed by police "as a precaution".

The substance has not been identified.

Wiltshire Police are investigating whether a crime has been committed. They said the pair had no visible injuries but had been found unconscious at the Maltings shopping centre.

They have declared a "major incident" and multiple agencies are investigating. They said it had not been declared as a counter-terrorism incident, but they were keeping an "open mind".

They said officers did not believe there was any risk to the wider public.

Col Skripal, who is a retired Russian military intelligence officer, was jailed for 13 years by Russia in 2006 for spying for Britain.
He was convicted of passing the identities of Russian intelligence agents working undercover in Europe to the UK's Secret Intelligence Service, MI6.

Russia said Col Skripal had been paid $100,000 for the information, which he had been supplying from the 1990s.

He was one of four prisoners released by Moscow in exchange for 10 US spies in 2010, as part of a swap. Col Skripal was later flown to the UK.

He and the woman, who police said were known to each other, are both in intensive care at Salisbury District Hospital.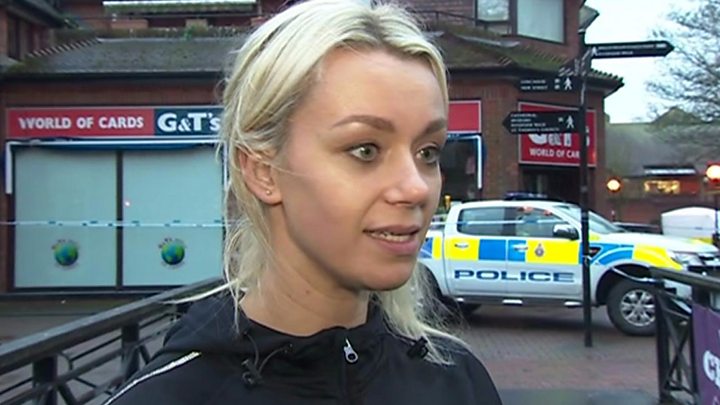 Media caption - Witness: "They looked like they'd been taking something quite strong"

A number of locations in the city centre were cordoned off and teams in full protective gear used hoses to decontaminate the street.

The hospital advised people to attend routine operations and outpatient appointments unless they were contacted. It said its A&E department was open but busy because of the weather.

Neighbours at Sergei Skripal's home in Salisbury say police arrived around 17:00 GMT on Sunday and have been there ever since.

They said he was friendly and in recent years had lost his wife.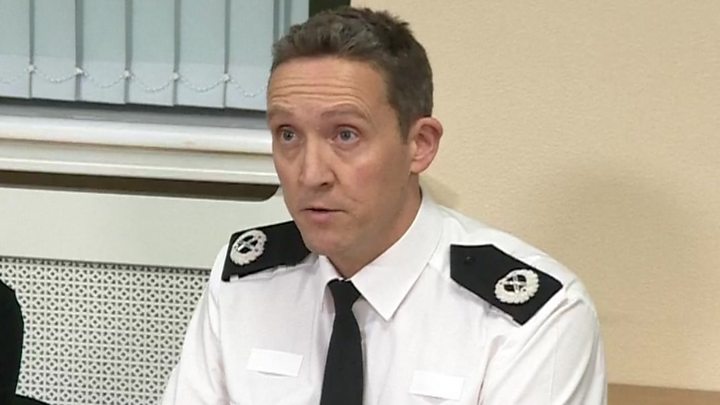 Media caption - Temp Asst Chief Constable Craig Holden: "We are unable to ascertain whether or not a crime has taken place"

Eyewitness Freya Church told the BBC it looked like the two people had taken "something quite strong".

She said: "On the bench there was a couple, an older guy and a younger girl. She was sort of leant in on him, it looked like she had passed out maybe.

"He was doing some strange hand movements, looking up to the sky...

"They looked so out of it I thought even if I did step in I wasn't sure how I could help."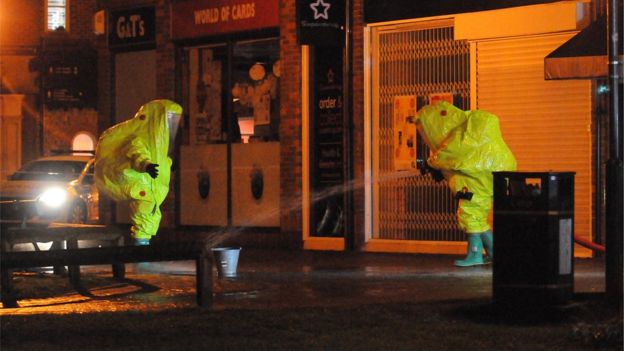 Image caption - Public Health England has not confirmed what the substance was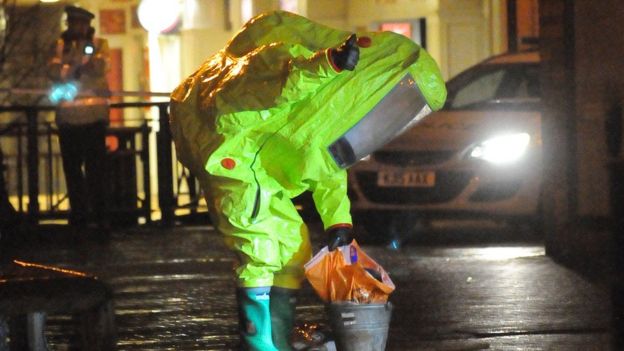 Image caption - The hospital's A&E was closed on Monday while two people were treated

The BBC's security correspondent Gordon Corera said government officials were not commenting about events in Salisbury, but that the possibility of an unexplained substance being involved will draw comparisons with the 2006 poisoning of Alexander Litvinenko.

Mr Litvinenko was a former intelligence officer who, an inquiry later found, was probably killed on the orders of Vladimir Putin.

Public Health England said its specialists would be joining a "specially convened group" to consider the incident.

What were the charges against Col Skripal?

Col Skripal was convicted of "high treason in the form of espionage" by Moscow's military court in August 2006. He was stripped off all his titles and awards.

He was alleged by the Russian security service FSB to have begun working for the British secret services while serving in the army in the 1990s.

He had been passing information classified as state secrets and been paid for the work by MI6, the FSB claimed.

Col Skripal pleaded guilty at his trial and co-operated with investigators, reports said at the time.