Bill Cosby's accusers are finally vindicated as the 80 year old actor is convicted of three counts of sexual assault in an American court.
Read the full story about the women's long fight for justice via the link below to the BBC.


Bill Cosby found guilty of sexual assault in retrial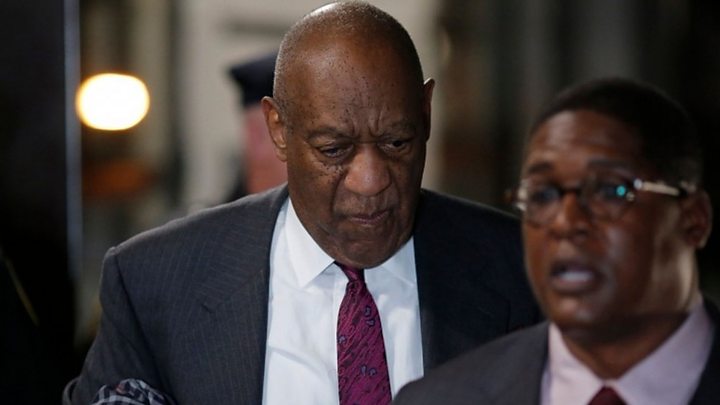 Media caption - Lawyer on Cosby verdict: 'Finally, women are believed in court'

US comedian Bill Cosby has been found guilty of three counts of sexual assault, each of which carries a potential 10 years in prison.

The actor, 80, has been on trial for drugging and assaulting ex-basketball player Andrea Constand in 2004.

Cosby, the first major black actor on primetime TV, will remain out of jail until he is sentenced, the judge ruled.

He unleashed an expletive-filled rant after the verdict, as prosecutors argued he should be denied bail.

The prosecutor argued that he should be held because he is "somebody who has unlimited wealth" and could flee on a private plane.

"He doesn't have a plane," Cosby then erupted, adding a vulgarity which he directed at the prosecutor.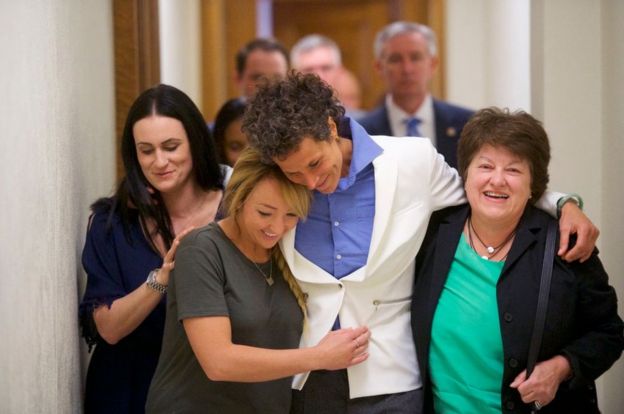 Image copyright - GETTY IMAGES Image caption - Ms Constand (centre) has yet to speak about the trial's conclusion

It was the second time the actor had stood trial for the allegations, after an earlier jury failed to reach a verdict in June 2017.

At the start of the retrial in Pennsylvania it was revealed that Cosby had paid Ms Constand almost $3.4m (£2.4m) in a civil settlement in 2006.

Cosby is best known for starring in the 1980s TV series The Cosby Show.

Around 60 women over five decades have publicly accused the Emmy award-winning actor of being a sexual predator. But statute of limitation laws mean that only one charge has been brought to trial.

Some of his accusers were present in court, and cried as the guilty verdict was returned.

Cosby's lawyer Tom Mesereau insisted "the fight is not over", adding that he believes Cosby is innocent and that he plans to file an appeal.

Montgomery County District Attorney Kevin Steele, who brought the charges against Cosby, held a press conference after the verdict.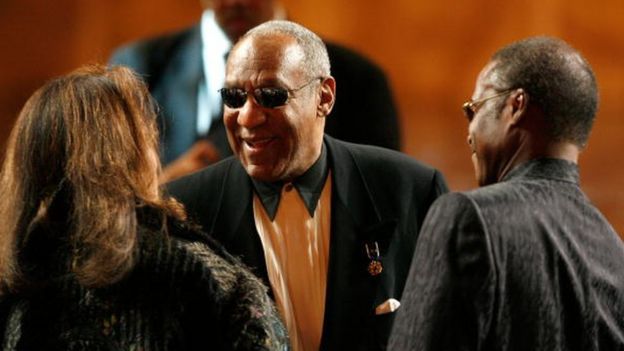 Image copyright - GETTY IMAGES Image caption - Cosby has been stripped of numerous awards and accolades in the previous decade

"Money and power or who you are will not stop us from a criminal investigation and prosecuting a case," Mr Steele said, as Ms Constand stood beside him.

When the attack took place, Ms Constand was working as director of operations for the women's basketball team at Temple University, Philadelphia.

She told the court she had gone to the home of her then friend Cosby, to discuss her resignation.

She said he had given her three blue pills to "help take the edge off," which she believed to be a natural remedy.

Minutes later, she was suffering double vision and quickly lost consciousness.

She awoke to find Cosby groping her breasts and penetrating her, she said, adding that the drugs made her physically unable to fight back.

Ms Constand reported the attack, but the district attorney refused to press charges. The case was reopened in 2015.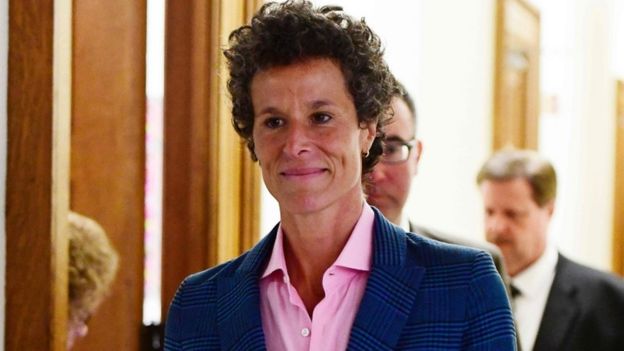 Image copyright - AFP/GETTY IMAGES Image caption - Andrea Constand was once a friend of Cosby's
Analysis: A ruling that's a sign of our times

Nada Tawfik, BBC News, Norristown, Pennsylvania

This verdict is being celebrated as a major win for the #MeToo movement. It shows that the shift in our society and culture from doubting to believing victims is also affecting the justice system. Bill Cosby's lawyers anticipated this and took direct aim at the movement during the trial, telling the jury "mob rule is not due process." But ultimately, the jury sided with Andrea Constand and set aside the 80-year-old comedian's wholesome image as American's favourite dad.

At one time, there was no star bigger than Bill Cosby. He was the most watched man on television, a role model for minorities trying to break into Hollywood. And despite years of allegations, he seemed untouchable. That has now all changed, and there is no doubt that this verdict will have far-reaching consequences.
Judge Steven O'Neill allowed five of Cosby's other accusers to serve as "prior bad acts" witnesses during the trial, as the prosecution sought to establish a pattern of misconduct.

Heidi Thomas told the court that the comedian served her spiked wine that made her drowsy for four days in 1984.

Former US model Janice Dickinson was among those who testified, alleging that Cosby drugged and raped her at a hotel in 1982, when she was 27 years old.

"I wanted to hit him, wanted to punch him in the face," Ms Dickinson, 63, told the courtroom in Norristown, Pennsylvania. "I felt anger, was humiliated, disgusted, ashamed."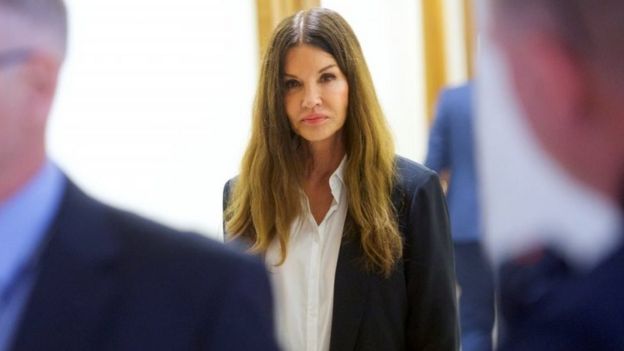 Image copyright - REUTERS Image caption - Former model Janice Dickinson has accused Cosby of raping her in 1982

The former reality television star testified Mr Cosby offered her a blue pill that he said would help with discomfort from menstrual cramps.

"He smelled like cigars and espresso and his body odour," she said. "I couldn't move, I felt like I was rendered motionless.

"Here was America's dad on top of me, happily married man with five children and how very, very wrong it was," she said.

The case against Cosby was one of the first celebrity assault trials conducted in the light of the #MeToo movement, which has raised awareness of alleged sexual misconduct by a number of powerful media figures.
Cosby Controversy (30/07/15)
The BBC reports on the Bill Cosby controversy with this blog piece by Brenna Cammeron.
#TheEmptyChair moves discussion beyond Cosby


New York Magazine's latest cover features 35 of Bill Cosby's 46 accusers - women, each seated, who say the comedian drugged, assaulted and in many cases raped them.

It is a stark visual representation of a "sorrowful sisterhood," as one of the accusers called it.

But the chair that has perhaps garnered the greatest reaction is the empty chair, a seat symbolically held for the women Cosby allegedly assaulted but declined to be interviewed by the magazine, or who have not come forward at all.

According to lawyer Gloria Allred, who says she represents 17 Cosby accusers, the magazine piece is a damning indictment against a comedian who previously enjoyed a squeaky-clean reputation as "America's Dad".

"I haven't seen any other place where all of the women were assembled in a photo together. It's a very powerful and beautiful image of women standing up, speaking out, willing to use their voice against a rich and famous man," Allred told BBC Trending.

Cosby has denied the allegations and has said the encounters were consensual.

As readers shared the story on social media, the hashtag #TheEmptyChair started going viral on the platform that helped the initial story against Cosby to gain traction - Twitter.

Since the story's publication, more than 23,000 tweets have mentioned #TheEmptyChair.

While many of the #TheEmptyChair tweets reference Cosby, some of the most-retweeted messages use the story as a springboard to talk about the larger problem of unreported sexual assault.


"Shame on us for not believing the first one decades ago and shame on those who still don't believe after over 30 women #theemptychair," one Twitter user wrote.

"#TheEmptyChair isn't big enough to fit all the people who have been raped, unheard and shamed," wrote another.

Novelist Lisa Burstein added "I was the #emptychair for a long time."

Burstein told BBC Trending that the cover "symbolises hope" for her.

"The symbolic placement of the empty chair in the same line as survivors who were ready to speak, who demanded to be heard, it would have given me strength," she said.

"It would have reminded me that even unspoken, my story still mattered, and was still real. It would have let me know that someone would be waiting to listen when I was finally ready."

For Burstein, who said she was assaulted more than 22 years ago at the age of 17, #theemptychair and the discussion around the hashtag is much more than the chronicle of Cosby's accusers brought together for the first time.

"I wish there was a space like this when I was 17. It might have alleviated years of needless suffering just to know I was not alone," Burstein said.

"The Internet has changed everything," Allred said.

"Decades ago, these women didn't know there were others that had accused Mr Cosby of victimising them. They thought they were the only ones. Now that they know that they're not alone, they've become empowered. And they'll never go back to being silenced again."

Blog by Brenna Cammeron
Arresting Cover (30/07/15)
The New York Magazine has an arresting cover photo on its front page of 35 women who tell their own stories of how they were allegedly drugged, sexually assaulted and raped by the iconic American comedian, Bill Cosby.
You can read the full article online via this link:
http://nymag.com/thecut/2015/07/bill-cosbys-accusers-speak-out.html