Here's a great letter from a regular reader of the blog who has drawn my attention to what looks like a terrible double standard when it comes to Scottish Ministers and the fight for equal pay in Scotland's largest council.
Hi Mark,
Hope you are keeping well.
I see that health minister Shona Robison has called for the Tayside health boss to quit over financial problems.
How come these politicians say they can't get involved in an even bigger scandal - the public sector equal pay scandal?
There's an awful lot of senior officials across the country - especially in Glasgow -who should be brought to book.
A severe case of double standards here.
Keep sockin' it to em!!
Regards,
D

Now as regular readers know, Scottish Ministers tell equal pay claimants who write to them directly that Scotland's council's are independent bodies - blah, blah, blah - and that the Scottish Government can't tell them what to do.
Well, we all know that and have done for years - thank you very much.
But this didn't stop the Scottish Health Secretary Shona Robison from embarrassing the hell out of the Chairperson and Chief Executive of Tayside Health Board by calling for them to resign after making a terrible mess of things.
No doubt the fact that the Tayside debacle involved Shona Robison's own constituency provided some added incentive for her to act and 'call a spade a spade'.
To their credit the health officials got the message, accepted responsibility for the woeful performance of their organisation and agreed to move on to make way for new leadership.
So tell me what the difference is between Tayside Health Board and Glasgow City Council where the most senior officials, including the chief executive Annemarie O'Donnell and Director of Governance Carole Forrest, have made a complete dog's dinner over equal pay while trampling over people's employment rights for years?
Yet these two very highly paid officials remain in post even though Scotland's highest civil court, the Court of Session, has condemned Glasgow's pay arrangements as 'unfit for purpose'.
To add insult to injury Glasgow's chief executive recently claimed that the council's 'unfit for purpose' WPBR pay scheme was put in place to remove pay discrimination - even though the WPBR introduced a blatantly discriminatory 37 hour 'rule' which effectively treats the council's women workers as second class citizens.
If you ask me, Glasgow's politicians should take a leaf out of the Health Secretary's book by calling for the senior officials in the City Council to go - and make way for new leadership which can regain the trust of the workforce.
So let's see if Scotland's First Minister Nicola Sturgeon begins to take a keener, more direct interest in what's been going on in her own back yard, because Glasgow's handling of equal pay and the City Council's treatment of its largely female is a national scandal.
Read the reports on Tayside below from The Herald, The Sunday Post and BBC Scotland.
NHS Tayside chief executive Lesley McLay sacked in wake of charity cash spending row as Malcolm Wright appointed as replacement

By Helen McArdle @HMcardleHT - The Herald



Lesley McLay

NHS Tayside chief executive Lesley McLay has been forced out in wake of scandal over charity cash spent on IT systems.

The Scottish Government confirmed that Malcolm Wright, the chief executive of NHS Grampian, had been appointed as acting chief executive in her place.

John Brown, who is currently chair of NHS Greater Glasgow and Clyde, will take on the role of interim chairman of NHS Tayside until a permanent chair can be appointed. It follows the resignation of Professor John Connell.
Health Secretary Shona Robison urges NHS Tayside bosses to resign after donation spending



The Sunday Post


The Health Secretary is to exercise 'ministerial powers of intervention' and move NHS Tayside to the highest level of escalation (Andrew Milligan/PA)

HEALTH SECRETARY Shona Robison has called for NHS Tayside bosses to step down after it emerged the health board used donations to fund new technology.

Ms Robison told The Courier she had written to chairman John Connell urging him to resign and described chief executive Lesley McLay's position as "untenable".

The Scottish Government is exercising "ministerial powers of intervention" and moving NHS Tayside to the highest level of escalation.

Speaking to the newspaper, Ms Robison said: "I have written to John Connell to ask him to step down.

"We need fresh leadership. I would hope he would consider his position.

"I also think Lesley McLay's position is really untenable.

"She will need to consider her position. The best course of action will be for her to step down.

"She is, however, an employee of NHS Tayside. I recognise and respect that."

The health board, which was bailed out with a Scottish Government loan of £33.2 million in 2016/17, was claimed to have used the endowment fund when "faced with a funding deficit" in 2013/14.
Chairman quits crisis-hit NHS Tayside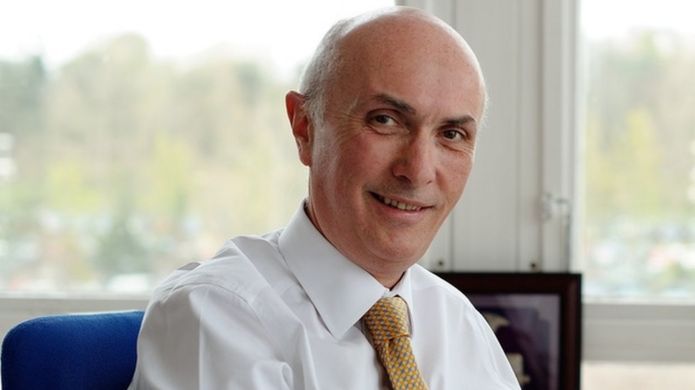 I

mage copyright - NHS TAYSIDE Image caption -Prof John Connell has stood down

The chairman of NHS Tayside has stood down after the health board was put in "special measures" by the government.

Health Secretary Shona Robison welcomed the resignation of Prof John Connell, describing it as the "right decision".

She said her intervention was necessary because she was not confident the leadership was capable of managing its own finances.

This came after several years of financial problems during which it is was bailed out by the government.

'Laid bare'

A further financial concern emerged earlier this week when it was claimed NHS Tayside took more than £2m from its charitable endowment fund to cover general running costs, including a new IT system.

The health board, which has received Scottish government "brokerage" loans of £33.2m in the past five years, was reported to have used the endowment fund when "faced with a funding deficit" in 2013-14.

Row over health board charity fund use

NHS Tayside was said to have temporarily suspended its constitution to allow this to happen, as the money was going to "retrospectively" fund projects already approved by the board.

Politicians said there was an "apparent misuse" of funds but the health board insisted it was "appropriate".

Last week, the Scottish government was told NHS Tayside's finances were likely to deteriorate further.

I have always maintained a focus on safe patient care and ensuring staff are supported to deliver that at all timesProf John Connell

NHS chief executive Paul Gray told MSPs he expected NHS Tayside would require further brokerage cash from the government of between £9m and £12m.

The health secretary said: "It has become clear to me that the current structure of the board cannot deliver the improvements required to return to a sustainable position, while continuing to deliver safe and effective services to patients."

Ms Robison also described the position of NHS Tayside's chief executive, Lesley McLay, as "untenable".

Prof Connell has previously said that the board at NHS Tayside inherited a difficult situation and that he had only taken up his role two and a half years ago.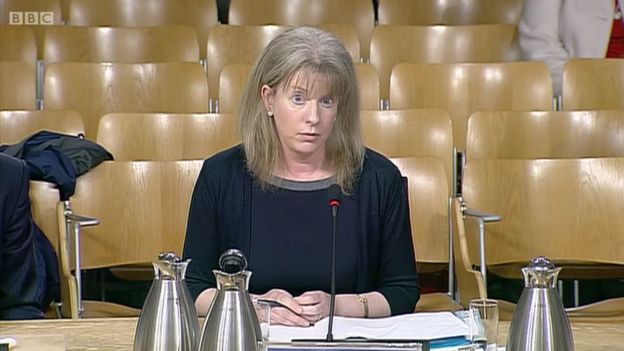 Image caption - The health secretary said she was concerned about the running of NHS Tayside

In a statement about his resignation, Prof Connell said it had been "an absolute privilege" to lead the health board.

He said: "I have always maintained a focus on safe patient care and ensuring staff are supported to deliver that at all times.

"I am very pleased that this has not been compromised during a difficult financial period."

Prof Connell said NHS Tayside was "on the correct course to transform its services".

Scottish Conservative health spokesman Miles Briggs said ministers had presided over a situation where financial scrutiny of NHS boards had been "at best insufficient and at worse incompetent".

Scottish Labour's Anas Sarwar said there had been a "complete lack of leadership and mismanagement of our NHS by the SNP minister" for a number of years.

The Lib Dems said there was "no shortage of warnings" about NHS Tayside's problems.