Not Just Any Attention Seeker
While @theSNP MSPs & Scottish Nationalists get hysterical about @trussliz comment on @NicolaSturgeon just take a look at this folks @STVColin @danwootton @STVNews @BBCNewsScotland @JohnSwinney @ScotGovFM @STVKathryn @ChrisMusson @themajorityscot @Mercurius_Scot #Hypocrites pic.twitter.com/mjWUa4D8eo

— Cath (@rugbycath) August 4, 2022
I've always liked Willie Rennie - whatever you think about his politics seems to me the former leader of the Scottish Lib Democrats is a paid up member of the human race.
So I was surprised to learn today that Willie is not just an attention seeker, but a pathetic attention seeker.
Well Said, Willie Rennie (May 14, 2022)
My goodness, Willie Rennie must have had three Weetabix for breakfast the other day because he certainly let rip and gave SNP ministers what for - and deservedly so!
Politics, Leaders and Sell By Dates (July 13, 2021)
So Willie Rennie is standing down as the leader of the Scottish Lib Dems.
The right decision if you ask me, because some political leaders (eg Margaret Thatcher/Nicola Sturgeon) can get deluded into thinking they are unique and indispensable - and that they should go 'on and on'.
But I think we should go further though and have time limits for MSPs serving in the Scottish Parliament.
Experience is good in some ways, but has to be balanced against the fact some of the buggers have been at Holyrood ever since it opened for business in 1999 - and 22 years is a very long time in politics.
Pete Wishart - 'Porky the amorous pig' (July 14, 2021)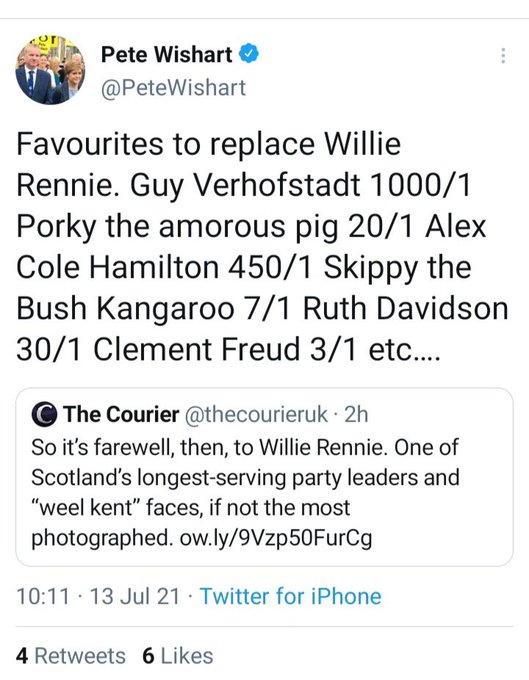 I wonder what possesses a grown man, never mind a highly paid SNP politician, to behave in such a juvenile way?
I mean, it's embarrassing - not even the teeniest bit funny!
You Hum It, I'll Play It (May 26, 2021)
I enjoyed this tweet poking fun at the SNP's call for Scotland to enter the Eurovision Song Contest - with a photo of Pete on guitar and Nic on vocals
Reminded me of the old PG Tips advert with the great punchline, 'You hum it, I'll play it!"