Glasgow Councillors - Cllr Rhiannon Spear
SNP Glasgow councillor Rhiannon Spear is not standing in next week's local elections - not surprisingly given reports that she was in arrears with her council.
https://www.glasgow.gov.uk/councillorsandcommittees/interests.asp?id=2392&name=Rhiannon+Spear
Cllr Spear's entry in the GCC 'Register of Interests' records that she has been paid by Aamer Anwar & Co (Solicitors) for ad hoc work since August 2021 although there is no explanation of the time commitment involved.
Cllr Spear's council salary up to the end of the 3rd quarter 2021/22 came to £20,469.05 which grosses up to earnings in excess of £27,000 for a full year.
Seems to me the SNP owe Glasgow an apology for allowing Cllr Spear to remain in a leadership position while she was not in good standing with her council tax - which supports local council services, of course.
Glasgow SNP - Shameless Shower (January 25, 2022)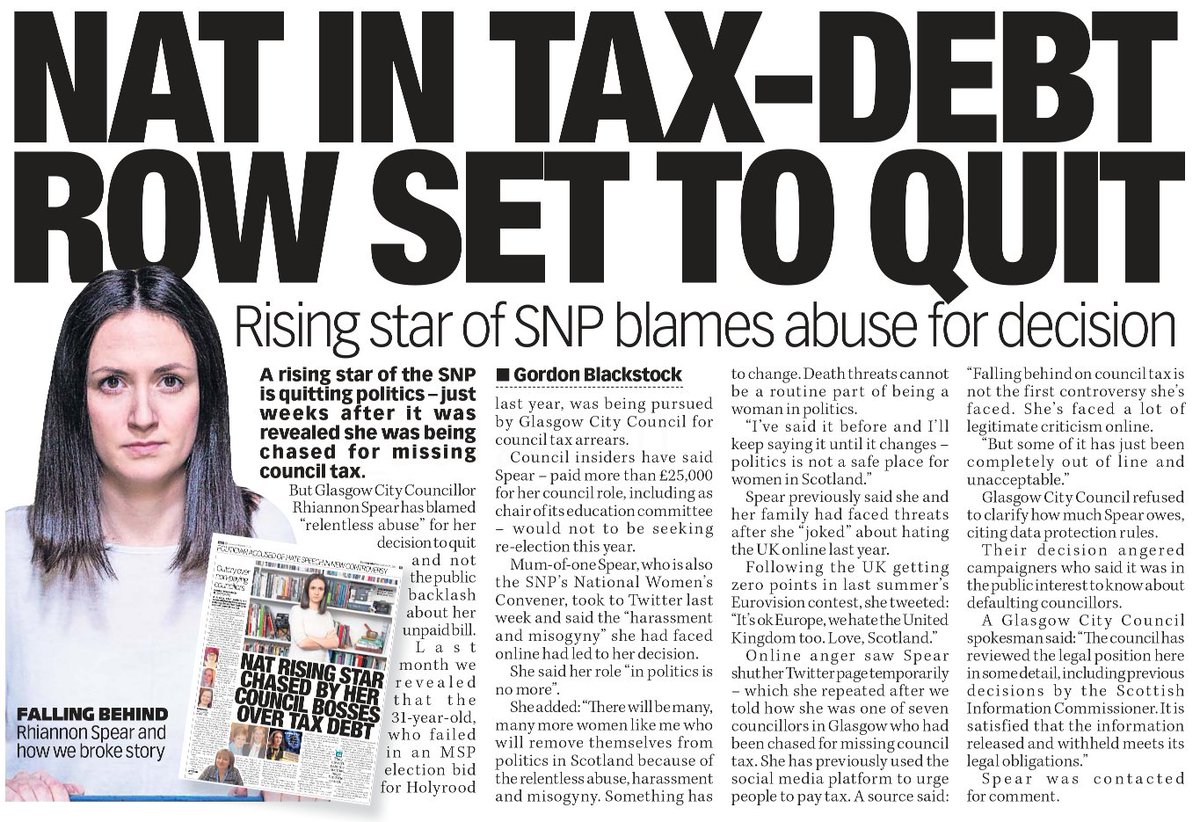 The SNP group on Glasgow City Council are a shameless shower because there is absolutely no excuse for a councillor, especially one in a leadership position with an enhanced salary, not to pay their council tax.
Yet the SNP are allowing Cllr Rhiannon Spear to portray herself as some kind of victim instead of insisting she stands down immediately from her role as Convener of Education which attracts a salary of around £30,000.
Politicians in leadership positions should be called to account if they mess up, instead of being allowed to make excuses for themselves.
The SNP and Cllr Spear owe Glasgow an apology.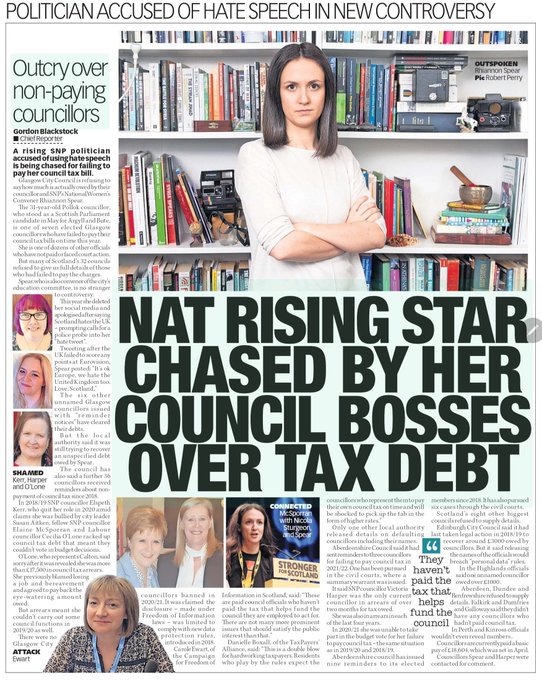 The SNP owe Glasgow an apology following the incredible news that a senior party figure, Cllr Rhiannon Spear, is in arrears with her council tax.
Cllr Spear occupies a leadership position in Glasgow City Council and receives a salary of around £30,000 as Chair of Education.
Cllr Spear received a £10,000 increase in salary from being appointed to this senior council position, yet is in arrears with her council tax which supports local jobs and services.
Just as astonishing is the fact that the SNP group made this appointment without checking that Cllr Spear was a fit and proper person to hold a senior leadership position.
I also wonder what questions were asked by senior council officials, or were they encouraged to stay quiet and turn a blind eye?
In a previous entry to the City Council's register of interests Cllr Spear recorded earning additional remuneration from "Air BnB: irregular income from spare bedroom" and Cllr Spear's latest entry states: "August 2021 onwards - Aamer Anwar & Co - remuneration for ad hoc work".
Tawdry and shameful are words that spring to mind, but the SNP clearly owe Glasgow an apology and the party should now require Cllr Spear to stand down immediately from her leadership role as Chair of Education.