Everyone knows that this joke about Donald Trump's character has a real 'ring of truth' which is why it's so funny.
Trump is a serious sexual predator and serial adulterer, yet has no shame about standing outside of a church waving a Bible, as if he is capable of providing Americans with moral leadership.
Leadership and Peaceful Protests (02/06/20)
Peaceful protesters were forced out of Lafayette Park in Washington DC yesterday evening just so Donald Trump could have his photo taken at a local church.
Trump laughingly describes himself as a 'friend' of peaceful protesters, but these American citizens were on the receiving end of aggressive policing, pepper spray, tear gas and blunt force bullets - all for the sake of a politically motivated photo-opportunity with a Bible.
Violence always leads to more violence, but the police have a special duty to lead by example.
Yet that kind of selfless leadership was missing again last night in Washington DC and in the events which led to the unlawful killing of George Floyd in Minneapolis on May 25 2020.
Powerful Men and Sexual Predators (21/10/19)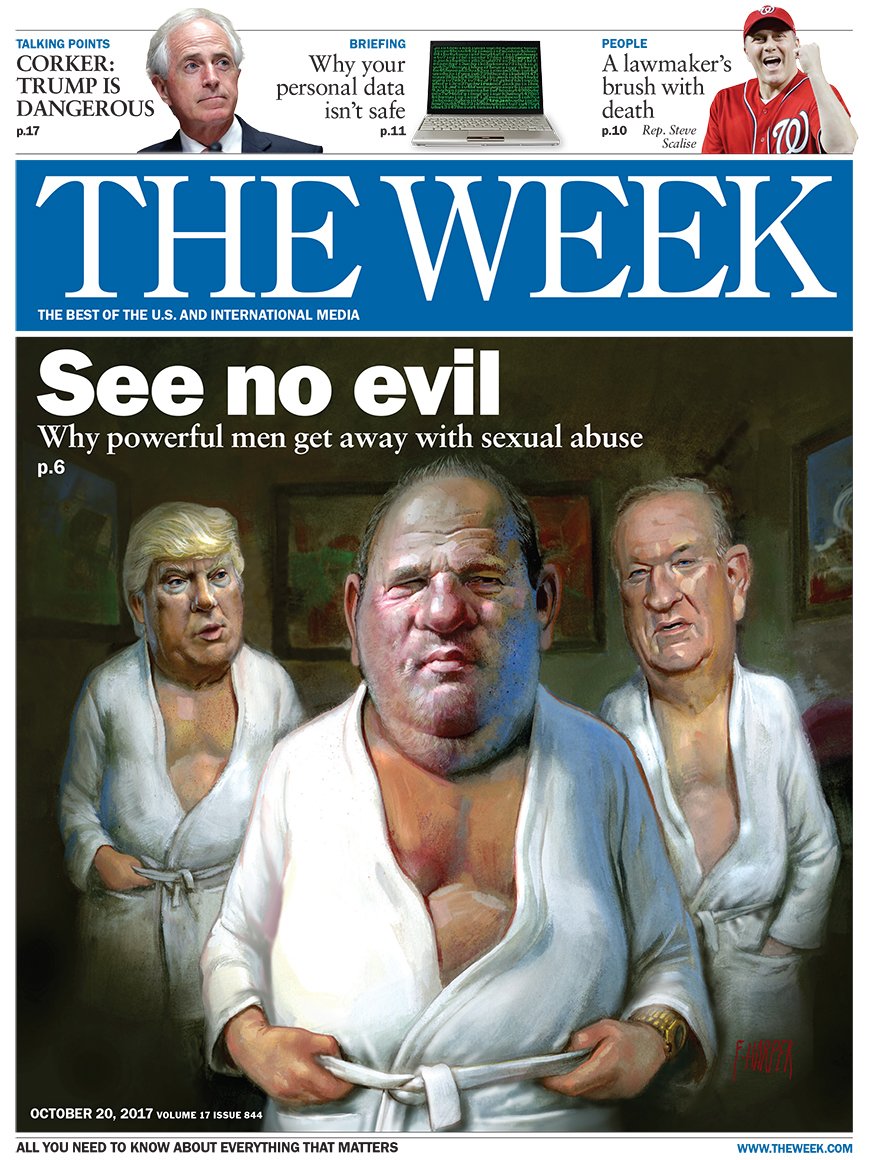 The Week magazine raises the issue of powerful men as sexual predators with a front cover featuring Harvey Weinstein, Bill O'Reilly (formerly of Fox News) and last but not least Donald Trump.
Makes you think, or ought to a least.
Locker-Room Banter? (18/01/17)
Speaking at a press conference in the Kremlin the other day, Russian President Vladimir Putin had this to say about the incoming American President Donald Trump:

"This is an adult (Donald Trump) and, moreover, a man who for many years has organised beauty contests. He socialised with the most beautiful women in the world. I can hardly imagine he rushed to the hotel to meet our girls of lower social responsibility - even though they are the best in the world, of course."
Now you might put this kind of nonsense down as juvenile 'locker-room' banter, as Donald Trump has done himself, of course.
But if you ask me, President Putin's comments about Russian prostitutes being of "lower social responsibility" are hugely demeaning, particularly as he goes on to boast that "our girls......are the best in the world."
By the way it's worth remembering that while Donald Trump claims to be far too smart to be caught out by sophisticated spying equipment during his stay in Moscow, he was exposed for his "Grab 'em by the pussy" comments while wearing a lapel microphone while doing a TV show with the NBC presenter Billy Bush.
Sexual Predator (10/10/16)

"Grab them by the pussy" is locker-room banter according to Donald Trump, but it's not the kind of foul language or ugly mindset that you'd expect from a professional person never mind someone aspiring to become President of the United States.
So the race for the White House has been dragged into the world of sexual predators by the unguarded comments of the Republican nominee while his 'partner in crime', a TV presenter named Billy Bush, has been suspended by the NBC Today programme.
NBC has said there is "simply no excuse for Billy's behaviour and language on that tape", yet Trump carries on after issuing a perfunctory apology which completely ingress the fact that he was in a professional setting at the time and nowhere near a locker-room.
To their credit most of the Bush family have said they will not be voting for this buffoon and while Trump's poll ratings are taking a well-deserved hit, especially among women voters, I suspect there's much more to come in the days ahead.
http://www.bbc.com/news/uk-37605883
Billy Bush suspended by NBC after Trump tape emerges

BBC - Entertainment & Arts
Image copyright AP Image caption - Billy Bush has said that he is "very sorry" for the 2005 remarks

US TV host Billy Bush has been suspended from NBC's Today show after a video tape emerged in which he and Donald Trump made lewd comments.

Today executive Noah Oppenheim wrote in a memo to the morning show's staff that there is "simply no excuse for Billy's language and behaviour on that tape".

Mr Bush has said he was "embarrassed and ashamed" at the remarks.

US presidential candidate Mr Trump has also apologised for the obscene comments made in the 2005 tape.

In the video, Mr Trump was on a bus talking to Mr Bush - then host of NBC's Access Hollywood - ahead of a segment they were about to record.

Mr Trump says "you can do anything" to women "when you're a star" and also brags about trying to grope and kiss women.

Mr Bush tells Mr Trump at one point "the Donald has scored" and also comments on a woman's "good legs".
Image copyrightAPImage caption - Mr Trump has said the words "don't reflect" who he is

The presenter, who is the first cousin of former President George W Bush, has since said: "It's no excuse, but this happened 11 years ago - I was younger, less mature, and acted foolishly in playing along. I'm very sorry."

Top Republicans have condemned Mr Trump for the comments. His election rival Hillary Clinton called them "horrific".

The Republican party nominee has said "these words don't reflect who I am... I apologise".

Bush joined the Today team in August, having been anchor of Access Hollywood since 2009 and co-host of Access Hollywood Live since 2010.

Mr Oppenheim said that there would be a "further review" of the matter and did not say how long Mr Bush would be suspended for.