So now we know that the much vaunted 'new relationship' between Labour and the trade unions is complete sham with the announcement from Unite that whatever the
members really think, union bosses will continue to bankroll the party anyway.
In debating the issue previously, union leaders have been forced to admit that most of their members do not support the Labour Party and if asked to donate some of their hard earned cash to Labour, fewer than 10% of of members are expected to agree.

Yet that presents no problem to the likes of Len McCluskey who will continue to hand over big dollops of cash to Labour - money which Unite members can't be persuaded to part with on an individual basis, of course.
All of which sounds like a complete scam to me and another case of union leaders behaving as if they know what's best for their members, instead of representing their members' views.
In other words
whatever the members think the unions will keep bankrolling Labour and in Scotland, in particular, that really is an insult to democracy and the notion of fair representation.
U
nite union will back Labour at the next election despite reform rows
General secretary Len McCluskey will mark opening of annual conference by announcing full backing for the party
By the Press Association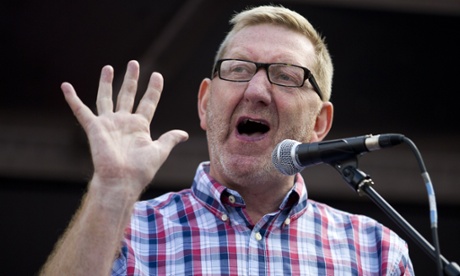 Len McCluskey will mount a strong attack on the government as Unite's conference begings in Liverpool on Monday. Photograph: Justin Tallis/AFP/Getty Images

The leader of Britain's biggest trade union will on Monday offer support to Labour in next year's election as the best way to win back rights for workers.

Len McCluskey, general secretary of Unite will tell the union's national conference in Liverpool that Labour offers the chance to improve jobs, pay and conditions as well as reversing the privatisation of the health service.

Unite was one of a number of unions unhappy with reforms to the historic link with Labour, which led to a cut in funds to the party.

But McCluskey believes that Labour should have enough money to mount a strong campaign against the Conservatives.

He will strongly attack the Government over its austerity measures, spending cuts, treatment of the NHS and employment and welfare policies.

His speech appears to be aimed at drawing a line under previous disagreements in favour of offering support to Labour leader Ed Miliband with less than a year to next May's election.

In an article in Monday's Morning Star newspaper, McCluskey said: "For our UK members, there can be no doubt that if a Tory government is returned to power in 2015, the mindless austerity that the coalition has inflicted upon our people will be but child's play; they have worse in store.

"2014 had barely begun when George Osborne was warning more cuts were on their way, with another £25bn to be ripped out of the welfare state.

"Yet the chancellor's economic voodoo actually pushes the country deeper into the red, with £14m per hour being borrowed.

"Even with a slim majority, the Tories would enforce draconian new laws on trade union activity - regardless of the fact that trade unions in the UK are already more restricted than anywhere else in Europe."

Unite will also reveal on Monday whether its 70,000 members in local government in Wales, England and Northern Ireland have voted to take industrial action over pay.

Unison and the GMB have already held strike ballots, with their members voting in favour, in protest at a pay offer worth 1% for most workers.

A one day stoppage is being held on July 10, threatening the coalition with its biggest challenge to its policy of public sector pay restraint.
Labour Fudge (3 February 2014)
The Labour Party is tying itself in knots as Ed Miliband tries to deliver on a promise he made last summer, at the height of the Falkirk vote rigging scandal, to forge a new relationship with the trade unions.
Now the way to do this is quite simple really by introducing One Member One Vote (OMOV), but as this would undermine the power and influence of union bosses - fudge is the name of the game.

In this case fudge means that while Labour plans to dismantle the discredited electoral college which got Ed Miliband elected as leader - not much else will change.
In future, the trade unions will affiliate to the Labour Party only those members who make a positive decision to back Labour - perhaps as few as 1 member in 10.

Yet as things stand the trade unions will hold on to the political fund contributions of the 90% of members who do not sign up as 'affiliated' Labour Party members - and union bosses may just decide to donate this money to Labour anyway.
Which is just as crazy as it sounds.