Another disturbing report emerges about the lack of online learning and teaching for school pupils during the Coronavirus lockdown.
A spokesperson from the Better Than This campaign group said:
"The horrible truth is that nobody really knows what is going on.
"Logins to the Glow network are not evidence of work being done or completed.
"We know that some councils have over 30 different learning platforms being used, there is no proper data available on any of them."
Now this is hardly surprising given the astonishing news that Glasgow City Council's education committee hasn't met since 12 March 2020 -
see previous post dated 18 June 2020.
Read the full story via the link below to BBC Scotland.
https://www.bbc.co.uk/news/uk-scotland-53067254
Coronavirus: Fears over pupils missing out on online learning
By Andrew Picken- BBC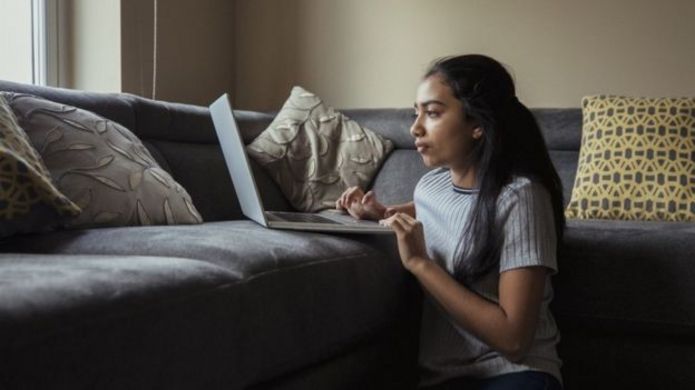 Image copyright - GETTY IMAGES



Thousands of school pupils in Scotland may be missing out on online learning at home, new figures suggest.





More than a quarter of pupil accounts on the main school learning portal Glow were not recorded as having been accessed last month.





Parents' groups have raised concerns that many children are disadvantaged when it comes to online learning.





But Education Scotland said more pupils may be using the system than the figures suggested.





Critics said not having a definitive account of who is using online learning systems, and how often, was worrying given schools are set to

move to a blended learning model of education

after the summer break.
Glow is a key plank of Scotland's digital learning strategy, used by 27 of the 32 local authorities.
Each child is given a username and password, which then gives them free access to a range of online resources such as Microsoft Office and Teams or Google Classroom.
In March, when lockdown was introduced, there were 412,313 active users but this had apparently dropped by more than 60,000 in May.
Education Scotland figures obtained by BBC Scotland show that last month 351,905 pupils were registered as having used the Glow system, out of 489,987 active accounts.
The education standards body said the actual number of Glow users would be higher because some pupils would be accessing the system via desktop or mobile apps which do not register repeat visits in the same way.
However, it was unable to give a figure for how many pupils might fall into this category.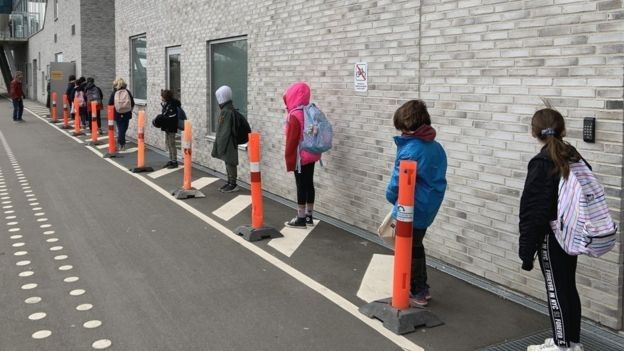 Image caption - Social distancing measures will be in place at schools from August and pupils will receive a mix of ordinary classroom learning, online learning and homework


A spokesman for the Better Than This campaign group, which is pressing for an increase in face-to-face teaching from August, described the lack of clarity on usage as "astonishing".
He said: "The horrible truth is that nobody really knows what is going on.
"Logins to the Glow network are not evidence of work being done or completed.
"We know that some councils have over 30 different learning platforms being used, there is no proper data available on any of them."
He added: "The 'blended' nature of learning is being promoted without any real evidence on how effective or widespread online learning is."
Home learning struggles
A survey of 4,000 people taking part in a Zoom call organised by the National Parent Forum of Scotland on Wednesday found 62% of respondents said they had not been given any online lessons by their children's school.
Eileen Prior, executive director of the Scotland-wide parents' council organisation Connect which has had more than 7,000 responses to its surveys during lockdown, said: "Parents and carers are telling us loud and clear that online learning is a problem for many families.
"No or limited internet access, a lack of suitable devices or unfamiliar platforms, children (and parents) are not used to online learning and are struggling.
'It seems surprising that, given how sophisticated internet analytics and marketing is nowadays, that detailed information and analysis are not available for Glow as a national learning hub."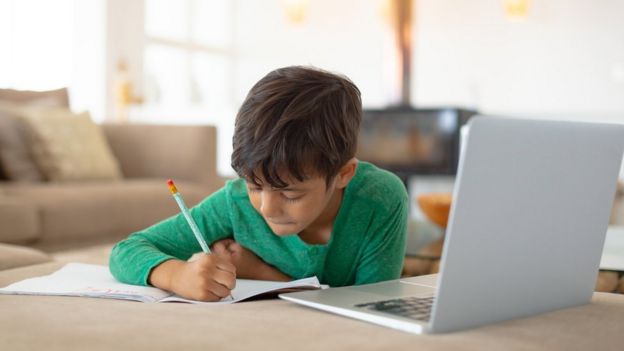 Image copyright - GETTY IMAGES Image caption - Glow is the biggest online learning portal used by schools but most use a mixture of resources



BBC Scotland contacted three of the largest councils - Fife, Glasgow and Edinburgh - but none had a centrally held record of how often its pupils are engaging with online learning material.





Five councils - covering about 131,000 of the 697,989 primary and secondary pupils - do not primarily use Glow and have other online learning systems in place.





The schools in local authorities with Glow will also use other digital resources.





A spokesman for Education Scotland said: "Glow is the national online learning environment which is freely available to all learners and teachers in Scotland.





"Glow is being used to great effect across Scotland with 258,000 users in just one day, the week that schools closed."





The Scottish government has earmarked a total of £30m to "support digital inclusion" and £9m will be spent on a programme for disadvantaged children to supply 25,000 laptops with internet connection.





In addition, learning hubs for vulnerable children and key workers which opened up at the start of lockdown will continue over the summer.
'Emergency response needed'
Meanwhile, former first minister Jack McConnell has called on the Scottish government to perform a U-turn on its plan for blended learning in schools or face "a scandal that the country will take a long time to recover from".
Lord McConnell told
BBC Radio's Good Morning Scotland programme
that a range of options should be on the table for August.
He also said an "emergency" response for education was needed in the same way Covid-19 prompted major intervention to bolster the NHS and the economy.
And he warned that public and private schools must be on the same wavelength.
Lord McConnell said: "If it turns out in August that those who can afford to pay for schools are getting a full-time education and those who can't and go to the local comprehensive school or local primary are not getting a full-time education, that will be a scandal for Scottish education."
Parent Power Forces U-Turn (21/06/20)
BBC Scotland's Glenn Campbell reports that parent power has forced the Scottish Government to rethink its plans for a new system of 'blended' or part-time learning when schools return on 11 August.
https://www.bbc.co.uk/news/uk-scotland-scotland-politics-53111180
Coronavirus: Parent power changes Scottish school return plans
By Glenn Campbell - BBC Scotland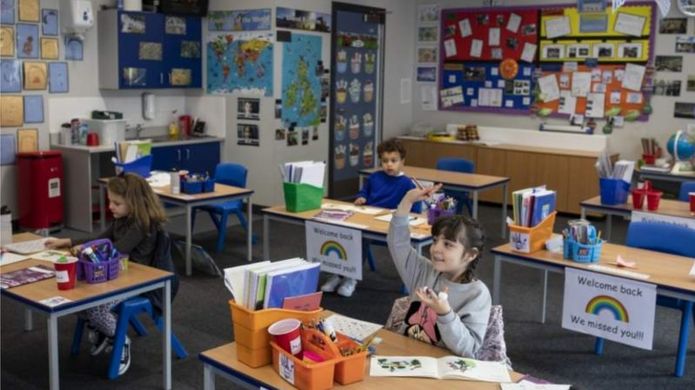 Image copyright - GETTY IMAGES


The next time someone tells me politics doesn't matter, I'm going to remind them about the debate over schooling this week.
Parent power, backed up by political campaigning, has produced a significant shift in Scottish government thinking.
Last Sunday, the part-time
return of Scottish schools on 11 August
, with children doing additional work at home appeared to be the
default position
.
Within a few days, the first minister described this "blended learning" approach as a "contingency" and said she'd move heaven and earth to reopen Scotland, especially schools.
In effect, the default became the back up plan.

Expectations raised

In the middle of a pandemic, Nicola Sturgeon cannot and has not guaranteed schools will be back 100% after the summer holidays and that there will be no remote learning.

But it seems to me, that outcome - or something close to it - is now the goal. Expectations have been raised.

Achieving that would first of all require a continued suppression of coronavirus, towards which good progress is being made in Scotland.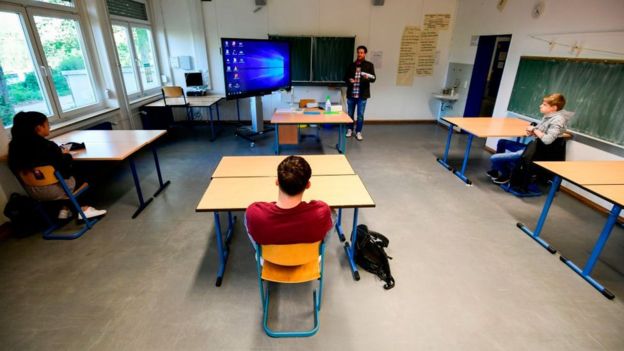 Image copyright - GETTY IMAGES


It would also require a change to the 2m (6ft) rule on social distancing.
The rule has already been reduced to 1m (3ft) for pupils in Northern Ireland and the Scottish government has asked for fresh advice from its experts within two weeks.
Getting children back full time in August would also need acceptance from parents, teachers and their representatives.
The powerful EIS teachers' union, for instance, has made clear it will not compromise on safety and wants more teachers recruited.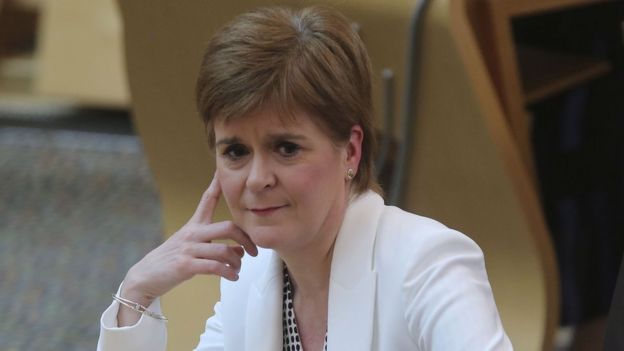 Image copyright - EPA


The first minister made clear one day a week would not be acceptable and promised to scrutinise council plans closely and consider setting minimum requirements.
She knows that the political reality is that if councils are perceived to under provide, the Scottish government will get at least some of the blame.
One way for ministers to avoid that and lots of wrangling with councils, is to strive to create conditions that minimise the need for blended earning.
As the first minister said at her coronavirus briefing on Friday: "If we can get to a point where we don't need it at all, of course we'd prefer that".
That preference or aspiration has still to be turned into a firm policy commitment and Nicola Sturgeon's political opponents will keep pressing her for that.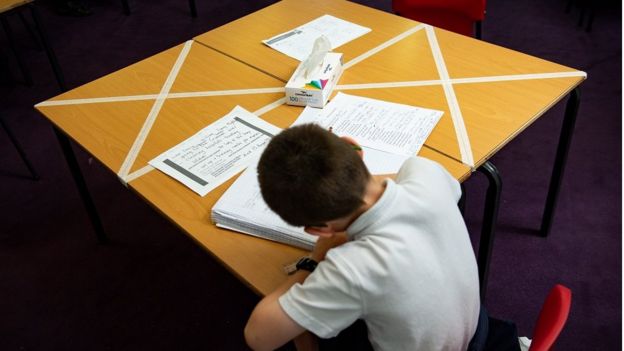 Image copyright - PA MEDIA Image caption - The first minister has said she will "move heaven and earth" to get schools open again


The decision by the UK government to target the full return of schools in England in September adds an extra dimension to the debate.
If anything like a full return in August is achieved, it may have knock-on effects for the broader easing of lockdown, with some other restrictions lasting longer.
Many would regard that as a price worth paying for the resumption of a more normal system of education and the chance to get back to work.
Others may require greater reassurance that arrangements are safe and any coronavirus cases in schools can be effectively contained.
But those who have raised their voices to argue for an improvement to the "blended learning" models that were emerging have changed the debate.
Political action, in this case, has mattered and it has made a difference.