Alec Baldwin and Saturday Night Live nail the ridiculous Donald Trump who has been enjoying yet another weekend in one of his exclusive golfing resorts while dealing with great affairs of state.
Or not, as the case may be.
"Sons of Bitches" (01/10/17)
Twitter has some fun with Donald Trump's hypocrisy and his "sons of bitches" rant against protesting American sports stars.
Things Donald Trump is fine with:
Denigrating war heroes
Mocking the disabled
Secret Russian meetings
Confederate flags
Sexually assaulting women
White supremacists
Jared & Ivanka's private emails
GET THOSE SONS OF BITCHES OUT OF THERE:
Kneeling to protest police brutality
Trump - No Friend of Mine (27/09/17)
LeBron James explains his reasons for calling for calling America's President a 'bum'.
Now Trump started this fight in a speech where he called protesting sporting stars "sons of bitches" and he tried to turn the whole issue into an attack on the American flag and/or a show of deliberate disrespect to America's armed forces.

Which is a bit rich coming from someone who dodged the draft to Vietnam on the grounds of having bone spurs on his heels which curiously didn't prevent a young Donald Trump from playing a wide range of sports during his university years.
So I take my hat off to LeBron James - the man is most definitely a 'bum'.
Michael Jordan: Protesting athletes 'should not be demonized or ostracized'


By Katishi Maake, CNN

LeBron: No regrets on calling Trump a bum 02:48

Washington (CNN)Former NBA star and owner of the Charlotte Hornets Michael Jordan spoke out Sunday in support of athletes choosing to kneel in protest during the national anthem.

"One of the fundamental rights this country is founded on was freedom of speech, and we have a long tradition of nonviolent, peaceful protest. Those who exercise the right to peacefully express themselves should not be demonized or ostracized," Jordan said in a statement to the Charlotte Observer.

Jordan's comments come after President Donald Trump ignited controversy by lambasting sports figures for kneeling during the national anthem in protest of racial inequality and injustice.

Cleveland Cavaliers forward and fellow NBA star LeBron James quickly came to Curry's defense after Trump tweeted a rescission of the Golden State Warriors' invitation to visit the White House.

Over the years, Jordan has famously refused to take stances on anything political until condemning killings of African-Americans at the hands of law enforcement in July of 2016.
"At a time of increasing divisiveness and hate in this country, we should be looking for ways to work together and support each other and not create more division," Jordan continued in his statement. "I support Commissioner Adam Silver, the NBA, its players and all those who wish to exercise their right to free speech."
Draft Dodger Trump (11/03/17)
D
onald Trump is posing here in a flight jacket and admiral's cap during a recent visit to an aircraft carrier, but it's worth pointing out that America's commander-in-chief is a 'draft dodger' who received no less than five deferments from serving in the Vietnam War.
Apparently one of these deferments was down to 'bone spurs' in both heels although this condition didn't seem to hold Trump back during his four years at university during which time he was regarded as a 'student athlete' who played football, basketball, baseball tennis and squash.

Clearly, self-obsessed narcissists like Trump have no qualms about indulging in such cowardly. shameless behaviour.
Donald J. Trump, center, as a high school senior in 1964 at the New York Military Academy.CreditNew York Military Academy
"Sons of Bitches" (26/09/17)
The BBC reports that American sport stars are refusing to be bullied by Donald Trump after he called them "sons of bitches".
Good for them, I say - Trump should be ashamed of himself for resorting to such ugly, hateful language.



LeBron James says President Trump 'trying to divide through sport'



BBC American football

LeBron James previously criticised Trump after he made comments about fellow player Steph Curry

Basketball star LeBron James has praised the American football players who have protested against Donald Trump, and accused the US president of "using sports to try and divide us".

Trump said on Friday that NFL players who fail to stand during the national anthem should be sacked or suspended.

In widespread protests at the weekend, players responded by kneeling, linking arms or staying in the locker room.

James praised the players' unity, and said: "The people run this country."

The 32-year-old added: "I'm not going to let one individual, no matter their power, ever use sport as a platform to divide us.

"Sport is so amazing, what it can do for everyone. No matter the shape, size, weight, ethnicity, religion or whatever - people find teams, players and colours because of sport. It brings people together like none other."

James, who plays for the Cleveland Cavaliers and has won three NBA championships, campaigned for Hillary Clinton, Trump's rival, during the 2016 presidential election campaign.
How did we get here?

Quarterback Colin Kaepernick was one of the first players to kneel during the national anthem last year, in protest at the treatment of black Americans.

Speaking at a Republican rally on Friday, Trump described those who knelt as "sons of bitches",adding they should be sacked by team owners.

More than 20 players and staff from the Baltimore Ravens and the Jacksonville Jaguars knelt or linked arms before their match at Wembley on Sunday.

There was a similar response at all of the weekend's NFL matches, with three teams remaining in the locker rooms or tunnel for the duration of the anthem.

And on Monday, Dallas Cowboys players were joined by team owner Jerry Jones in taking a knee before the singing of the national anthem in the build-up to their game against the Arizona Cardinals.

Jones was one of seven NFL owners to donate to Trump's inauguration.

NFL commissioner Roger Goodell praised the players, saying Trump's comments "demonstrate an unfortunate lack of respect for the NFL, our great game and a failure to understand the overwhelming force for good our clubs and players represent in our communities".

Trump said on Monday his previous comments had "nothing to do with race" but were about "respect for our country, flag and national anthem".

Ravens and Jaguars defy President Trump at Wembley
How did James respond?

As well as his comments about NFL players, Trump had said the Golden State Warriors were no longer invited to the White House to mark their NBA title after Steph Curry said he did not want to attend.

James responded by describing the president as a "bum".

Speaking on Monday, he added: "We know this is the greatest country in the world - the land of the free - but we still have problems just like everybody else.

"When we have those problems, we can't forget how great we can be as a people, because the people run this country."

James added he wanted to do his best to make a difference for those who were struggling.

"I will lend my voice, my passion and my money to the youth, to my inner city and those outside my inner city," he said.

"I want to let these kids know there is hope and not one individual, no matter if it's the president of the United States or someone in your household, that can stop your dreams from becoming a reality."

How have other sportspeople reacted?

Oakland Athletics catcher Bruce Maxwell, whose father is in the military, knelt before a Major League Baseball game, saying he did so "for the people that don't have a voice".

Elsewhere, singer Rico Lavelle knelt and raised his first after performing the national anthem at an NFL game in Detroit.

Owners of Nascar teams, however, have threatened to sack employees who protest.

Ice hockey's Pittsburgh Penguins, meanwhile, have accepted Trump's invitation to the White House to mark their championship win.

American writer Warner Todd Huston, who works for right-wing publication Breitbart, told BBC Radio 5 live public opinion was "decidedly split".

"What he [Trump] said was indelicate, certainly, but we all know that that's Trump being Trump," Huston added.

"We have the conservative side, Republicans who think all the protests are an anti-American protest, whereas people on the left feel it is just a protest against endemic racism in the country.

"It's definitely been divisive. There are two camps and almost no-one in between."
No One Respects Women More.... (25/09/17)

"No one respects women more than me", said Donald Trump in the wake of the great 'pussy grabbing' scandal.
Yet at a rally in Alabama the other day, Trump described protesting American football stars as "sons of bitches" which is vile and ugly language for a President to use, if you ask me.
Because the right to peaceful protest is enshrined in the American constitution and Trump is bang out of order for describing women and mothers as "bitches" - no matter how angry he might be with their sons.
http://www.bbc.com/news/world-us-canada-41379374
Trump NFL row: Defiance after US president urges boycott

BBC US &Canada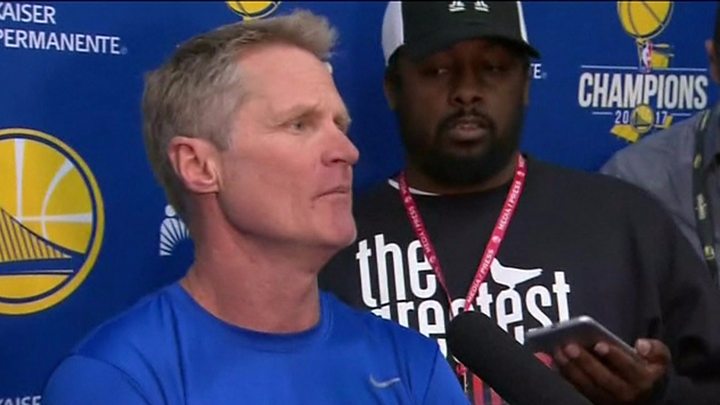 Media caption - Warriors head coach Steve Kerr: Trump comments 'awful'

US President Donald Trump has urged a boycott of the National Football League (NFL) to force teams to punish players who protest during the national anthem.

In a growing row with the sports world, Mr Trump repeated that such players should be fired or suspended.

The comments have been condemned as "offensive" and "divisive".

In a show of defiance and solidarity on Sunday, NFL players knelt and locked arms during the national anthem at games across the country.

New England Patriots quarterback Tom Brady joined his teammates as they locked arms while several others decided to kneel.

The Pittsburgh Steelers, meanwhile, failed to show at all during the national anthem ahead of their game against the Chicago Bears, who stood on the sidelines with their arms locked.

Steelers coach Mike Tomlin said his team would be "unified in their actions", adding that the decision to remain in the locker rooms was not "disrespectful", the New York Times reports.

Separately, Philadelphia Eagles fans clashed with protesters ahead of a game against the New York Giants over whether NFL players should be expressing their political views on the field during national anthem.

Earlier, at the start of the first game since Mr Trump's remarks, many players and staff from the Jacksonville Jaguars and the Baltimore Ravens knelt in London.

Jacksonville Jaguars' owner Shahid Khan - who donated $1m (£740,000) to the Trump campaign - locked his arms with players in an unusual scene, as owners rarely join players on the pitch.

Mr Trump's remarks can be seen as an attempt to appeal to core supporters, BBC North America reporter Anthony Zurcher says.

This is a fight Mr Trump relishes, our reporter adds, because he knows his base will flock to him when he questions the patriotism of wealthy athletes. It may also be a way of deflecting attention after a difficult week, in which:
His latest effort to repeal Obama-era healthcare legislation suffered a potentially fatal blowafter Senator John McCain said he could not vote for it
His candidate in Alabama's Republican Senate runoff on Tuesday, Senator Luther Strange, lagged behind former State Supreme Court justice Roy Moore, polls suggested
Warning: This article contains language some readers may find offensive.
What did Mr Trump say?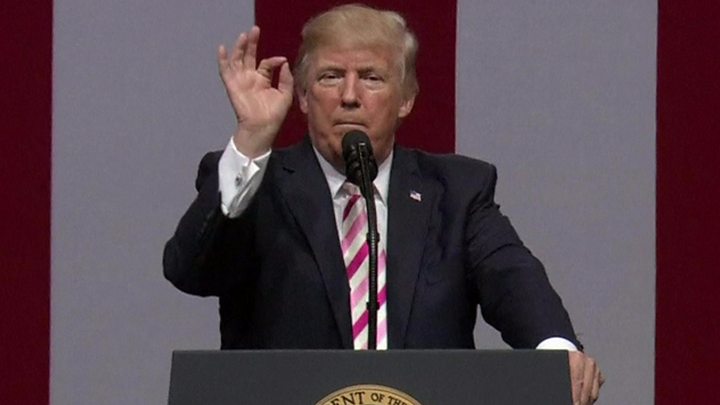 Media caption - Mr Trump attacked protesting players at a rally in Alabama

In two tweets early on Sunday just hours before a series of NFL games, Mr Trump repeated his call for clubs to punish players who protested during the US anthem.

He was referring to a string of controversial protests started by player Colin Kaepernick last year when he sat or kneeled during the anthem to highlight the treatment of black Americans.

To a crowd of cheering supporters on Friday, Mr Trump asked: "Wouldn't you love to see one of these NFL owners, when somebody disrespects our flag, to say, 'Get that son of a bitch off the field right now... he is fired'?"

#TakeAKnee v #BoycottNFL: How fans see it

US anthem and flag: Etiquette and law

The school team that kneeled
What has the reaction been?

Mr Trump's remarks on Friday have been widely criticised, with NFL commissioner Roger Goodell saying in a statement that "divisive comments like these demonstrate an unfortunate lack of respect".

President Trump, however, doubled down on his comments in a tweet, saying: "Tell them to stand!".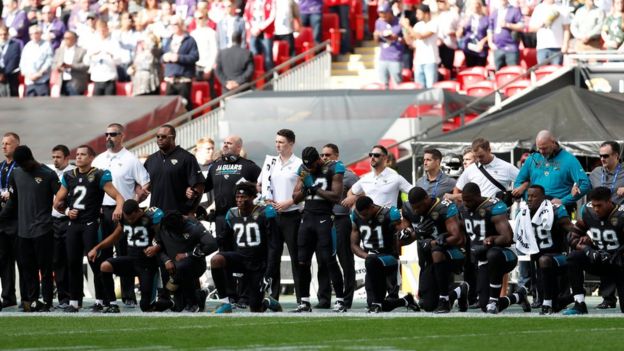 Image copyright - REUTERS Image caption - Jacksonville Jaguars players kneel during the US anthem before a match in London

The NFL Players' Association president Eric Winston said Mr Trump's comments were "a slap in the face to the civil rights heroes of the past and present".

In other reaction:
New England Patriots CEO Robert Kraft said he was "deeply disappointed" by the comments, and that he supported players' rights to protest
Miami Dolphins owner and founder Stephen Ross said the US needed "unifying leadership right now, not more divisiveness"
Jed York, CEO of the San Francisco 49ers, Kaepernick's former team, said he would continue to support his players, calling the comments "callous and offensive"
But there has been no comment from many teams, including New York Jets owner Woody Johnson, a wealthy businessman and Trump campaign donor who was appointed as his ambassador to the UK.

Earlier on Sunday, Treasury Secretary Steven Mnuchin defended Mr Trump's comments on ABC's This Week programme, saying: "I think the president can use whatever language he wants to use."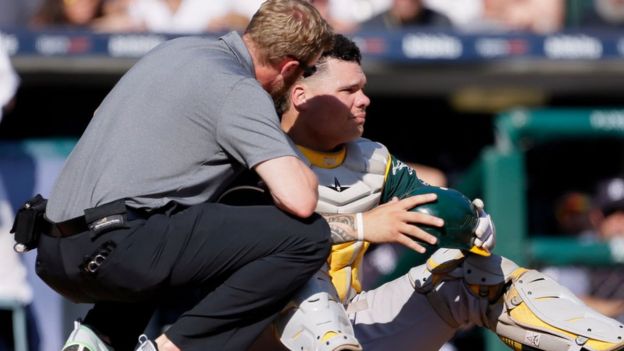 Image copyright - GETTY IMAGES Image caption - Bruce Maxwell said he was "in no way or form disrespecting my country or my flag" (file pic)

On Saturday night, the Oakland Athletics' Bruce Maxwell became the first Major League Baseball player to kneel in protest during the anthem.

His father is in the military and he was born on an army base, US media report. He told a reporter he was "kneeling for people that don't have a voice".

Rally for controversial NFL player

Stars: Trump is 'offensive and divisive'
Isn't there an NBA row too?

Mr Trump is also facing criticism after withdrawing an invitation to the White House to basketball champions the Golden State Warriors after one player, Stephen Curry, said he did not want to attend.

Curry - NBA's top performer in 2015 - said he wanted to show that he and other players did not stand for "the things that he's said and the things that he hasn't said in the right times".

"Going to the White House is considered a great honor for a championship team," Mr Trump tweeted afterwards. "Stephen Curry is hesitating, therefore invitation is withdrawn!"

The Golden State Warriors said the team had clearly understood "that we are not invited" to the White House but would visit Washington DC on its own "to celebrate equality, diversity, and inclusion".
Locker-Room Banter? (18/01/17)
Speaking at a press conference in the Kremlin the other day, Russian President Vladimir Putin had this to say about the incoming American President Donald Trump:

"This is an adult (Donald Trump) and, moreover, a man who for many years has organised beauty contests. He socialised with the most beautiful women in the world. I can hardly imagine he rushed to the hotel to meet our girls of lower social responsibility - even though they are the best in the world, of course."
Now you might put this kind of nonsense down as juvenile 'locker-room' banter, as Donald Trump has done himself, of course.
But if you ask me, President Putin's comments about Russian prostitutes being of "lower social responsibility" are hugely demeaning, particularly as he goes on to boast that "our girls......are the best in the world."
By the way it's worth remembering that while Donald Trump claims to be far too smart to be caught out by sophisticated spying equipment during his stay in Moscow, he was exposed for his "Grab 'em by the pussy" comments while wearing a lapel microphone while doing a TV show with the NBC presenter Billy Bush.
Sexual Predator (10/10/16)

"Grab them by the pussy" is locker-room banter according to Donald Trump, but it's not the kind of foul language or ugly mindset that you'd expect from a professional person never mind someone aspiring to become President of the United States.
So the race for the White House has been dragged into the world of sexual predators by the unguarded comments of the Republican nominee while his 'partner in crime', a TV presenter named Billy Bush, has been suspended by the NBC Today programme.
NBC has said there is "simply no excuse for Billy's behaviour and language on that tape", yet Trump carries on after issuing a perfunctory apology which completely ingress the fact that he was in a professional setting at the time and nowhere near a locker-room.
To their credit most of the Bush family have said they will not be voting for this buffoon and while Trump's poll ratings are taking a well-deserved hit, especially among women voters, I suspect there's much more to come in the days ahead.
http://www.bbc.com/news/uk-37605883
Billy Bush suspended by NBC after Trump tape emerges

BBC - Entertainment & Arts
Image copyright AP Image caption - Billy Bush has said that he is "very sorry" for the 2005 remarks

US TV host Billy Bush has been suspended from NBC's Today show after a video tape emerged in which he and Donald Trump made lewd comments.

Today executive Noah Oppenheim wrote in a memo to the morning show's staff that there is "simply no excuse for Billy's language and behaviour on that tape".

Mr Bush has said he was "embarrassed and ashamed" at the remarks.

US presidential candidate Mr Trump has also apologised for the obscene comments made in the 2005 tape.

In the video, Mr Trump was on a bus talking to Mr Bush - then host of NBC's Access Hollywood - ahead of a segment they were about to record.

Mr Trump says "you can do anything" to women "when you're a star" and also brags about trying to grope and kiss women.

Mr Bush tells Mr Trump at one point "the Donald has scored" and also comments on a woman's "good legs".
Image copyrightAPImage caption - Mr Trump has said the words "don't reflect" who he is

The presenter, who is the first cousin of former President George W Bush, has since said: "It's no excuse, but this happened 11 years ago - I was younger, less mature, and acted foolishly in playing along. I'm very sorry."

Top Republicans have condemned Mr Trump for the comments. His election rival Hillary Clinton called them "horrific".

The Republican party nominee has said "these words don't reflect who I am... I apologise".

Bush joined the Today team in August, having been anchor of Access Hollywood since 2009 and co-host of Access Hollywood Live since 2010.

Mr Oppenheim said that there would be a "further review" of the matter and did not say how long Mr Bush would be suspended for.
The Great Respecter (24/01/17)
Another great photo from Donald Trump's inauguration.
The Great Respecter (23/01/17)
"No one respects women more than me," Donald J Trump.
Great photo doing the rounds on Twitter after the Presidential inauguration on Friday - no comment necessary.