Now the White House may not be what Donald Trump's used to, but it says something about the man than he is arrogant enough to say that he lives in a 'dump' - when he's not out golfing at least.
Golfing News (29/03/17)

The Independent reports on a bizarre story featuring Fox News in which the Trump-friendly TV channel was found to be 'bigging up' the President's work ethic while he was, in fact, out enjoying himself out on the golf course.
Donald Trump has a real cheek, of course, because he was a constant and bitter Twitter critic of President Obama for spending too much time playing golf - yet Trump has enjoyed a golfing break just about every week since moving into the White House in January 2017.
Or to put things another way Donald Trump is just an ugly, two-faced hypocrite.
http://www.independent.co.uk/news/world/americas/fox-news-donald-trump-working-white-house-golf-trip-location-mar-a-lago-us-president-a7652486.html
Fox News tweet says Donald Trump is 'working at White House' as he finishes another golf trip



President was pictured in golfing gear in Virginia
By Rachael Revesz - The Independent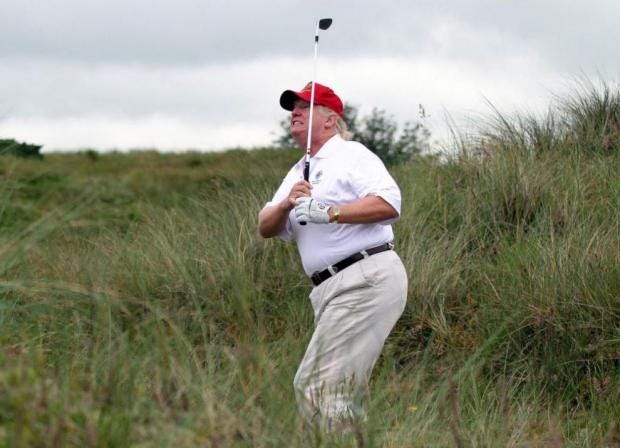 Mr Trump traveled twice to Virginia last weekend Getty

One tweet from Fox News caught a lot of attention this weekend.

"News Alert: @POTUS spending weekend working at the White House," the cable network tweeted on Sunday.

Social media users were quick to point out that the President travelled twice to a golf resort in Virigina over the weekend.



READ MORE - Donald Trump says he's in meetings, gets photographed in golfing gear
Trump's in the Bunker (28/03/17)
The Times cartoonist Morten Morland has the Trump White House stuck in a bunker which is a clever metaphor for the mess that this golf obsessed President is making of his first 100 days in office.
No one has got off to a poorer start or had their early approval ratings drop to such a low level and although it's early days yet the signs are that Donald Trump is turning out to be a 'disaster' - which is one of his very favourite words, of course.
Trump's Ratings Plunge (22/03/17)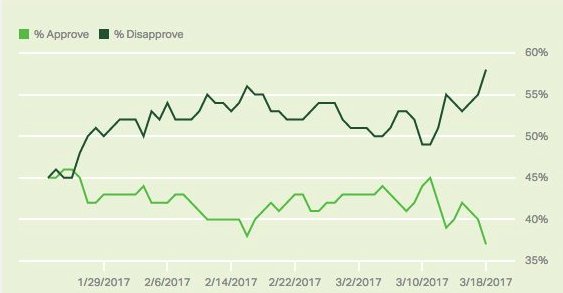 Donald Trump's approval ratings go through the floor after his shameless lying and bogus spying claims against President Obama.
Microwave Madness (14/03/17)
The BBC reported Donald Trump's accusation that President Obama had wire-tapped his phone which most people denounced as completely crazy at the time.
Some of Trump's cheerleaders even took the allegations a step further by suggesting that this 'covert surveillance' could have been done via the medium of a microwave oven, raising their paranoid conspiracy theories to a whole new level.
But the White House press secretary Sean Spicer has since clarified that President Trump wasn't referring to wiretapping when he tweeted about wiretapping, instead he meant "surveillance and other activities".
Mr Trump, by the way, is still known income quarters as the leader of the free world.
T
rump accuses Obama of tapping his phone
BBC
US &Canada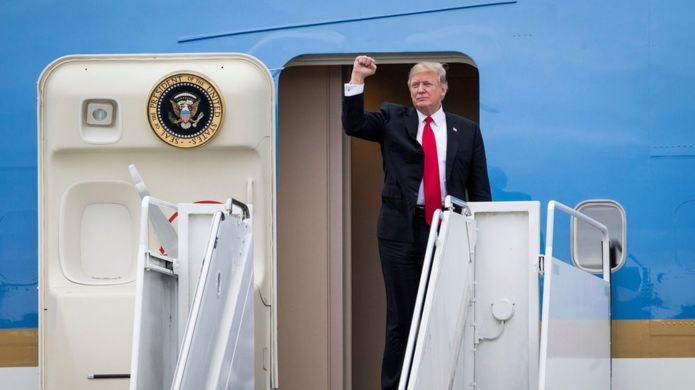 Image copyright - AP

US President Donald Trump has accused his predecessor of wire-tapping his phone a month before he was elected.

President Trump tweeted early on Saturday: "Terrible! Just found out that Obama had my "wires tapped" in Trump Tower just before the victory. Nothing found. This is McCarthyism!"

He went on to say that a court had earlier denied a wiretap request.

The US president has given no details to back up the claim - or suggested which court order he was referring to.

Media reports in the last few weeks have suggested the FBI had sought a warrant from the foreign intelligence surveillance court (Fisa) last summer in order to monitor members of the Trump team suspected of irregular contacts with Russian officials.

The warrant was first turned down but then approved in October, according to the media reports.

There has been no official confirmation and it is also not clear if this evolved into a full investigation.




There has been no comment from ex-President Barack Obama.

Mr Trump called the alleged tapping "a new low" and said "This is Nixon/Watergate" - referring to the most notorious political scandal of 1972, which led to the downfall of President Richard Nixon after a web of political spying, sabotage and bribery was exposed by the media.

He also called it McCarthyism - the persecution for US Communists and their allies led by Senator Joe McCarthy in the 1950s.

Read more:

Why is Watergate in the news again?
Russia: The scandal Trump can't shake

Mr Trump has been reeling from accusations of links between his campaign team and Russia, following an intelligence report that Moscow was involved in hacking in order to get Mr Trump elected.

In the latest twist, his Attorney-General Jeff Sessions has been forced to remove himself from an investigation into the Russian role.




This followed revelations that he had met the Russian ambassador during the campaign, despite denying this at his confirmation hearings.

Mr Trump's National Security Adviser Michael Flynn was forced to resign after four weeks in office for misleading the White House over his contacts with the Russian envoy during the election campaign. Sanctions against Russia were allegedly discussed.

Referring to contacts with Ambassador Sergei Kislyak, Mr Trump tweeted: "Just out: The same Russian Ambassador that met Jeff Sessions visited the Obama White House 22 times, and 4 times last year alone."
Donald Where's Your Ratings? (21/03/17)
The Independent reports that Donald Trump's 'stock' has fallen to an all time low with just 37% of Americans approving of his performance as POTUS (President of the United States).
If things go on like this, I suspect President Trump will turn into the political equivalent of a 'junk bond' and given his bizarre behaviour over the past 60 days that would be no bad thing.
Given Trump's Scottish roots maybe this excruciatingly bad Andy Stewart song "Donald Here's Your Troosers' will cheer the Trumpeter up in between his increasingly unhinged outbursts on Twitter.
http://www.independent.co.uk/news/world/americas/donald-trump-gallup-poll-new-record-low-approval-ratings-russia-healthcare-wiretapping-twitter-a7638601.html
Donald Trump's approval rating falls to record low, finds Gallup poll
Gallup poll shows new President has just 37% approval
By Rachael Revesz - The Independent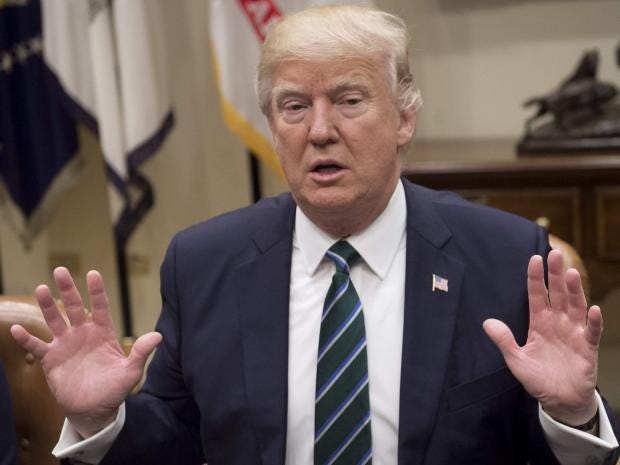 Mr Trump entered office with a low rating of 45 per cent and it has fallen since then AFP/Getty

Donald Trump is only two months in and his approval rating has fallen to a new low, according to the latest Gallup poll.

The President's approval has dropped three points this weekend to 37 per cent, the lowest point since Mr Trump stepped into the White House.

Other presidents have suffered even lower ratings during their time in office, but this is the first time in at least 70 years that any president dipped to this point by March of their first term, according to Gallup.

Gallup's findings come shortly before the Congressional hearing on Russia and whether the country interfered in the 2016 election to give the Republican candidate a boost. Both parties have flatly denied the allegations.