Scotland's former First Minister was on his moral high horse in Westminster last week demanding, yet again, Tony Blair's head on a plate over the Iraq War.
As the SNP's foreign affairs spokesperson Salmond had table a motion which claimed that the Chilcot Inquiry into the Iraq War had:
"provided substantial evidence of misleading information being presented by the then prime minister and others on the development of the then government's policy towards the invasion of Iraq".
Whereas Chilcot himself is on record as saying:
"I absolve him [Blair] from a personal and demonstrable decision to deceive parliament or the public – to state falsehoods, knowing them to be false."
The Guardian reports that Mr Salmond's motion was heavily
defeated
and rightly so, if you ask me, not least because of its demand for yet another Iraq Inquiry.
https://www.theguardian.com/politics/2016/nov/30/labour-mps-accuse-snp-of-opportunism-over-tony-blair-motion

MPs reject move to investigate Tony Blair over Iraq by 369 votes
Labour MPs turn out in force to defeat Alex Salmond's motion, accusing him of attempt to 'pillory and scapegoat one individual'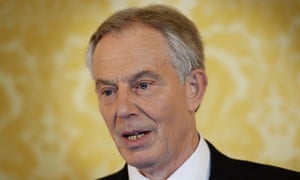 Tony Blair should be held to account for what was 'very much a personal campaign', Alex Salmond said. Photograph: Stefan Rousseau/PA

By Jessica Elgot and Heather Stewart - The Guardian

Labour MPs turned out in force on Wednesday to help defeat a parliamentary motion calling for Tony Blair to be held to account for allegedly misleading parliament over the Iraq war by 439 votes to 70, after a sometimes angry debate.

MPs vote down motion accusing Blair of misleading them over Iraq by majority of 369 - Politics live

The motion, tabled by the Scottish National party's foreign affairs spokesman, Alex Salmond, was backed by MPs from six other parties, and called for parliamentary committees to investigate and take appropriate action against the former prime minister.

"What Iraq demonstrates is that currently at least there are no effective checks and balances in our system," Salmond said. "The prime minister had the ability to create the circumstances in which this house followed him into an illegal conflict."

The Labour MP Joan Ryan said: "On my reading of Chilcot, it says there was no falsification or improper use of intelligence, there was no misleading of cabinet and no secret commitment to war. Sadly, I think the only deception is in this motion and its opportunistic nature does not serve this issue or this parliament well."

The Conservative MP Ken Clarke said the debate should not centre on one individual. "If we turn these post-Chilcot debates just into attempts to pursue and hound Tony Blair, the whole thing just turns into a party political argument with Labour members of parliament trying to defend the position of their government," he said.

"Personalising it, if we are not careful, rather loses the point: are we satisfied everything possible is being done to ensure it cannot happen again?"

Unpardonable Folly (07/07/16)
I watched Sir John Chilcot deliver his long-awaited report into the war in Iraq and while his criticisms were broadly as expected, two important and overarching points stood out.
First,
that Sir John and his team enjoyed seven long years to mull the whole business over and they also had the benefit of 20/20 hindsight before drawing their conclusions.
Second, and more importantly, the Chilcot Inquiry did its work inside of a political vacuum rather than the highly adversarial arena in which UK politics is played out these days, under the glare of a cynical and often overtly hostile news media.
Tony Blair can answer for himself and has done, of course.
But some of his fiercest critics were not just against the Iraq War, they opposed military action just about everywhere: the Gulf War in 1991, Nato air strikes against Serbia in 1999, the invasion of Afghanistan in 2001 (in the wake of 9/11), the support for anti-Gaddafi rebels in Libya, and the current action against the Islamic State in Iraq and Syria.
Alex Salmond who is currently calling for Tony Blair's 'head on a plate' was guilty of a monumental misjudgement, in my view, when he described NATO air strikes
against Serbia as an 'unpardonable folly' back in 1999, e
ven though this particular military action was designed to prevent the ethnic cleansing of Muslims in Kosovo.
So if you were to examine Mr Salmond's remarks with the same cool detachment of the Chilcot Inquiry would you consider his comments to be:
a) a sincerely held, yet ultimately mistaken belief
b) windy, opportunist political rhetoric
c) unforgivably stupid and inane
The lesson of Iraq is that military intervention is messy, complicated business, one that is fraught with risks and has no guarantee of success.
But there is also great risk attached to sitting on the sidelines watching murderous fascists go about their work, as they did in Kosovo in 1999.
As the late author Christopher Hitchens said, though much more eloquently than me:
unpardonable folly, my arse.
Nato bombing 'unpardonable folly'
BBC News - 22 March 1999

Demonstrations: Serbs and Albanians focus protests in London


Scottish National Party leader Alex Salmond has become the first leading UK politician to speak out over the air strikes against Serbia, calling them counter-productive.

In a televised address to the Scottish people, Mr Salmond said that the military campaign was failing to do anything but strengthen Serb resolve and threaten the lives of ethnic Albanians.

And as Nato launched another night of raids against targets in Yugoslavia, the Archbishop of Canterbury, Dr George Carey, also called for talks to replace bombing "as soon as possible".

'Dubious legality'

Mr Salmond said: "It is an act of dubious legality, but above all one of unpardonable folly."

The bombing "may make matters even worse for the very people it is meant to be helping".

The nationalist leader said Serbian President Slobodan Milosevic bore "prime responsibility" for human rights violations carried out on ethnic Albanians living in Kosovo.

"However, if we are to sanction intervention in Serbia then the policy must be capable of achieving two things," he said.

"It must be capable of weakening Milosevic and helping Kosovo. A bombing campaign will do neither, indeed the chances are it will make both worse."

The SNP wants an end to the bombing

But reacting to the breaking of ranks among domestic politicians, Foreign Secretary Robin Cook accused Mr Salmond of being "unfit to lead".

"He (Alex Salmond) fails to see the clear distinction between the resolve of a democracy defending itself against dictatorship and a dictatorship engaged in ethnic cleansing," he said.

But Plaid Cymru leader Dafydd Wigley also questioned the Nato bombing in his address to the Welsh nation, asking whether the action was actually exacerbating a human catastrophe.

Carey calls for talks

Dr Carey later called for talks to replace confrontation "as soon as possible".

He told BBC's One's Nine O'Clock News that Nato had been right to act but negotiations must restart to save civilian lives.

"The evils of ethnic cleansing and the dispersed populations are factors that no civilised person can be happy about," he said.

"We are seeing on our screens appalling pictures of suffering.

"Negotiation must replace confrontation as soon as possible. Nato was correct to take the action, howbeit regretfully - we must all regret that very deeply.

"But it is vitally important that we get people around that negotiating table as quickly as possible in order that civilian lives may be saved."

Riot police flood Whitehall

Meanwhile, London experienced more protests, leading to riot police moving in to keep opposing demonstrators apart.

Hundreds of officers closed off Whitehall as a demonstration of more than 1,000 Albanians in Trafalgar Square neared Downing Street where Serbs were protesting against the air strikes.

The square was filled with pro-Kosovo demonstrators carrying banners declaring: "No appeasement, no compromise, no surrender".

Serbs held placards denouncing Mr Cook as a murderer - but despite fears of a clash the noisy demonstrations ended peacefully.

At one point Union flag-waving Kosovans allowed two Serb women through, escorted by riot police, to attend their rival demonstration.