Len McCluskey (66) is old enough to remember the song 'I'm Your Puppet' from rhythm and blues duo James and Bobby Purify which reached number 6 in the American charts back in 1966.
Now what with all these sixes - 66, number 6 and 1966 - it strikes me that this can't just be a coincidence.
Surely it must be some kind of omen for 'puppets' and 'puppeteers' alike.
Union Puppet Master (19/12/16)
Gerard Coyne has thrown his hat in the ring to become the next general secretary of Unite after the present incumbent, Len McCluskey (66), decided to stand down early in a cunning ruse to earn himself a third term.
Now I don't know Gerard Coyne, but I would say that Len McCluskey has to be the bookies favourite because 'name recognition' counts for a a great deal in union elections which normally involve a very low turnout of members.
Back in 2010, for example, Len McCluskey was returned as general secretary by just 6.8% of Unite's total membership.
Coyne's pitch to Unite members simple and direct - he wants Unite to concentrate on the members interests instead of spending so much time cuddling up to Jeremy Corbyn and telling the Labour Party how to run its affairs.
In a recent interview tin The Guardian Coyne said of Unite members:
"Often, they are people who don't feel 'political', even if they are affected by political events. I believe they want a general secretary who spends less time trying to run the Labour party and more time looking after their interests."
I agree with that, I have to say.
Because there's no doubt in my mind that Len McCluskey has been pulling the strings in recent years, operating as Labour's 'puppet master', first of all with Ed
Miliband and now with the even bigger disaster of Jeremy Corbyn as Labour leader.
So Gerard Coyne would be a breath of fresh air if you ask me - read the full interview via the link below to The Guardian.
https://www.theguardian.com/commentisfree/2016/dec/13/why-i-am-standing-to-be-leader-of-unite-our-members-need-someone-to-fight-on-their-behalf
Why I am standing to be leader of Unite: our members need someone to fight on their behalf
With falling real wages, zero-hours contracts up by 20% and attacks on workers' rights, we need a strong union more than ever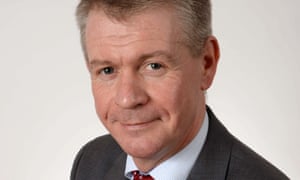 Gerard Coyne: I joined my first union aged 17. Photograph: handout

By Gerard Coyne - The Guardian

I know the value of a strong union. My father was an activist in the Fire Brigades Union and my mother was a school caretaker and a GMB member. I joined my first union at 17 when I was a shop worker at Sainsbury's and I've worked at Unite for 28 years. I fight for a better deal for members every day.

Now more than ever, people need someone in their corner to stand up for them at work. The erosion of employment rights under this government, the proliferation of zero-hours contracts and the increase in temporary employment have left workers open to exploitation.

We are living in an age of chronic insecurity. But just as the economy and the needs of our members are changing rapidly, unions must change too. We need to be more flexible, more responsive and more transparent in the work we do.

Many members don't know the name of their general secretary, but they know exactly how much of their wages they part with in union subs and they want to see real value for money for that cash.

All too often members feel the leadership of their union is too remote and out of touch and they get angry and disillusioned when they read about allegations of inappropriate uses of union money. That has to change.
Pensioner Hatches Cunning Plan (17/12/16)

I heard Len McCluskey being interviewed on Sky News yesterday and laughed out loud when he used the opportunity to 'warn' Labour MPs not to interfere in Unite's internal democracy.
The backdrop being that Len (66) has triggered an unnecessary election by resigning as the Unite boss before his existing term of office is up in 2018 by which time he would be 68, and a bit 'long in the tooth' for a union leader, some would say.
But Len's clever wheeze is that he's not really resigning at all - he's standing again as general secretary even though Len is already drawing his (final salary) Unite pension, having passed the normal retirement of 65 which must mean, I presume, that Len is drawing his state pension too.
As regular readers know, as a general rule, I'm against people accessing their retirement pensions and then continuing to work because they're really having their cake and eating it at the same time.
In any event, Len's complaint about political interference made me laugh because he has previously launched a full frontal attack on the present leader of the Scottish Labour Party Kezia Dugdale, and also called upon its previous leader Jim Murphy to resign.
Even though
both possessed 'democratic mandates' far more impressive than Mr McCluskey's who was elected by just 6.8% of the members who voted in Unite's leadership election back in 2010.
Psst.....pass it on! (06/07/16)

Jeremy Corbyn has a whopper of a mandate, don't you know, which he remarks upon at every opportunity as if this makes him immune to political attack.
Well so what, I say.
Because Tony Blair had a mandate before he was persuaded to stand down as Labour leader in 2007.
As did Jim Murphy, Labour's last but one leader in Scotland, yet
that didn't stop Unite boss Len McCluskey from demanding that Murphy should stand down after the party lost all but one of their MPs in the 2015 general election.

Murphy went on to win a vote of confidence at the Labour Party's Scottish Executive yet he still decided it was best for him to go.
So all this mandate stuff is irrelevant if you ask me, because the real issue is that Jeremy Corbyn has shown himself to be completely useless so much so that he has lost the confidence of 172 of his fellow Labour MPs.
'Kinder, Gentler Politics' (02/05/16)

I was going to have a blogging-free day today, given the bank holiday, but having read thoughts of Unite boss Len McCluskey on Labour MPs undermining Jeremy Corbyn, I felt compelled to say something.
The first thing is that demanding Labour MPs to show more loyalty to their leader is a bit like calling for Count Dracula be put in charge of the local neighbourhood blood bank.

Because, as everyone knows, Jezza was a serial rebel throughout his 32 years as a backbench MP who voted against his own party line over 500 times, as well as being a persistent thorn in the side of every Labour leader in recent memory including: Neil Kinnock, John Smith, Tony Blair, Gordon Brown and Ed Miliband.
So, Len is re-writing history in similar fashion to Ken Livingstone who caused the whole row in the first place by claiming 'Hitler was a Zionist' and that a person can only be anti-semitic if they hate all Jews across the world, not just those living in Israel.

Now Len's comments are extensively reported in The Guardian (see link below), yet strangely the Unite boss has nothing to say about Comrade Livingstone's behaviour or the extremely stupid and hateful things the former London mayor said.
Instead McCluskey lashes out at named Labour MPs and even has the brass neck to attack Liz Kendall's 4.5% share of the vote in Labour's leadership election, when Len managed to attract only 6.8% of union members who voted in Unite's leadership election.

Still it's nice to see the Corbyn style of 'kinder, gentler politics' at work.
Corbyn ally Len McCluskey attacks 'treacherous' Labour MPs



Union leader accuses Labour figures of setting 'false traps' for leader, as polls suggest party is on course for worst local election results in 35 years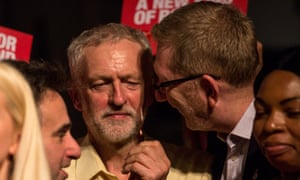 Jeremy Corbyn pictured with Len McCluskey during his leadership campaign. Among those accused by McCluskey are Liz Kendall, Michael Dugher, Ian Austin and Wes Streeting. Photograph: Rob Stothard/Getty Images

By Rajeev Syal and Heather Stewart

A key ally of Jeremy Corbyn has accused MPs of employing treacherous tactics designed to undermine Labour's leader, as an analysis of the latest polls by a leading academic suggests the party is on course for its worst local election results for 35 years.

Len McCluskey, the head of the UK's biggest union, Unite, claimed former shadow ministers Liz Kendall and Michael Dugher, Gordon Brown's former aide Ian Austin and newly elected MP Wes Streeting have made interventions meant to damage Corbyn.

McCluskey's intervention comes as a new projection conducted for the Guardian shows that Labour is on course to lose 175 council seats in Thursday's elections.
Psst - pass it on! (16/09/11)
Psst, pass it on!
Len McCluskey of Unite has a smaller 'mandate' than Dave Prentis of Unison see post dated 14 September 2011 - People in Glass Houses
Dave has a big whopper of a mandate compared to Len anyway and depending on how you count the votes.
But Dave's 11.2% puts Len's 6.8% completely in the shade and here's a earlier post from November 2010 which explains why.
Now I don't think that size really matters unless people go around making complete dicks of themselves by saying that they've got a bigger mandate than anyone else.
Because normally that's not true and men tend to be a poor judge of size, or so my women friends tell me anyway.
"Election Mandates (24 November 2010)"
Len McCluskey election as the new leader of Unite has prompted lots of Guardian readers to comment on the newspaper's web site.
Most people registering a view are rightly unimpressed at the poor turnout.
Less than 16% of the union's membership participated in the ballot which does raise serious questions about trade union democracy.
If 84% of the electorate cannot be bothered to vote something is clearly wrong and union leaders should do more than just shrug their shoulders and move on.
Some commentators also attack Len McCluskey, on a personal level, which is clearly rather unfair.
Len has still been elected after all he just needs to avoid getting too carried away.
Because any over the top attack on the government and its mandate to govern will sound completely ridiculous.
From a union leader elected with the backing of only 6.8% of Unite's 1.5 million members.
"Wee Lassie" Jibe (06/12/16)
Misogyny is alive and well in the senior ranks of the Scottish Labour Party, if the following piece in The Sunday Times is anything to go by.
http://www.thetimes.co.uk/edition/scotland/wee-lassie-struggles-to-win-support-jqw9c86bz
A senior (and anonymous) Labour figure told the ST's John Boothman that:
"There is deep gloom about the numbers. Everybody knows who Nicola Sturgeon and Ruth Davidson are and what they stand for. Insofar as they know Kezia, she is regarded as 'a wee lassie' and not up to the job. There are also areas of the country where she has no recognition at all."
"Until just after the Holyrood elections people had been prepared to give Kezia the benefit of the doubt as she had been leader for only a short time. It wasn't fair to place the long-term ills of the party at her door — and anyway there was no alternative. That's changed. Since May a number of people have emerged who have the talent to do the job."
Now these ugly comments comes hot on the heels of full frontal political attack by Unite boss Len McCluskey, so it doesn't take a genius to work out who is behind the latest attempts to undermine Labour's Scottish leader.
Kezia Dugdale was only elected in 2015 and received an even bigger mandate than Jeremy Corbyn with 72.1% of the vote.
But Kez is a woman of course, so the size of her mandate doesn't appear to mean anything to Kamikaze Len and his union bully boys.
Arrogant Tosser (28/11/16)
Len McCluskey is an arrogant tosser, if you ask me.
Because Len's always banging on about other people's leadership abilities while conveniently ignoring the fact that he led Unite members at the giant Ineos plant in Grangemouth into a crazy, politically motivated strike that almost cost them their jobs and left the workforce on poorer terms and conditions than those they enjoyed before the dispute began.
The Sunday Herald reports that Len is none too impressed with Kezia Dugdale, as leader of the Scottish Labour Party, as if the Unite boss is speaking from a position of strength.
But as we all know people who live in glass houses shouldn't throw stones.
http://www.heraldscotland.com/news/14930685.Unite_boss_McCluskey_savages_Dugdale_over_leadership_of_Scottish_Labour/
Unite boss McCluskey savages Dugdale over leadership of Scottish Labour

By Andrew Whitaker - The Sunday Herald

THE leader of the UK's largest trade union has launched an extraordinary attack on Scottish Labour leader Kezia Dugdale, who he accused of doing a "disservice" to herself and the party with her leadership.

Unite general secretary Len McCluskey, in a dramatic intervention, also claimed the SNP could help keep a Jeremy Corbyn-led government in power after the next General Election, if there was a "progressive alliance" to oust the Tories.

He hailed a call by Scottish Labour deputy leader Alex Rowley for the party to ditch its "narrow" Unionist ideology and return to its Socialist roots – as reported in the Sunday Herald earlier this month – as a "clarion call" and the "correct thing to do," adding: "Alex speaks a lot of sense".
'Kamikaze' McCluskey (10/07/16)

The boss of the Unite union, Len McCluskey, issued the following statement after talks collapsed over Jeremy Corbyn's continued leadership of the Labour Party:
"I am dismayed at the statement issued by Tom Watson announcing his withdrawal from talks aimed at resolving the crisis in the Labour party.
"Extraordinarily, I received no notice of this statement before it was issued. I had made arrangements for a meeting of trade union leaders, Tom Watson and representatives of the PLP and the party leader for tomorrow, arrangements requested by Tom Watson and his colleagues, specifically for Mr Watson's convenience.
"In that context, when the possibility of a workable plan had never seemed closer, Tom Watson's actions today can only look like an act of sabotage fraught with peril for the future of the Labour party.
"I must clarify one point in Tom Watson's statement; I made it absolutely clear from the outset of these discussions that Jeremy Corbyn's resignation as the leader was not on the agenda. Watson knew that, and it is entirely wrong to suggest that any public statement by Jeremy represented any change in the situation. This is a deeply disingenuous manoeuvre.
"I will continue to work with trade union colleagues and others to chart a way forward, including meeting the legitimate concerns of Labour MPs."
Now if McCluskey had already made plain that Corbyn's position as leader was 'non-negotiable', then the talks were doomed from the outset, the vast majority of Labour MPs (from all wings of the party) having concluded that Jeremy is simply not up to the job.
So it's worth remembering that Len McCluskey's style of leadership almost led to the closure of the giant Ineos plant at Grangemouth after Unite foolishly called a damaging strike over a local union steward who was called to account for carrying out work for the Labour Party during his employer's time.
Resign! (26/09/15)
The Scottish Labour leader Jim Murphy won a vote of confidence (17-14) at the Scottish party's executive committee the other day, but decided to stand down nonetheless because of the wrecking tactics of his most vocal critics, including Len McCluskey the boss of the Unite trade union.
Unite has wasted £14 million of its members money in donations to the Labour Party since Ed Miliband became leader in 2010 and last year the union called a disastrous strike at the giant Ineos plant in Grangemouth which almost cost thousands of Unite members their jobs
So why doesn't Len McCluskey follow his own 'lead' and resign as the Unite general secretary because by any standards he's done a lousy job after accepting that the vast majority of Unite members in Scotland supported the SNP in the general election, having deserted the Labour Party in droves over recent years.
Jim Murphy gave Len McCluskey both barrels in announcing his decision to resign and has pledged to table a report of proposed reforms to the Scottish Labour executive next month.
Here's what he had to say:
"It is clear that a small minority who didn't accept my election as leader of the Scottish Labour Party just five months ago won't accept the vote of the executive today and that will continue to divide the party.

Today I received more support in the executive vote than I did from members of the executive when I stood for election five months ago.

When I table that report at next month's meeting of the Scottish Labour Party executive, I will also table my resignation as leader of the Scottish Labour Party.

It will be for the party executive to decide whether it accepts the reforms proposed, but a party in such urgent need of reform blocks those changes at its peril."
The Labour Party's problem is not the link with trade unions, or even the relationship with Unite members - far from it.

It is the destructive behaviour of one high profile trade unionist.

One of the things about stepping down is that you can say things in public that so many people in the Labour Party only say in private.

So whether it is in Scotland or in the contest to come in the UK, we cannot have our leaders selected or deselected by the grudges and grievances of one prominent man.

The leader of the Scottish Labour Party doesn't serve at the grace of Len McCluskey, and the next leader of the UK Labour Party should not be picked by Len McCluskey."