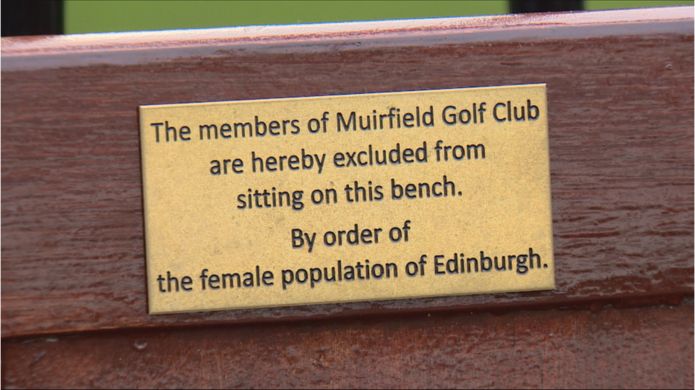 I can see why the city's officials would want the sign removed, but it's still a great joke and I take my hat off to the pranksters who put this plaque on a public bench within sight of Edinburgh Castle.
Serves the old duffers of Muirfield right for their golf club to be ridiculed in such a way.
Golf club ban plaque removed from Edinburgh bench



BBC Edinburgh, Fife & East Scotland

A rogue plaque fitted to an Edinburgh bench excluding members of a golf club from sitting on it has been removed by the council.

The sign on the Princes Street bench said it was fitted on behalf of the "female population of Edinburgh".

Muirfield Golf Club in Gullane in East Lothian, decided against allowing women to become members last summer.

The vote returned just short of the two-thirds majority needed to change its constitution.

A City of Edinburgh Council spokeswoman said: "This is a presentation seat that was donated to the city and has an existing dedication.

"The plaque in question has been placed without permission and therefore has now been removed."

A Muirfield Golf Club spokesman declined to comment.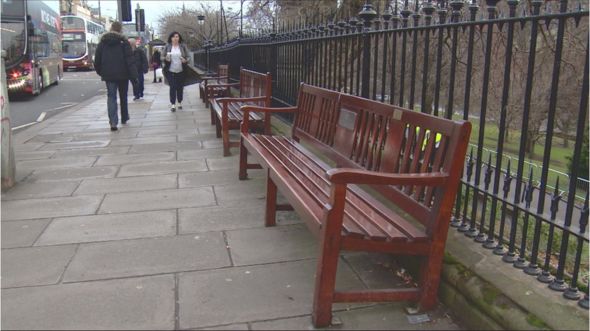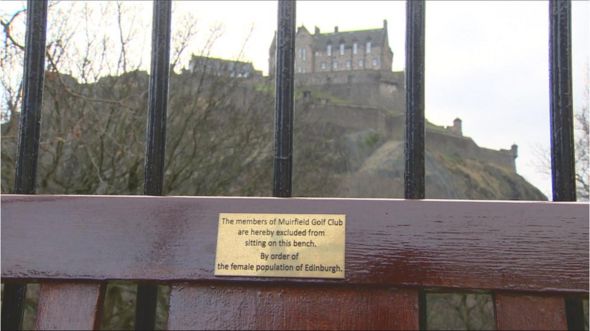 Sexist Plonkers (30/06/13)
Scotland's First

Minister - Alex Salmond - deserves credit for telling the 'stuffed shirts' at Muirfield golf club that they can stick their invitation to this year's Open Championship - where the sun don't shine.
Now, of course, the First Minister used more polite language that I've just employed to convey his message, but his point is still plain for all to see - exclusive 'all male' golf clubs in this day and age are ridiculous and a terrible embarrassment to Scotland.
I don't know who decides where the Open Golf Championship will be held every year, but whoever it is - they should grow up and decide that, in future, they will boycott any golf clubs that deny membership to women players.
Now that would include the home of golf course - the Royal and Ancient Golf Club of St Andrews - which has a long standing tradition of offering honorary membership to the principal of St Andrews University.
Yet that tradition was abruptly halted a few years ago when a new woman principal took over the reins at the university - in the shape of Dr Louise Richardson.
What a sad bunch of sexist plonkers - what does this say about their outlook on life, moral values and relationships with women?
I'm not a golfer and never have been, but I know for sure that I wouldn't want to be a member of an 'all male' club - no matter how exclusive - because it is simply unacceptable that women can be treated as second class citizens.
Russian Pranksters (16/11/16)
I'm not normally a fan of street graffiti, but there are always exceptions to this general rule, as in the case of the Duke of Wellington status in Glasgow which famously has a red traffic cone placed on its head on a regular basis.
So I take my hat off to the
Russian pranksters who turned a red Soviet-era star on top of a block of flats into Patrick Starfish, a character from Spongebob Squarepants.
The Russian authorities have threatened those responsible with a heavy fine and/or a prison sentence, but I would be inclined to ask those living in the property what they think of the new addition to their building.
Because even the work of the street artist 'Banksy' took some time to catch on and is now worth a small fortune, in some cases.
Council Killjoys (13/11/13)
Glasgow City Council has backed away from a proposal to raise the statue of the Duke of Wellington - a famous landmark which stands outside GOMA, the Gallery of Modern Art.
The statue is famous not so much for who it is, but the fact that the Duke of Wellington regularly has a traffic cone placed on his head - sometimes his horse endures this indignity as well - normally by young men who have imbibed too much alcohol for their own good.
Apparently some overpaid official at the 'toon council' decided that this behaviour amounted to vandalism - and to thwart those responsible came up with a cunning plan to raise the plinth by a few feet so that anyone wishing to place another traffic cone on the Duke's (or the horse's head) would have their work cut out - drunk or sober.
Now the council said this work would cost £65,000 but that Glasgow taxpayers would save £10,000 a year, so the operation would allegedly have paid for itself after 7 years because the would not have to keep removing the traffic cones which some council official calculated as 100 removal operations a year at £100 a time - or £10,000.
I don't know about anyone else, but all I can say that this seems like a bogus figure to me and if the council is so worried about cost - why not just leave the traffic cones up there and let the city's revellers change them if they feel the need - at absolutely no public expense.
The laugh is that this harmless piece of fun has helped put Glasgow on the map and the Duke, replete with his traffic cones, have become something of a tourist attraction - even appearing on postcards and other memorabilia, so what's not to like.
Dumb Britain (04/12/14)
The following entries to the Private Eye's 'Dumb Britain' column had me in stitches, especially the one about the Duke of Wellington who has a very special place in the heart of all Glaswegians.
Fifteen to One, C4
Sandi Toksvig: Born in 1769, what was the name of the first Duke of Wellington?
Contestant: Napoleon Bonaparte.
Pressure Pad, BBC1
John Barrowman: Which British prime minister had the first names Anthony Charles Lynton?
Contestant: David Cameron.
The Chase, ITV
Bradley Walsh: The Nun's Priest's Tale is a story by which 14th century English author?
Contestant: JK Rowling.
Walsh: The title of which Shakespeare play means "everything turns out OK"?
Rugby star: Macbeth