Remembering Jimmy Reid
The Unite general secretary, Len McCluskey, was in Glasgow the other day to deliver the Jimmy Reid (pictured above) memorial lecture - and here is how the Guardian reported the event.
I've highlighted a few of the points that jumped out at me which I think are worthy of further comment.
1 The trade unions established the Labour Party over 100 years ago - but surely the party belongs to its individual members - and not trade union bosses wielding unrepresentative collective votes which don't accurately reflect the political views of its Scottish members?
2 If union affiliation fees are reduced, because individual union members decide not to support Labour - how can it be fair or democratic for union bosses like Len to still donate that money to the Labour Party, as if nothing has happened?
3 Only six big companies (monopolies) dominate the UK energy market - so why is it OK for only three trade unions (Unite, Unison and GMB) to be so dominant in the public services - without any form of independent regulation?
4 Jimmy Reid started his political life in the Communist Party, left to join the Labour Party and ended up in the Scottish National Party (SNP) - so why do trade unions like Unite only recognise the Labour Party when so many of its members in Scotland vote, as Jimmy Reid did, for the SNP?
Now I have no more right to speak for Jimmy Reid than Len McCluskey does, but wherever Jimmy now is (whatever that means) I'm pretty sure he would want Len to give me straight answers to my four questions because whatever else he was Jimmy Reid was a fair minded person - and completely unimpressed by party hacks.
Unite leader praises Ed Miliband and promises election campaign funds
Len McCluskey says Labour will be well funded for general election despite reform of link between party and unions

By Nicholas Watt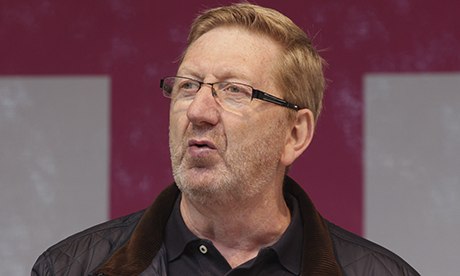 Len McCluskey, the Unite union general secretary. Photograph: Barbara Cook/Demotix/Corbis

Len McCluskey, the general secretary of the Unite union, has offered a guarantee that Labour will be well funded in the runup to the next general election, as he praised Ed Miliband for delivering the most radical party conference speech since the era of Michael Foot.

In a sign that relations have warmed after Labour called an end to an investigation into alleged wrongdoings by Unite over a parliamentary selection in Falkirk, McCluskey praised Miliband for abandoning the "neo-liberal dogmas" of the Tony Blair years.

"Ed Miliband's speech to the Labour conference was, some would say, the most genuinely radical we have heard from a Labour leader for nigh on 30 years," McCluskey said in the annual Jimmy Reid memorial lecture in Glasgow.

Reid, who died in 2010, stood for the Communist party of Great Britain in the 1970 general election and led the Upper Clyde shipbuilders' work-in in the early 1970s.

McCluskey made clear that Unite was keen to ensure that Labour was well funded during the general election despite Miliband's plan to reform the historic link between the party and trade unions.

Under Miliband's proposals, individual trade unionists will be required to opt into affiliating to the party, rather than being affiliated automatically by their union headquarters.

The GMB union, whose leader, Paul Kenny, is strongly opposed to the reforms, announced last month that it would cut its affiliation funding by more than £1m next January. The GMB executive decided to cut the number of its members affiliated to the party from 420,000 to 50,000 next January, cutting the amount of affiliation funds to Labour from £1.2m to £150,000.

McCluskey said the reforms would mean a cut in individual affiliation fees, though he said the union leadership would make sure that Labour was well funded for the election. In an interview with Scotland Tonight on STV, he said: "Obviously affiliation fees would undoubtedly come down. But that doesn't stop unions making donations. The Labour party is still our party, remember, it is the party of organised labour and we want to make certain that it's well funded in order to fight the next elections."

In his Jimmy Reid lecture, McCluskey lavished praise on Miliband for pledging to introduce a 20-month price freeze on energy bills if he wins the next general election. He said: "To say that the next Labour government will not let the energy monopolies carry on ripping us off, to say that the property speculators will no longer be able to stop our kids getting a decent roof over their heads, and to tell the biggest companies that they are going to have to pay more tax – that is not just a break with the coalition's policies, it also represents Labour turning its back on the neo-liberal dogmas which dominated the Blair-Brown years."

He praised the way Miliband had challenged the government over plans to launch military strikes against the Assad regime in Syria in the wake of an apparent chemical weapons attack in August. He said: "I unequivocally welcome Ed's speech. Allied to his brave stance over Syria – a stance which flew in the face of the unsolicited advice of Tony Blair and which I believe has saved lives by stopping a global rush to war – there is no doubt that this is no longer New Labour as we knew it."

McCluskey also hailed Miliband's response after the Daily Mail accused the Labour leader's late father, Ralph, of having hated Britain in light of his Marxist beliefs. He said: "Undoubtedly Ed Miliband has spoken up for everyone decent in this country in not only defending the honour of his eminent father, but in exposing the sordid journalistic practices of the Daily Mail. If the Daily Mail had its way, there would be no trade unions, no labour movement, no progressive debate, and all politics would be conducted in a state of synthetic semi-hysteria.

"Of course, there would be no Ed Miliband to worry about, since his father, instead of settling in and fighting for Britain, would have perished at the hands of the Nazis who the then Lord Rothermere so admired and held up as a model for Britain. As with his decision to break with the mystique of the Murdoch media over phone-hacking, this is an act of courage by Ed Miliband. I have no doubt that, wherever Jimmy Reid now is, he is cheering him on."