Public Sector Pay - Who Gets What And Why?
Just over a year ago the Scottish Government was boasting about its decision to award school teachers a much more generous pay award than other council workers - 4% more at a cost of £120 million over three years.
Now that decision was impossible to justify at the time because the cost of living is exactly the same for all local council
workers.
But the Scottish Government looks even more ridiculous now because low paid front-line staff such as carers and refuse workers are the ones who have kept vital services going during the Coronavirus epidemic.
Glasgow's trade unions are organising a pay protest to highlight this
issue later today - here are the details:
Date - Friday 7 August 2020
Time - 2pm
Place - Buchanan Galleries at the Donald Dewar steps
So if you think
the Scottish Government is being unfair and behaving hypocritically, go along and show your support this afternoon.
Hypocrisy On Public Sector Pay - Who Gets What And Why? (05/07/20)
Last year the Scottish Government found the money for a pay deal which gave school teachers a much better pay increase than other public sector workers - an extra 4% over three years at a cost of £120 million a year.
One year on and the Scottish Government's decision is even more difficult to justify as much lower paid, front-line council workers have been right to the fore in keeping essential services going doing the Coronavirus epidemic.
So I hope Minister's are now suitably ashamed
of their behaviour because the cost of living for low paid council workers - the cost of bread and milk - is just the same for them as it is for their school teacher colleagues.
Because there was no logic or justification in going the extra mile to find extra millions for school teachers while treating other groups of workers, such as council care staff and refuse workers, so much less favourably.
The Scottish Government likes to 'talk the talk' when it comes to equality and fairness, but it really just amounts to so much hot air if the politicians don't practice what they preach.
Fair Pay - Who Gets What and Why? (05/06/20)
I think it's fantastic to see our newspapers and media commentators waking up to the fact that low paid carers and other front-line workers deserve much more than just a 'clap' for keeping the country's vital services going during the Coronavirus crisis.
But I think it's also worth asking, "Why did you have nothing to say when this same group of workers were considered to be worth so much less than Scotland's school teachers during the past public sector pay round?"
£120 million a year less to put a price tag on the Scottish Government's public sector policy see post below dated 05 May 2020 - "Hypocrisy on Public Sector Pay".
The same is true of many other groups of workers including council refuse workers, delivery drivers, supermarket staff and so on - many of whom are in the private rather than public sector, of course.
Last year I called out the Scottish Government over its hypocrisy on public sector pay after senior ministers decided that some public service workers are 'more equal than others' in terms of their cost of living pay increase.
Now I've nothing against Scotland's school teachers, but the truth is that there was no case for agreeing to a much better pay deal for teachers compared to other council employees including carers, cleaners, catering workers, classroom assistants, refuse workers and so on.
I put the extra cost of that pay deal at £120 million a year with every additional 1% for school teachers costing the taxpayer £30 million each year going forwards, even though the cost of living for all Scottish public service workers is exactly the same.
The national emergency over Coronavirus makes the Scottish Government look even more ridiculous, of course, because it's the lowest paid council workers who have been keeping essential, life and limb services going under the most difficult and trying of circumstances.
So how can they
not be worth the same as a school teacher?
More Equal Than Others (09/03/19)
The Scottish Government has just agreed to finance a pay deal which treats one group of local council workers far better than the rest of their colleagues.
The BBC reports that Scotland's teachers have been awarded a pay increase of 13.51% over three years while the rest of the local government workforce is getting just 9.5%.
Yet as readers of my blog have pointed out the cost of bread, milk or anything else for that matter is the same for a School Cleaner or a Classroom Assistant - as it is for a School Teacher.
As this is a 'cost of living' pay increase there is absolutely no justification for treating one group of workers far better than the rest.
So if I were still working for the trade union movement, I would be re-opening these pay negotiations with a demand for an extra 4% increase for Home Carers, School Cleaners, School Catering Workers, Clerical Workers, Nursery Staff and so on - because there is no way they should be treated as second class citizens when it comes to public sector pay.
https://www.bbc.co.uk/news/uk-scotland-47487093
Scotland's teacher strike averted after improved pay offer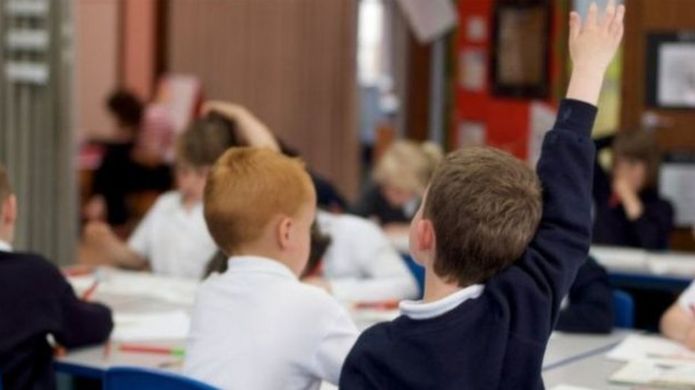 Scotland's largest teachers' union has called off its planned strike ballot after an improved pay offer was made.

The ballot of EIS members was due to get under way on Monday.

However, the new offer from the Scottish government was discussed by the union's national council this morning and the union is expected to urge members to accept it.

The EIS is calling the development a "significant success for Scotland's teachers."

Scotland's Education Secretary John Swinney said he had "looked again" at the pay offer and decided to "increase the funding".

The new offer is for:
A 3% rise effective from last April
A 7% rise this April
A further 3% rise next April
This represents a compound increase of 13.51% over the course of the three years.

The offer means a teacher who has not been promoted could earn more than £41,000 by next year - about £5,000 more than they earn just now.

The EIS received a letter outlining the new offer this morning ahead of a meeting of its national council.

The 11th-hour improvement follows a campaign by the EIS which has continued for more than a year.

Tackling workload

EIS General Secretary Larry Flanagan said, "The EIS launched the Value Education, Value Teachers campaign in January last year, with the aim of securing a fair pay settlement for Scotland's teachers.

"Throughout the campaign, it became increasingly clear that - in addition to pay - teachers also have serious concerns about issues such as the recruitment and retention of teachers, professional development, workload, and the level of support for pupils with Additional Support Needs.

"These issues then became a factor in the ongoing discussions via the SNCT."

Mr Flanagan said the offer also includes;
additional commitments aimed at tackling workload

supporting teacher professional development

and enhancing the teacher leadership programme.
He added: "Taking all of these elements together, it represents a package that the EIS is now recommending to Scotland's teachers.

"This offer represents a significant success for Scotland's teachers, and for Scottish education. It has been secured through strong campaigning under the Value Education, Value Teachers banner, and delivered through the committed collective stand taken by Scotland's teachers.

"By standing together and remaining united, our members have secured a strong deal for Scotland's teachers which will also deliver stability and security for Scottish education."

Education minister Mr Swinney welcomed the union's decision to suspend the ballot.

He said: "The Scottish government and Cosla made a strong offer to teachers which, by a narrow margin, was rejected. Given the importance we place on valuing teachers and improving the attractiveness of the profession, I have looked again at the investment the Scottish government is making."

Mr Swinney believed that the fresh offer would provide the "stability we need to make the reform Scotland's education system needs and deliver the best possible outcomes for our young people".

The NASUWT union intends to ballot its members on strike action later this month over concerns which include pay and workload.

However, because of the size of the EIS, if its members accept the pay offer there would appear to be no possibility of change to this latest offer.
Is this crisis over?

By Jamie McIvor, BBC Scotland education correspondent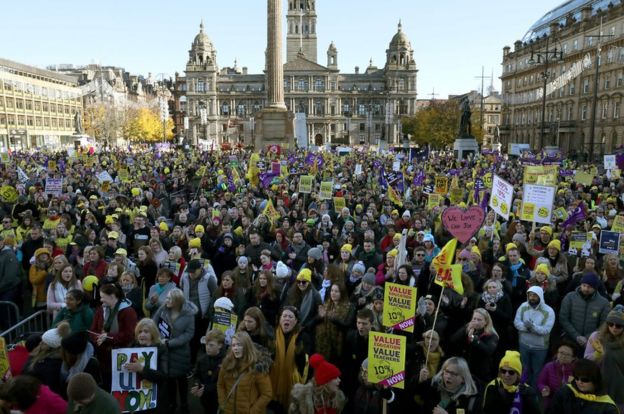 Image copyright - PA Image caption - Campaigning included a rally in George Square

Strike action is the ultimate weapon for any trade union.

For professionals like teachers, it can be a particularly difficult step to take.

Some in the profession today remember the bitter, long-running teachers dispute of the 1980s all too well - either as young teachers or as pupils.

To maintain the analogy of a strike as the nuclear option, some in the profession were clearly hopeful that moving to "Defcon 1" - the imminent threat of action - would prove enough to secure an improved pay offer.

And so it has proved.

Two previous pay offers had previously been described as final.

The government and councils clearly pulled out all the stops to avoid a teachers' strike.

The Scottish government wants to be judged on education. It knew all too well that few would judge its record on actual education policy if they saw teachers on a picket line and children getting days off school.

Both sides will be hoping now that the debate can move back on to education policy and practice - efforts to raise attainment and close the gap between how well children from relatively rich and poor backgrounds do. Genuine disagreements still exist - not least over standardised assessments in Primary 1.

Unions will be keen to ensure that efforts to deal with concerns about workload and resourcing are about more than good intent.

But after a 14 month campaign, it looks like peace has broken out.
Hypocrisy Over Public Sector Pay (03/02/19)
Some SNP supporters are keen to bash the unions over public sector pay, but as you can see from this Twitter exchange the very same people are less enthusiastic about explaining how one group of workers are entitled to a better pay rise than their council colleagues.
More Equal Than Others (08/01/19)
Here's an interesting story from The Sunday Times which contains a strange 'boast' from the deputy first minister, John Swinney, that Scotland's school teachers are being offered:

"a better deal that for any group of public sector workers in the UK"

Now I don't begrudge Scotland's school teachers a good pay deal, but if extra money can be found for one group of council employees - why don't cleaners, cooks, catering workers, carers clerical workers, classroom assistants etc all deserve the same?

The rest of the workforce have all experienced the same policies of pay restraint in recent years and face the same the same cost of living pressures as everyone else.

So if teachers can be regarded as a 'special case' why not apply the same logic should apply to the thousands of low paid claimants in Glasgow who are still fighting for their rights to equal pay?

I think it would be great if Glasgow claimants raised this question with the City's MSPs - contact details to follow.
EIS teachers set to reject 8% pay deal
By John Boothman - The Sunday Times

Thousands marched in Glasgow over teachers' pay last year - ALAMY

Deputy first minister John Swinney has urged teachers to accept an improved pay deal, describing it as "a better deal than for any group of public sector workers in the UK".

Swinney said that the Scottish government and local authorities had made a pay offer "which would see teachers receiving a minimum 8% increase between January 2018 and April 2019. We urge the teaching unions to put this to their members for approval."

However, the offer falls short of union demands for a 10% increase and the Educational Institute of Scotland (EIS) indicated this weekend that it will be rejected.

Teaching unions claim that the real value of teachers' pay has fallen by 20% over the past decade and a large rise is needed to boost recruitment and retention of staff.

In October, more than 20,000 people marched in Glasgow in support of the teachers' pay demand.

There is speculation that if a pay deal cannot be struck soon, a formal ballot on strike action is likely.

The Scottish government and councils offered a 3% pay rise for the whole profession in November, but this was rejected as "divisive" by unions.

The dispute comes as figures collated by the Scottish Conservatives show that between 2004 and 2018, the number of teachers in Scotland fell by almost 4,000.

The Tories say Scotland's schools are experiencing a "lost generation" of teachers between the ages of 43 and 60, whom they claim are leaving the profession in droves, removing significant experience from classrooms.

Liz Smith, the party's education spokeswoman said: "These statistics are deeply worrying in terms of the numbers of the most experienced teachers leaving the profession early. It is this retention issue which is as much a concern as the fall in the number of teachers in our schools, which has taken place while the SNP has been in power."

A Scottish government spokeswoman said the latest statistics "showed a well-balanced age profile across the teaching profession".

She added: "Teacher numbers are now the highest since 2010, with primary teachers at the highest level since 1980.
"We want to keep people in the profession and attract new entrants into teaching. That's why we have increased targets for recruitment into initial teacher education and created new routes to make it more practical and flexible for people to access courses."
Who Gets What and Why? (07/09/16)

Over the past 16 years Scotland has put an extra £12.6 billion pounds in the pay of the country's school teachers, courtesy of the landmark McCrone Agreement which increased their basic pay by an eye-watering 23.5% in the year 2000.
The implementation cost of this fully funded pay increase was £800 million a year and this huge sum of money is now part of the Scottish Government's base budget - a budget which virtually double between 1997-2007, as did the spending power of Scotland's 32 local councils.
A year earlier the Scottish council employers signed up to the 1999 Single Status (Equal Pay) Agreement which was designed to tackle low pay at the bottom end of the local government pay ladder and sweep away years of widespread pay discrimination against a wide range of very low paid, female dominated jobs.
The 1999 Single Status Agreement covered over 100,000 of the lowest paid council employee and included cleaners, catering staff, clerical workers, classroom assistants, home carers and so on.
The cost of 'single status' was estimated at £450 million at the time, but unlike McCrone the landmark equal pay agreement
was not fully funded and relied upon future pay settlements and productivity gains to achieve its worthy goals.
So looking back all these years later the position is that 70,000 teachers have benefited to the tune of £800 million every year while more than 100,000 of the lowest paid council employees have had to fight tooth and nail for their right to equal pay.
Interestingly, a debate is now underway about the standard of teaching in Scotland's schools and one body of opinion is that the underlying problems are exacerbated by relative poverty and poor living standards amongst working class parents.
Now I don't grudge teachers a decent pay increase, but I think it is obscene that one group of council employees should be treated so much better than another which is, of course, exactly what happened over the McCrone and Single Status pay agreements.
The McCrone Agreement was struck by
the Labour/Lib Dem coalition government which was in power in Holyrood at the time, but the deal and allocation of an extra £800 million every year was supported by all of the mainstream political parties including the SNP which now dominates the political scene north of the border.
So the big question is how do the people at the bottom of the pay ladder catch up and improve their circumstances, comparatively speaking, if those above them in the pay pecking order keep pulling ahead?
If you ask me, a far better and more socially just use of that £800 million a year of public money would have been to allocate a large chunk of it to the people at the bottom of the pay ladder.
But for this to happen, in future, the government of the day will need to stop using public money to bolster the interests of comparatively well paid groups in Scottish society who also benefit hugely and disproportionately from other areas of public policy such as free university tuition and the extension of free school meals.