Private Eye, the UK's best and only fortnightly satirical magazine, has some fun with the shock resignation of SNP finance minister Derek Mackay.
On a more serious note the MSP for Renfrewshire North and West has not appeared in public since 5 February 2020 when he was forced to resign while preparing to deliver the Scottish Government's budget.
Speculation is rife that Mackay may attempt to cling on as a Holyrood MSP
until the next Scottish Parliament elections in 2021 election.
Apparently parliamentary rules mean that Mr Mackay would then be become entitled to receive around £50,000 by way of a re-settlement grant based on serving a full 10 years as an MSP.


Scottish Government - Compare and Contrast (10/02/20)
Andy Nicoll, associate editor of the Scottish Sun, makes a strong case that the Scottish Government's handling of the Derek Mackay affair has differed markedly from another 'unfortunate text messaging incident' involving former SNP minister, Mark McDonald.
Read what Andy Nicoll has to say via the link to the Scottish Sun below.
https://www.thescottishsun.co.uk/news/politics/5257431/derek-mackay-nicola-sturgeon-snp-text-boy-scandal/
PARLY TURMOIL

Derek Mackay scandal has rocked Nicola Sturgeon and it was clear to see today at Holyrood
By Andrew Nicoll - Scottish Sun
A DARK cloud loomed over Holyrood this morning.
The place had a distinctly weird feeling about it — every gate had a photographer stationed outside, just in case Derek Mackay decided to come in that way.

Strain of Derek Mackay scandal shows on Nicola SturgeonCredit: Getty Images - Getty



Inside, in the Garden Lobby where MSPs and staffers congregate, there was an atmosphere too.





Among the SNP there were looks of stunned astonishment.





This was Derek Mackay they were talking about, their Derek Mackay — their wee Deek.
Deek that chaired party conference after party conference. Deek that was about to present the Budget. And now this. This!
Even the Tories, who might have cause to rejoice at such a body blow to the SNP, were far from gloating. They understood how serious this is.
Their leader Jackson Carlaw seemed surprised when he was corralled by TV cameras but he didn't hold back.
Derek Mackay's behaviour is a blow to the reputation of the Scottish Parliament, he said.

MSP Derek Mackay bombarded teen with textsCredit: Alamy



And he went further. He said what everybody else was already thinking: "By any standard judgement of what constitutes the grooming of a young individual, this would pass that test".





Resigning as Finance Secretary is not enough, said Mr Carlaw. Mackay should get out of Holyrood right now, he said.





There was a time when Nicola Sturgeon would have agreed.





A couple of years back, ex-Children's Minister Mark Macdonald was hustled into her office for a brief interview after, well, an unfortunate text messaging incident.





His feet did not touch the ground. In no time at all, he was on the back benches, subjected to an internal SNP inquiry and he resigned from the party before the meeting scheduled to kick him out.





He was banned from Holyrood for a month, sent back to work in a windowless office in the basement and, in all likelihood, he will be on the dole after next year's Holyrood elections.





Nicola Sturgeon made it clear she wanted him out the door.





"He was elected as an SNP MSP. If his behaviour is such that he himself considers he cannot continue as an SNP MSP, then it would be appropriate to give his constituents the opportunity to elect a new MSP."





Mr Macdonald's behaviour was certainly inappropriate and regrettable — but it's not in the same league as what Deek has admitted.





He's a politician but, if Derek Mackay had been a teacher, nurse or doctor, he would be struck off the register for what he has done.





And yet Nicola Sturgeon did not sack him, she allowed him to resign.





She didn't even accept his resignation there and then, but waited to see how much evidence there was against him before going public with his departure.





It's as if, between them, they thought there might be some way of finessing this, some way he could cling on. The First Minister denies that, of course.
According to her Press spokesman, Mackay was not sacked because he resigned first. His resignation was not announced because "Derek has family to speak to and people close to him."
And he was not suspended from the party until today because it was only today that the First Minister became aware of the scale of the allegations.
It was "inconceivable" that he could continue as Finance Secretary after this, she said. But apparently not "inconceivable" that he remained part of the SNP.
"We were not in possession of the full detail of the exchanges until it was published late last night," said the spokesman - as if there's a certain amount of hounding 16-year-old boys which might, in certain circumstances, all things considered, be forgiveable.
Nicola Sturgeon looks battered down by all this. She arrived in the chamber dressed in black with John Swinney by her side. Solid, dependable Swinney.

Nicola Sturgeon and John Swinney at HolyroodCredit: Alamy Live News



John Swinney also dressed in a dark suit. Both quite funereal.





The First Minister sat in her usual place. Health Secretary Jeane Freeman sat beside her — relieved that, for one week at least, she didn't have a target on her back.





Nicola stared straight ahead through the long minutes of General Question Time as MSPs talked about fingerprints, TV licences and benefits, as if anybody cared.





She had her eyes raised heavenwards with a far-away look about her — like a martyr on the way to the stake.





And then she gave her "very short statement" on the scandal.





If she hoped that might defuse things a bit and take the sting out of First Minister's Questions, she was disappointed.





Jackson Carlaw said Derek Mackay had damaged the reputation of "her government, her party and this Parliament." Could the First Minister be sure that nobody else among Mackay's 26,000 Twitter followers had been approached?





Mr Carlaw read out the NSPCC definition of grooming. "How difficult is it to recognise his conduct has the very worst connotation?" he asked.





Nicola Sturgeon was close to throwing in the towel.





She said: "Members across all parties have faced difficult allegations about members of those parties.



Our story revealed the texting scandal
"All of us have to make sure that the action we demand of opponents is action we would do ourselves."
It sounded like a plea for mercy but none came.
Labour's Richard Leonard went on the attack, talking of "an abuse of power nothing short of predatory. He should go as a member of this Parliament." Even the Greens said it was "appalling."
At last the torment was over. Normally when MSPs leave the chamber they chat on the way down the long glass corridor.
Not this time. It was a grim, silent trudge. Like a cortege shadowing a hearse on a final journey.
And then the First Minister appeared, John Swinney still at her side, her jaw set until she was halted by a wall of reporters outside the lift that takes her up to her private offices.
She could not say more while Derek Mackay is under investigation by the party, she said. No, it would be wrong to try to direct the police in an inquiry, she said.
John Swinney was there, shepherding her through the crowd with a hand on her back.
She looked frail. Diminished.
andrew.nicoll@the-sun.co.uk
Scottish Government - Missing The Point (09/02/20)
The Scottish Government has not emerged unscathed out of the Derek Mackay affair and its initial response by email certainly tried to play down the seriousness of Mackay's actions.

"Given you yourself state that there is nothing illegal or unlawful in the messages, can you advise on your justification for publication, given the intrusion into private and family life, and correspondence including digital communication."
The fact that there appeared to be nothing illegal or unlawful in Mackay's 270 messages to a 16-year-old schoolboy rather misses the point, of course, given the age difference, power imbalance and inappropriate nature of the Government Minister's behaviour.
Read the BBC's report via the link below.
https://www.bbc.com/news/uk-scotland-scotland-politics-51412460
Derek Mackay: Scottish government denies trying to block newspaper claims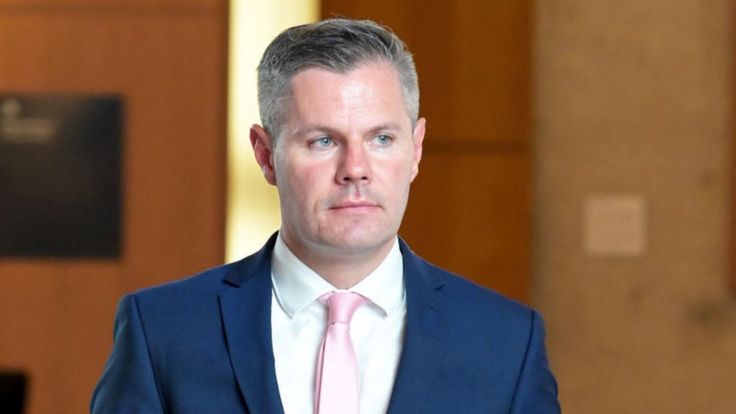 Image copyright - GETTY IMAGES Image caption - Mr Mackay quit just hours before he was due to unveil the Scottish government's budget for the coming year


The Scottish government has defended its handling of the Derek Mackay scandal amid claims it tried to "throw up hurdles" to prevent publication.
Mr Mackay quit as Scotland's finance secretary after the Scottish Sun
revealed he sent 270 messages to a 16-year-old schoolboy.


The newspaper says the government
demanded to know the name of the boy
when it was approached for comment.

It also says it was asked to justify its "intrusion into private life".

Deputy First Minister John Swinney said the government had "simply asked for information to give us the veracity and the substance of the points that were being put to us".
Derek Mackay's downfall: How the story unfolded
Brian Taylor: Mackay resignation a calamity for government
Who is Derek Mackay?

Further newspaper allegations about Mr Mackay's behaviour were published on Friday morning, with the Daily Record reporting that he sent dozens of unwanted messages over a four-year period to a married SNP activist, including one asking: "Got any naughty pics?"

Meanwhile, the Herald claims that Mr Mackay, 42, was banned by First Minister Nicola Sturgeon from drinking during SNP conferencesbecause of concerns over his behaviour.

Mr Mackay has not responded to requests for comment about the allegations against him.

Scottish Conservative leader Jackson Carlaw accused the Scottish government of being "more interested in protecting its own reputation than in the welfare of potential and actual victims".

He added: "A pattern of behaviour is now beginning to emerge, and it's vital the SNP leadership - instead of spinning - acts to establish a complete picture."

The Conservatives have called for a confidential hotline to be set up so people can report any concerns about Mr Mackay.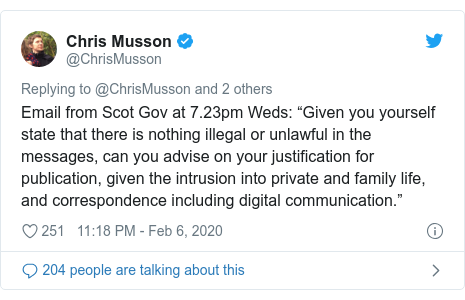 Image Copyright @ChrisMusson@CHRISMUSSON
Report

Ms Sturgeon told the Scottish Parliament on Thursday that she had not known about Mr Mackay's "unacceptable" behaviour until Wednesday evening, and was "not aware of any further allegations" against him.

Mr Swinney, her deputy, told the BBC's Good Morning Scotland programme that he had been "utterly stunned" by the revelations.

He said he had not heard any "revelations of this type" about Mr Mackay in the past, and had no previous concerns about his behaviour.

The Scottish Sun has claimed that the Scottish government's initial response to being told about the allegations against Mr Mackay was to attempt to "throw up hurdles to prevent us from publishing the bombshell revelations".

It said these attempts included: "Demanding to know the name of the 16-year-old schoolboy as well as asking for our 'justification for publication, given the intrusion into private and family life, and correspondence including digital communication'."

The newspaper stressed that it had not identified the boy to the government, which subsequently refused to comment on the allegations.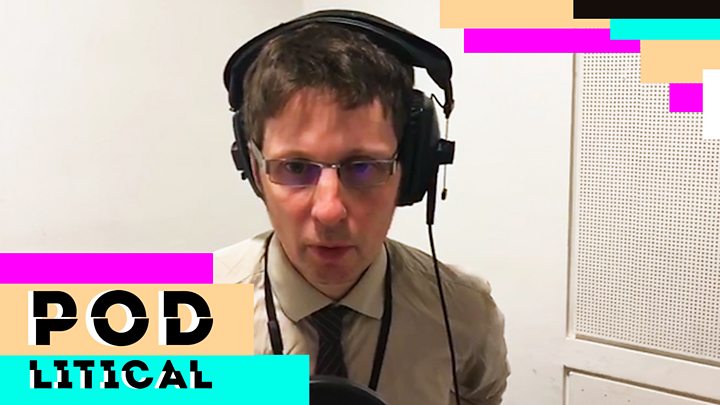 Media caption - Scottish Sun political editor: 'The family are not baying for blood'

Chris Musson, the political editor of the Scottish Sun, spoke to the Podlitical podcast about how the newspaper broke the Derek Mackay story, and what the boy and his family wanted to achieve by going public.

Listen to the full episode here

Mr Swinney insisted that the government had taken "decisive" action once the seriousness of the allegations against Mr Mackay became clear.

He added: "The government became aware of these allegations at about 6pm on Wednesday night, and we simply - because of the significance of what was being put to us - asked for information to give us the veracity and the substance of the points that were being put to us.

"We saw nothing in writing until we saw the first edition of The Sun later on Wednesday evening, so we were simply asking for the detail that we would ask in any situation where allegations are being put to us so that we can be confident about the detail that is being asked."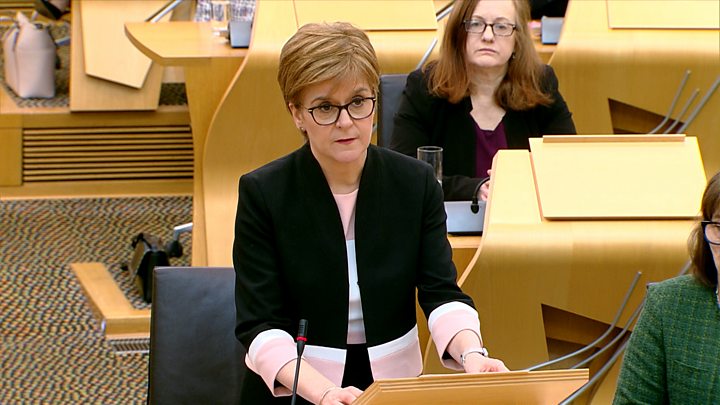 Media caption - Nicola Sturgeon: "It was unacceptable and falls seriously below the standard required of a minister."

Mr Mackay is said to have quit as finance secretary on Wednesday evening, although his resignation was not made public until the following morning. It has been reported that
he is in line for a £12,000 severance payment.


He was subsequently suspended by the SNP pending further investigations "when we saw the full detail in the Sun newspaper printed in their edition on Thursday morning", Mr Swinney added.

Mr Mackay now sits as an independent MSP, although he has been urged to stand down completely from Holyrood by opposition leaders who have said his behaviour could "constitute the grooming of a young individual".


Why did Mr Mackay quit?

The Scottish Sun said that Mr Mackay persistently contacted the schoolboy over a six-month period, and told him that he was "cute".

The newspaper detailed allegations that the politician contacted the boy "out of the blue" in August of last year and sent about 270 messages on Instagram and through Facebook.

It has published a list of messages - the most recent of which is from earlier this week - involving Mr Mackay and the boy, in which its says the MSP invited him to dinner and to attend a rugby event.

The newspaper also reported that Mr Mackay contacted the boy several times on Christmas Day, and told him on another occasion that he was "looking good with that new haircut".

In a statement released on Thursday morning, Mr Mackay said: "I take full responsibility for my actions. I have behaved foolishly and I am truly sorry. I apologise unreservedly to the individual involved and his family."

Mr Mackay, who had been widely tipped as a future first minister, came out as gay when he left his wife in 2013.

His resignation came just hours before he was due to present the Scottish government's spending plans for the next year - a major set piece event in the Scottish Parliament.