Some inconsiderate assholes at my local Morrisons supermarket seem intent on clearing the shelves while ignoring advice that there is no need for 'panic buying'.
Watch the video link below from the BBC and I have to say I'm all in favour of a 'zero tolerance' approach towards these assholes going forward.
Coronavirus: Nurse's despair as panic-buyers clear shelves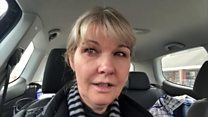 An exhausted nurse has urged panic-buyers to think about other people after finding supermarket shelves empty.

Dawn Bilbrough, from York, said people should stop and think that NHS staff like her could be looking after them - and need to stay healthy to carry out their task.

The critical care nurse, who has been working in West Yorkshire, urged people to stop and leave goods for everyone.