Trump's lack of leadership over coronavirus reminds me of the Mayor of Amity Island in 'Jaws' who gets a well-deserved dressing-down from the scientist character played by Richard Dreyfuss with the memorable line:
"You are going to ignore this particular problem until it swims up and bites you in the ass!"
For weeks now Trump has been playing down the threat, lashing out, blaming others and describing the virus a 'hoax' - instead of getting down to the serious business of protecting the American people in co-operation with other countries around the world.
The man is a buffoon and a dangerous one at that, as America and Americans are about to discover.
Trump - Mad As A Brush (12/03/20)
Having played down the seriousness and potential impact of coronavirus for weeks Donald Trump has now veered over to the opposite extreme by banning all travel from Europe to the US.
Not all of Europe though because the Trump ban only applies to the EU's Schengen border-free area - so the UK and Ireland, for example, are exempt for the time being.
The BBC reports Trump as saying the suspension would also apply to cargo coming from Europe into the US, but Trump later tweeted to say that trade would "in no way be affected".
So having called coronavirus a 'hoax' and variously blamed the media and his political opponents for whipping up a 'fake news' story - Trump is now laying the blame on Europe.
Coronavirus: Trump suspends travel from Europe to US



US President Donald Trump has announced sweeping travel restrictions on 26 European countries in a bid to combat the spread of the coronavirus.

The measures apply to travellers from countries which are members of the Schengen border-free travel area.

The UK, Ireland and other non-Schengen countries are unaffected. Exemptions are also being made for US citizens.

In an address to the nation President Trump said the "strong but necessary" actions would help protect Americans.

The new rules go into effect on Friday at midnight EDT and mark a major escalation from the US president, who has been accused of inaction over coronavirus.

There are 1,135 confirmed cases of the virus across the US, with 38 deaths so far.

In other developments:
Chinese health authorities have said that the peak of the outbreak in China is over. The virus first emerged in the city of Wuhan
The worst-hit country outside of China, Italy, imposed further restrictions, closing nearly all shops, bars, hairdressers, restaurants and cafes until 25 March
The World Health Organization (WHO) said the outbreak was a pandemic. This is defined as a disease that is spreading in multiple countries around the world at the same time
In Germany, Chancellor Angela Merkel, warned that up to 70% of the country's population - some 58 million people - could contract the coronavirus
The UK is expected to switch to tactics aimed at delaying the spread of the virus rather than containing it
Greece reported its coronavirus death, a 66-year-old returning from a pilgrimage in the Middle East
What else did the US president say?

"This is the most aggressive and comprehensive effort to confront a foreign virus in modern history," he said.

Justifying the travel restrictions, he accused the EU of failing to take "the same precautions" as the US in fighting the virus.

His speech said all travel from Europe would be suspended but a presidential proclamation later said it would only apply to anyone who had been in the EU's Schengen border-free areain the 14 days before their arrival in the US.

Mr Trump also said the suspension would also apply to cargo coming from Europe into the US. He later tweeted to say that trade would "in no way be affected".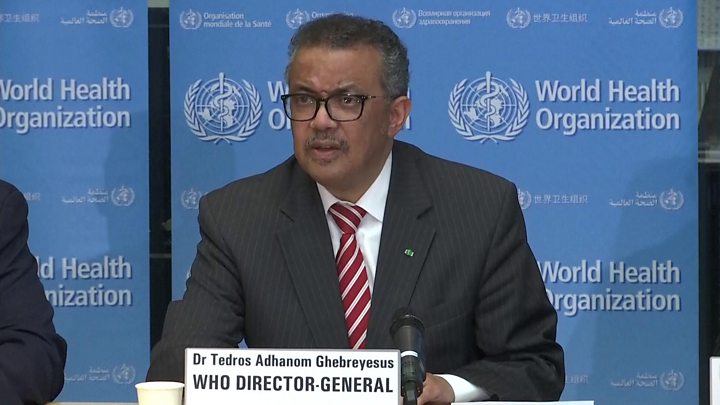 Media caption - Coronavirus outbreak has officially become pandemic says WHO

The speech included plans to provide billions of dollars in loans to small businesses and the president urged Congress to free up more funds.

President Trump said for most Americans the risk was "very, very low" adding "no nation is more prepared or more resilient than the United States".

Reacting to his speech, senior Democrats said it was "alarming"that President Trump did not address a shortage of coronavirus testing kits in the US.

"We have a public health crisis in this country and the best way to help keep the American people safe and ensure their economic security is for the president to focus on fighting the spread of the coronavirus itself," House Speaker Nancy Pelosi and Senate Minority Leader Chuck Schumer said in a statement.

On the travel ban, Lawrence Gostin, a public health expert at Georgetown University, tweeted: "most of Europe is as safe as US. This will have no impact on US ... germs don't respect borders".

The EU said it was assessing the situation, with European Council President Charles Michel saying "economic disruption must be avoided".
How badly has the US been hit?

Concern over the outbreak rose after a number of new cases were confirmed earlier this month.

Containment efforts have begun in earnest. Troops have been deployed to New Rochelle, just north of New York City, where one outbreak is believed to have originated.

The National Guard will deliver food to some individuals who have been told to self-isolate there.
Stable Genius, My Arse! (11/03/20)
Donald Trump has been playing down the seriousness and potential impact of the coronavirus outbreak for weeks now.
Yet Trump came away from a recent meeting at America's Center for Disease Control proudly boasting that medics and scientists are impressed by his understanding of the disease claiming:
Stable, Humble Genius (22/03/19)

I wonder if Randy Rainbow might add a new verse to his great 'A Very Stable Genius' song mocking Donald Trump.


A Very Stable Genius (20/07/18)
How clever is this song by Randy Rainbow who lays bare the vulgar, boastful, and unpleasant character of the 45th president of the United States - for all to see.
President Sharpie (07/03/20)
Donald Trump brings his calm authority and much needed 'stable genius' to the corona virus pandemic.
President Sharpie (09/09/19)
Donald Trump's adventures with a Sharpie pen have spawned a whole series of hilarious internet memes which are bound to get under his notoriously thin skin.
Trump proves he really is taller than President Obama
Trump's inauguration day crowds were absolutely massive
Trump's border wall - though Mexico's still not paying
Trump does not have small hands
Trump's is not a 'fat shamer' and works out like a beast
Trump acquires Greenland for America
Trump gets his hands off President Obama's birth certificate
Trump says: "Jeffrey Who? Never heard of him."
Trump - Altered Images (05/09/19)
Donald Trump stands accused of altering a Government weather map with a 'sharpie' pen to bolster his bogus claim that the state of Alabama was about to be hit by Hurricane Dorian.
You can see quite clearly the white 'bubble' showing the path of the hurricane and its predicted landfall in Florida - to which some doofus (i.e. Donald) has added an additional black line to encompass the bottom right hand corner of Alabama.
The world's only 'unstable hurricane expert' has form in this area, of course, and this attempt to doctor an official government weather map can only make Trump look even more ridiculous, if you ask me.
Unstable Hurricane Expert ((03/09/19)
Here's a short video from the world's only unstable hurricane expert - the increasingly unhinged Donald Trump.


Sharknado Trump - Bombs Away! (02/09/19)