Coylumbridge Hotel in Aviemore has rightly faced a storm of criticism after sacking its staff in the wake of the Coronavirus epidemic - without any consultation.
The Hotel claimed to be following official advice, but this is nonsense because the Government has just announced a new scheme to help employers keep staff in their jobs by paying up to 80% of their wages.
In a redundancy situation every employer has an obligation to consult with their employees in an effort to prevent or mitigate job losses.
Any employer riding roughshod over their employees' rights can be taken to the Employment Tribunals for 'unfair dismissal' and/or 'unfair selection for redundancy'.
But this is the least of their problems because in this day and age rogue employers are likely to face a backlash on social media which well may result in damage to their reputation and business brand.
So if you know of other employers who are treating their staff badly or unfairly during the Coronavirus outbreak, let me know as I'll be happy to share the details on the blog site.
https://www.bbc.co.uk/news/uk-scotland-highlands-islands-51972372
Coronavirus: Hotel made staff homeless in 'admin error'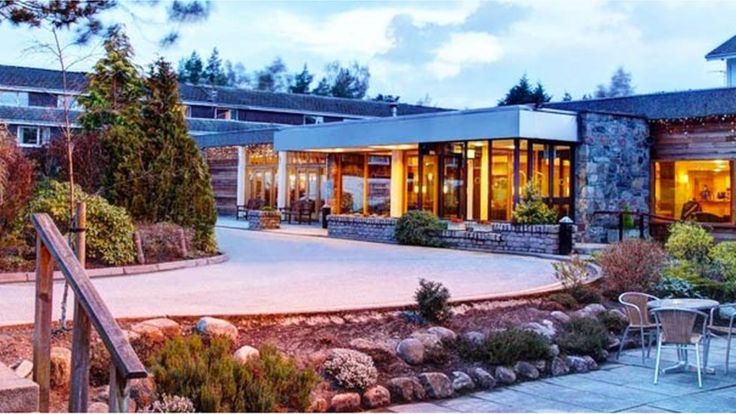 Image copyright - COYLUMBRIDGE HOTEL Image caption - Management at the Coylumbridge Hotel near Aviemore claimed they were following government advice.


A hotel has claimed that letters sent to staff sacking them and ordering them to leave their accommodation immediately were sent in error.
Staff at the Coylumbridge Hotel near Aviemore were told on Thursday by management to leave the hotel in the wake of the coronavirus outbreak.
The action resulted in widespread criticism from politicians and a public backlash on social media.
Brittania Hotels has now apologised and blamed an administrative error.
Staff were given a letter, dated 19 March, to say the hotel was "taking the latest government advice" and that staff employment had been terminated.
The firm told the
Liverpool Echo
: "With regards to the current situation regarding staff at our Coylumbridge Hotel and being asked to vacate their staff accommodation.
"Unfortunately, the communication sent to these employees was an administrative error.
"All affected employees are being immediately contacted. We apologise for any upset caused."
'Feel useless'
More than a dozen employees were given the letter from hotel manager Mark Johnston also telling them to vacate their accommodation immediately.
The letter said: "Taking the latest government advice, this letter is to confirm that with effect from 19 March 2020, your employment has been terminated and your services are no longer required."
It added: "You are asked to vacate the hotel accommodation immediately, returning any company property."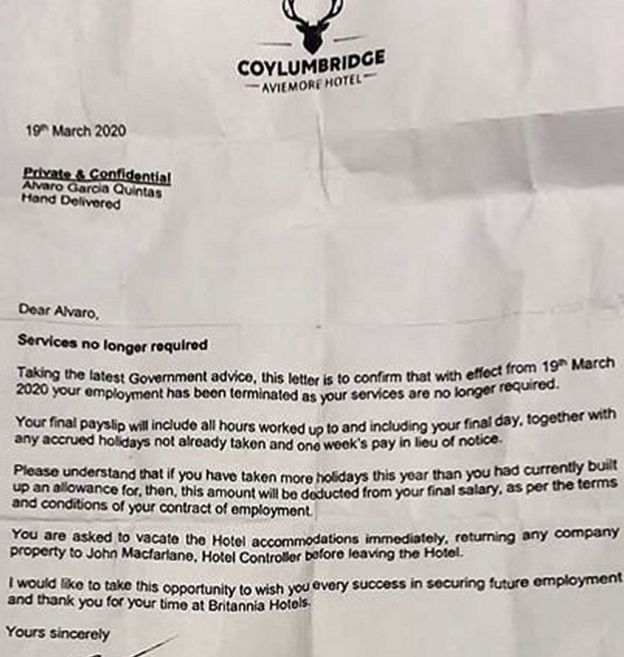 Image copyright - ALVARO GARCIA Image caption - The letter sent to staff to terminate their employment
Earlier Alvarito Garcia from Madrid, who has worked at the hotel for nearly two years, said his best option now was to live in his tent until his food ran out.
He said he was unsure if he would be able to return to Spain due to the travel restrictions imposed in the wake of the coronavirus outbreak.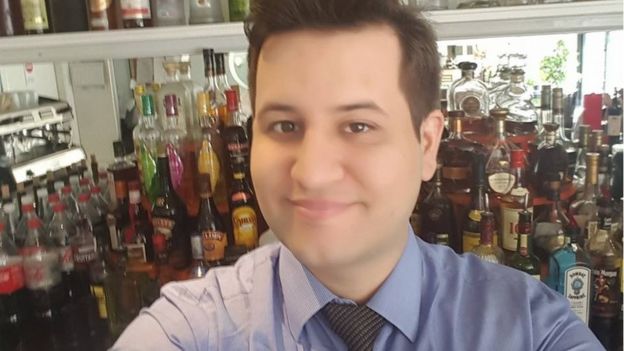 Image copyright - ALVARITO GARCIA Image caption - Alvarito had worked at the Coylumbridge Hotel for nearly two years


He told BBC radio's
Good Morning Scotland
that staff had no warning they were about to lose their jobs.
He said: "I don't know what to do. They gave me the letter and they said I had to leave immediately. They didn't give me any notice. Even in my rota, they didn't put anything different."
'Deplorable'
Alvarito said the letter had been given to at least 13 people - most of whom were waiters in the hotel restaurant. He said that he was unsure if the letter had been handed out to others working in different areas of the hotel.
He added: "I don't know why. They didn't say anything
"I don't have words to say. I feel useless, I feel bad."
Another worker at the hotel, Normunds Varslavans, from Latvia, said he was notified his job had been terminated about 30 minutes after finishing his shift.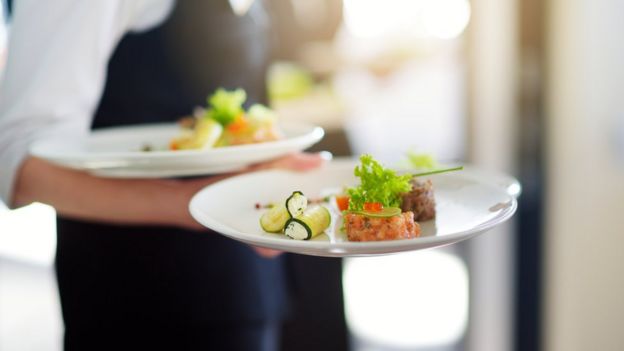 Image copyright - GETTY IMAGES Image caption - Alvaro said at least 13 member of staff working in the hotel restaurant were given the letters


Marc Crothall, the chief executive of the Scottish Tourism Alliance, said he was "speechless" when he was made aware of the situation.
He said: "There is huge anger among our industry. This is not reflective of how all our businesses and our members behave."
Mr Crothall called it a "deplorable" action.
He said: "Yes the crisis has hit every business but we have seen nothing but compassion and respect across the sector and our upmost priority is to protect the employee welfare."
Local MSP Kate Forbes said the hotel owners' response to a time of national crisis was "intolerable".
She said: "The decision to make staff redundant and homeless with no advance warning whatsoever is nothing short of callous, heartless and frankly unacceptable."
Ms Forbes praised the actions of the local community and businesses in trying to help the workers.
Shelter Scotland said people living in accommodation linked to their employment had rights even after they had lost their job. It said their employer had to follow proper procedure.
'Pleased to help'
On Friday hotel chain
Macdonald Hotels
stepped in to help sacked employees at the Coylumbridge.
A spokeswoman for the company said: "The entire hospitality industry is being hit really hard, with temporary closures and lay-offs across the board.
"However, when we heard of the situation at Coylumbridge Hotel, we immediately contacted the management there to offer their employees access to our staff accommodation at the nearby Macdonald Aviemore Resort to ensure they wouldn't be put out on the street."
BBC Scotland contacted the hotel and were directed to the head office for Britannia Hotels, where no-one was available for comment.