I'm all in favour of poking fun at Donald Trump not least because this most thin-skinned American president likes to dish it out himself.
So it's terrible hypocritical of Trump to complain because he is complimentary about demagogues and dictators around the world (eg Russia's Putin, China's Xi, North Korea's Jong-un) whilst public slagging off the leaders of other secular, western democracies in Germany, France, Canada, the UK and so on.
But if you ask me it's also hypocritical of Jeremy Corbyn to be supporting a anti-Trump protest in London today, especially when the Labour leader was perfectly happy to attend a royal banquet and meet with President Xi of China on friendly, businesslike terms.
No wonder the Labour leader is languishing so badly in the polls.
Jeremy Corbyn meets Chinese President Xi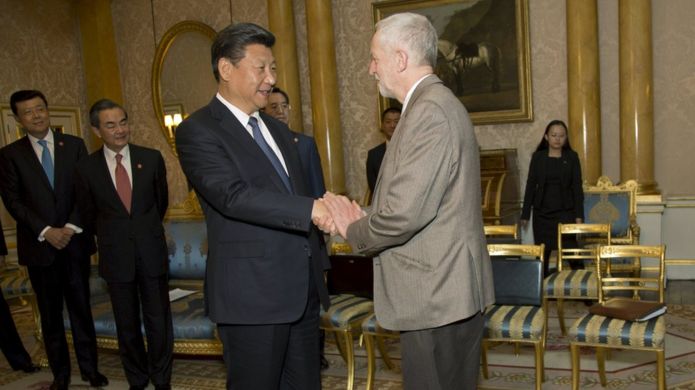 Image copyright - REUTERS
Jeremy Corbyn has held what Labour called "cordial and constructive" talks with China's President Xi Jinping at Buckingham Palace.
The Labour leader raised China's human rights record and the impact of its exports on the UK steel industry, a party spokesman said.
The meeting came before a banquet at the palace, which Mr Corbyn attended.
He had pledged to raise human rights with President Xi during his four-day state visit to the UK.
The pair met in the palace's 1844 Room, with Mr Corbyn accompanied by shadow foreign secretary Hilary Benn and shadow business secretary Angela Eagle.
Mr Xi said it was a "great pleasure" to meet Mr Corbyn, and congratulated him on his election as Labour leader.
They then had a 30-minute meeting behind closed doors.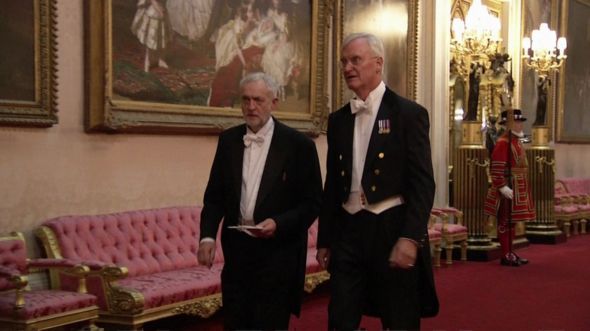 Image caption - Mr Corbyn attended the Queen's banquet after meeting China's President Xi Jinping
A Labour spokesman said the subjects discussed included "the history of links between the UK, the Labour Party and China, in particular the huge contribution and sacrifice of the Chinese people in the struggle against fascism during the Second World War and the Labour Party's commitment to build constructively on that history".
Subjects also included poverty reduction and the threat posed by climate change and the terrorism, the spokesman said.
He added: "Jeremy also raised the issues of human rights and the impact of Chinese imports on the UK steel industry."