The Sunday Times ran an interesting story last week on claims of 'bullying and inappropriate behaviour' against a well-known, senior figure in the Labour Party.
https://www.thetimes.co.uk/edition/news/sex-claims-against-corbyn-ally-dealt-with-off-the-books-ps9xf3p7v
Bullying claims against Jeremy Corbyn ally dealt with off the books
A key aide to Labour's leader 'had a word' rather than investigate
By Gabriel Pogrund - The Sunday Times
Karie Murphy, Jeremy Corbyn's chief of staff, has consolidated his control over Labour to a level not seen since Tony Blair - DANIEL LEAL-OLIVAS
Jeremy Corbyn's most powerful aide dismissed an investigation into an ally accused of bullying and inappropriate behaviour towards young women, saying she would "have a word" instead.

Pete Willsman, 75, a veteran activist who is a friend of the Labour leader, was accused of persistently asking a young woman where she lived and whether she liked clubbing, and sending texts saying he was in his pyjamas.

However, he was allowed to continue sitting on Labour's ruling body despite Corbyn's team having full knowledge of the allegations.

Leaked emails show that Karie Murphy, the Labour leader's chief of staff, told colleagues that Willsman, then a member of the party's National Executive Committee (NEC), should be dealt with outside official processes. "I am happy to discuss this matter with him directly if this is thought appropriate," she said. "This is not a matter to be managed under the sexual harassment policy."

The disclosure comes a week after this newspaper revealed Murphy rejected calls to suspend the party membership of one of Corbyn's top staff, David Prescott, amid allegations of sexual harassment at the height of the #MeToo scandal in Westminster in November 2017. Prescott denies the allegations.

In the same period, Willsman was subject to a formal complaint by a young female staff member in her early twenties.

She alleged that he:
● sent her inappropriate texts saying he was "in his pyjamas"
● waited after meetings so that he would be alone with her and "refused" to leave
● asked young female staff how old they were, where they lived and where they went clubbing.

Willsman was also accused of bullying male staff and making sexist comments such as "you've got to let men do the work" and "women are just too sweet, that's the problem".

Last night, a party source said his behaviour merited "at least" an investigation into sexism and bullying. Jess Phillips, the Labour MP for Birmingham Yardley, went further, saying it "clearly" met the definition of sexual harassment.

In 2017, Murphy said the allegations constituted only "unprofessional behaviour" and "minor references to him being overfamiliar".

"If we start cataloguing the behaviour of NEC members in the last two years I am sure we would have a substantial list of unprofessional behaviour," she said.

Staff had already spoken to Willsman about his "extremely hostile" and "inappropriate" behaviour on numerous occasions, leaked emails show. Murphy recommended doing this again. "I am sure someone having a word with PW would easily correct this," she wrote.

As a result, the young woman received no formal response to her complaint. She was told months later by a friend that officials had "chatted" to Willsman.

Within a year, Willsman was publicly reported to have asked another young woman in Labour if she liked twerking — a sexually suggestive dance — and boasted that friendship with Corbyn made it easy to chat up women. His Twitter biography states: "Still enjoys a good disco!"

At the time of the complaint, Willsman's seat on the NEC made him a key Corbyn ally in preserving the left's majority on the body. Last month he was suspended from the party over separate allegations of anti-semitism.

His case raises fresh questions over the party's response to claims of misogyny and racism. In an email on November 29, 2017, responding to the complaint, Murphy told colleagues of a need to tackle misogyny, saying: "I think the chair of the NEC should remind members to behave in a courteous and respectful manner at all times. Casual sexism isn't acceptable."

Addressing Willsman's conduct, Murphy said: "I am sure someone having a word with PW would easily correct this. This is not in my view a complaint of sexual harassment."

The party's most senior figures were looped into the discussion, including Seumas Milne, Corbyn's director of communications, Iain McNicol, who was then general secretary, and John Stolliday, then head of governance and legal. A source said that nobody responded because Murphy's verdict was definitive.

Phillips said: "This behaviour clearly falls under the definition of sexual harassment. Is the policy in the party's HR that what we do is 'have a word', or is there a formal process in place? Why would any woman come forward if there is no process being followed?"

A Labour source said that Murphy had made clear that Willsman's behaviour "wasn't acceptable" and it was for the NEC leadership to decide the next steps.

Willsman did not respond to requests for comment.

The email chain

November 29, 3.51pm. Young woman's formal complaint:
"His inappropriate comments to me and others has [sic] made me feel uncomfortable at work . . .

Pete continuously asked where I lived even when I refused to tell him . . . Pete refuses to leave the room even when asked multiple times."

November 29, 6.41pm. Karie Murphy to Seumas Milne, director of communications, Iain McNicol, general secretary, and John Stolliday, then head of governance

"Hi all,

I think the chair of the NEC should remind members to behave in a courteous and respectful manner at all times. Casual sexism isn't acceptable . . .

I am happy to discuss this matter with him directly if this is thought appropriate. This is not a matter to be managed under the sexual harassment policy.

Best wishes, Karie."
Jeremy the Jellyfish (10/06/19)
The Pete Willsman affair is going from bad to worse with more revelations coming to light in yesterday's Sunday Times.
Jeremy the Jellyfish (03/06/19)
Pete Willsman was NUPE's research officer way back in the 1980s before the public services union merged with COHSE and NALGO to create Unison in 1993.
I knew Pete reasonably well when I worked and lived in London during the 80s, but with Jeremy Corbyn as leader of the Labour party he seems to have turned into a crank and a full-blown conspiracy theorist.
Mind you, the Labour Party is full of such people these days.
https://www.bbc.co.uk/news/uk-politics-48472977
Peter Willsman: Labour suspends NEC member over anti-Semitism remarks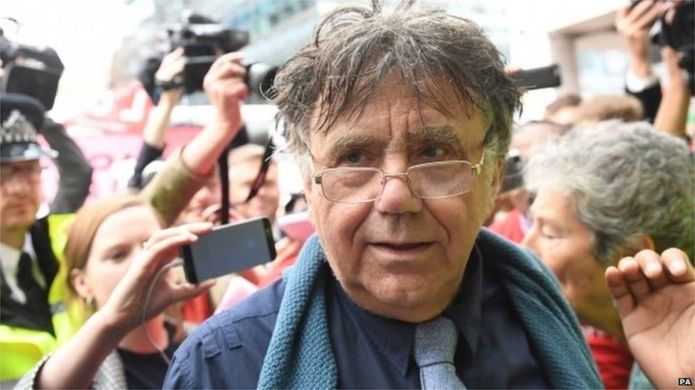 Image copyright - PA

A member of Labour's ruling body, the NEC, has been suspended over remarks he reportedly made about the party's anti-Semitism row.

LBC radio reported that Peter Willsman was recorded saying the Israeli embassy was "almost certainly" behind the row.

Various Labour MPs, including deputy leader Tom Watson, and the Board of Deputies of British Jews have condemned the remarks.

The BBC has approached Mr Willsman for comment about the recording.

He is accused of saying: "This is off the record. It's almost certain who is behind all this anti-Semitism against Jeremy [Corbyn], almost certainly it's the Israeli embassy."

The remarks were recorded in January during a meeting between Mr Willsman and American-Israeli author Tuvia Tenenbom at a hotel in Oxford, Mr Tenenbom told the BBC.

A guide to Labour anti-Semitism claims
Equality watchdog launches Labour anti-Semitism probe
Labour pressure over Corbyn ally's remarks

The author said he had spotted Mr Willsman dining on his own and approached him and they ended up talking for some time, during which time the remarks were made. He said he was unaware it was being recorded by the sound man from his crew, until after the conversation was over.

The Board of Deputies of British Jews president Marie van der Zyl called for Mr Willsman's expulsion from the party, saying he had "not only denied anti-Semitism in the Labour Party but has resorted to a well-known anti-Semitic trope to make his point".

And Fiona Sharpe, of Labour Against Anti-Semitism, said a suspension was "inadequate, inappropriate and insulting to the British Jewish Community", and pointed to the party's decision to expel former No 10 communications director Alastair Campbell "simply for admitting he voted for another party".

Labour peer Lord Falconer, who was asked by the party to head an inquiry into anti-Semitism claims in March, told the BBC that unless it turned out that Mr Willsman was not the person recorded on the tape, or that it had been doctored, "he should definitely be expelled".

"The Labour Party needs to do something very very quickly about it. They have suspended him, which is right, because they have got to give him, legally, an opportunity to put his point of view. But within 14 days this process can be concluded, at an outside limit," he told BBC Radio 4's World at One.

"The Willsman case is an acid test of whether or not the Labour Party can be trusted in relation to anti-Semitism."

Mr Watson condemned Mr Willsman's remarks and said they illustrated "how serious the problem of anti-Semitism is in our party".

The Labour Party said: "Peter Willsman has been suspended from the Labour Party, pending investigation."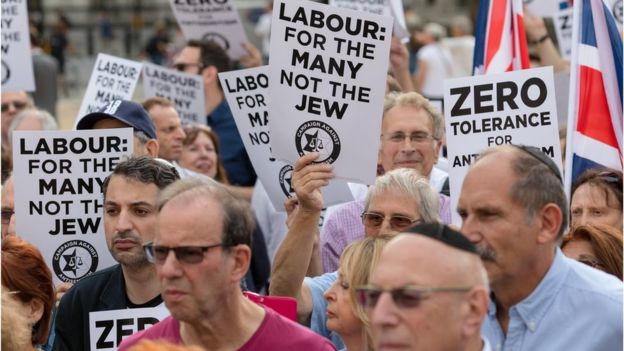 Image copyright - GETTY IMAGES Image caption - Campaigners against anti-Semitism have protested about the party's handling of the issue


A spokesperson said the party took complaints of anti-Semitism "extremely seriously" and was "committed to challenging and campaigning against it in all its forms".
Mr Willsman was involved in another row last year, after he was recorded saying he had never seen anti-Semitism in the party ,and suggesting Jewish "Trump fanatics" were behind the accusations.
He later apologised and said not all his remarks had been accurately reported but that he would refer himself for equalities training.
Mr Willsman was re-elected to the NEC - the body acts as Labour's governing body and oversees the direction of the party and its policy-making process - last year.
Labour has been plagued by accusations of anti-Semitism since mid-2016 and some of its MPs have quit the party, citing its handling of the claims as one of the reasons.
Leader Jeremy Corbyn has insisted he is getting to grips with the issue and has improved the party's internal disciplinary procedures.
In May, the Equalities and Human Rights Commission launched a formal investigation into whether Labour had "unlawfully discriminated against, harassed or victimised people because they are Jewish".
At the time, Labour's shadow equalities minister Dawn Butler said the party would "fully co-operate" adding: "The Labour Party at its heart and core is an anti-racist party… so I see this as a way of ensuring, with the scrutiny of the EHRC, that the Labour Party's rules and policies are robust and fair."
She added that the investigation would help Labour "build trust with the Jewish community".