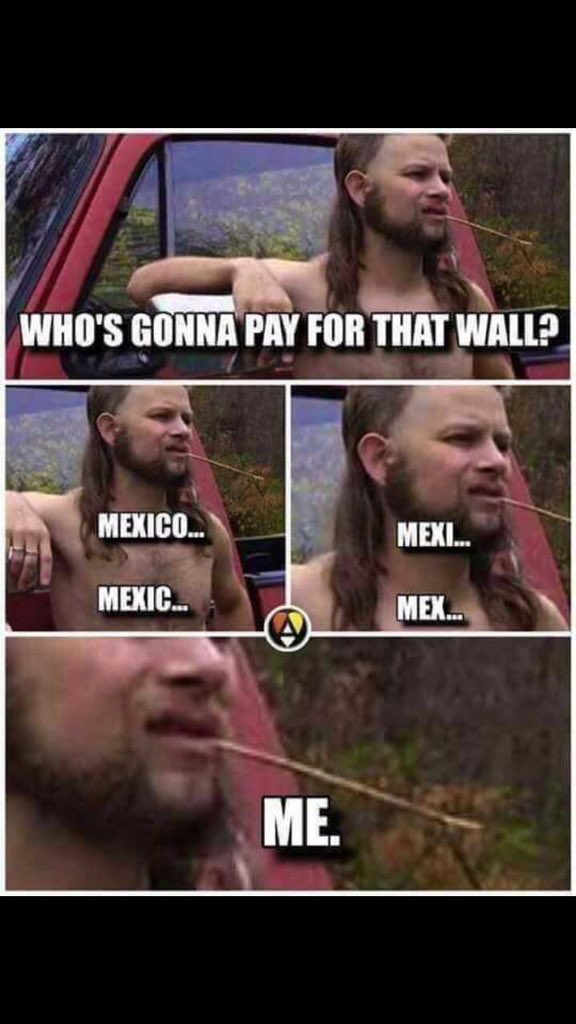 Donald Trump was fond of boasting during the presidential election campaign that Mexico would be forced to pay for a new border wall with America, but t
he rhetoric has softened of late, as the reality of being in government takes its toll.
Trump's own chief-of-staff John Kelly pointed this out the other day and was rewarded with another idiotic Trump Tweet repeating his claim that Mexico will pick up the costs involved.
Which no one believes, of course, even the President's most senior advisers.
http://www.bbc.com/news/world-us-canada-42724380
Trump wall: President denies changing view on Mexico border plan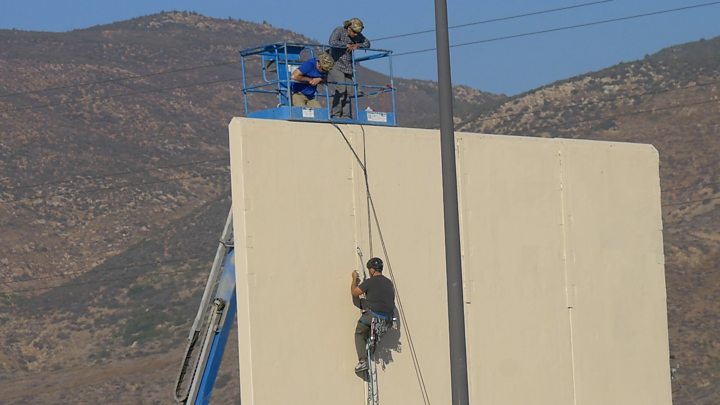 Media caption - Testing began in December on President Trump's border wall prototypes

Donald Trump has denied changing his views on a border wall after his top aide reportedly said the president was "uninformed" when he made the promise.

White House chief of staff John Kelly told Fox News the president's opinions had evolved since his signature campaign pledge on the US-Mexico wall.

"Campaigning is very different from governing," Mr Kelly said on Wednesday.

Hours later, the president tweeted to say Mexico would still "directly or indirectly" pay for the wall.

Have the wall plans changed?

US media report that the White House chief of staff told members of the Congressional Hispanic Caucus on Wednesday that the US would never construct a wall along its entire southern border.

Mr Kelly also reportedly said Mexico would never pay for the structure, as Mr Trump has repeatedly vowed.

But speaking to Fox News later the retired general insisted the president was committed to building 700 miles (1,100km) of additional wall along the nearly 2,000-mile border.

Last year Mr Trump said his wall would cover 1,000 miles with natural obstacles taking care of the rest.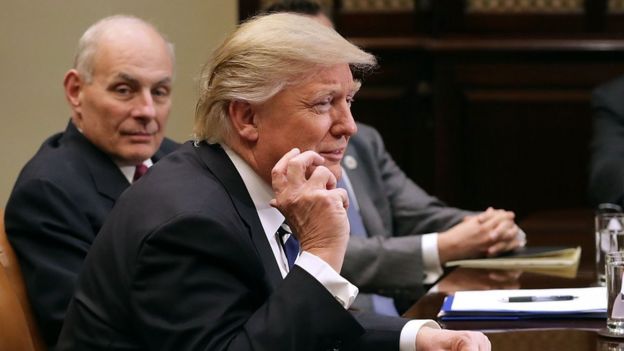 Image copyright - GETTY IMAGES Image caption - John Kelly (L) was appointed as President Trump's chief of staff in July

When Fox News asked Mr Kelly if he had called the president "uninformed", he did not deny it.

Both the president and his chief of staff cited the estimated cost as $20bn (£14bn); Mr Trump had originally put the figure at $10-$12bn.

Mr Kelly said they were now looking at alternative ways to raise funds, including via possible visa fees or renegotiating the Nafta trade dealbetween the US, Canada and Mexico.

In Thursday morning's tweet, President Trump insisted Mexico would still pick up the costs, possibly "through longer term reimbursement".
Here's a great story from The Independent which highlights the practical difficulties involved in Donald Trump's plan to build a 'big, beautiful wall' between Mexico and America.
The penny seems to have dropped that placing the 'Great Wall of Trump' on the American side of the Rio Grande would effectively cede control of this great, historic river to Mexico which would not go down too well for obvious reasons.
Nor does it seem likely, or even possible, that Donald Trump's wall could be built in the middle of a busy river channel.
Yet again the wild rhetoric Trump employed during the presidential election campaign is coming up against the reality of getting things done in government.
Maybe the business tycoon should have paid more attention to his Scottish roots and the words of our national poet Robert Burns in his famous poem 'To a Mouse'.
http://www.independent.co.uk/news/world/americas/us-politics/us-interior-secretary-ryan-zinke-annex-mexican-land-build-border-wall-donald-trump-construction-a7658756.html
US interior secretary suggests America could annex Mexican land to build Donald Trump's wall



'We're not going to put it on our side [of the Rio Grande] and cede the river to Mexico'
By Samuel Osborne - The Independent

The President has proposed immediate budget cuts of $18bn (£14bn) so US taxpayers, not Mexico, can cover the down-payment on the border wall NICHOLAS KAMM/AFP/Getty Images

America could annex Mexican land to build Donald Trump's "big, beautiful wall" on the border, the US Interior Secretary has suggested.

Interior Secretary Ryan Zinke told a Public lands Council meeting the Trump administration did not want to build the wall on US soil because it would mean ceding the Rio Grande river to Mexico.

"The border is complicated, as far as building a physical wall," Mr Zinke said, according to E&E