Donald Trump behaves like a King or an Emperor these days, as he seeks to silence critics and bully the US justice system into acting leniently towards his political cronies and friends.
Read the full story in the link below to the Guardian.
https://www.theguardian.com/us-news/2020/feb/11/trump-roger-stone-sentencing-reaction-criticism
Donald Trump has denounced prosecutors' recommendation of a seven- to nine-year prison sentence for his former aide Roger Stone, tweeting: "Cannot allow this miscarriage of justice!"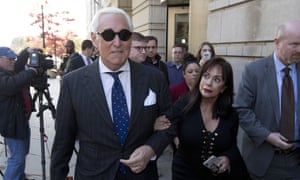 The president sent his message a little before 2am on Tuesday, after a rally in New Hampshire and a visit to Delaware to honour two US soldiers killed in Afghanistan.

On Tuesday, it seemed the tweet would have its desired effect.

The Washington Post quoted a "senior justice department official" as saying: "The department finds the recommendation extreme and excessive and disproportionate to Stone's offences. The department will clarify its position later today."

The Post characterised the move as "a stunning rebuke of career prosecutors that will surely raise questions about political meddling in the case".

In November, Stone was found guilty of lying to Congress, thereby obstructing the investigation of Russian interference in the 2016 election, and tampering with a witness in his efforts to learn about emails hacked from Democratic sources.

On Monday, federal prosecutors said a seven- to nine-year sentence would "accurately reflect the seriousness of his crimes and promote respect for the law".

Trump disagreed, writing: "This is a horrible and very unfair situation. The real crimes were on the other side, as nothing happens to them. Cannot allow this miscarriage of justice!"

Trump regularly claims exoneration in the Russia investigation. In his report, the special counsel Robert Mueller did not establish a criminal conspiracy between Trump aides and Moscow but did outline extensive contacts between the campaign and Russian sources and numerous instances of possible obstruction of justice by the president or his aides.

Trump has indicated he might pardon Stone.

In November, in a statement regarding her husband's alleged role in leaking nude photos of Melania Trump during the 2016 election, Stone's wife, Nydia, told the Guardian: "No one supported the president's election more strongly than Roger Stone."

The night before Stone was convicted, Alex Jones, the conspiracy theorist who hosts the InfoWars web show on which Stone and Trump have guested, said he was relaying a message to Trump from his former aide.

"I appeal to the president to pardon me," it read, "because to do so would be an action that would show these corrupt courts that they're not going to get away with persecuting people for their free speech or for the crime of getting the president elected."

Lawyers for the 67-year-old self-confessed political dirty trickster asked for a lesser sentence, citing his age and comparatively lenient sentences handed to other Trump aides in cases arising from Mueller's work on the Russia investigation.

One such sentence approaches the severity of that recommended for Stone. Paul Manafort, Trump's 70-year-old former campaign chair, was sentenced to seven and a half years in prison on financial and witness tampering charges.

On Monday night, Trump also labelled the prosecutors' request in Stone's case "Disgraceful!" and retweeted messages from a reporter for the Daily Caller, a conservative website.

The reporter, Chuck Ross, wrote: "A [nine-year] prison recommendation for non-violent crimes committed by a 67-year-old man."

Regarding witness tampering by Stone, Ross added: "Prosecutors disregard [government] witness Randy Credico's plea for no jail time for Stone on the grounds that he didn't take Stone's threats seriously."

Prosecutors contended that a tough sentence for Stone "will send the message that tampering with a witness, obstructing justice, and lying in the context of a congressional investigation on matters of critical national importance are not crimes to be taken lightly".
Trump's Cronies (15/11/19)
Yet another of Donald Trump's cronies is facing a long prison sentence - Roger Stone is the 6th Trump aide or adviser convicted in a criminal case arising from Robert Mueller's investigation into Russian interference in the 2016 presidential election.
https://www.bbc.co.uk/news/world-us-canada-50438196
Trump ally Roger Stone convicted of lying to Congress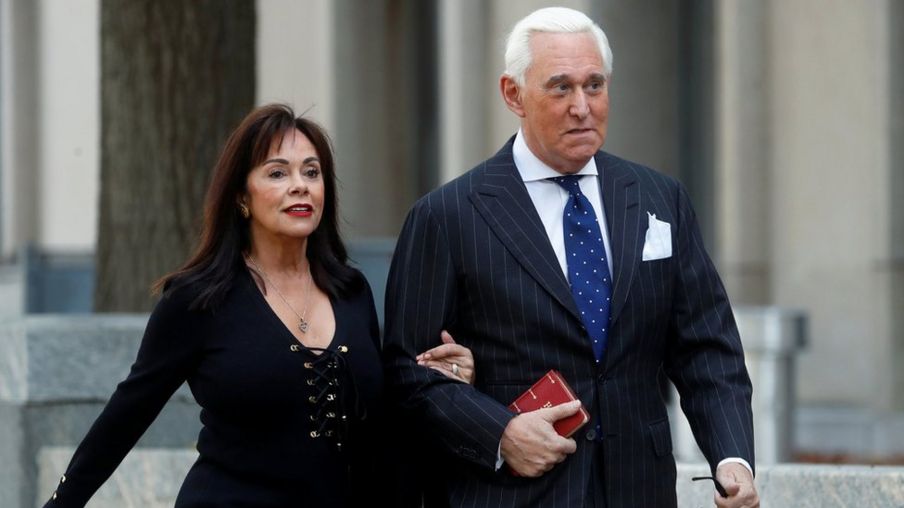 Image copyright - REUTERS Image caption - Roger Stone arriving at court with his wife Nydia to learn his fate

US President Donald Trump's adviser Roger Stone has been convicted on seven counts of lying to Congress, obstruction and witness tampering.

The court heard he lied about his efforts to learn more about when WikiLeaks would publish damaging emails about Hillary Clinton in 2016.

The jury returned its verdict on day two of deliberations in Washington DC.

Witness tampering carries a sentence of up to 20 years in prison. The other counts can carry five years each.

The court heard Stone lied in September 2017 during his testimony to the House of Representatives Intelligence Committee's inquiry into alleged Russian interference in the US elections a year earlier.

He was asked about WikiLeaks' release of damaging emails about Mrs Clinton - President Donald Trump's Democratic rival in the vote.
Who is Roger Stone?

US intelligence officials and Department of Justice Special Counsel Robert Mueller later concluded those messages had been stolen by Russian hackers.

Stone is the sixth Trump aide or adviser convicted in a criminal case resulting from Mr Mueller's since-concluded investigation.

The trial heard Stone had told five lies under oath, including about his conversations with Trump campaign officials and a supposed "intermediary" with WikiLeaks in early August 2016.

He also lied about the existence of certain texts or emails.

Prosecutors told the court that Stone had made the false statements to protect Mr Trump's image.

Stone - who did not take the stand during the trial - maintained the case against him was politically motivated.

Former White House chief strategist Steve Bannon testified against Stone during the trial.

Mr Bannon told the court that Stone had boasted about his links to WikiLeaks and its founder Julian Assange.

Stone had also tipped off the Trump campaign about new batches of damaging emails.

He told Congress his intermediary with WikiLeaks was New York radio host and comedian Randy Credico, who interviewed Assange in 2016.

But prosecutors said Stone's actual go-between with WikiLeaks was a conservative author, Jerome Corsi.

When Credico later testified to US lawmakers, he said Stone had advised him to "do a 'Frank Pentangeli'" - referring to a character in the Godfather movies who lies to Congress.

Stone also threatened Credico's therapy dog, Bianca, saying he was "going to take that dog away from you", the trial heard.