Donald Trump says differently now, but this video tape released by MSNBC News shows two sexual predators at play at Trump's Mar-A-Lago mansion back in 1992.
Powerful Men and Sexual Predators (21/10/19)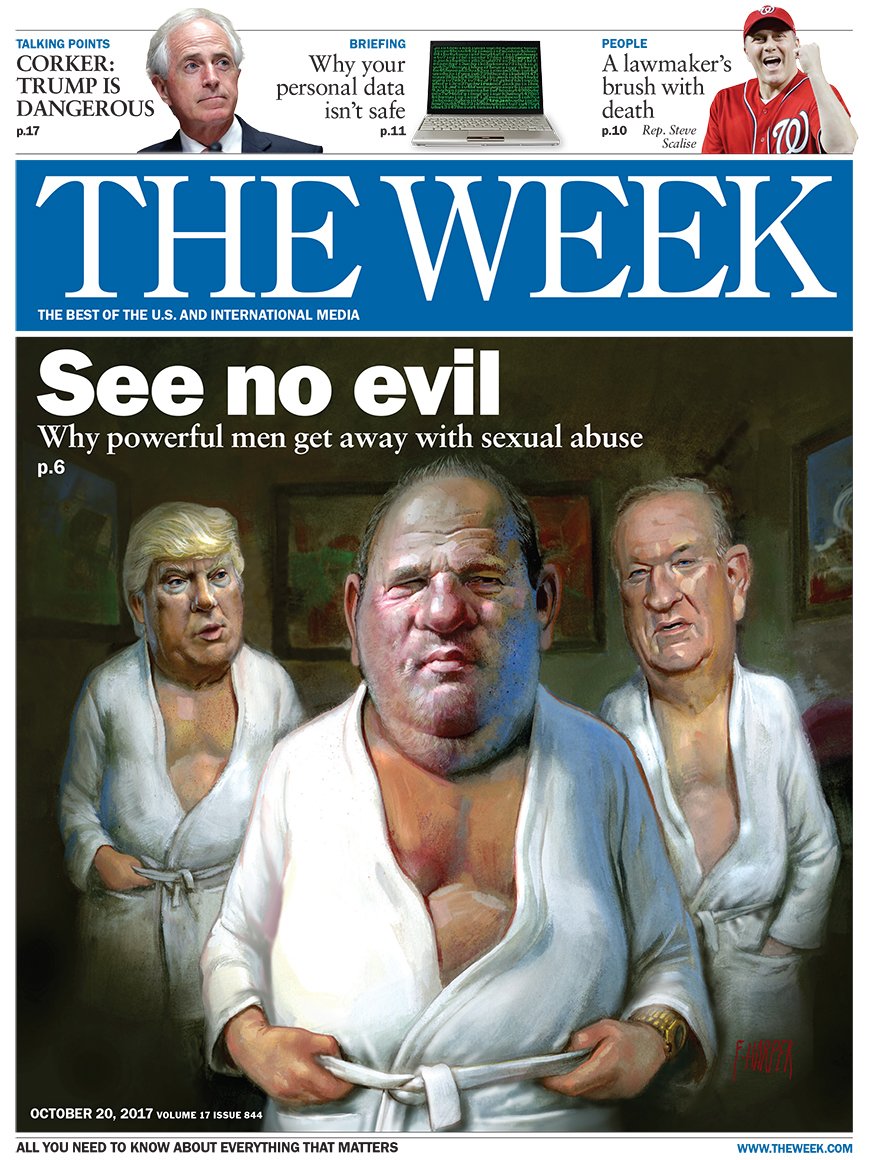 The Week magazine raises the issue of powerful men as sexual predators with a front cover featuring Harvey Weinstein, Bill O'Reilly (formerly of Fox News) and last but not least Donald Trump.
Makes you think, or ought to a least.
Locker-Room Banter? (18/01/17)
Speaking at a press conference in the Kremlin the other day, Russian President Vladimir Putin had this to say about the incoming American President Donald Trump:

"This is an adult (Donald Trump) and, moreover, a man who for many years has organised beauty contests. He socialised with the most beautiful women in the world. I can hardly imagine he rushed to the hotel to meet our girls of lower social responsibility - even though they are the best in the world, of course."
Now you might put this kind of nonsense down as juvenile 'locker-room' banter, as Donald Trump has done himself, of course.
But if you ask me, President Putin's comments about Russian prostitutes being of "lower social responsibility" are hugely demeaning, particularly as he goes on to boast that "our girls......are the best in the world."
By the way it's worth remembering that while Donald Trump claims to be far too smart to be caught out by sophisticated spying equipment during his stay in Moscow, he was exposed for his "Grab 'em by the pussy" comments while wearing a lapel microphone while doing a TV show with the NBC presenter Billy Bush.
Sexual Predator (10/10/16)

"Grab them by the pussy" is locker-room banter according to Donald Trump, but it's not the kind of foul language or ugly mindset that you'd expect from a professional person never mind someone aspiring to become President of the United States.
So the race for the White House has been dragged into the world of sexual predators by the unguarded comments of the Republican nominee while his 'partner in crime', a TV presenter named Billy Bush, has been suspended by the NBC Today programme.
NBC has said there is "simply no excuse for Billy's behaviour and language on that tape", yet Trump carries on after issuing a perfunctory apology which completely ingress the fact that he was in a professional setting at the time and nowhere near a locker-room.
To their credit most of the Bush family have said they will not be voting for this buffoon and while Trump's poll ratings are taking a well-deserved hit, especially among women voters, I suspect there's much more to come in the days ahead.