The mother of the London 'jihadi' who was shot dead by police before he could attack any more innocent people has claimed that her son was radicalised and brainwashed in prison.
Now I can understand a mother's grief, but I also think this nonsense about a 'nice, polite boy' needs to be challenged because Sudesh Amman pleaded guilty to 13 serious terrorist offences in 2018, sent beheading videos to his girlfriend and advised her to kill her kuffar (non-believing) parents with the following message:
"If you can't make a bomb because family, friends or spies are watching or suspecting you, take a knife, molotov, sound bombs or a car at night and attack the tourists (crusaders), police and soldiers of taghut, or western embassies in every country you are in this planet."
Prior to being sentenced in 2018 to three years and four months in prison (of which he served half) Sudesh Amman was living with his mother, Haleema Faraz Khan, and other younger members of his family.
Read the full story via the links below to Sky News.
https://news.sky.com/story/streatham-terror-attack-sudesh-ammans-mother-spoke-to-her-polite-boy-hours-before-attack-11925460
Streatham terrorist Sudesh Amman's mother spoke to her 'polite boy' hours before attack

Haleema Faraz Khan tells Sky News she believes her son had been radicalised online and in prison.

By Inzamam Rashid and David Mercer - Sky News
Image:Sudesh Amman pictured as a youngster and in 2018

The mother of Streatham terrorist Sudesh Amman has told Sky News he was a "nice, polite boy" who was radicalised online and in prison - and revealed she spoke to him just hours before the attack.

Haleema Faraz Khan said her son seemed "normal" when she visited him at a bail hostel on Thursday and he called her before Sunday's attack asking her to make him some mutton biryani.

Amman was under police surveillance when he
stabbed two people
in south London while wearing a fake suicide vest before he was shot dead by officers.
The 20-year-old from Harrow, north London, had been
released from prison
in January after serving time for spreading extremist material.
In an interview with Sky News, Ms Khan said she could not believe her "polite and lovely boy" who was "always smiling" could carry out a terror attack.
Fighting back tears, she said she believed her son had become radicalised after watching Islamist material online and while in the high security jail Belmarsh.
"I spoke to him on the phone on Sunday," Ms Khan said.
"He said: 'Mum I want some biryani.... your mutton biryani'.
"He was fine when I went to see him.
"He became more religious inside prison, that's where I think he became radicalised.
"He was watching and listening to things online which brainwashed him.
"Before he went to prison he was not that religious. After he came out he was really religious.
"He was a polite, kind, lovely boy. He was always smiling.
"I'm so upset, he was only 20 years old."
Ms Khan, who is originally from Sri Lanka but lives in Dunstable, Bedfordshire, said when she first heard an attack had happened she "had a feeling" he was responsible because it was in south London.

"I saw it on the TV, that's when I knew it was him," she said.

"His name was there. That was the first time I heard.

"He didn't answer his phone, I tried to ring him [after the attack]."

Ms Khan said she wanted to bury her son quickly but his body has not yet been released.

Park High School in Stanmore, Harrow confirmed Amman attended between 2011 and 2016. A former school friend told Sky News the attacker had shown "no signs of extremism".

He added: "It really is a shame that he has done such a tragic thing, as I believe that Sudesh really had potential to make it far in life."

He said the last time he saw Amman was in 2018, adding: "I bumped into him, he seemed a little dazed, as if in a rush as far as I can remember. It really is a shame."

Amman was jailed for three years and four months in December 2018 for possessing and distributing terrorist documents.

Following his release from prison, he had been staying at a bail hostel in Streatham for the past two weeks after serving less than half of his sentence.

The Ministry of Justice has refused to reveal the date Amman was released but confirmed it was "in the past six weeks".

Prime Minister Boris Johnson said the government will crack down on the early release of terrorist prisoners, although it is not clear how this will be applied to cases already in train.

"We are bringing forward legislation to stop the system of automatic early release. The difficulty is how to apply retrospectively to the cohort of people who currently qualify," he said.

"It is time to take action to ensure, irrespective of the law we are bringing in, people in the current stream don't qualify automatically for early release."

About 245 convicted terrorists were freed from jail between 2012 and 2019.

London Mayor Sadiq Khan said more than 70 people who have been convicted of a terrorist offence and served time in prison have been released in the capital.
Streatham terror attack: What we know about attacker Sudesh Amman

Prior to his terror conviction in 2018, Sudesh Amman told those close to him that he wanted to carry out an attack.

Sky News

STREATHAM TERROR ATTACK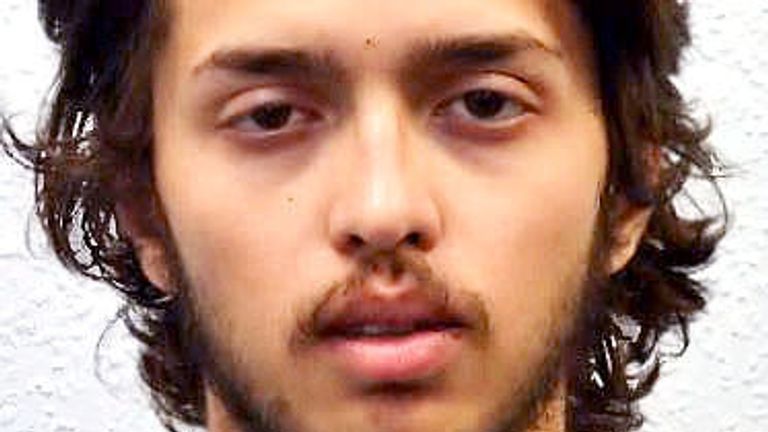 Image:Sudesh Amman, 20, sent IS propaganda to family members


Streatham terror attacker Sudesh Amman stabbed two people just days after being released from jail, where he had been serving a three-year sentence for terror offences.
The 20-year-old, from Harrow in north London, was jailed in December 2018 for spreading extremist material.
Sponsored link
Amman was
under police surveillance
when he
started his knife attack
, while wearing a fake bomb vest, on Sunday afternoon. He was
shot dead by police
.
In May 2018, Amman was arrested by armed police and charged with 10 terror-related offences: seven of making a record of information likely to be useful to a person committing or preparing an act of terrorism and three of dissemination of terrorist publications.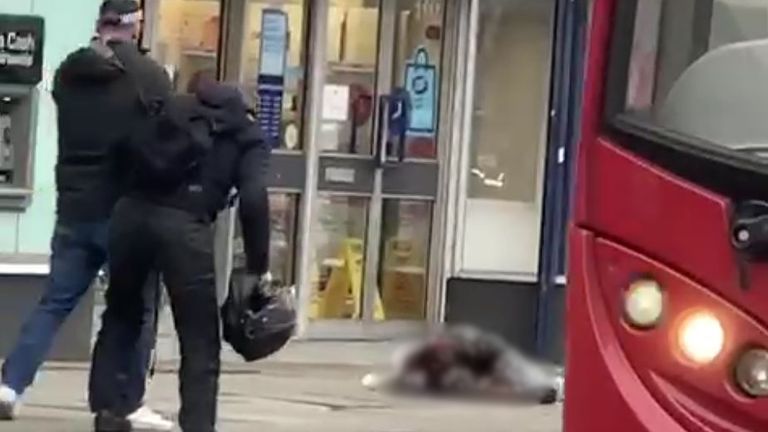 Image:Police shot the terrorist dead shortly after the attack began


He had been 17 and living with his mother and younger siblings at the time, according to the Crown Prosecution Service.
The previous month, police had been told of extremist material being posted on Telegram by an account called @strangertothisworld, which turned out to be Amman.
He had used documents about making explosives, weaponry, and carrying out terrorist attacks. Among them were manuals on bomb-making, knife-fighting and close combat.
Police found he had shared his extremist views with his family - including siblings as young as 11, friends, and his girlfriend. These included his desire to carry out a terror attack using a knife or committing acid attacks from a moped.
Police found a notepad in his home, where he had listed his "life goals".
"Top of the list, above family activities, was dying a martyr and going to 'Jannah' - the afterlife," Alexis Boon, then head of the Metropolitan Police counter-terrorism command, said after he was jailed.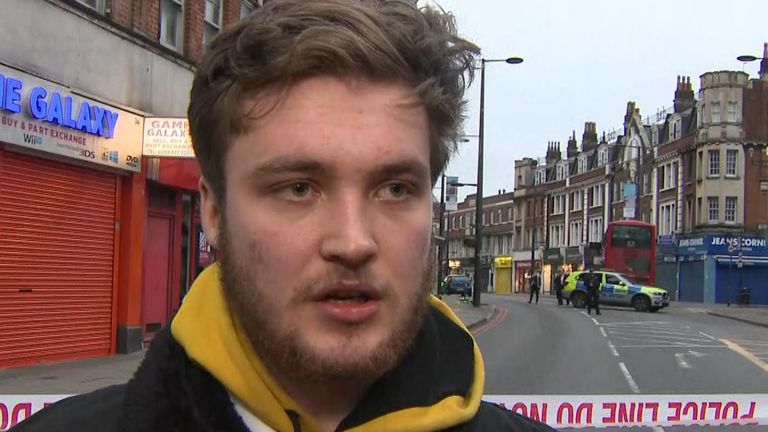 Attack witness: I thought it was a fight



Late in 2017, he shared images via WhatsApp of child fighters with Islamic State-inspired propaganda and of IS leader Abu Bakr al Baghdadi. He told his brother that IS still exists, is "here to stay" and described "reward from jihad".





He spoke via online chats about Muslims in London being massacred and put in conditions worse than concentration camps, said that Jews were doing worse to Muslims and that Yazidi women were slaves and it was permissible to rape them.





Reports at the time also said he had told his girlfriend she should murder her "kuffar" parents.





Early in 2018, he had been discussing school with one of his siblings when he said he would "rather blow myself up" and wanted to know "how to make bombs".





He also posted photos of a young man with a large knife, an image of text attributed to 'Sheikh Faisal' (convicted extremist Trevor Forrest), and images appearing to show his siblings in poses reminiscent of IS-inspired poses.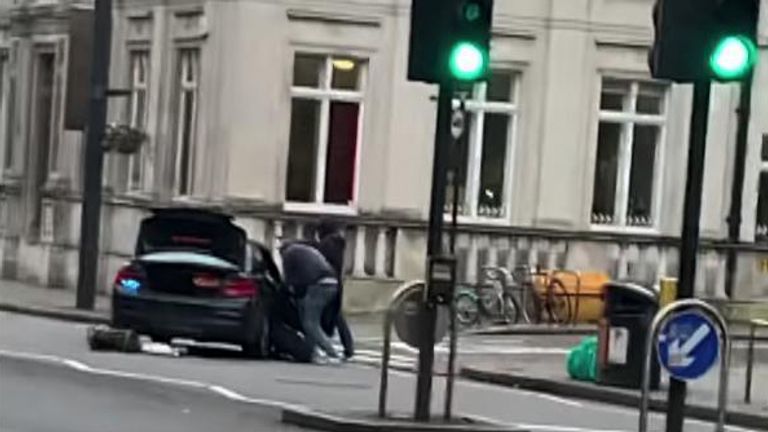 Moment armed police reached attacker



In November 2018, he pleaded guilty to seven of the charges and the other three were left on file.





He was jailed for three years and four months in December 2018.





At the time, prosecutor Kelly Brocklehurst told the court Amman's interest in Islamic extremism and Islamic State in particular was "more than a mere immature fascination with the taboo and with graphic violence".





The science and maths student at North West London College also had previous convictions for possession of an offensive weapon and cannabis.





Neighbour Anthony Stevens told Sky News Amman had been a "nice, polite boy" but was "easily led".





Mr Stevens added that Amman became angrier as he got older, "playing out 'Islamic terror' from his room... there was always noise and always fighting in the house".





"He grew weed from his loft too.





"There was always trouble in the house... the house was trashed."





At the time of the Streatham attack, Amman was thought to have been staying in a bail hostel in Tulse Hill, according to Sam Armstrong from the Henry Jackson Society.





He said the society had warned in December that Amman was due for release within the next two months and should not be let out of prison.