The BBC reports that Glasgow's citizens face a big rise in their council tax bills with yet another inflation busting increase on top of the 3% hike we witnessed in 2019/20.
The background to this year's budget setting exercise is that the Scottish Government had £795.2 million to spend on its priorities in 2019/20 - while Scottish councils, collectively, had £404.8 million less to spend on delivering local services.
See post below dated 17 February 2020 - 'Holyrood Holds the Purse Strings'.
Something is definitely wrong somewhere because the end result is that Glasgow's council taxpayers are paying far higher taxes for fewer and poorer local services.
https://www.bbc.co.uk/news/uk-scotland-51566055
Glasgow and Edinburgh council tax bills to increase by nearly 5%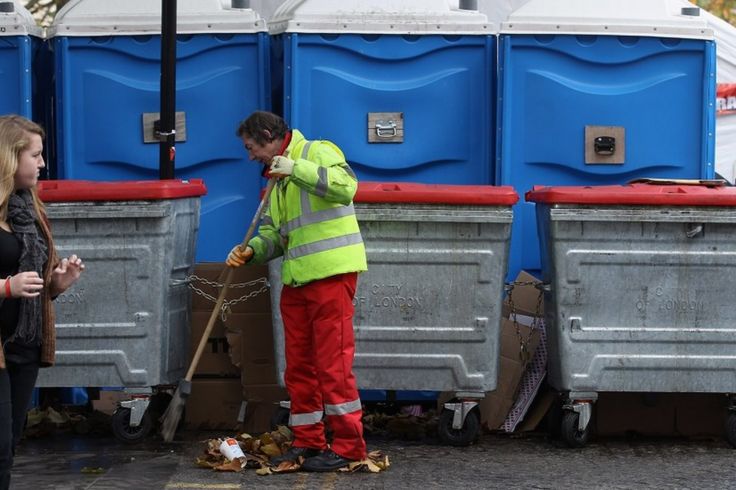 Image copyrightGETTY IMAGESImage captionScotland's 32 councils run a range of services from schools to refuse collection


Scotland's two biggest councils have voted to increase domestic rates by nearly 5%.
In Glasgow, the SNP-administration set the rise at 4.64% while Edinburgh's SNP-Labour coalition agreed 4.79%.
Councils across Scotland have the power to raise council tax by up to 4.8% this year.
In the coming weeks, the country's 32 local authorities will be agreeing their budgets ahead of the new financial year on 1 April.
Glasgow's budget was passed after an amendment from the Scottish Greens was accepted. It included the following proposals:
The closure of its Blairvadach Outdoor Resource Centre in Argyll and Bute

The introduction of bulky uplift charges

An additional £1m for cleansing but a reduction in street sweeping services

Under-utilised bowling greens across the city to be turned into allotments
City treasurer councillor Allan Gow said: "I regret the increase in council tax but I believe that there is no other option. It will hopefully mitigate some of the impact on our poorest people in Glasgow.
"We have sought to protect our most vulnerable people in our community. We will continue the holiday fund and universal free school meals to all children from P1 to P4."
Also agreed was a new £10m climate emergency action fund, ahead of
Glasgow hosting the COP26 climate change summit
later this year, and work to identify a further £20m to invest in nature, green networks and food growing opportunities.
GMB Scotland organiser Rhea Wolfson said the council was not providing adequate funding to tackle Glasgow's "waste crisis".
She added: "These proposals suggest we have a council that can't even keep the city clean yet thinks it can save the planet."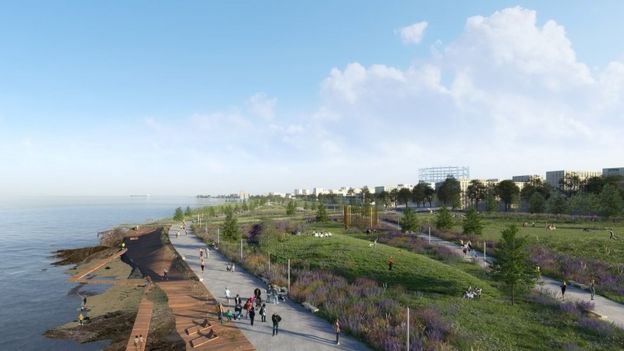 Image copyright - CITY OF EDINBURGH COUNCIL Image caption - Edinburgh has found money for a major redevelopment at Granton
Edinburgh 'key priorities'
In the capital, councillors were faced with the need to save £87m over the next three years.
The local authority said it would use the money from the council tax rise to invest in "key priorities" such as new schools.
The three-year City of Edinburgh council budget includes pledging £196m towards a redevelopment project on
former industrial land at Granton
which will have 3,500 new homes, a school, medical centre, cycling and walking routes and sustainable transport hubs.
Elsewhere, other significant changes which have been approved include:
An extra £9.1m to address rising school rolls

£123m towards improving roads and pavements

Cuts to nursery teacher numbers and a review of senior management roles

A reduction in the council's contribution to community policing
Council leader Adam McVey said: "We've agreed a bold budget which protects the most vulnerable in society and guarantees a fairer quality of life for future generations.
"It prioritises those council services which work to help those who are most in need of our support - protecting our young people, our communities and our planet in the process."
Part of this story was
provided by local democracy reporter Catherine Hunter
.
Holyrood Holds the Purse Strings (17/02/20)
The Times reports that the Scottish Government had an extra £795.2 million a year to spend on its annual 2019/20 budget whereas Scottish local government had a whopping £404.8 million less to spend on its own priorities.
In 2020/21 Scottish councils will receive a cash boost of £495 million, but according to COSLA because the Scottish Government 'ring-fences' and directs where £590 million of the Scottish local government budget has to be spent - this represents an actual reduction of £95 million in local council budgets.
As far as the fight for equal pay is concerned, Glasgow is now in the position of accepting the responsibility for putting everything right all on its own which is a political choice.
Alternatively, Scotland's largest council can show some leadership by calling on the Scottish Government to accept its share of what the Accounts Commission (Scotland's public spending watchdog) described as "a decade long failure of leadership of leadership by local and central government".
To govern is to choose, as they say, so let's hope that Glasgow makes the right choice.
https://www.thetimes.co.uk/edition/scotland/council-funds-fall-despite-holyrood-cash-x2fvw77v9
Council funds fall despite Holyrood cash

Scotland's local authorities have to fund services in their areas - TIMES PHOTOGRAPHER JAMES GLOSSOP


By Craig Paton

-

The Times





Funding for councils has dropped in the past seven years despite the Scottish government receiving more cash from Westminster, according to an analysis.





The Scottish Parliament Information Centre [Spice] has published its assessment of the draft

Scottish Budget

that was announced last week.





According to Spice, real terms funding for local authorities has dropped by £404.8 million — about 3.8 per cent — since 2013/14, sitting at £10.38 billion during 2019/20. During the same period, funding sent to the Scottish government by Westminster increased in real terms by £795.2 million, a rise of 2.6 per cent to £31.9 billion.





The figures have been adjusted to match 2019/20 levels of inflation.





Despite the drop in overall funding in previous years, Spice said there had been a 3 per cent real terms increase in funding for 2020/21 when compared to 2019/20, the equivalent of £303.2 million. The Convention of Scottish Local Authorities has said the increase — £495 million in cash terms — does not factor in ring-fenced Scottish government commitments of £590 million, meaning an actual drop of £95 million.
Leadership and Glasgow's Fight for Equal Pay (14/02/20)
The big question going forward in Glasgow's fight for equal pay is - should the city be left to itself to pick up the bill or should Glaswegians expect significant help from the Scottish Government?
Now in the previous settlement round the Council made a political decision to meet the costs itself - instead of lobbying hard and campaigning for the Scottish Parliament and Scottish Government to get involved.
Which is very odd if you ask me, since Scotland's public spending watchdog (the Accounts Commission) made it perfectly clear in 2017 that the scandal of unequal pay in Scotland's council was the result of "a decade long failure of leadership by both local and central government".
So why should the Scottish Parliament and/or Scottish Government be allowed to wash their hands of the whole affair?
After all public money has been found for the
Calmac 'Ferry Fiasco' (£200 million or so) or, for example, to pay Scotland's schoolteachers an extra 3% on top of the annual 'cost of living' increase offered to other Scottish council workers (£100 million plus every year).
In my experience, fairness rarely determines 'Who gets what and why?' when it comes to public spending in Scotland - if it did, we would never have got ourselves into this mess over equal pay in the first place.
More often than not the answer to 'Who gets what and why?' comes down to the political choices made by the politicians holding the purse strings.
The politics of Glasgow at the moment mean that we have an SNP led council which is reluctant to rock the boat over equal pay with an SNP Scottish Government which has been in power since 2007.
But if you ask me, this is neither here nor there - as I can't be the only person to think that an SNP led council in Glasgow would have no trouble in rocking the boat over equal pay, if Labour or any other party were leading the Scottish Government in Edinburgh.
So, for me, it all comes down to doing the right thing going forward as the fight for equal pay in Glasgow enters its next, critical phase in 2020/21.
To paraphrase the Accounts Commission, Scotland's lowest paid council workers have indeed been treated as second class citizens for years and it's time face up to the all too obvious lack of leadership involved - from both local and national politicians.