Glasgow gives a whole new meaning to the term 'boy band' with the news that two cowardly, grown men
have now
pled guilty to assault over an ugly incident during an Orange March in Glasgow city centre in July of this year.
Now this illustrates perfectly the case for Police Scotland taking control of these marches by providing safe crossing points at regular intervals and allowing Glasgow's citizens to go about their normal business - without being harassed or assaulted by 'boy band' members like Darren Thompson or William Carmichael.

See posts below dated 5 November, 19 September, 12 September and 11 September 2109.
Orange walk man admits spitting on woman in Glasgow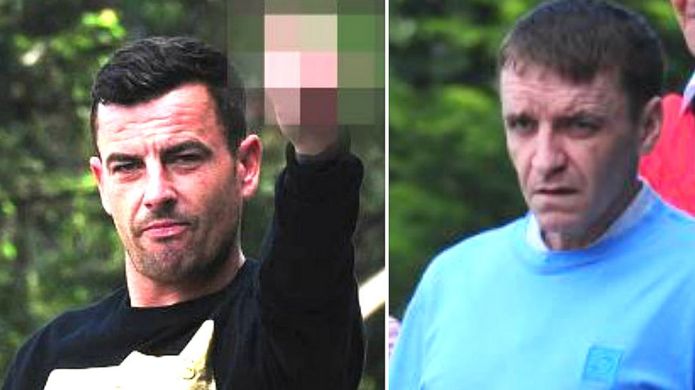 Image copyright - SPINDRIFT Image caption - Darren Thompson and William Carmichael admitted an assault charge
A man taking part in an orange walk in Glasgow has admitted spitting on a woman as she crossed the procession.
Darren Thompson, 34, pushed Caitlin McCall and spat on her in West George Street on 6 July this year.
William Carmichael, 45, also pushed Miss McCall in the incident which, the court heard, was captured on video.
The two, who are members of the Drumchapel Protestant Boys Flute Band, pled guilty to assault at Glasgow Sheriff Court.
Carmichael admitted his involvement in July while Thompson pleaded guilty on Friday.
The court learned that on the day of the march, Miss McCall was late for work and travelling by taxi.
Pushed backwards
She got out of the cab when it could not move any further up the street due to road closures for the procession.
Prosecutor Hannah Sweeney said: "She stood on the footpath as the band was passing her.
"She identified an opening and took an opportunity to walk through the band.
"As she walked through Carmichael walked towards her and pushed her backwards.
"She passed in front of Thompson who pushed her causing her to stumble before he spat towards her with the spit ending up on the back of her jacket."
'Incident went viral'
Miss McCall was shaken when she arrived at work and was told to contact the police by colleagues.
She was hesitant because a video on social media of the incident went viral.
Police were able to identify Miss McCall, Thompson and Carmichael from the footage.
Sentence was deferred until next month for background reports.
Thompson, from Drumchapel, and Carmichael, from Milton, are both on bail.
Glasgow Processions and Public Safety (05/11/19)

As regular readers know, I contacted my four local Glasgow councillors recently (along with my local MSP, MP and the party group leaders on Glasgow City Council) on the topical subject of 'Glasgow Processions and Public Safety'.
My suggestion to city's elected politicians is that there should be designated 'crossing points' during these big processions which are visibly under the control of Police Scotland - and not the march organisers.
I had what you might call a 'mixed bag' of responses which are explained below under the names and photos of the relevant politicians.
Cllr Greg Hepburn (SNP)
Greg gets top marks from me - not only did he respond quickly and helpfully, we also met and had a good discussion on the points raised in my original letter about the importance of local people being able to cross the road safely and without being accosted.
Cllr Robert Connelly (Conservative)
Took a little bit of chasing, but Robert responded positively to my emails and generally welcomed the suggestion that public processions should be less intrusive on the lives of local people.
Cllr Cecilia O'Lone (Labour)
Bottom of the class, I'm afraid - no response to my emails which I brought to the attention of her party group leader, Cllr Frank McAveety.
Cllr Jennifer Layden (SNP)
Another one for the Dunce's Cap I'm afraid to say - a second nil response and like chalk and cheese compared to Greg Hepburn.
Cllr Susan Aitken (SNP Group Leader)
I contacted Susan Aitken to say that only one of the two local SNP councillors had responded to my original email - no response from the SNP Group leader.
Cllr Thomas Kerr (Conservative Group Leader)
I contacted Thomas when I had difficulty getting a response from Cllr Connelly. Thomas replied to say that Robert was out of Glasgow on other business and assured me that he would respond on his return - which did.
Cllr Frank McAveety (Labour Group Leader)
I contacted Frank to let him know about the nil response from Cllr O'Lone - no response from the Labour Group leader.
Cllr Martha Wardrop (Glasgow Green Party)
I contacted the Green Party directly because we do not have a Green councillor in the Glasgow Calton ward - no response which surprised me I have to say.
John Mason SNP - MSP for Glasgow Shettleston
John Mason responded promptly, as he often does, but adopted a 'mibbees aye, mibbees no' attitude as if some people trying to cross the road during a procession were out to make a point. I put him right by explaining my only purpose in trying to cross the road safely was to get to the shops and stores on the west side of the High Street.
Alison Thewliss SNP - MP for Glasgow Central
Another 'nil response' and from a local MP whose constituency office is just a stone's throw from the High Street - very surprising especially asI received 3 separate emails from Alison Thewliss yesterday regarding the dissolution of Parliament ahead of the general election.
As an exercise in local democracy, I would have to say that my experience was pretty disappointing - emails are easy to acknowledge and respond to and if you ask me, it's downright rude for an elected politician not to get back to one of their local constituents.
Only one of the elected politicians for this part of Glasgow took up my offer of a meeting - two out of the four local councillors failed to respond at all, as did my local MP.
No wonder people become cynical about the way some politicians behave although on the bright side I did receive a positive response from two of my local councillors and confirmation that Glasgow City Council is launching a consultation exercise on the future of public processions.
So it looks as though I will get an opportunity to put my points across directly in the weeks ahead.