The Politics Homes web site reports that Rebecca Long-Bailey, the 'Continuity Corbyn' candidate in the Labour leadership race, would offer Jezza a role in her new shadow cabinet.
Apparently, RLB says she would do this for Jeremy because "I love him so" which is touching on a personal level, but completely bonkers politically speaking given that in 2019 Mr Corbyn led Labour to its biggest electoral defeat since 1935.
Meanwhile in the race to become deputy Labour leader Richard Burgon, the 'Continuity Corbyn' candidate, has called for all of Labour's 2019 election manifesto pledges to remain in place which sounds equally barking mad.
God above, Labour - get a grip!
https://www.politicshome.com/news/uk/political-parties/labour-party/jeremy-corbyn/news/109940/rebecca-long-bailey-would-offer?
Rebecca Long-Bailey would offer Jeremy Corbyn a place in her shadow Cabinet
By Alain Tolhurst - Politics Homes

Rebecca Long-Bailey said she would offer Jeremy Corbyn a place in her shadow Cabinet if she takes over from him as leader.
Rebecca Long-Bailey said she would offer Jeremy Corbyn a place in her shadow Cabinet if she took over as leader
Credit: PA Images
Richard Burgon warns Labour leader not to drop any manifesto pledges

Sir Keir Starmer says Labour had the 'right policy' on Brexit despite heavy general election defeat

Emily Thornberry eliminated from Labour leadership race as contest enters final stage
The shadow business secretary, who has been labelled the "continuity" candidate in the race, said she would do it because "I love him so".
It comes after Richard Burgon, who is standing to be Labour's deputy, said Mr Corbyn still had a "valuable role" to play despite leading the party to to its worst election result for 80 years.
He even suggested the outgoing leader could stay on the frontbencher as shadow foreign secretary.
Ms Long-Bailey is said to have told supporters in London earlier this month she would hand Mr Corbyn a high-level brief if she can defeat Keir Starmer and Lisa Nandy to the top job.
She said: "I'd like to but I don't know whether he wants to do it because he said not."
The Salford and Eccles MP added: "It's up to him. I love him so."
Mr Burgon also said over the weekend Mr Corbyn could continue to play a "valuable role" on Labour's front bench, saying: "If he was Shadow Foreign Secretary, that would be ideal."
He called the Labour leader a "friend and a comrade", adding: "I've never met a more principled, less egotistical person than Jeremy Corbyn.
"Plenty of his critics are not fit to lace his boots."
But Miss Long-Bailey, who has been publicly backed by John McDonnell and Jon Lansman, the founder of the pro-Corbyn Momentum group, said she found it insulting being called the "continuity Corbyn" candidate.
Speaking on the BBC's Andrew Marr show she said: "Jeremy and I are friends but it's quite disrespectful when I'm termed the continuity candidate.
"I've always been strong in my principles, people know what I believe in.
"To suggest I'm a continuation of any individual is disrespectful, not least because I am a woman."
Continuity Corbyn, Brains and Brilliance (28/01/20)
Rebecca Long-Bailey gave Jeremy Corbyn '10 out of 10' for leadership despite the fact that in December 2019 he presided over the Labour Party's worst general election defeat since 1935.
Yet the leadership of Unite which is completely out of touch with the views of most union members, as far party politics is concerned, has endorsed Long-Bailey to take over as the next Labour leader - with Richard Burgon as her deputy.
What more can you say about such stupidity and such a poor use of union members' money.
https://www.bbc.com/news/uk-politics-51235025
Labour leadership: Unite endorses Rebecca Long-Bailey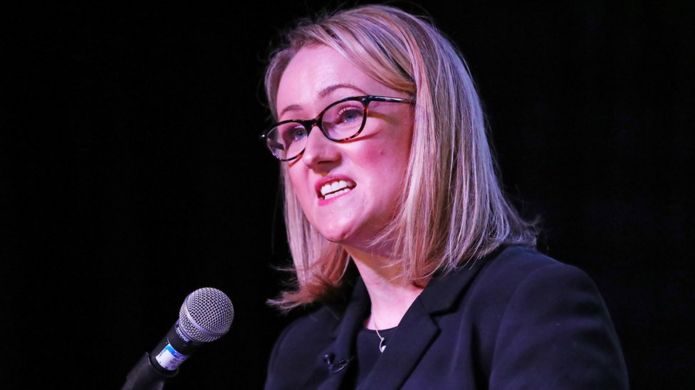 Image copyright - PA MEDIA


Rebecca Long-Bailey has won the backing of the Unite trade union in her bid to succeed Jeremy Corbyn as Labour leader.
The shadow business secretary now needs just one more union or affiliate group to endorse her to confirm her place on the members' ballot.
Unite's general secretary, Len McCluskey, said Mrs Long-Bailey had the "brains and the brilliance" to take on PM Boris Johnson.
The union will also back Richard Burgon for the vacant deputy leader post.
Speaking after a meeting in London, Mr McCluskey said his union would make a "substantial" donation towards Mrs Long-Bailey's campaign.
The union, which was Labour's biggest financial backer during last month's election, had been widely expected to back her pitch for the top job.
Who will be Labour's next leader?
WATCH: What matters to Labour members
Which Labour contender is the most working-class?

After receiving the nomination, Mrs Long-Bailey said she was "honoured" to receive the union's backing.

"I didn't see myself as the kind of person who could ever become an MP. It was Unite, my trade union, that supported me to realise my potential," she added.

Mr McCluskey said Unite's executive committee had concluded Mrs Long-Bailey was "best placed to take the fight to the Tory party" on behalf of its members.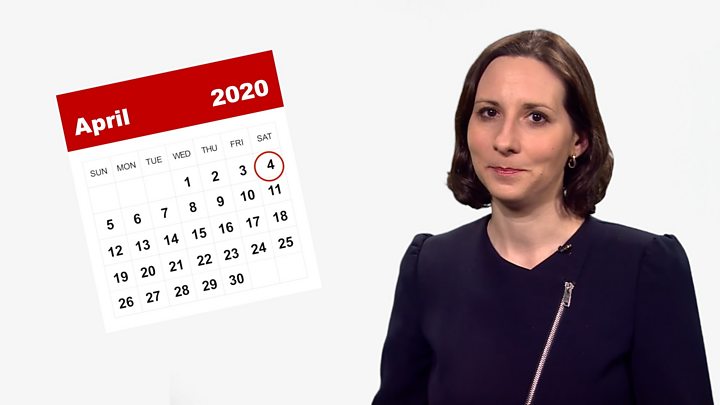 Media caption - Who decides on the next Labour leader?

"She is standing for unity, socialism and the determination to make Johnson's term in office short-lived," he added.

He added that the union was confident that Mr Burgon would make a "superb deputy" for the party.

In an apparent swipe at former deputy leader Tom Watson, he said Mr Burgon would display "the qualities that have long been absent from that post," including "pride in our values" and "loyalty to their leader".

Mr Watson was often at odds with the leadership during his time in the role, and faced an attempt to oust him at Labour's conference last year.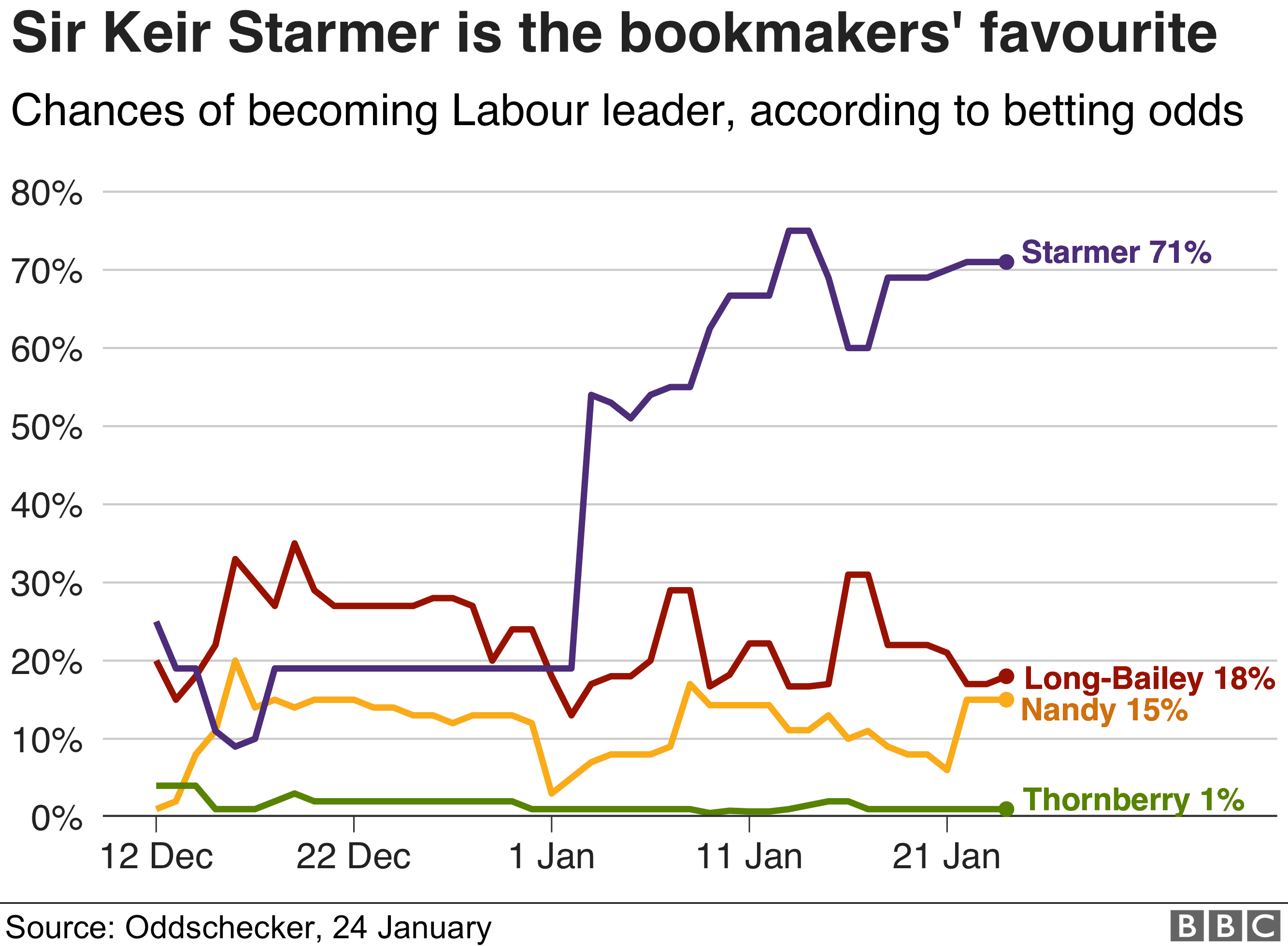 To make the ballot, hopefuls need the support of three unions and affiliate groups representing 5% of the membership, or 33 local branches.

Shadow brexit secretary Sir Keir Starmer and Wigan MP Lisa Nandy have already secured this level of support ahead of the 14 February deadline.

Having already been nominated by bakers' union BFAWU, Unite's support for Ms Long-Bailey means she needs just one more union or affiliate to join them.

However the fourth leadership contender, shadow foreign secretary Emily Thornberry, is yet to receive any union or affiliate backing and has only secured endorsements from three local branches so far.
Leader hustings cancelled

Sir Keir has cancelled all campaign events this weekend after his mother-in-law was involved in a serious accident. She remains critically ill in hospital.

He sent Labour's Chris Matheson to the Unite meeting in his place.

Labour's general secretary, Jennie Formby, also confirmed the hustings due to take place in Leeds between the leadership candidates on Saturday would be cancelled, although the deputy leadership event would go ahead.

She added: "We have sent our very best wishes and solidarity to Keir and his family, and our hope that his mother-in-law recovers very soon."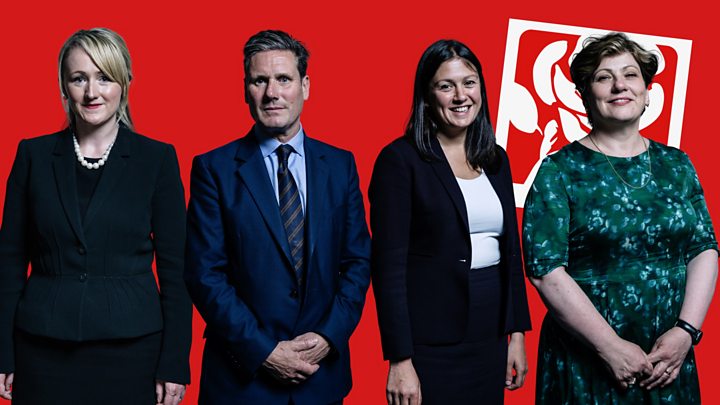 Media caption- Four candidates remain in the race for the Labour leadership

Shadow education secretary Angela Rayner is the only candidate for the deputy leadership to have made it onto the ballot, with the support of Unison, the GMB, Usdaw and the NUM.

As well as Mr Burgon, the others in the running are Scotland's only remaining Labour MP, Ian Murray, shadow equalities minister Dawn Butler, and Tooting MP Rosena Allin-Khan.

The new leader and deputy will then be announced on 4 April
.