The ugly side of religion is on display in this piece from the BBC which reports that a cowardly religious extremist who murdered a Muslim shop keeper in Glasgow is now being celebrated as a hero in Pakistan.
Surely this cowardly man should be facing further charges of inciting hatred and support for terrorism from his prison cell.
http://www.bbc.co.uk/news/world-asia-39112840?
Murderer Tanveer Ahmed inspires Pakistani hardliners from Scottish jail
By Secunder Kermani and Sajid Iqbal - BBC News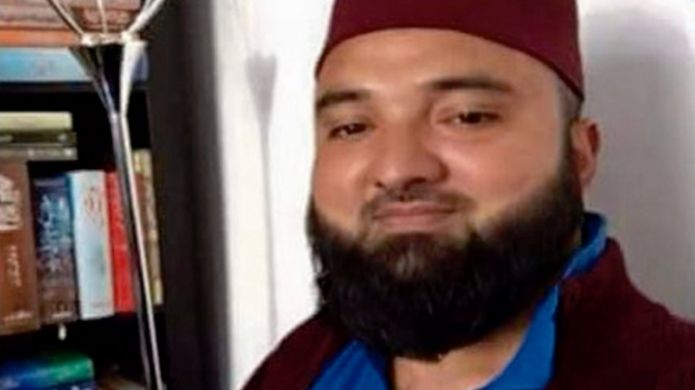 Image caption - Tanveer Ahmed claimed that he murdered Mr Shah as he had "disrespected" Islam

When Tanveer Ahmed was sentenced to a minimum of 27 years in jail for murder last August, Judge Lady Rae said he had committed a "brutal, barbaric and horrific crime".

Ahmed stabbed to death Glasgow shopkeeper Asad Shah - who belonged to the persecuted Ahmadi sect - because he believed he was committing blasphemy by uploading online videos in which he claimed to be a prophet.

But in Pakistan, Ahmed is developing a growing number of supporters who see him as a "defender of Islam" for having killed someone they believed to be disrespecting the Prophet Muhammad.

On Monday evening, about 400 gathered outside his family's home in the city of Mirpur, in Pakistan-administered Kashmir for a rally in his honour. The crowd chanted slogans praising Ahmed as "brave" and "courageous".

One man attending said: "Because of what he did, the whole of Pakistan knows who he is."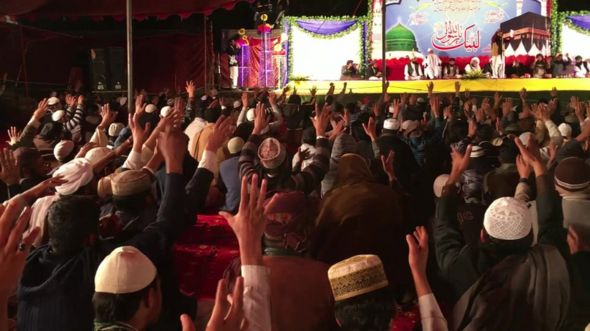 Image caption - Supporters champion Tanveer Ahmed for killing a man they accuse of blasphemy

Another speaker told supporters Ahmed could help mediate their prayers.

"You should close your eyes, raise your hand towards the sky and pray, making Ghazi [warrior] Tanveer your representative," he said.

The event was organised by the anti-blasphemy religious lobby group Labaik Ya Rasool Ullah (Here I am present, o Prophet of Allah).

The same group has championed another killer - Mumtaz Qadri - who in 2011 shot dead a high profile Pakistani politician for trying to reform the country's blasphemy laws.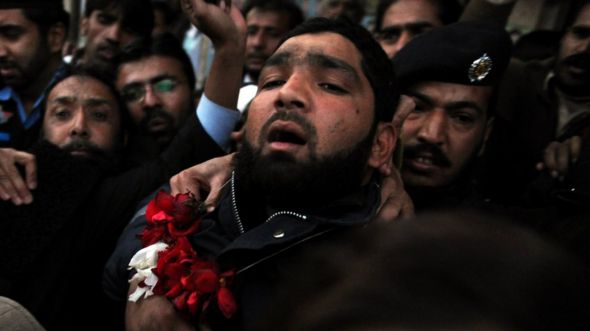 Image copyright - GETTY IMAGES Image caption Mumtaz Qadri on the day of his arrest in 2011 - he was later executed

Blasphemy is an emotive issue in Pakistan, where it is legally punishable by death.

After Qadri was executed last year, tens of thousands of his supporters attended his funeral, and a shrine housing his tomb has been built in Rawalpindi.

Hardline cleric Khadim Rizvi is one of the leading figures in Labaik Ya Rasool Ullah, and is the most prominent supporter of Tanveer Ahmed.

As well as images of Mumtaz Qadri, Rizvi now uses images of Ahmed to promote his rallies and talks.

Ahmed had cited Qadri as his inspiration for killing his victim, and their supporters often compare the two killers.

In a BBC interview Rizvi said support for Ahmed was not as widespread as that for Qadri - but that Ahmed was held in particularly high esteem for having killed someone accused of blasphemy in a non-Muslim country.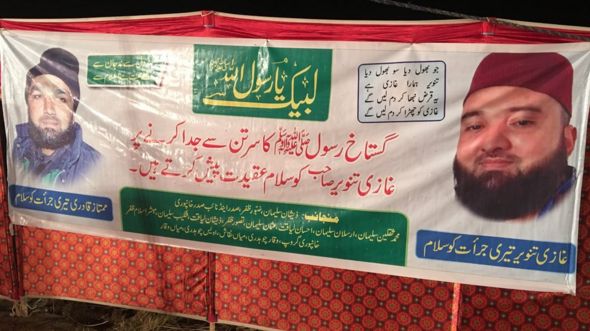 Image caption - Ahmed's image is now used alongside Qadri to promote the rallies

Over the past few months a Facebook page run by Rizvi's followers has released a number of audio messages from Ahmed whilst in jail. The messages included Ahmed justifying his own actions - and repeating slogans that "the penalty for blasphemers is for their heads to be cut off".

Rizvi was prevented from attending the rally in Mirpur by police, but I met him earlier this month after another rally.

He said that until recently he would talk to Tanveer Ahmed on the phone "every couple of weeks", and that he was proud of his friendship with him.

"I'm proud of the fact that we are in contact - and this pride will remain until the day of judgement and beyond."

Rizvi added that his conversations with Ahmed included discussions on the topic of blasphemy, and chants in support of the Prophet Muhammad.

After a BBC report in January 2017 on Ahmed's audio messages from jail, the Scottish Prison Service banned him from using the phone.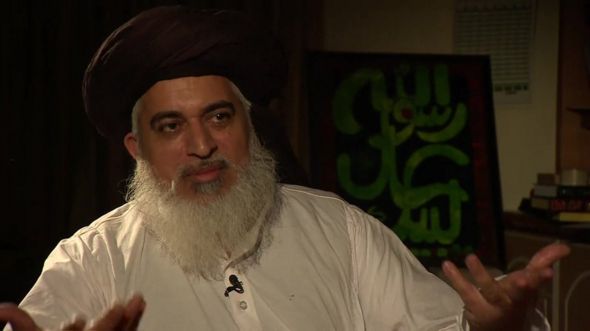 Image caption - Khadim Rizvi said "real Sufis" cannot simply allow insults to the Prophet

Rizvi said since the ban he had not spoken to Ahmed - but was confident they would resume contact.

"God willing it won't change anything - phonecalls have been banned - letters haven't - he will write to us."

Rizvi, Ahmed and Qadri all come from the Sufi Barelvi sect of Sunni Islam, one normally associated with more spiritual interpretations of the religion.

Rizvi, for example, is vocal in his condemnation of recent attacks in Pakistan, and of militant groups like the so-called Islamic State.

But in Pakistan, Barelvis have been at the forefront of anti-blasphemy campaigns.

"A Sufi is someone who devotes his life to the Prophet Muhammad - if someone insults the Prophet and they just let it go - they are not a real Sufi," Rizvi said.

Other Sufi Barelvi scholars strongly disagree with Rizvi's position - but he is an influential figure in Pakistan.

At the mosque in Glasgow that Asad Shah used to attend, there is concern at how hardline views on blasphemy from Pakistan are being spread in the UK.

Abdul Abid, former president of the Scottish Ahmadiyya community, said: "Pakistan has got a problem - and this problem is being exported outside of Pakistan."

Now it seems Tanveer Ahmed - from a jail cell in Scotland - is helping strengthen the anti-blasphemy movement back in Pakistan.
Something To Do With Islam (10/08/16)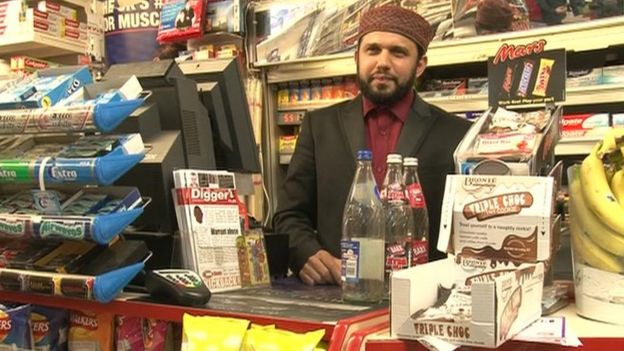 Convicted murderer Tanveer Ahmed (32) showed no remorse as he was sentenced to spend a minimum of 27 years in prison for the cold blooded killing of a fellow Muslim, Glasgow shopkeeper Asad Shah (40).
Instead the Muslim taxi driver, who travelled all the way from Yorkshire to confront his victim (a total stranger), raised a defiant clenched fist as he was led away from the dock shouting "Praise for the Prophet Mohammed, there is only one Prophet."
Unbelievably, some of his friends in the public gallery showed support for Ahmed by raising their arms and repeating his words about the Prophet Mohammed which were, of course, just a crass attempt at justifying Ahmed's actions on the grounds of his sectarian religious beliefs.
I wonder what the leaders of the Glasgow Central Mosque will have to say given that one of their Imams, Habib Ur-Rehman, recently praised the actions of a fanatical Islamist (Mumtaz Qadri) who assassinated the governor of Punjab, Salman Taseer.
Asad Shah killing: 'Disrespecting Islam' murderer jailed



BBC Glasgow & West Scotland

A man has been jailed for life after he admitted the religiously-motivated murder of a Glasgow shopkeeper whom he claimed had "disrespected" Islam.

Sunni Muslim Tanveer Ahmed, 32, from Bradford in Yorkshire, stabbed 40-year-old Asad Shah outside his store in Shawlands on 24 March.

Ahmed had said he killed the shopkeeper because he had posted videos online in which he claimed to be a prophet.

The killer was told he would serve a minimum of 27 years in prison.

Mr Shah was an Ahmadi, a minority sect not recognised by all Muslims.

Why was Asad Shah murdered?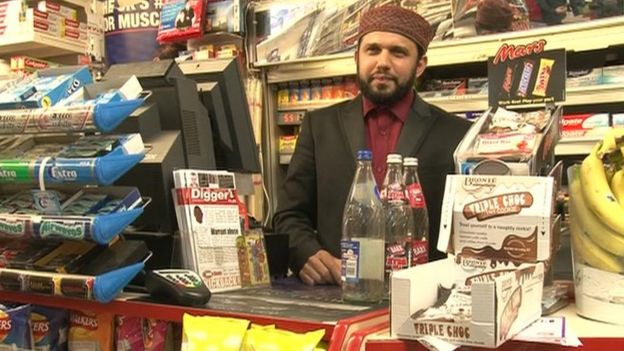 Image captionAsad Shah died after being found badly injured near his shop in the Shawlands area of Glasgow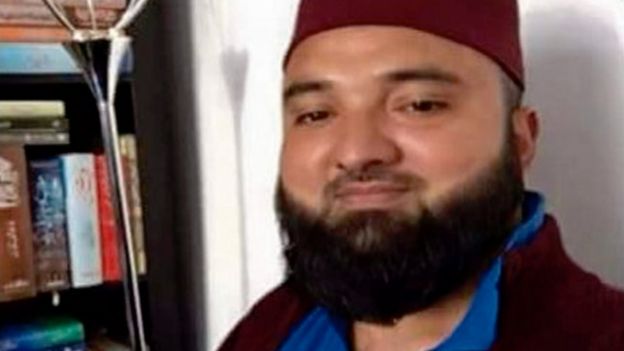 Image captionTanveer Ahmed claimed that he murdered Mr Shah as he had "disrespected" Islam

Last month, Ahmed had pleaded guilty to the religiously-motivated murder at a hearing at the High Court in Glasgow.

Jailing him for life at the same court, judge Lady Rae told Ahmed: "This was a barbaric, premeditated and wholly unjustified killing of a much loved man who was a pillar of the local community.

"He was described as a peaceful and peace-loving man and family man who went out of his way to show respect for those of any faith."

The judge branded the attack as "an appalling display of merciless violence".

Lady Rae added: "No-one in any civilised country including Scotland has the right to take the life of another whatever offence that individual perceives that he or she has suffered.

"It is vitally important in modern society that respect and tolerance for others of any race, creed, colour, ethnic origin or religious belief is maintained and protected by the law of the land.

"I note with considerable concern that you have expressed no remorse whatsoever for this appalling crime."

False prophet claim

As Ahmed was being led to the cells to begin his sentence, he shouted to his family and friends in the public gallery in what is believed to be Arabic and they chanted back at him.

The court previously heard that Mr Shah was an Ahmadi who differ from the majority of Muslims, including Sunni Muslims, in that they believe the Prophet Muhammad was not the final Prophet.

The majority of Muslims believe Muhammad was the final Prophet and say any other view is inconsistent with Islamic belief.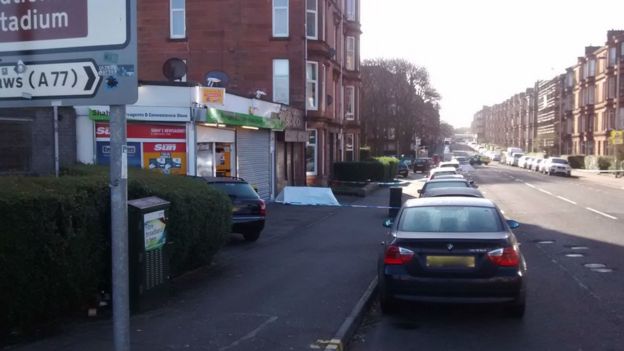 Image captionMr Shah's shop was cordoned off following the attack in June

Ahmed, a Sunni, claimed that he had killed Mr Shah because he had posted videos online in which the shopkeeper had "disrespected" Islam by claiming to be a prophet.

Ahmed watched a clip featuring Mr Shah on his mobile phone as he travelled to Glasgow on the day of the murder and was heard in a phone message to say "listen to this guy, something needs to be done, it needs nipped in the bud".

When he arrived at the shop, Ahmed said he warned Mr Shah that he was there to kill him and asked him to stop claiming to be a prophet.

CCTV footage of the attack showed Ahmed pulling a knife out and moving behind the counter and stabbing Mr Shah repeatedly.

Frenzied attack

The shopkeeper managed to get outside, but was stabbed again and then stamped on and kicked in a frenzied attack as he lay dying in the street.

Mr Shah's brother Athar Shah tried to intervene, but was unable to fend off Ahmed.

As Mr Shah lay dying on the ground, Ahmed walked calmly to a bus shelter where police found him a short time later.

After being arrested, Ahmed released a statement through his lawyersaying he had killed Mr Shah as he had falsely claimed to be a prophet.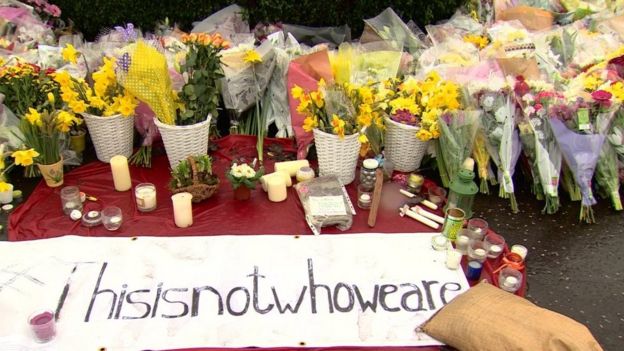 Image captionThe murder of Mr Shah horrified the local community, with hundreds of floral tributes being left in his memory

After Ahmed was jailed, Ch Supt Brian McInulty, of Police Scotland, said: "I hope that the sentencing today will reassure the immediate community in Glasgow's south-side as well as communities all across Scotland that acts of violence such as this are utterly unacceptable and cannot be justified.

"Glasgow is a strong, united, multi-faith community that has immense pride in its diversity.

"Religious intolerance in any form is simply not tolerated in our society and Police Scotland will work in partnership with our communities to eradicate such behaviour."

The Shah family moved to Scotland from Pakistan in the 1990s to escape persecution over their beliefs.

No members of Mr Shah's family were in court to hear the sentence imposed, but friends were in the public gallery.

A victim impact statement written by Mr Shah's sister Attia on behalf of Mr Shah's family said: "Our pain goes beyond our vocabulary. We have tried, in an inevitably inadequate way to capture the feelings and emotions that no person should ever have to do.

"One of the most tangible and far-reaching consequences of this tragedy is that, as a family, whilst our bond will last forever, we have fragmented and many of us have or are in the process of leaving Scotland, in search of a new life, away from the memories we used to cherish but are now the source of immense pain and suffering."

The statement said Mr Shah's widow has been "brutally deprived of a life and companionship with her soul-mate and kindred spirit, the love of her life".
Glasgow Imam (04/04/16)
The BBC reports that the Glasgow Muslim preacher, Habib ur Rehman, who has been pilloried for expressing his support for a fanatical religious murderer is adding insult to injury by continuing to insist that his ill-judged comments were somehow 'misconstrued'.
Now the imam, a 'holy' man, has had time to reflect on what he said and to offer up sincere apologies for being so stupid, yet he continues to pretend that his comments were taken out of context, and that his support for a cowardly assassin could be compared to the French resistance fighting the Nazis in World War Two.
If you ask me, I can't see the good people of Glasgow, including sensible Muslims, putting up with this nonsense and the weasel words of someone who is supposed to be a mainstream religious leader and respected member of the wider community.
The point is not to charge him with a criminal offence, but to require the imam to explain himself publicly - and either defend or withdraw his insulting remarks
Extremism claim imam will not be charged



BBC Glasgow & West Scotland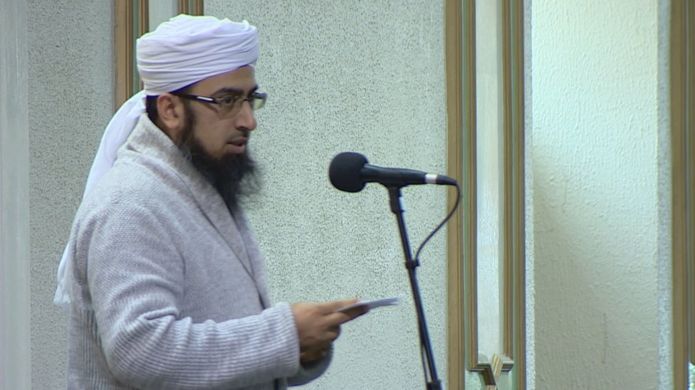 Image caption - Imam Maulana Habib Ur Rehman said he condemned "extrajudicial killing and anarchy"

The religious head of Scotland's largest mosque who praised an extremist executed for committing murder in Pakistan, will not face charges.

Imam Maulana Habib Ur Rehman of Glasgow Central Mosque used WhatsApp to show his support for Mumtaz Qadri.

Qadri was hanged in February after murdering a local politician who opposed strict blasphemy laws.

Police Scotland said it had reviewed the messages but said "no criminality has been established".

The imam said the series of messages about Qadri, in which he reportedly called the killer a "true Muslim", had been "taken out of context" and were about his opposition to Qadri's hanging and the Pakistani justice system.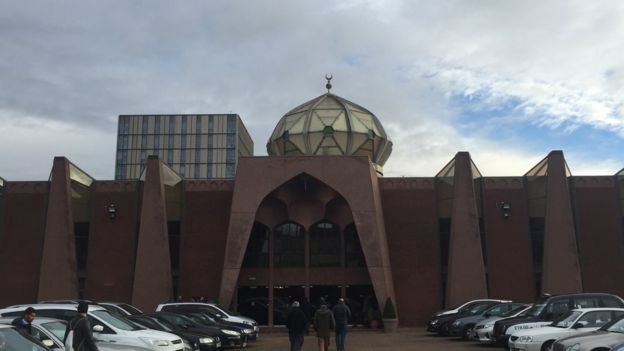 Image caption - Imam Maulana Habib Ur Rehman is the most senior imam at Glasgow Central Mosque

Speaking at a conference in Glasgow on Thursday representing differing strands of Muslim faith, imam Habib Ur Rehman repeated that his comments were "misconstrued" and said the situation had added to his "sense of tragedy" following recent terror attacks.

He said: "I condemn extrajudicial killing and anarchy. The spirit of Islam is a spirit of peace."

Police Scotland Superintendent Jim Baird said: "Officers have reviewed all comments as reported to Police Scotland and, whilst it is appreciated that individuals raise issues that concern them, on this occasion no criminality has been established.

"Police Scotland thank the members of the public who raised this issue with us.

"Each person who reported their concerns to the police, and who were not anonymous, was responded to individually. This assisted us in directly answering the specific points they raised."
Religion of Peace? (25/03/16)

"How can Islam be described as a 'religion of peace' when its mainstream spiritual leaders praise the actions of fanatical Muslim murderers?"
Now that's the question that jumped into my head when I read the following report from The Herald newspaper regarding the words of the imam of Glasgow Central Mosque, Habib ur Rehman, who compared the cowardly behaviour of an assassin with the heroic fight of the French resistance in World War Two.
Now as any reasonable person would observe the French resistance were fighting for freedom and against tyranny, whereas Mumtaz Qadri murdered the governor of Punjab, Salman Taseer, whose only 'crime' was to defend the rights of Christians being persecuted under Pakistan's notorious blasphemy laws.
Now this is taking place right in my own back yard and I feel the need to do and say something about these outrageous comments, so I think I will be contacting my local MP and MSP as well as writing directly to the Glasgow Central Mosque.
But well done to David Leask The Herald newspaper because no one reading about this kind of behaviour should just shrug their shoulders and walk on by.
http://www.heraldscotland.com/news/14383412.Imam_at_Scotland_s_biggest_mosque_praises_Islamist_assassin/
Imam at Scotland's biggest mosque praises Islamist assassin


Spirital eader of Scotland's biggest mosque praises Islamist assassin as concerns of radicalism rise


By David Leask - The Herald

The spiritual leader of Scotland's biggest mosque has praised an Islamist assassin amid fresh concerns about the threat of radicalism at the Muslim centre of worship.

Habib ur Rehman, the imam of Glasgow Central Mosque, said extremist Mumtaz Qadri was a "true Muslim" and equated his actions with the French resistance against the Nazis during World War Two.

He made his remarks last month as he protested the execution of Qadri for the 2011 murder of Salman Taseer, the governor of Punjab who had championed the rights of Christians being persecuted under blasphemy laws.
Religion of Peace? (27/03/16)
We all have a problem on our hands, including sensible Muslims, when religious leaders use 'weasel words' in a desperate effort to cover up their intolerance.
The 'imam' of Glasgow Central Mosque, Habib ur Rehman,
says he is being 'misunderstood' and that he merely wished to convey his opposition to a murderer's hanging by the Pakistan Government.
I'm with the imam on that score, as an opponent of capital punishment myself, but these were the words that were actually used by Mr Rehman:
"A true Muslim was punished for doing (that) which the collective will of the nation failed to carry out.
"According to some he was a murderer but according to many others he did what was the collective will of the umma (Muslim community).
"Just when France was occupied by the Nazis, French did all they had to do to protect their nation. They were national heroes."
Now these are vile and incendiary things to say - and they are a million miles away from simply opposing the death penalty, s
o well done to the Glasgow lawyer, Aamer Anwar, for calling a spade a spade with the following comments:
"Many within the community are horrified and scared that such views will filter down the Muslim community and radicalise our children. To describer a convicted terrorist as a 'true Muslim' or draw parallels with the 'French resistance fighting the Nazis' is grotesque.
"There can be no moral or religious justification for remarks which glorify murder."
But rather than simply driving the imam out of his current lofty position, surely this is an opportunity to debate the issues involved and emphasise the values that underpin democracy including freedom of expression, non-discriminatory laws, tolerance and respect for minorities.