Donald Trump Jr demonstrated that he's just as big an asshole as his father with an attack on London's Mayor Sadiq Khan in the wake of the terror attack on Westminster.
Read the full story via the following link to The Guardian and it will be interesting to see if Trump Junior or Senior have the good sense to apologise for these ugly comments, in the cold light of day.
https://www.theguardian.com/uk-news/2017/mar/22/donald-trump-jr-tweet-london-mayor-sadiq-khan
Donald Trump Jr called 'a disgrace' for tweet goading London mayor Sadiq Khan


President's son quoted Sadiq Khan out of context after Westminster attack
Mayor actually said: 'Londoners will never be cowed by terrorism'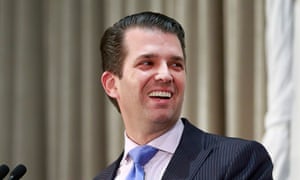 Donald Trump Jr: 'You have to be kidding me?!' Photograph: Jeff Vinnick/Getty Images

By Sam Levin - The Guardian

Donald Trump Jr is facing a backlash for criticizing London mayor Sadiq Khan with a scornful tweet sent hours after an attack at the Houses of Parliament left five dead, including a police officer.

The US president's eldest son tweeted a link to a September 2016 story in the Independent, which quoted Khan saying terror attacks were "part and parcel of living in a big city", and "I want to be reassured that every single agency and individual involved in protecting our city has the resources and expertise they need to respond in the event that London is attacked."
It's unclear if the president's son read the article or understood that the quote was from six months ago and not a response to the Wednesday attack, which police are treating as a terrorist incident.

Authorities said five people died, including a police officer stabbed by a lone attacker trying to enter the House of Commons. The suspect was fatally shot, and 40 people have been injured.

The tweet earned strong criticisms in the US and the UK, including from Wes Streeting, the MP for Ilford North and former president of the National Union of Students.
"You use a terrorist attack on our city to attack London's Mayor for your own political gain

. You're a disgrace," Streeting wrote.