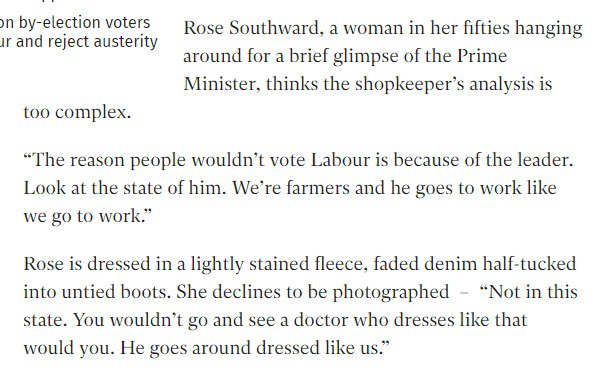 Jeremy Corbyn described Yew Tree Manor, the family home in Shropshire where he grew up, as an old farm.
But the farming community in Copeland where Labour lost a formerly safe seat is none too impressed by the Labour leader's dress sense if Rose Southward is anything to go by.
"Look at the state of him. We're farmers and he goes to work like we go to work.
"You wouldn't go and see a doctor who dresses like that would you. He goes around dressed like us."
Where there's muck there's brass, as they say, along with straight talking.
Not Just Any 'Old Farm' (07/12/16)
It is de rigeur these days for politicians to pass themselves off as anti-establishment outsiders: Donald Trump, Nigel Farage and Jeremy Corbyn in their different ways are all fine examples of this trend.

The Sunday Times reported at the weekend that the house in Shropshire where Jeremy Corbyn grew up, Yew Tree Manor, is up for sale at an price of £650,000 - a snip for anyone selling up and moving out of London, I would say.

The Labour leader has described his family home as an "old farm" whereas the 17th century property is, in fact, a rather stunning five-bedroomed country mansion with four reception rooms and an acre of gardens.

Now it would be unfair to find fault with Jeremy because of his upbringing or surroundings, but describing his childhood home as a "old farm" is a just another example of good old-fashioned political spin, if you ask me.

http://www.thetimes.co.uk/edition/news/corbyn-s-family-mansion-for-sale-cz99j8ck3