The Independent reports that Donald Trump's 'stock' has fallen to an all time low with just 37% of Americans approving of his performance as POTUS (President of the United States).
If things go on like this, I suspect President Trump will turn into the political equivalent of a 'junk bond' and given his bizarre behaviour over the past 60 days that would be no bad thing.
Given Trump's Scottish roots maybe this excruciatingly bad Andy Stewart song "Donald Here's Your Troosers' will cheer the
Trumpeter
up in between his increasingly unhinged outbursts on Twitter.
http://www.independent.co.uk/news/world/americas/donald-trump-gallup-poll-new-record-low-approval-ratings-russia-healthcare-wiretapping-twitter-a7638601.html
Donald Trump's approval rating falls to record low, finds Gallup poll



Gallup poll shows new President has just 37% approval
By Rachael Revesz - The Independent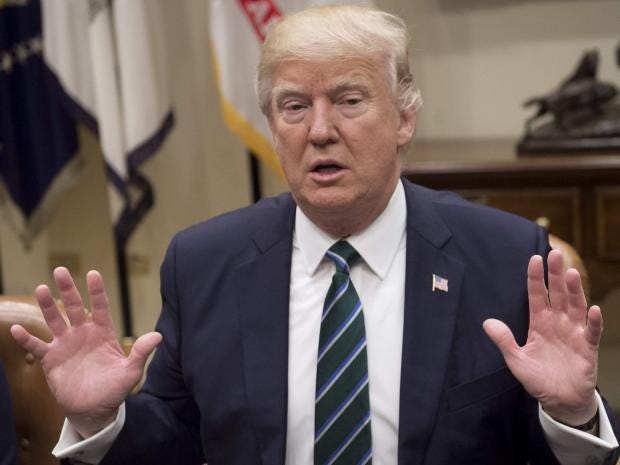 Mr Trump entered office with a low rating of 45 per cent and it has fallen since then AFP/Getty

Donald Trump is only two months in and his approval rating has fallen to a new low, according to the latest Gallup poll.

The President's approval has dropped three points this weekend to 37 per cent, the lowest point since Mr Trump stepped into the White House.

Other presidents have suffered even lower ratings during their time in office, but this is the first time in at least 70 years that any president dipped to this point by March of their first term, according to Gallup.

Gallup's findings come shortly before the Congressional hearing on Russia and whether the country interfered in the 2016 election to give the Republican candidate a boost. Both parties have flatly denied the allegations.