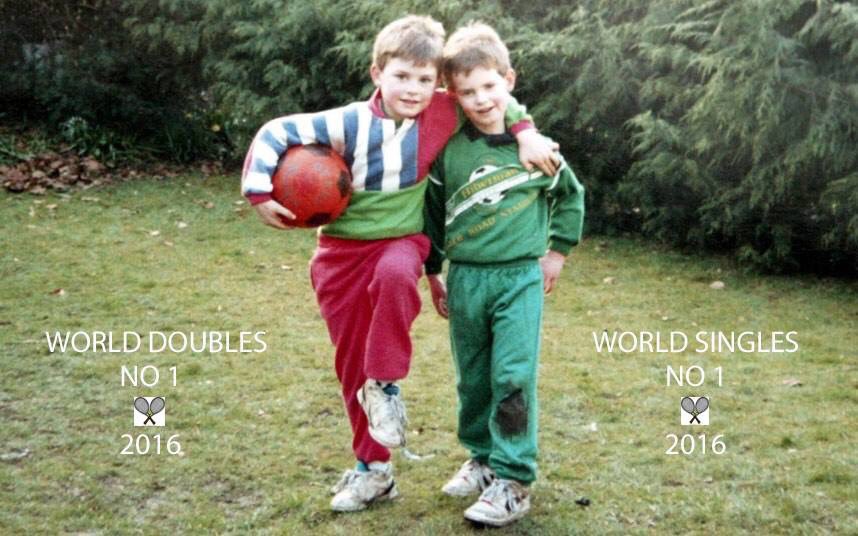 Judy Murray posted a lovely photograph of her two sons, Andy and Jamie, who have both become 'kings of tennis' in the same weekend.
The Murray brothers achieved their World Number 1 ranking at the recent ATP tournament in London - Andy as 'Singles' champion and Jamie as the top 'Doubles' player along with his Brazilian partner, Bruno Soares.
Not bad for two boys from Dunblane, a small town in Scotland which has faced more than its own share of tragedy in recent years.
Andy Murray rise to world number one 'pretty amazing', says John McEnroe



By Piers Newbery - BBC Sport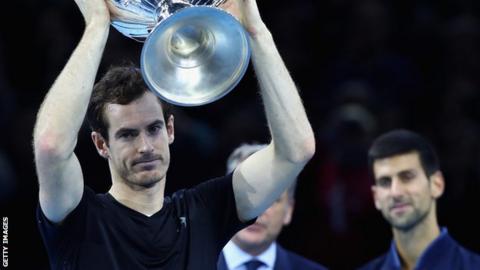 Murray had to match Novak Djokovic's results at the O2 Arena to remain world number one

Andy Murray, showered in ticker-tape and applause, carried the same dazed and disbelieving look at the ATP World Tour Finals on Sunday evening that we saw when he finally won Wimbledon three years ago.

To topple Novak Djokovic at the O2 Arena was a mighty achievement, to replace him as the best player in the world was simply extraordinary.

Murray had managed to overhaul the Serb in the rankings with a remarkable run of form in the second half of the season, but beating him across the net proved it was more than a statistical quirk.

As Djokovic himself said: "Andy is definitely number one in the world."

What we know about the Scot is that he will leave no stone unturned in trying to permanently dethrone Djokovic.

"Murray is an amazing athlete. He's going to try to take advantage of this time because it's limited, we all know that," said former number one John McEnroe.

"I do anticipate he's going to do everything possible to take advantage of it.

"But I would hope there's a lot of hungry players behind him that see a void and an opening, as well as Novak, who wants to catch Rafa Nadal and potentially Roger Federer."

'He's persevered and he's also gotten better'

Mats Wilander: "Murray has learned how you have to keep on practising harder and harder and harder, just to stay where you are."

Murray's work ethic is well known, and remains as punishing as ever as he enters the latter stages of his career.

The second serve was long seen as a weakness in his game, and is something he has taken steps to address.

The success was there for all to see in his semi-final at the O2 - no longer a timid effort there for the taking, it dug him out of trouble more than once against Milos Raonic.

Heading into the season finale at the O2 Arena, Murray had won 54% of the points on his second serve in 2016 - a 2% rise on the previous year and equalling his best ever.

Hardly an eye-popping statistic, but one of a number of 'marginal gains' that, played out across 11 months and 18 tournaments, can make a significant difference to the more obvious numbers of titles won and ranking points gained.

"How many times have we said to be more aggressive on his return? Move forward more often? Hit his forehand bigger?" said McEnroe.

"He's been extremely patient, he's persevered and he's also gotten better. That combination is hard to do when you've been dealt a bunch of blows against three of the greatest players who ever lived.

"To come out of that a better player, and a better man it appears, is pretty amazing, so I give him a lot of credit."



The numbers behind Murray's second serve

Craig O'Shannessy, ATP analyst

"A major component of Murray's ascendency to world number one this season is his substantial improvement on second serve.

"At the 2015 Australian Open, Murray's average second serve speed in his opening round against Yuki Bhambri was a pedestrian 85mph. In his 2016 opening round match in Melbourne against Alexander Zverev, his second serve speed averaged 93mph, with the fastest at 108mph.

"Points won on second serve have steadily risen for Murray from 51% won in 2014, 52% last year, and now up to 54% in 2016, which puts him 13th on tour this year in this critical category - up from 25th last season."

'Lendl gave the push Murray needed'
Ivan Lendl (left) has coached Murray when the Scot has won his three Grand Slam and two Olympic titles, while Jamie Delgado (right) had previously coached Luxembourg's Gilles Müller

Ivan Lendl: "I'm not sure we talked about number one much. Andy sets his own goals, I just try to help him get them."

When Ivan Lendl was named on the shortlist for ATP coach of the year, there were a number of voices calling for the inclusion of Jamie Delgado - the other, lower profile coach brought into Team Murray this year.

Delgado has been a constant presence since his appointment in February, providing a technical knowledge, hitting ability and friendship that Murray clearly values highly.

If Delgado offered stability on the week-in, week-out grind of the tour, Lendl's return in June gave Murray the aura of Grand Slam pedigree that had started to slip.

"We agreed to start working with each other a few days after the French Open," said Murray.

"It was quite a big boost for me, that in itself, that he wanted to come back to work with me again."

Will Federer and Nadal challenge again?
Mats Wilander, former world number one: "If we're honest, at 35 is Roger Federer going to win another Slam and threaten the top three? At times, yes, but I'm not really sure.
"Rafa Nadal might win a French Open or two but is he going to be threat again on hard courts? He doesn't really have the game to stay up there, so he's not going to take away the number one. Nor is Roger.


"Djokovic has been there for so long but at some point his intensity and motivation has got to slip. So who's left? Andy Murray."

Their first practice session back together took place between rain showers at Queen's Club, with Murray hammering forehands while Lendl encouraged him - "very good, Andy, very good" - amid the usual dry one-liners.

"Just picking up balls," is how Lendl described his role this week.

"I sensed something when Ivan came on board again that it gave the little push that Murray needed at that time," said McEnroe.

"It was there potentially anyway but the timing was impeccable. All of a sudden he had more of a strut."

'Number one more likely February or March'

McEnroe: "If you had told me six months ago that this would even be an issue, I would have said you're crazy, because Novak was so far ahead."

Sitting in the press room at the Miami Open in March, Murray looked bewildered as he contemplated an error-strewn defeat by Grigor Dimitrov in the third round.

A few days later, Djokovic swept out of Key Biscayne towards the airport with his sixth Miami trophy alongside him, and his supremacy unquestioned.

By the time the players return to Florida next March, Murray could be well and truly ensconced at the top of the rankings.

In just five months he has erased a deficit of over 8,000 ranking points, and Djokovic will begin 2017 defending titles - and points - in Doha and then at the Australian Open.

For Murray, poor performances this year in the back-to-back Masters events of Indian Wells and Miami create an opportunity for further gains in 2017, when he will have few points to defend compared to Djokovic, champion of both.

"When you play well consistently, number one becomes attainable," said Lendl.

"I'm not sure I would have thought it will come this quick. I thought it was a possibility but a little more likely February or March."

Perhaps as important as the points is the perception, and Sunday's victory goes a long way to transferring the fear factor among the rest of the tour from Djokovic to Murray.

Much will depend on Djokovic himself, the man to beat for five of the past six years and still chasing down the likes of Federer and Nadal in the all-time list.

The Serb described some of his tennis in London as "flawless", but all the frailties of recent months returned in the final and the question is whether the last week, or the last six months, will prove to be the new normal for Djokovic.

"At some point you're going to hit a wall of some kind, for whatever reason," said McEnroe.

"When it comes, people are surprised, but it always happens. You just don't know how long it will last. The jury is out."
You Heard It Here First (13/10/13)
Sometimes if feels really good to be able to say - "I told you so!"
Because there are too few moments in life when you feel completely vindicated about something - or else when you are finally proved right the point you are making is long gone.
A bit like having an argument with teenage children - I suppose.
So it's with a healthy degree of self-satisfaction, if not outright smugness, that I draw people's attention to the following post - which first appeared on the blog site on 3 January 2012.
I rest my case, as they say.
Steely Determination (03/01/12)
The news that Andy Murray has appointed the former world number one - Ivan Lendl - as his new full-time coach convinces me, for the first time, that the young Scot will soon win a tennis 'grand slam' event.
Because Ivan Lendl played his tennis in the same era as John McEnroe - in the 1980s - when the left-handed American was undoubtedly the supreme talent in the game.
But what Lendl lacked in sheer, natural talent - he made up for and more with his steely determination to win - Lendl had the perfect temperament to complement his game.
Andy Murray has the same hurdle to overcome - arguably he faces modern players like Roger Federer and Rafael Nadal - who have a slight edge on him when it comes to their shot-making prowess.
But until last year that was also true of Novak Djokovic as well - yet the Serbian player managed to find consistency and that extra edge - the will to win at all costs, which you must have to become a great 'grand slam' champion.
And that is surely what Ivan Lendl will bring to the party - as far as Andy Murray is concerned.
Winning is 10% inspiration and 90% perspiration - so they say - and Murray can play all the tennis shots with the best of them.
All he lacks is that mental toughness and self-belief - to take him to new heights.
So I'm going to place a bet that he'll win one of the big Open Titles - in America, Australia, France or Britain - in 2012.
America's Dunblane (15/12/12)
There are obvious parallels between the Dunblane massacre in Scotland in 1996 - and the cold-blooded murder of innocent children in Connecticut yesterday.

16 years ago an inadequate man with a grudge and a gun walked into a local school in Dunblane - a nice, middle-class part of Scotland - and deliberately killed 16 young children and the teacher - before the turning the gun on himself.

In the leafy suburbs of Connecticut yesterday - a young man, armed with a variety of weapons, killed his mother at home before making his way to the school where she had taught - Sandy Hook Elementary - and shot dead 27 people including 20 children aged between 5 and 10.

The response in Scotland was swift and already tight gun controls were tightened even further - so that now you can't even buy an air gun (a BB gun in America) without a licence and a police check.

Now this doesn't make Scotland a better place than America - but it sure as hell makes it a safer one because there hasn't been another similar incident in Scotland since 1996.

Whereas in America these violent shootings seem to occur every few months as disturbed and/or inadequate people - with easy access to a wide array of firearms - decide to settle some score and make a name for themselves.

Now I don't underestimate the difficulty of changing things in America - because I know a few Americans and even some of the more liberal-minded ones buy into this business - about a citizen's right to bear arms.

I can see their point - up to a point - but yet again a major shooting incident has occurred but despite the proliferation of guns in America - the shooter is not stopped dead in his tracks.

Instead he kills himself with his own weapon - or as in previous incidents he is caught by the police after carrying out his foul crime.

The word 'his' I use quite deliberately since men have been responsible for all such incidents as far as I know - from Dunblane to Norway to America.

One thing's for sure, there will now be a big public debate in America - the one that was so noticeably absent from the recent Presidential election - which Barack Obama won, of course, but by steering well clear of any confrontation with his country's gun lobby - as did his Republican opponent, Mitt Romney, to be fair.

If any progress is to be made, I suspect this will only happen if the politicians avoid the kind of strident behaviour and language - that turns people off and sends them back into their bunkers - instead of encouraging people to think rationally and reflect carefully.

I can understand an argument that says the more people who carry guns - the safer things are for everyone - because the bad guy can be dropped dead with a single shot before he carries out his evil plan.

But that's a recipe for everyone carrying a lethal weapon - even teachers and young children at an elementary school - and sounds like something from the movies not real life.
So let's hear from you President Obama - people say that in American politics 'you campaign in poetry but govern in prose' - but this is a time for the kind of words and leadership which inspire a great country to change.