Standards are slipping in the once beautiful game with the news that the Newcastle manager, Alan Pardew, called his counterpart at Manchester City, Manuel Pellegrini, "a fucking old cunt" during yesterday's rather bad tempered match on Tyneside.
Now Newcastle did have a perfectly good goal disallowed, but that wasn't Pellegrini's doing and even if it was, what kind of way is that for a highly paid football manager to behave.
Pardew has since apologised for his foul mouth which is just as well although it's hard to imagine someone like Arsene Wenger resorting to such abusive language.
What with a player giving a fascist salute on the field of play and a manager using the 'C' word (plus ageism) to describe an opponent - I think the English Premier League will need to sit on the naughty step for a while.
Symbols of Hate (31 December 2013)
Nicolas Anelka is a well travelled, highly paid, professional footballer and a recent convert to Islam apparently, so he has no excuses for making offensive anti-Semitic gestures.
Yet in a televised football match the other day Anelka celebrated his team (West Brom) scoring a goal by making a salute known in France as a 'quenelle' - its inventor being a controversial French comedian called Dieudonne who has been fined six times for insulting behaviour towards Jews.
Despite the fact that more than 70,000 French Jews died during the Second World War and many more in the Nazi death camps, Dieudonne seems to think it's funny to describe the remembrance of Holocaust victims as 'memorial pornography' - an act of hateful stupidity for which he was fined 6,000 Euros in 2008.
Maybe the French authorities should threaten to lock him up and take away his liberty for a while if he continues to behave in this way and while Dieudonne claims that his gesture is anti-establishment not anti-Semitic - it's hard to see how this less well known Nazi salute can be interpreted any other way.
Presumably the French authorities agree otherwise he would not have been fined on so many occasions, but in any event Nicolas Anelka was dumb enough to follow Dieudonne's example - influenced by the fact that he calls the comedian a friend.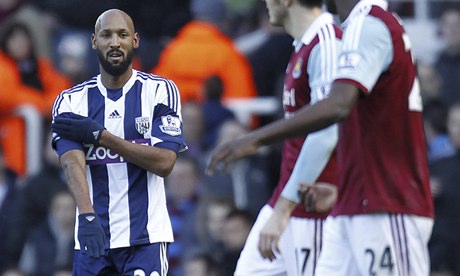 West Bromwich Albion's striker Nicolas Anelka - photograph: Ian Kington/AFP/Getty Images
Anelka's club, West Brom, failed to condemn their player's behaviour but the French minister for sport, Valerie Fourneyron, wasted no time in putting the boot in describing Anelka's behavious as "disgusting" and tweeting the following comment on Twitter:
"Anelka's gesture is a shocking provocation, disgusting. There's no place for antisemitism and incitement to hatred on the football field."
Dieudonne making his 'quenelle' salute.
Unsurprisingly, Jewish groups have made their views known as well with Dr Moshe Kantor of the European Jewish Congress saying that it was "sickening that such a well-known footballer would make such an abusive and hateful gesture in front of tens of thousands of spectators".
"This salute is merely a lesser-known Nazi salute and we expect the same kind of punishment to be handed down by the authorities as if Anelka had made the infamous outstretched arm salute.This salute was created by a well-known extreme antisemite who has displayed his hatred of Jews, mocked the Holocaust and Jewish suffering."
Now I am not a religious person, but presumably Nicolas Anelka is - if the footballer's recent conversion to Islam is anything to go by and perhaps his chum Dieudonne as well.
Yet I can imagine the violent reaction that would take place in parts of the the Muslim world - if a similar, calculated insult had been directed towards Islam.