Elton John and Billie Jean King
Hooray for Elton John!
Because Sir Elton (the famous signer formerly known as Reg Dwight) has shot back at the ridiculous Vladimir Putin, the Russian President, who unbelievably has nothing against gay people, but nonetheless wants gay people to leave Russian children alone.
What a plonker Vlad is, it has to be said, which I did say recently in the post below.
Maybe the best thing Elton could do would be to compose a song which makes fun of the Russian President for spouting such nonsense - if his old collaborator, Bernie Taupin, is still on the scene, then maybe their old double act could come up with a big hit in time for the Sochi Olympic Games.
Personally speaking, I favour an upbeat number like Philadelphia Freedom - now that would certainly put Sochi on the map.
Elton John to Putin: I will show you gay people victimised under Russian law

Singer responds to president by saying he has met Russians abused under legislation banning 'homosexual propaganda'

Mark Brown and Sean Michaels - The Guardian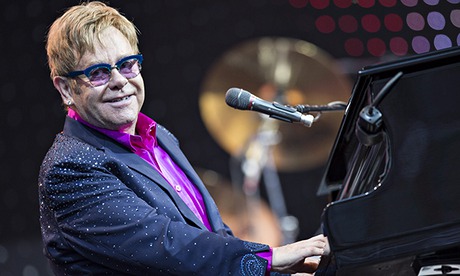 Elton John intervened after Vladimir Putin seemed to invoke the singer's name to show there was no gay discrimination in Russia. Photograph: Florian Schuh/EPA

Sir Elton John, the man Vladimir Putin last weekend called an "extraordinary person ... regardless of his orientation", on Thursday offered to introduce the Russian president to gay people who were being verbally and physically threatened as a direct result of what the singer called vicious legislation banning "homosexual propaganda".

In a statement on his website, John said he had met people in Moscow within the past month who had received terrible threats from vigilante groups. "One young man was stalked outside a gay club by someone posing as a taxi driver who tried to garotte him with a guitar string because he was a 'sodomite'," John said.

"The people I met in Moscow – gay men and lesbians in their 20s, 30s and 40s – told me stories about receiving threats from vigilante groups who would 'cure' them of homosexuality by dousing them with urine or beating them up."

John was moved to intervene after Putin invoked the singer's name over the weekend, apparently to show that there was no gay discrimination in Russia.

In an interview on BBC1's Andrew Marr Show, Putin said: "It seems to me that the law we adopted doesn't harm anybody. What's more, homosexual people can't feel inferior here, because there is no professional, career or social discrimination against them.

"When they achieve great success, for example Elton John – he's an extraordinary person, a distinguished musician, and millions of our people sincerely love him, regardless of his sexual orientation."

Russia's legislation, introduced in June last year, is under intense scrutiny ahead of the Winter Olympics being held next month in the Black Sea resort of Sochi.

There have been calls for a boycott of the Games, with Stephen Fry comparing going to Sochi as the modern equivalent of taking part in the 1936 Berlin Olympics.

In an open letter last summer he wrote: "At all costs Putin cannot be seen to have the approval of the civilised world. He is making scapegoats of gay people, just as Hitler did Jews. He cannot be allowed to get away with it."

John thanked Russians who had welcomed and accepted him since he first visited in 1979 and said the new legislation had not lessened the warmth he received from audiences.

But on his last visit in December he also met members of the LGBT community. "What I heard reinforced all the media stories that have been circling since the propaganda bill became federal law: that vicious homophobia has been legitimised by this legislation and given extremists the cover to abuse people's basic human rights," he said.

He said everyone shared stories of physical and verbal abuse, "at work, in bars and restaurants or in the street". And he warned that important work providing HIV prevention information was being shut down because it was being labelled "homosexual propaganda".

John said he would welcome introducing Putin to Russians who deserved to be heard. "The people I met in Moscow were decent, kind, patriotic men and women who had no thought of forcing their sexuality on anyone," he said.

"Whatever the intention of Russia's homosexuality and paedophilia propaganda laws, I am absolutely clear from my own personal experience that it is proving deeply dangerous to the LGBT community and deeply divisive to Russian society."

The debate on whether to boycott or attend the Sochi has led to considerable soul searching. In the UK Stonewall is not advocating a boycott because it says LGBT Russians believe engagement is better. In a similar vein, Clare Balding will be commentating on the Games for the BBC because, as a high-profile lesbian figure, she believes "it's hugely important that I go".

Barack Obama is not going, but has ensured the American delegation includes two gay athletes, Billie Jean King and ice hockey player Caitlin Cahow. David Cameron, François Hollande and the German president, Joachim Gauck, are also not going, but have not said why.

The "gay propaganda" law has been condemned widely outside Russia. Prison Break actor Wentworth Miller publicly came out as gay last August, writing a public letter revealing he had turned down an invitation to the St Petersburg film festival because of the legislation.

He wrote: "I am deeply troubled by the current attitude toward and treatment of gay men and women by the Russian government. The situation is in no way acceptable, and I cannot in good conscience participate in a celebratory occasion hosted by a country where people like myself are being systematically denied their basic right to live and love openly."

But many are dismayed by the paucity of Russian voices condemning the legislation. Last November the Russian conductor Valery Gergiev, principal conductor of the London Symphony Orchestra, was picketed for his closeness to Putin and for failing to denounce the laws.

The mezzo soprano Maria Maksakova, also a Russian MP, has been one of the few to speak out. She told members of her party last month: "We are seeing extremely negative consequences as the result of this law with the growth of hate crimes."
Leave Them Kids Alone (21 January 2014)
I never had the Russian President, Vladimir Putin, down as an idiot before now, but after his ridiculous comments gay people and childrenI suppose I'll have to think again.
Because as everyone knows the vast majority of sex offences against children are carried out by heterosexual men - not gay people.
I hope athletes attending the Sochi Winter Olympics will come up with
imaginative ways of protesting against this kind of vile and ignorant propaganda - because there is no doubt that ridicule is hugely offensive weeping against prejudice.
Vladimir Putin: gay people at Winter Olympics must 'leave children alone'

Russian president vows no discrimination but says gay people must observe law banning 'homosexual propaganda'

By Shaun Walker in Moscow - The Guardian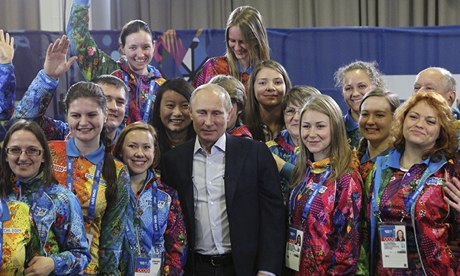 Russian president Vladimir Putin poses with volunteers after arriving in Sochi to inspect preparations for the Winter Olympics. Photograph: Sasha Mordovets/Getty

Vladimir Putin has said that gay people will be not be subjected to harassment at the Winter Olympicsin Sochi, as long as they stay away from children.

Putin is currently in Sochi reviewing preparations for the Games, which begin in three weeks. During a meeting with some of the thousands of volunteers who will work during the Olympics, he was asked why their uniforms were rainbow coloured, given the recent Kremlin anti-gay initiatives.

"We do not have a ban on non-traditional sexual relationships," said Putin in comments reported by Russian agencies. "We have a ban on the propaganda of homosexuality and paedophilia. I want to underline this. Propaganda among children. These are absolutely different things – a ban on something or a ban on the propaganda of that thing."

Putin also added that Russia was more liberal than some other countries, claiming that in certain US states homosexuality was still punishable by law.

"We are not forbidding anything and nobody is being grabbed off the street, and there is no punishment for such kinds of relations," said Putin. "You can feel relaxed and calm [in Russia], but leave children alone please," said Putin.

Since the law on "homosexual propaganda" came into force last year, Russia's gay community has reported an upturn in homophobic violence and threats. Gay rights rallies are also banned in Russia, and there has been much discussion over whether athletes or spectators displaying rainbow flags or gay rights placards could be arrested during the Olympics.

Earlier this week, Putin said the Games would be held "without discrimination on any grounds". But he added on Friday that Russia was a traditional country, and refused to accept European values on sexual orientation, claiming that some countries were even discussing the legalisation of paedophilia. He declined to specify which countries, saying it was easy to find out about such things on the internet.

Putin said: "What, are we supposed to follow along like obedient lapdogs, towards whatever consequences await? We have our own traditions, our own culture. We have respect for all of our international partners and ask that they also respect our own traditions and culture."