If I could, I would send this article from the Guardian to Vladimir Putin, the Russian President, because it illustrates what happens when a country allows prejudice to grow and turn into outright bigotry - in this against gays.
President Putin says he has nothing against gay people, yet by his words and behaviour he encourages the opposite by linking a homosexual lifestyle to the abuse of children.
The quality of the 'evidence' presented in the Sharia Court was laughable, according to the Guardian report, but the intolerance shown towards gay people more widely is the catalyst for violent vigilantes and lynch mobs.
'Nobody thinks I'd dare show my face here' – inside a Nigerian sharia court



New legislation has increased homophobia – and in the state of Bauchi, led to a court being mobbed by anti-gay protesters


By Monica Mark in Bauchi



A crowd gathers outside a sharia court in the northern Nigerian city of Bauchi during the trial of seven men accused of being gay. Photograph: Aminu Abubakar/AFP/Getty

The man who threw the first stone was a taxi driver, his skinny shoulders poking through a faded red football shirt. He hurled a rock with such force it splintered as it crashed into the side of the sharia court. The next one sailed in through an open window, hitting a spectator on the head.

"God will punish homosexuals!" the taxi driver screamed as the crowd joined him in pelting the building.

Inside Upper Sharia Court 4, officials sprang into action, unsurprised by the violent turn in the trial of seven men accused of being homosexual in the ultraconservative Nigerian state of Bauchi. Judge El-Yakubu Aliyu's white scarf, a symbol of wisdom, was trampled in the dusty ground as he was bundled into a back office for his safety.

Among the viewers trapped in the court was John, a gay rights activist, who wondered if he had made a terrible mistake in attending the trial. On the run since a sweeping anti-gay bill was passed this month, John had ignored the advice of everyone he knew by sneaking into his home state at dawn. "Nobody thinks I'd dare show my face here, so I have the element of surprise," he had said earlier, directing a rickshaw along labyrinthine back routes to avoid detection.

The legislation had whipped up an undercurrent of homophobia in the sleepy north-eastern state, where sharia law already outlaws sodomy, and prompted an exodus among gay men. But John, who secretly founded the state's first gay association in 2007, said he couldn't stay away. "It's my job to help these men," he added. He hoped to speak to the judge privately and pay the men's bail using money he had scraped together from donations.

Through interviews with defendants, family members, court and security officials, the Guardian has pieced together the trajectory that culminated in the violence at Sharia Court 4. Although no death sentence has been passed since sharia was introduced in 2000, the story spotlights the stigmatisation gay men encounter as they try to negotiate a place in modern Nigeria.

Sharia police, AKA Hisbah, outside a Bauchi court. Photograph: Pius Utomi Ekpei/AFP/Getty Images

It had begun with a message posted on a website last June. Edward, a bread-seller, began talking with a user named "FynBoy" on 2go, a popular instant messaging service. The two connected instantly; weekly messages became daily messages, until they were talking constantly. In December, FynBoy made a plea: "I love you and I can't stop thinking of you. I want to meet you," he wrote to Edward.

Where to meet in a rural state that had outlawed being gay? Using their homes could endanger their families. Hotels were risky, as frequent arrests across the country showed. Edward never considered another risk, a betrayal that took on cataclysmic proportions in a virulently anti-gay climate. By the time he had messaged to say he had found somewhere, FynBoy had placed two of his own calls. One was to friends connected with a local vigilante group. The other was to the Hisbah – the religious police.

FynBoy came to Edward's friend Barry's house. At first Edward and FynBoy sat on the bed, in the room with no light, and talked in whispers. Then FynBoy touched Edward's arm and asked him to undress. He wanted to take a picture on his battered phone, for a memento.

As Edward undressed, FynBoy picked up his phone. Within minutes, a group of neighbourhood vigilantes were swarming into the mud-brick alleyways. "It was a trap," said Edward later, shaking as he recalled the beating the men inflicted on him. "I don't know why they did it. I can't sleep when I think of it."

They dragged him outside, naked, and demanded the numbers of every other "dirty gay" he knew. They agreed to let him go in exchange for testifying against his friends in a court. "We know where you live," they warned him, before leaving him barely conscious in a sewage-filled gutter.

Banladi Gamji, the chairman of the semi-official vigilantes, denied the events. "Our main priority is to fish out robbers, drug users and gays, who disturb the peace of society. Then we hand them to the Hisbah," he said.

The vigilantes rounded up other men, using the numbers from Edward's phone. A week later, they were back at Barry's house. His number was on their list. "We were inside when I heard my son screaming for me. I'll never forget the sound," said Barry's mother, a wisp of a woman. "There were 10 or 20 of them – I don't even know. I ran out with a broomstick to fight them."

The men knocked her to the ground. "We don't want to arrest your son, but people in this area have complained," they told her.

They took Barry and a friend who was visiting to the Hisbah.

The pair were now sitting with five others on wooden benches inside the crowded court, wearing green jumpsuits, eyes fixed on the dusty ground.

It was 10 o'clock on a midweek morning, but hundreds of people had gathered outside. Only six of them were women, all related to the defendants.

"If the judge releases them, I will personally kill them here and now," said Ibrahim Mohammed, the red-shirted taxi driver at the front of the crowd outside.

An hour trickled by. Two hours. A guard whispered, audibly, that the judge was afraid for his security. He might not turn up. Eventually, Judge Aliyu was led in by policemen, who waved their guns threateningly at the hissing crowd. Armed guards took their positions around the tiny, tin-roofed building.

Two accused men in green prison clothing sit before the trial judge, El-Yakubu Aliyu. Photograph: Aminu Abubakar/AFP/Getty Images

"Islamic law is very clear," Aliyu began. "It is not based on hearsay. We need five witnesses who have seen these men in the act."

Edward, witness number 1, was nowhere to be found.

Witness number 2 stepped forward. A tall, nervous-looking man. He gave a rambling speech. No, he had never seen them in the act but he had heard lots of talk, he said. They're always together, he added, pointing at them.
"Besides, they don't have jobs but they are always smartly dressed," he finished bitterly.

The judge looked incredulous. "That is not an argument in a court of law."

He quoted the 12th-century Jewish scholar Moses Maimonides: "It is better to acquit a thousand guilty men to put a single innocent man to death," he said.

That's when the first thud sounded.

One defendant leant forward, his eyes screwed shut in fear.

"My head!" a man screamed in anguish, blood pouring out of his temple, as fist-sized rocks started raining into the court. The policemen closed the doors, but the muffled screams continued outside. "Bring them out so we can kill them!"

The guards started shooting into the air. They fired as they threw open the doors, dragged the defendants through the frothing mob and into the waiting van outside, and sped off, still shooting.

Spectators scattered into the blazing desert sun. Several staggered around with bleeding wounds. On a nearby street corner, John hung around, still hoping to catch the judge. An elderly woman came huffing into view. "You shouldn't stay in this area, they're looking for you," she said, between gasping breaths.

John reluctantly headed to a deserted restaurant, waiting for nightfall so he could slip out of Bauchi unobserved. Disappointment hung in the air. He had spent a week tracking down the parents of the accused and had emptied his bank account and gathered donations in the hope of securing their bail.

But now the trial has been postponed while lawyers argue for a closed hearing – although this is against sharia requirements – or to move the session to a remote village.

Outside the sharia commission in Bauchi, Nigeria. Photograph: George Osodi/AP

"I just have to keep trying," he said, with a weary shrug.

Some names have been changed to protect identities
Freedom Games (25 January 2014)
Elton John and Billie Jean King
Hooray for Elton John!
Because Sir Elton (the famous signer formerly known as Reg Dwight) has shot back at the ridiculous Vladimir Putin, the Russian President, who unbelievably has nothing against gay people, but nonetheless wants gay people to leave Russian children alone.
What a plonker Vlad is, it has to be said, which I did say recently in the post below.
Maybe the best thing Elton could do would be to compose a song which makes fun of the Russian President for spouting such nonsense - if his old collaborator, Bernie Taupin, is still on the scene, then maybe their old double act could come up with a big hit in time for the Sochi Olympic Games.
Personally speaking, I favour an upbeat number like Philadelphia Freedom - now that would certainly put Sochi on the map.
Elton John to Putin: I will show you gay people victimised under Russian law

Singer responds to president by saying he has met Russians abused under legislation banning 'homosexual propaganda'

Mark Brown and Sean Michaels - The Guardian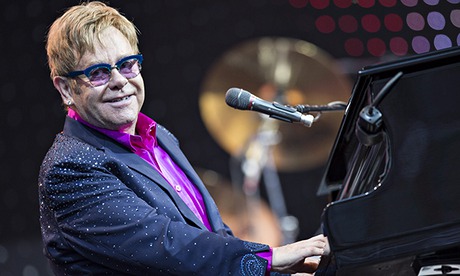 Elton John intervened after Vladimir Putin seemed to invoke the singer's name to show there was no gay discrimination in Russia. Photograph: Florian Schuh/EPA

Sir Elton John, the man Vladimir Putin last weekend called an "extraordinary person ... regardless of his orientation", on Thursday offered to introduce the Russian president to gay people who were being verbally and physically threatened as a direct result of what the singer called vicious legislation banning "homosexual propaganda".

In a statement on his website, John said he had met people in Moscow within the past month who had received terrible threats from vigilante groups. "One young man was stalked outside a gay club by someone posing as a taxi driver who tried to garotte him with a guitar string because he was a 'sodomite'," John said.

"The people I met in Moscow – gay men and lesbians in their 20s, 30s and 40s – told me stories about receiving threats from vigilante groups who would 'cure' them of homosexuality by dousing them with urine or beating them up."

John was moved to intervene after Putin invoked the singer's name over the weekend, apparently to show that there was no gay discrimination in Russia.

In an interview on BBC1's Andrew Marr Show, Putin said: "It seems to me that the law we adopted doesn't harm anybody. What's more, homosexual people can't feel inferior here, because there is no professional, career or social discrimination against them.

"When they achieve great success, for example Elton John – he's an extraordinary person, a distinguished musician, and millions of our people sincerely love him, regardless of his sexual orientation."

Russia's legislation, introduced in June last year, is under intense scrutiny ahead of the Winter Olympics being held next month in the Black Sea resort of Sochi.

There have been calls for a boycott of the Games, with Stephen Fry comparing going to Sochi as the modern equivalent of taking part in the 1936 Berlin Olympics.

In an open letter last summer he wrote: "At all costs Putin cannot be seen to have the approval of the civilised world. He is making scapegoats of gay people, just as Hitler did Jews. He cannot be allowed to get away with it."

John thanked Russians who had welcomed and accepted him since he first visited in 1979 and said the new legislation had not lessened the warmth he received from audiences.

But on his last visit in December he also met members of the LGBT community. "What I heard reinforced all the media stories that have been circling since the propaganda bill became federal law: that vicious homophobia has been legitimised by this legislation and given extremists the cover to abuse people's basic human rights," he said.

He said everyone shared stories of physical and verbal abuse, "at work, in bars and restaurants or in the street". And he warned that important work providing HIV prevention information was being shut down because it was being labelled "homosexual propaganda".

John said he would welcome introducing Putin to Russians who deserved to be heard. "The people I met in Moscow were decent, kind, patriotic men and women who had no thought of forcing theirsexuality on anyone," he said.

"Whatever the intention of Russia's homosexuality and paedophilia propaganda laws, I am absolutely clear from my own personal experience that it is proving deeply dangerous to the LGBT community and deeply divisive to Russian society."

The debate on whether to boycott or attend the Sochi has led to considerable soul searching. In the UK Stonewall is not advocating a boycott because it says LGBT Russians believe engagement is better. In a similar vein, Clare Balding will be commentating on the Games for the BBC because, as a high-profile lesbian figure, she believes "it's hugely important that I go".

Barack Obama is not going, but has ensured the American delegation includes two gay athletes, Billie Jean King and ice hockey player Caitlin Cahow. David Cameron, François Hollande and the German president, Joachim Gauck, are also not going, but have not said why.

The "gay propaganda" law has been condemned widely outside Russia. Prison Break actor Wentworth Miller publicly came out as gay last August, writing a public letter revealing he had turned down an invitation to the St Petersburg film festival because of the legislation.

He wrote: "I am deeply troubled by the current attitude toward and treatment of gay men and women by the Russian government. The situation is in no way acceptable, and I cannot in good conscience participate in a celebratory occasion hosted by a country where people like myself are being systematically denied their basic right to live and love openly."

But many are dismayed by the paucity of Russian voices condemning the legislation. Last November the Russian conductor Valery Gergiev, principal conductor of the London Symphony Orchestra, was picketed for his closeness to Putin and for failing to denounce the laws.

The mezzo soprano Maria Maksakova, also a Russian MP, has been one of the few to speak out. She told members of her party last month: "We are seeing extremely negative consequences as the result of this law with the growth of hate crimes."
Leave Them Kids Alone (21 January 2014)
I never had the Russian President, Vladimir Putin, down as an idiot before now, but after his ridiculous comments gay people and childrenI suppose I'll have to think again.
Because as everyone knows the vast majority of sex offences against children are carried out by heterosexual men - not gay people.
I hope athletes attending the Sochi Winter Olympics will come up with
imaginative ways of protesting against this kind of vile and ignorant propaganda - because there is no doubt that ridicule is hugely offensive weeping against prejudice.
Vladimir Putin: gay people at Winter Olympics must 'leave children alone'

Russian president vows no discrimination but says gay people must observe law banning 'homosexual propaganda'

By Shaun Walker in Moscow - The Guardian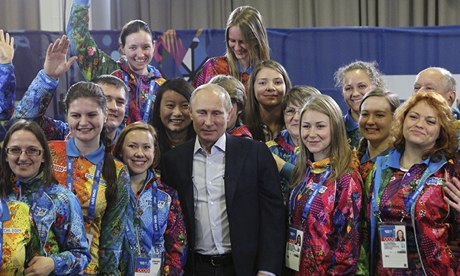 Russian president Vladimir Putin poses with volunteers after arriving in Sochi to inspect preparations for the Winter Olympics. Photograph: Sasha Mordovets/Getty

Vladimir Putin has said that gay people will be not be subjected to harassment at the Winter Olympicsin Sochi, as long as they stay away from children.

Putin is currently in Sochi reviewing preparations for the Games, which begin in three weeks. During a meeting with some of the thousands of volunteers who will work during the Olympics, he was asked why their uniforms were rainbow coloured, given the recent Kremlin anti-gay initiatives.

"We do not have a ban on non-traditional sexual relationships," said Putin in comments reported by Russian agencies. "We have a ban on the propaganda of homosexuality and paedophilia. I want to underline this. Propaganda among children. These are absolutely different things – a ban on something or a ban on the propaganda of that thing."

Putin also added that Russia was more liberal than some other countries, claiming that in certain US states homosexuality was still punishable by law.

"We are not forbidding anything and nobody is being grabbed off the street, and there is no punishment for such kinds of relations," said Putin. "You can feel relaxed and calm [in Russia], but leave children alone please," said Putin.

Since the law on "homosexual propaganda" came into force last year, Russia's gay community has reported an upturn in homophobic violence and threats. Gay rights rallies are also banned in Russia, and there has been much discussion over whether athletes or spectators displaying rainbow flags or gay rights placards could be arrested during the Olympics.

Earlier this week, Putin said the Games would be held "without discrimination on any grounds". But he added on Friday that Russia was a traditional country, and refused to accept European values on sexual orientation, claiming that some countries were even discussing the legalisation of paedophilia. He declined to specify which countries, saying it was easy to find out about such things on the internet.

Putin said: "What, are we supposed to follow along like obedient lapdogs, towards whatever consequences await? We have our own traditions, our own culture. We have respect for all of our international partners and ask that they also respect our own traditions and culture."