International diplomacy is all about winning friends and influencing people on the world stage, yet the Russian embassy in London seemed to go 'off message' with this bizarre cartoon posted on Twitter depicting a big Russian bear showing off his muscles in front of some cowering piggies.
The symbolism is not explained, but the European 'pigs' are corralled in some kind of nasty prison or concentration camp which is decorated with a gay pride flag and mysterious stars on its external walls.
The
following message accompanied the cartoon:
"If Russia is in decline, why worry? Maybe, real worry is West's decline and that we manage things better?"
Diplomats in other European states would be sacked immediately for posting this kind of childish nonsense though I suspect in Putin's Russia the culprit may well be in line for a big promotion.
Putin's Russia (19/10/16)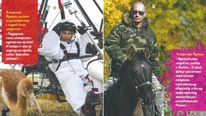 Vladimir Putin has released his latest calendar which depicts the Russian president in a variety of action poses from riding a horse (thankfully not bareback this time) to flying a microlight aircraft, albeit one that appears to be still on the ground.
On one of his previous adventures President Putin managed to 'stumble across' some long lost treasure and the dutiful Russian media (mainly under state control) reported this bizarre incident as if it were true, were true rather than stage-managed by the president's minders.
Still, I suppose it's an improvement on poisoning his enemies with radioactive polonium.
Russia's Strong Man (05/03/12)
So Vladimir Putin has won the election to become Russia's next President - in effectively a one-horse - the result of which was never really in any doubt.
The United Russia Party sold their candidate to the nation on the basis that Valdimir Putin represents the politics of change - but this is likely to have a hollow ring given that Putin has been a two-term President before.
What it looks like to the outside world is that the great offices of the Russian state - can be bought and sold - passed back and forwards between favoured candidates at will.
In reality a continuation of the old brigade who will consolidate power in the hands of party apparatchiks - and leave the economy largely in the hands of Russian oligarchs.
So the move to the next phase of Russia's development is unlikely to take place under Vladimir Putin - the rapid economic growth of the last decade will be difficult to sustain.
The emerging Russian middle class is clearly becoming much more sophisticated - and is not taken in by the preposterous hard man images of their bare-chested President - and his famously stage managed events.
Such as the President's fantastic good luck - in stumbling over a horde of hidden treasure while out for a quick underwater scuba-dive - as you do.
To my mind the biggest problem facing Vladimir Putin - is that in many ways he represents the old Russia - he comes across as an old-fashioned politician - a behind the scenes fixer.
Who then lurches to the opposite extreme - in trying to address this perceived shortcoming - by portraying himself as a Russian action man.
But while this worked for Vladimir Putin once upon a time it's highly unlikely to do so again.
Because future of Russia lies with the people demanding a more open society - and greater political freedoms including freedom of speech - which is clearly not the 'new' President's strong suit.
Putin's Russia
The Guardian reports on the public inquiry into the murder of Alexander Litvinenko, a crime which could only have been committed by people with access to the kind of high-level, high-tech support that is normally the preserve of national Governments.
The main suspect in the case, Andrej Lugovoi, was taken under the protective wing of Vladimir Putin when he returned to Russia and quickly became an the equivalent of an MP in the Russian Duma (national Parliament) which means he cannot under any circumstances be extradited to the UK.
So it will be interesting to see if Andrej Lugovoi and Dimitry Kovtun give evidence to the public inquiry by video link.
Litvinenko postmortem 'most dangerous ever in western world'
Inquiry hears from lead pathologist who examined Russian's body after his death from polonium-210 poisoning in 2006
The postmortem examination of the body of
Alexander Litvinenko
was "one of the most dangerous postmortems ever undertaken in the western world" because of the risk of radiative contamination, the inquiry into his death has been told.
Dr Nathaniel Cary, the lead pathologist who examined Litvinenko's body following his death from radioactive polonium-210 poisoning in November 2006, said he and other officials examining the corpse had worn not one but two protective suits, two pairs of gloves taped at the wrists, and large, battery-operated plastic hoods into which filtered air was piped.
Along with a second pathologist, a police detective constable and a photographer, also wearing similar protective clothing, he was accompanied by an advisor from the institute of naval medicine and a radiation protection officer, who monitored any speckles of blood on the protective clothing, wiping them away and checking for traces of alpha radiation.
London ambulance staff observed the procedure from outside the room, said Cary, a consultant forensic pathologist, because "it would have been a disaster if anyone had fainted or had an acute medical problem" while examining the body. In contrast to standard postmortems, where there may be an option to carry out a second examination of the body, Cary said that "this was such a dangerous postmortem exam to carry out that you only really want to do it once if at all possible."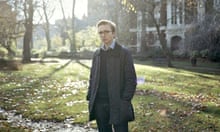 Alexander Litvinenko's son, Anatoly, on his father's murder: 'He was trying to make Russia a better place'
He added: "It has been described as one of the most dangerous postmortem examinations ever undertaken in the western world, and I think that's probably right."
Polonium-210 emits alpha radiation, he said, which unlike gamma radiation is not highly penetrative. However "the real danger is that it gets into your body, because [the alpha rays] go on emitting for quite a long time, which of course when it's in your body it's distributed around your body, and any cell next to where it's distributed is badly affected by the continuous bombardment of alpha rays."
He was not aware, he said, of any other case of polonium poisoning in the UK.
In the presence of Marina Litvinenko, the dead man's widow, Cary said that after the Russian died on 23 November 2006, shortly after radioactive polonium poisoning was confirmed, the intensive care unit in which he had been treated at University College hospital in London was sealed, and the medical equipment left exactly as it had been at the moment of his death.
The Russian was initially admitted to Barnet and Chase Farm hospital in north London on 3 November, the inquiry heard, and was initially diagnosed with a gastrointestinal infection and treated with antibiotics. The inquiry has previously heard that detectives believe Litvinenko had consumed the poison two days earlier, on 1 November, after drinking tea that had been laced with the toxin.
Within days he had lost his hair and developed pancytopenia, which the pathologist described as "a loss of all the cellular elements in the circulating blood". A bone marrow biopsy on 16 November showed bone marrow failure, after which he was transferred to the haematology unit at University College hospital in central London.
His liver and kidney function deteriorated, and on 22 November he suffered a cardio-respiratory arrest. The following day he died, following another similar arrest.
Recognising that the testimony might be distressing for Marina Litvinenko, the inquiry chairman, Sir Robert Owen, offered her the option of leaving the court. Her barrister, Ben Emmerson QC, said he had discussed the matter with her and "she wants to be present for all the evidence".
Reading from his conclusions following the postmortem, Cary said: "From the findings it is apparent that Mr Litvinenko ingested a large quantity of polonium 210 on or around 1 November 2006, largely, if not wholly, by oral ingestion rather than by inhalation. The calculated amount absorbed was far in excess of known survivability limits."
Separately, Sir Robert Owen, inquiry chairman, was told that Andrej Lugovoi, one of two men whose extradition is sought from
Russia
over the killing, spoke on Tuesday to Russian media to declare the inquiry a politically motivated "judicial farce" that had been revived by the British government in response to the Ukrainian crisis.
Speaking to an interviewer from Echo of Moscow, Ben Emmerson QC told the court, Lugovoi said: "I don't have expectations, this is an old story." The process had been suspended when the British Foreign Secretary and home secretary refused to disclose secret materials, he said, "but when the situation in Ukraine had kicked off and the UK's geographical interests had likely begun to change they had decided to dust off the mothballs and commence these proceedings.
"Once the materials have been made secret, I said in 2013 that I would no longer participate in this judicial farce, that's it."
He was pressed for clarification by the interviewer and said: "What I mean is we want [the killing] to be investigated but we want the inquiry to be objective. Moreover we want the inquiry to take place in Russia."
In response to the suggestion that the inquiry was politically motivated and had been put in place in response to the Ukraine conflict, Owen told the court that when he formally opened the inquiry on July 31 last year "there had been lengthy discussions as to my terms of reference which had preceded the situation as it evolved in the Ukraine. That is a matter of importance."
In contrast to Lugovoi's statement to another journalist that he had not been invited to take part in the inquiry, Emmerson said, the chairman had expressed the hope that both Lugovoi and Dmitry Kovtun, the other prime suspect, would give evidence by video link.
"I was careful to express the hope rather than the expectation," noted Owen.
Putin's Russia (22/02/15)
Russia is nominally a democratic country, but while there are
elections periodically other key features or a healthy democracy are missing, for example a free press
and media, a viable opposition to hold government to account and the right to protest and criticise those who exercise power in the people's name.
Worse still those who do actively criticise the Russian Government or its President, Vladimir Putin, tend to end up in prison or like Alexander Litvinenko and Anna Politkovskaya end up tend - in Politkovskaya's case being shot dead in her apartment block by assassins and in Litvinenko's being poisoned with radioactive polonium.
So I suppose Alexei Navalny can count himself lucky that he's been banged up in jail for only 15 days to prevent his attendance at an anti-Putin rally
and you can bet your bottom dollar that this news from the BBC is not being reported on Russia Today.
Putin critic Alexei Navalny given 15-day jail sentence
BBC News - Mr Navalny led Moscow street protests against President Putin between 2011 and 2012

Russian opposition leader Alexei Navalny has been sentenced to 15 days in prison for handing out leaflets to publicise a forthcoming demonstration.

His imprisonment bars him from taking part in the planned rally on 1 March.

Navalny was given a suspended sentence for defrauding two firms in December. He says the legal cases against him are motivated by his opposition to President Vladimir Putin.

Navalny left the courthouse on Thursday in a police car and wearing handcuffs.

He urged his followers to attend the rally against President Putin's policies.

The law he breached is one that restricts demonstrations.

Street protests

"To ease the economic and political crisis we have to pressure the authorities. Let's go to the anti-crisis rally," he said in a video posted on his Twitter account.

Alexei Navalny says that he is being persecuted because of his opposition to President Putin

Correspondents say that although he has little chance of posing a serious challenge to Mr Putin, he had pledged to lead 100,000 demonstrators in the march, which he says is against Kremlin policies that are leading Russia into a severe economic crisis.

Mr Navalny led Moscow street protests against President Putin between 2011 and 2012.

Last year he and his brother Oleg were accused of stealing 30m roubles ($462,000;£300,000) from two companies.

Oleg was given a three-and-a-half-year jail sentence, while Navalny was given a suspended sentence that prosecutors say they will appeal against.

Critics of the Kremlin and the US say that his case is an attempt to stifle political dissent.

Since he was sentenced, Navalny has taken an increasingly defiant stance, cutting off his house arrest tag in January.

Alexei Navalny (left) and his brother Oleg were both found guilty in December