When the Arab Spring spread to Syria in 2011, Shia religious leaders in Iran were quick to offer support to the tyrannical, Shia dominated regime of Bashar al-Assad which rejected calls for greater freedom and democracy.
Instead peaceful protests were met with violence from the Syrian state and civil war.
Peaceful protest in Iran is
being met with similar denunciations, as the country's clerical rulers characterise the demonstrators as criminals and lawbreakers, rather than citizens with genuine grievances whose voices deserve to be heard.
As ever there is a balance to be struck in trying to engage with rogue states like Iran, but it is worth remembering that this is the same country whose religious rulers issued a 'fatwa' calling for the murder of a British citizen, the author Salman Rushdie, not so long ago.
More recently Iran has effectively sanctioned the kidnapping of another UK citizen,
Nazanin Zachary-Ratcliffe, who has arrested on trumped-up charges while holidaying with her two year old daughter.
Tyrannical regimes are common throughout the Middle East and, more often than not, they exploit religion and the centuries old conflict between the rival branches of Sunni and Shia Islam for their own political advantage.
http://www.bbc.com/news/world-middle-east-42535292
Iran unrest: New protests as Rouhani plays down violence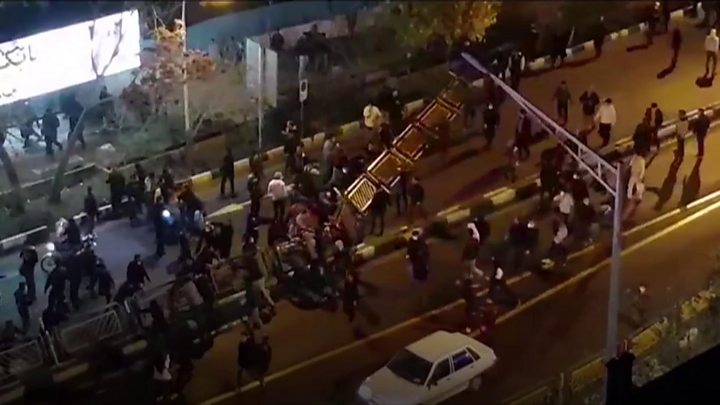 Media caption - Footage shows improvised roadblocks and street fires
There are reports of protests breaking out in Iran for a fifth day, despite a statement from the president that the unrest "is nothing".
Anti-government chanting and burning cars were reported as night fell in the capital, Tehran, while police said an officer was killed in a central city.
President Hassan Rouhani said protests were an "opportunity, not a threat" but vowed to crack down on "lawbreakers".
The US meanwhile stepped up support for the protesters' "bold resistance".
The protests began last Thursday in the city of Mashhad, initially against price rises and corruption but now with wider anti-government sentiment.
US warns Iran: The world is watching
Iran's Revolutionary Guards take lead on foreign affairs
Who is Hassan Rouhani?
Where is the violence happening?

The latest reports speak of a heavy police presence in the capital. The Mehr news agency reported a taxi being set alight. Police had used tear gas and water cannon the previous evening to quell a rally in Tehran's Engheleb Square.

State media were also quoting a police spokesman as saying that shots had been fired at police in Najafabad, near Isfahan in central Iran, killing one officer and wounding three.

Social media postings spoke of fresh protests in Birjand in the east, Kermanshah in the west and Shadegan in the far south-west.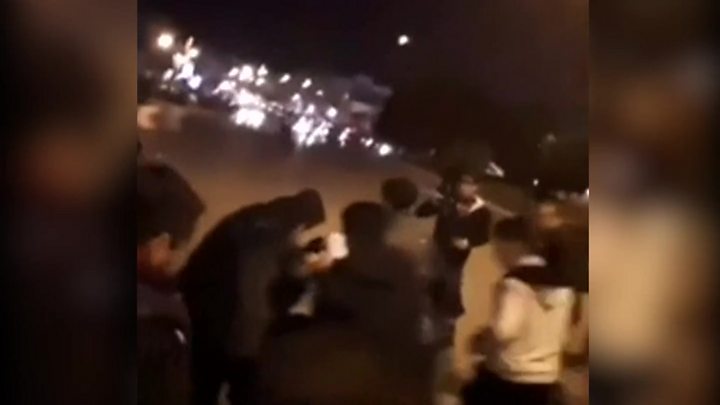 Media caption - Video from the town of Dorud shows a crowd carrying what appears to be a wounded man
State TV said that 10 people had been killed overnight:
Six died after shots were fired in the western town of Tuyserkan, 300km (185 miles) south-west of Tehran
Two people died in the south-western town of Izeh, an official said
Two died in clashes in Dorud in Lorestan province
Two people died in earlier violence.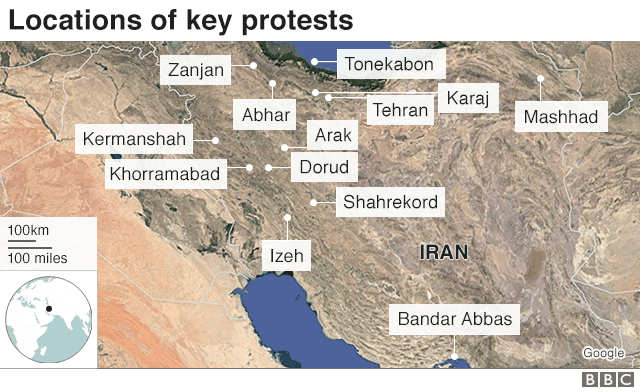 What did the president say?

In a statement on the presidency website, Mr Rouhani sought to play down the violence.

He said: "This is nothing. Criticism and protest are an opportunity not a threat."

But he also vowed to act against "rioters and lawbreakers".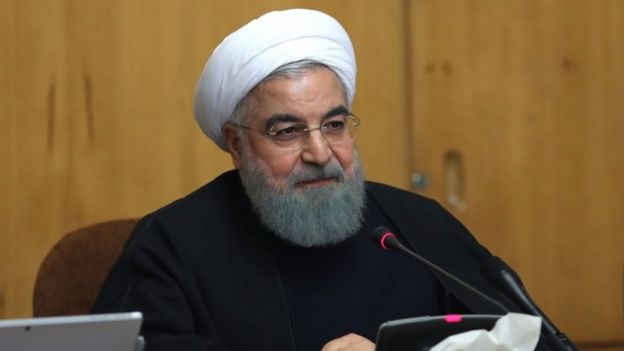 Image copyright- EPAImage caption - Hassan Rouhani has sent out messages both tough and conciliatory

"Our nation will deal with this minority who chant slogans against the law and people's wishes, and insult the sanctities and values of the revolution," he said.

A later tweet appeared more conciliatory, saying that the government needed to pay attention to people's demands on livelihood issues and corruption.

Iran's Revolutionary Guards Corps (IRGC) has taken a tough line, warning anti-government protesters they will face the nation's "iron fist" if political unrest continues.

The IRGC is a powerful force with ties to the country's supreme leader, and is dedicated to preserving the country's Islamic system. Correspondents say it would be a significant escalation were they to become officially involved in policing the protests.

Judiciary Chief Ayatollah Sadeq Amoli-Larijani on Monday called for a crackdown on "rioters" and "vandals".

"Some individuals are exploiting the situation. This is wrong," he said.

Up to 400 people are reported to have been arrested in recent days.

What has the US said?

President Donald Trump stepped his war of words with Iran's leaders on Monday, posting a tweet saying the "great Iranian people have been repressed for many years. They are hungry for food and freedom".

He added in capital letters "TIME FOR CHANGE!"

Vice-President Mike Pence took an even stronger tone.

He tweeted: "The bold and growing resistance of the Iranian people today gives hope and faith to all who struggle for freedom and against tyranny. We must not and we will not let them down."

He spoke of the "shameful mistake" of not supporting previous Iranian protesters.

The Green Movement in 2009 saw millions of protesters dispute the election victory of incumbent president Mahmoud Ahmadinejad.

The protests were brutally suppressed, with at least 30 people killed and thousands arrested.

The latest US approach has infuriated Iran.

Mr Rouhani described the US president as an "enemy of the Iranian nation from the top of his head to his very toes".

Where will the protests lead? - Analysis by Kasra Naji, BBC Persian

There is widespread and seething discontent in Iran where repression is pervasive and economic hardship is getting worse - one BBC Persian investigation has found that on average Iranians have become 15% poorer in the past 10 years.

Protests have remained confined to relatively small pockets of mostly young male demonstrators who are demanding the overthrow of the clerical regime.

They have spread to small towns throughout the country and have the potential to grow in size.

But there is no obvious leadership. Opposition figures have long been silenced or sent into exile.

Some protesters have been calling for the return of the monarchy and the former shah's son, Reza Pahlavi, who lives in exile in the United States, has issued a statement supporting the demonstrations. But there are signs that he is as much in the dark about where these protests are going as anyone else.

BBC Persian, which broadcasts on TV, on radio and online from London, is banned in Iran - where staff and their families routinely face harassment and questioning from the authorities.
Iranian Kidnappers (16/11/17)
Politics Home reports that the Iranian regime is effectively demanding a ransom to secure the release of Nazanin Zachary-Ratcliffe who was arrested while on holiday with her two year old daughter on trumped-up charges of trying to overthrow Iran's government.
I first wrote about this Iranian 'kidnapping' back in December 2016, but since then I haven't heard any criticism from Jeremy Corbyn who has long standing connections with Iran - or George Galloway who was a regular presenter on Press TV, a broadcaster controlled by the Iranian regime.
Jeremy Corbyn was also paid £20,000 for a series of appearances on Press TV, according to media reports, but surely both men should be doing more to attack the behaviour of the Iranian regime as well as taking the much easier option of criticising the dumb words of the UK Foreign Secretary, Boris Johnson.
https://www.politicshome.com/news/uk/home-affairs/prisons/news/90638/iran-demands-millions-pounds-hand-over-nazanin-zaghari?
Iran 'demands millions of pounds' to hand over Nazanin Zaghari-Ratcliffe
By Agnes Chambre - Politics Home

Iranian officials have handed the Foreign Office a number of multi-million pound demands in exchange for freeing Nazanin Zaghari-Ratcliffe, according to reports.
Richard Ratcliffe was meet Boris Johnson later today - Credit: PA Images

Foreign Office ministers were told in a meeting the Iranian government expects the numerous demands to be met before the British mother will be released.

They include Britain settling a 38-year old bill for £400m for going back on a deal to sell Chieftan tanks to the country.

Downing Street slaps down Michael Gove over Nazanin Zaghari-Ratcliffe gaffe

Jailed Nazanin Zaghari-Ratcliffe 'angry' that Boris Johnson 'endangered her life'

Michael Gove: We don't know why Nazanin Zaghari-Ratcliffe was in Iran

And the Iranian embassy in London wants to be allowed to open a bank account - at the moment it physically hordes cash to avoid US sanctions.

Tehran also wants Britain and other European countries to open businesses there in a bid to show the nuclear deal has been prosperous.

Mrs Zaghari-Ratcliffe has been locked up in an Iranian jail for the past 18 months, and was warned last week that her five year sentence could be doubled after Boris Johnson told MPs she had been arrested for "training journalists".

The Foreign Secretary has since admitted he "could have been clearer" in his remarks, which have led to calls for him to be sacked by Theresa May.

The Sun reported although Iran is actively asking for a trade between the demands and Ms Zaghari-Ratcliffe's release, ministers were left in little doubt following the meeting the requests were in exchange for the mother's freedom.

One minister told the paper: "The Iranian regime conducts foreign policy by hostage taking. It always has done.

"Nazanin's case is no different. This time, they want us to pay up."

Mr Johnson will meet Mrs Zaghari-Ratcliffe's husband for the first time later today.

The Foreign Office said the pair will discuss Richard Ratcliffe's request his wife be given "diplomatic protection" and will talk about a possible joint trip to Iran before the end of the year.

If "the Iranian regime conducts foreign policy by hostage taking; it always has done" then Ms Zaghari-Ratcliffe should not have returned there in the first place. She should know, being a journalist (or not) and a dual citizen. If the Iranians are trying to do a deal then Boris should tell them to "go whistle" (or not).
Iranian Kidnappers (09/12/16)
H


Hassan Rouhani - Twitter



The Politics Home web site reports on the arrest and detention of a British-Iranian woman (Nazanin Zachary-Ratcliffe) who has, somewhat implausibly, been accused of spying and trying to overthrow the Iranian regime while in Iran on a family visit with her two-year-old child.

Sounds like something you would expect from the Peoples' Republic of North Korea and its barmy leader Kim Jong-un, yet the Iranian president Hassan Rouhani studied at Glasgow Caledonian University, my former alma mater as well.





Husband of jailed British-Iranian woman in Tehran hits out at Foreign Office

By Sebastian Whale - Politics Home

The husband of a woman jailed in Iran on charges of spying against the state has said Britain is not doing enough to secure her release.

The Foreign and Commonwealth Office in Whitehall - Credit: PA Images
Nazanin Zaghari-Ratcliffe, a charity worker for the Thomson Reuters Foundation who has dual British and Iranian citizenship, was sentenced to five-years in prison in September on charges of using a "spy network" to overthrow the Iranian regime.
Theresa May raised her situation in her first face-to-face meeting with Iranian President Hassan Rouhani at the UN General Assembly that same month, while Foreign Secretary Boris Johnson said her case was an "utmost priority", but failed to call for her release.
Ms Zaghari-Ratcliffe spent six weeks in solitary confinement after being arrested at Tehran airport on 3 April while she was returning from a holiday with her two-year-old daughter, Gabriella.
Gabriella has since been unable to return home to the UK and to her father Richard Ratcliffe. She is currently staying with her grandparents in Iran after having her passport taken.
Mr Ratcliffe told the Times: "Actions speak louder than words. The authorities have not bothered to visit Nazanin in prison or Gabriella despite the fact other countries have managed it.
"I haven't heard any public criticism of the Iranians for what they have put my wife through or any outright calls for her release."
The Times reports that Mr Johnson did not confirm or deny that a long running argument over an arms deal was behind Ms Zaghari-Ratcliffe's detention.
Iran claims that Britain owes it around £400m for not completing an arms deal signed with Shah Pahlavi before the Iranian Revolution of 1979.
Britain reportedly delivered 185 of the 1,500 Chieftain tanks that Iran purchased, but paused deliveries after the Shah was overthrown.
A European court ruling in 2010 ordered the UK to repay the debt.
"I don't think the Foreign Office has my wife's or daughter's best interest at heart, it is clear there is something else going on and that has been a shock," Mr Ratcliffe said.
"The Foreign Office is in regular contact with the Iranian government at all levels," Mr Johnson said.
"It remains a matter that is of the utmost priority for this government."
Iran has also recently indicted other dual nationals Homa Hoodfar, a Canadian-Iranian professor, and Siamak Namazi, an American-Iranian businessman.
More than 800,000 people have signed a petition – created by Ms Zaghari-Ratcliffe's husband Richard – calling for her release.
New President (18/06/13)
So the Iranian people have spoken and - despite all of the gerrymandering involved - the voters elected a 'moderate' candidate in Hassan Rouhani - decisively rejected the man favoured by the religious establishment, Saeed Jalili.
Just imagine what might happen in Iran if the people had a truly free vote - and the ability to vote for any candidate of their choosing
instead of a carefully selected all male slate - vetted by a Guardian Council which is appointed by the Supreme Ruler, Ayatollah Ali Khameni.
The turnout was impressive at 72% and Hassan Rouhani won an overall majority on the first ballot with 18,613,329 votes - or 51% of the total votes cast - easily beating all of his rivals.
Mr Rouhani claims to have a link with Scotland, or Glasgow to be precise, and says he attended Glasgow College of Technology many years ago - before it became Glasgow Caledonian University.
By a strange coincidence, I went there too - so maybe I've actually met him, maybe I should drop him a note and see if I can get an interview with the new Iranian President - on the basis of our shared past.
Now that would be cool.

Hassan Rouhani: 18,613,329

Mohammad Baqer Qalibaf: 6,077,292

Saeed Jalili: 4,168,946

Mohsen Rezai: 3,884,412

Ali Akbar Velayati: 2,268,753

Mohammad Gharazi: 446,015

Votes cast: 36,704,156

Many people wore Mr Rouhani's election colour of purple as they took to the streets.
Tens of thousands of Iranians took to the streets after the results were announced on Saturday, many wearing Mr Rouhani's election colour of purple, but others dressed in the green of the reformist movement.
Hassan Rouhani is regarded as a religious moderate and is fluent in English, German, French, Russian and Arabic.
Something to do with Islam (06/04/17)

The Independent reports that the spiritual leader of the world's Shia Muslims, Ali Khameni of Iran, has urged his followers to resist feminist ideas and abandon the fight for gender equality which the Ayatollah dismisses as a "Zionist plot".
Now this kind of nonsense strikes me as something to do with regarding holy books such as the Quran as the 'literal' word of God combined with a highly conservative view of Islam in the 21st century.
But read the full story via the following link to The Independent and decide for yourself.
Iran's Supreme Leader claims gender equality is 'Zionist plot' aiming to corrupt role of women in society

Ayatollah Khamenei claims West makes women an 'object of gratification'
By Lizzie Dearden - The Independent

Ayatollah Ali Khamenei addressing the nation on the occasion of Nowruz, the Persian new year, in Tehran on 20 March AFP/Getty Images

Iran's Supreme Leader has claimed gender equality is a "Zionist plot" aiming to corrupt the role of women in society.

Ayatollah Ali Khamenei told a meeting of religious speakers that Iranians should resist feminist ideas and instead hold the Prophet Mohamed's daughter Fatimah as their ideal.

"Making women a commodity and an object of gratification in the Western world is most likely among Zionist plots aiming to destroy the society," he said, according to a translation on the Shia Muslim leader's official website.

"Today, Western thinkers and those who pursue issues such as gender equality regret the corruption which it has brought about."

Khamenei claimed that men and women are equal in the "ascendance of spiritual positions, the power of leadership, and the capability to lead humankind", but that some tasks for women "collapse and humiliate" their primary roles as housewives and mothers.