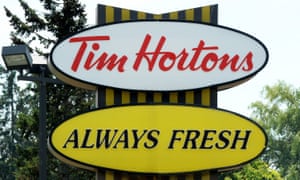 A friend sent me this joke about the new Tim Horton's coffee shop in Glasgow which, of course, can only be understood if spoken with a local Glaswegian accent:
Glaswegian Customer: Is that a doughnut or a meringue?
Tim Horton Server: Naw, you're right - it's a meringue!
Coffee Fan (26/06/17)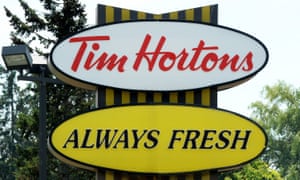 The Guardian reports that Time Horton's is breaking into the UK coffee market with its first shop now opened on Glasgow's Argyll Street right next to Central Station.
I must pay it a visit, not because I particularly like coffee or donuts, but because my mother used to visit Tim Horton's just about every day she told me when she spent time over in Canada looking after her grandchildren.
So it will bring back a few happy memories and all for the price of a cup of coffee.
Always fresh? Canada's Tim Hortons coffee chain steams into UKCompany fabled for donuts and sugary 'double double' plans more British outlets after European debut in Glasgow but is it here too late in the day?

By Rebecca Smithers - The Guardian

Canadian company Tim Hortons is to open its first UK coffee shop in May, entering the crowded but still growing British market for food and drink on the go.

Promising to bring its "signature coffee, delicious food and Canadian charm" to the UK, the chain's first UK coffee shop – also its first in Europe – will be on Argyle Street in central Glasgow, with further outlets planned in other city centre locations around the country.

The company is seeking to cash in on the UK's fast-growing coffee market – where it faces intense competition from major players such as Starbucks and Costa, independent chains and low-cost operators.

Tim Hortons – known for its red and white vintage-style branding – was founded in 1964 by its namesake (Miles "Tim" Horton), a professional ice hockey player who wanted to create cafes where everyone would feel at home.

Since then the brand has grown to become an ingrained part of Canadian culture, dominating its home market with locations in nearly every city and small town. It claims eight out of 10 cups of coffee sold across Canada are served at Tim Hortons, which is owned by Restaurant Brands International.

A recent report from Mintel showed the UK retail coffee market was worth £137m in 1997, but by 2016 it had ballooned to an estimated £3.4bn. Almost £1bn of this growth has come since 2011, making the UK an attractive proposition for international coffee shop chains.