The Independent reports that a young man in Saudi Arabia has been sentenced to death for voicing his rejection of Islam and the Prophet Mohammed.
Bit of a stretch to see how this squares with the often stated claim that Islam is a 'religion of peace' - not least because Saudi Arabia is the religion's spiritual home.
http://www.independent.co.uk/news/world/middle-east/saudi-arabia-man-sentenced-death-atheism-ahmad-al-shamri-hafar-al-batin-appeal-denied-a7703161.html
Man 'sentenced to death for atheism' in Saudi Arabia



Man identified by local media as Ahmad Al-Shamri, in his 20s, lost two appeals after being arrested on charges of blasphemy for social media videos in which he denounced the Prophet Mohammed
By Bethan McKernan - The Independent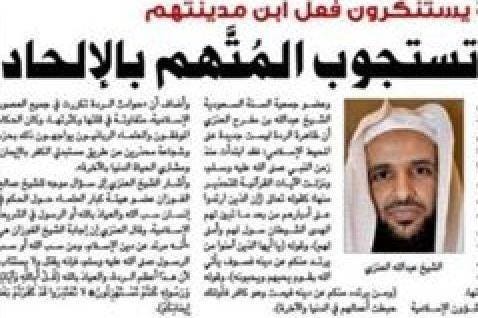 al-Sharq newspaper's initial report on the arrest of man identified as Ahmad Al Shamri for apostasy and blasphemy in 2014



A man in Saudi Arabia has reportedly been sentenced to death on charges of apostasy after losing two appeals.

Several local media reports identified the man as Ahmad Al Shamri, in his 20s, from the town of Hafar al-Batin, who first came to the authorities' attention in 2014 after allegedly uploading videos to social media in which he renounced Islam and the Prophet Mohammed.

He was arrested on charges of atheism and blasphemy and held in prison before being convicted by a local court and sentenced to death in February 2015.