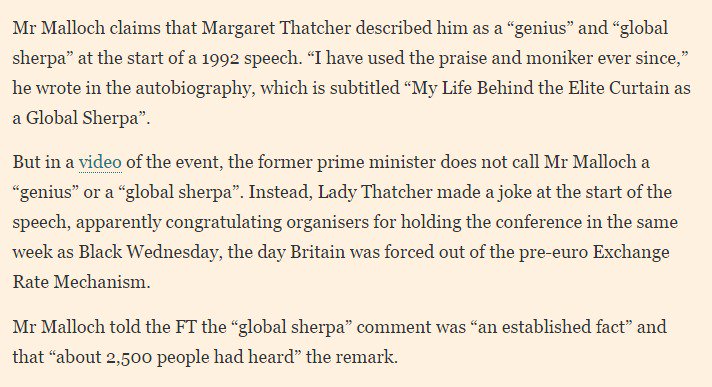 I read this post on Twitter
courtesy of Jim Pickard at the Financial Times which tells the tale of a chap named Ted Malloch who Team Trump is apparently considering as their ambassador to the European Union (EU).
Seems to be right up Donald's street: a braggart and bullshitter who has no compunction about making shit up as he goes along.
But no sooner had I finished reading one story about Ted Malloch than I came across another one By Martin McLaughlin in The Scotsman.
Now the Scotsman reports that the US businessman and associate of Trump is falsely claiming to be a Scottish 'laird' and also President of the "Ancient Scottish Universities Trust' - a body which doesn't even exist.
Sounds like a complete prick if you ask me, so he's probably hot favourite to land the job.
http://www.scotsman.com/news/trump-s-eu-ambassador-pick-was-head-of-non-existent-scots-body-1-4362740
Trump's EU ambassador pick was 'head' of non-existent Scots body
U.S. businessman Ted Malloch, Donald Trump's potential choice as envoy to the EU. Picture: AP
By MARTYN MCLAUGHLIN - The Scotsman
The frontrunner to become President Donald Trump's ambassador to the European Union claims to have served as the head of a Scottish educational institution, despite the fact there is no record of its existence.
Ted Malloch, a political scientist and author who has been widely tipped to secure the prestigious position in Brussels, wrote in his autobiography that his CV includes a period serving as "president of the Ancient Scottish Universities Trust."
Mr Malloch, one of Mr Trump's most prominent supporters in Britain, is a graduate of the University of Aberdeen and went on to helm its US development arm.
But in his book, he suggests his role in Scottish education was far more extensive, involving oversight of the accounts at not only Aberdeen, but Edinburgh, Glasgow and St Andrew's universities.
He wrote that as part of the position, "my charge was to bring them into the twenty-first century financially." However, there is no record of an Ancient Scottish Universities Trust. A spokeswoman for Universities Scotland, the representative body of Scotland's 19 higher education institutions, told The Scotsman it had no knowledge of an organisation by that name.
Mr Malloch has upset leaders this side of the Atlantic by comparing the European Union to the Soviet Union and has joked that the UK could become the 51st state of the US.
A professor of strategic leadership and governance at Henley Business School in Reading, he is a regular contributor to BBC programmes such as Radio 4's Today and The World at One, and Newsnight.
But the publication of his latest book, documenting his whirlwind international career in economics and foreign relations, has raised a series of questions over the veracity of his claims.
However, the court said Mr Malloch's claim could not be true as neither it nor any other authority have the power to confer a lairdship on an individual.
Elizabeth Roads, Lyon Clerk at the Court of the Lord Lyon, told The Scotsman: "This office is not involved in any way with lairds. Lairds are people who own large estates and are called laird by the locals on the estate. You can't create or grant a lairdship, there is no such power."