After a period of relative calm Ranger returns to its old ways - making a laughing stock of Scottish football and its home city of Glasgow.
Did the club's manager resign or did he not? - a straightforward question now mired in claim and counter claim from both sides.
Tom English end the following BBC report with the words 'This is a shambles" - and he's spot on, which is putting things rather mildly if you ask me.
Rangers: Mark Warburton replaced as manager ahead of Scottish Cup tie


BBC Football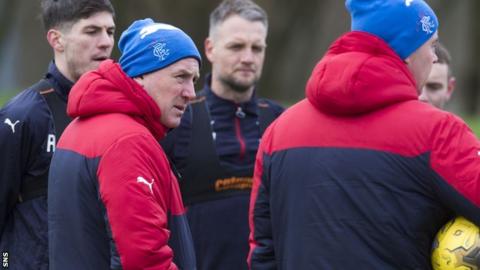 Mark Warburton took Rangers training on Friday

Rangers have replaced Mark Warburton as manager with under-20 coach Graeme Murty before Sunday's Scottish Cup tie with Greenock Morton.

The Scottish Premiership club say they have accepted the resignations of Warburton, assistant David Weir and head of recruitment, Frank McParland.

But Warburton, who took charge in 2015, told BBC Scotland he has not stood down and was unaware of the statement.

And the 54-year-old Englishman is consulting his legal team.

The BBC has learned that Warburton had contact with Nottingham Forest around 10 days ago and was high on the English Championship club's list of possible managers.

However, he was not offered the job and they decided to retain their interim team of Gary Brazil and Jack Lester until the end of the season.

Warburton, who had a contract at Ibrox until 2018, had taken Rangers' training on Friday as normal ahead of Sunday's fifth-round tie.

He had earlier in the morning defended McParland's record of signings after media criticism of the Glasgow club's recruitment.

"At a meeting with the management team's representative earlier this week, the club were advised that Mr Warburton, Mr Weir and Mr McParland wished to resign their positions and leave the club on condition that Rangers agreed to waive its rights to substantial compensation," said Rangers' statement.

Who is Graeme Murty?
Although born in England, Graeme Murty qualified to play for Scotland and won four caps between 2004 and 2007
The 42-year-old played for York, Reading, Charlton Athletic and Southampton in a career lasting 17 years and 437 games
He won the Football League Championship with Reading in 2005/06. He has coached at Southampton and Norwich City, both at youth level
Joined Rangers in August 2016 as head development squad coach
"Rangers' agreement to waive compensation would assist the management team to join another club.

"This compensation amount was agreed when Rangers significantly improved Mr Warburton and Mr Weir's financial arrangements before the start of this season.

"The board urgently convened to consider the offer made on behalf of the management team and its ramifications and agreed to accept it and release the trio from the burden of compensation, despite the potential financial cost to the club."

Rangers claim that Warburton's representative attempted to alter the the terms.

"A further board meeting was held this afternoon to discuss this and it was decided not to agree to this additional request but to hold with the original agreement," he said.

"Mr Warburton, Mr Weir, and Mr McParland have therefore been notified in writing that their notices of termination have been accepted."

Warburton led Rangers to the Championship title and promotion last season

Rangers lie third in the Scottish top flight, but they are a distant 27 points behind city rivals and reigning champions Celtic and their statement went on to suggest that the management team have not reached the targets set.

"The board is very appreciative of the good work previously done by the management team but believes it had no alternative," it added.

"Our club must come first and absolute commitment is essential.

"It is important that Rangers has a football management team that wants to be at the club and that the board believes can take the club forward to meet our stated ambition to return to being the number one club in Scotland.

"We are clearly short of where we expected to be at this time."

Analysis: Chris McLaughlin, BBC Scotland senior football reporter
Relations between Mark Warburton and the Rangers board have been strained for some time. The manner of the departure could never have been predicted, but the departure itself had been coming.
Recent results have been poor, but the former Brentford boss was unhappy with the financial backing he received from owner Dave King - a man who he hasn't spoken to in person, on a one to one basis, for months.
For his part, King had grown disillusioned by Warburton's signings and what he perceived to be a lack of progress. It was a relationship well beyond repair.
Some will believe Warburton was agitating to get out, others will say the board turned on him. Whatever the truth, it's another mess this club could well do without.
Warburton's reign at Ibrox suffered a blow in November, when high-profile summer signing Joey Barton was sacked after a training ground disagreement with team-mate Andy Halliday and the manager following a 5-1 defeat by Celtic.

It called into question his signing policy, but Warburton gave another ringing endorsement to McParland, who was with him at Brentford, ahead of Sunday's game.

"I've said time and again - his track record is outstanding," he said. "There would be no shortage of takers for someone of his quality."

Warburton also quoted a former Rangers manager in pointing out the pressures that come with the post.

"Walter Smith said to me that you are never more than two or three games away from a major crisis," he said. "That is life at Rangers.

"That is the nature of it. You just get on with it."

Warburton was in charge of Rangers for 82 games, winning 55, drawing 14 and suffering 13 losses.

His 67% win rate was more than Stuart McCall, who took charge at the end of the 2014-15 season, and had a 41% win rate, but less than his predecessor, Ally McCoist, with 72%.

Opinion

BBC Scotland's chief sports writer Tom English

Mark Warburton attempted to explain away his team's - or former team's - dreary draw against Ross County by saying a series of random events conspired against his players.

It was, he said, football's strange ways that denied them on the day, as if some cosmic force was to blame for the failings rather than his own players and his own management.

Warburton's comments were bizarre but nowhere near as surreal as the nonsense that took hold of Rangers on Friday evening as the club said that Warburton was leaving and Warburton said that he wasn't.

Rangers have known dysfunction in recent years, but those times are not as distant as some chose to believe.

They're just dysfunctional in a different way now. Rudderless, leaking like a sieve and now embarrassed in a way that surely took their supporters back to the dog days of Charles Green and chums.

This is a shambles.
Girning Gers (09/08/14)
'Girning' is an good Scots word which means to complain in a whining and irritating fashion - and that's exactly what slung to mind when I read this piece in The Herald about the 'greetin' faced Rangers fans who are accusing HM Customs & Revenue of a witch hunt against the Glasgow club.
Now I've nothing against Rangers although a section of their support could do with lessons about how not to act as sectarian, religious bigots in 21st century Scotland, as could a section of the Celtic support to be fair.
But that's beside the point because the real issue is that by using aggressive tax avoidance measures Rangers FC are accused of withholding a huge sum of money, in the region of £80 million, which would otherwise have gone towards paying for public services.
And as I understand the Rangers scheme it involved paying some of their players and other club figures by way of enormous 'loans' which had the peculiar feature of never having to be repaid.
I'd love to be paid like that, I'd have to admit, because such a 'loan' is not taxable so I'd be saving myself a fortune although I'd have to concede that it isn't really a loan at all, just a rather wizard wheeze to avoid me and my employer paying any tax.
So I have to say 'stop your girning Rangers fans' because in the real world normal, reasonable people have no time for this kind of nonsense.
Fans accuse the taxman of witch hunt against Rangers
RANGERS fans have accused the taxman of prolonging a witch hunt against the club over the so-called Big Tax Case on the day it emerged one director is being paid £1000-a-day plus expenses.
A leading supporters' group has accused Her Majesty's Revenue and Customs (HMRC) of wasting public money after it said yesterday it would make a fresh appeal over the case.
It is to contest a decision by a First-Tier Tax Tribunal over the Ibrox club's controversial use of Employment Benefit Trusts (EBTs). It is insisting Rangers are liable for a £46.2 million bill over the use of the loans to pay players, managers and other staff.
It has also emerged that Rangers' part-time financial consultant Philip Nash is being paid £1000 a day, plus expenses.
Mr Nash works a maximum of 16 days a month from England. The former Arsenal and Liverpool administator's pay is £200,000 a year, comparable to that of controversial former finance officer Brian Stockbridge. Mr Nash sits on the board but does not take a director's fee.
Chris Graham of the Union of Fans said the "witch hunt" pursuit of the "phantom tax debt" by HMRC was a waste of public money at a time when HMRC will not discuss whether a public inquiry should be held into allegations the club's tax affairs were leaked.
He said: "HMRC have had two goes at this. How many times do they have to be told they don't have a case here? A line should be drawn under this now and they should just give it a rest."
Mr Graham added: "It's interesting they are spending so much time and money attempting to win the Big Tax Case but when asked by shareholders, fans, even MPs about even an internal inquiry into where the Rangers tax information came from, HMRC completely blank them.
"They are spending an awful lot of taxpayers' money on lawyers in pursuing this but yet won't answer questions about where [the leaks] came from."
On Mr Nash's wages, he said: "Ibrox is crumbling, Murray Park is crumbling, almost every area of the club, on and off the pitch, needs investment, revenues are down and yet we are seeing a part-time consultant take home at least £200,000 a year and our CEO, Graham Wallace, earn a possible £630,000. It's ridiculous."
"It's in keeping with what we've seen over the past two years with executives taking huge payments out the club for … no tangible benefit."
The HMRC appeal follows a decision on July 9 by Upper-Tier Tax Tribunal judge Lord Doherty. He dismissed its appeal against a First-Tier Tax Tribunal (FTT) decision in the Big Tax Case.
HMRC has sought leave to appeal to the Inner House of the Court of Session, as the cost of pursuing the case runs into millions of pounds.
HMRC claimed the EBT payments should be taxable but Sir David Murray's Murray International Holdings (MIH), which used to own Rangers, has now twice successfully argued they were loans and therefore exempt.
Many believe the case led to Lloyds Banking Group insisting the club debts were cleared, resulting in a disastrous sale to disgraced venture capitalist Craig Whyte, the subsequent liquidation, and the decision to put Rangers in the Third Division as punishment.
An HMRC spokesman said it "continues to believe that schemes using Employee Benefit Trusts to avoid tax do not work. Around 700 users of EBT schemes have already settled with us resulting in around £800m of tax and National Insurance contributions being paid. We expect more to settle."
It has been alleged 63 Rangers players and 24 other staff got EBT payments.
Rangers would not comment on the tax case, but said Mr Nash was a "highly respected football administrator" who made a valuable contribution to building a successful Rangers.