Labour's shadow chancellor John McDonnell seems to have taken complete leave of his senses by writing an article for Labour Briefing which alleges that 'dark forces' are behind a coup to destabilise Jeremy Corbyn.
Now if you ask me, Jeremy seems to be doing a great job of that all by himself - his general incompetence and refusal to accept responsibility for anything are there for everyone to see which is why the Labour leader and his party are doing so badly in the polls.
But have a read at the following report from the BBC and decide for yourself whether one of Corbyn's key allies has lost his marbles, so to speak.
http://www.bbc.co.uk/news/uk-politics-39102703
John McDonnell says 'soft coup' launched against Corbyn
BBC UK Politics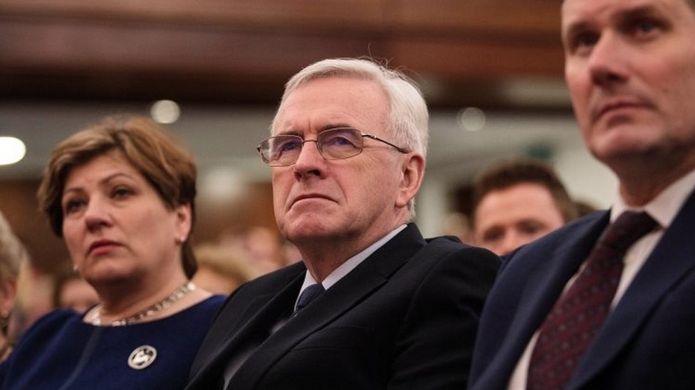 Image copyright - GETTY IMAGES Image caption - Shadow chancellor John McDonnell (centre) warns of "dark arts"

Shadow Chancellor John McDonnell says "a soft coup" has been launched against Jeremy Corbyn by "elements in the Labour Party".

Mr McDonnell accuses unnamed "plotters" and the "Murdoch media empire" of a "coordinated and fully resourced" coup.

In an article for Labour Briefing, he said "the plotters" were using "an exceptionally well resourced dark arts operation" to "destroy Jeremy Corbyn".

One former Labour minister described Mr McDonnell's comments as "unhinged".

In his article, Mr McDonnell accuses "the coup perpetrators" of "a covert strategy" to destabilise Mr Corbyn because they had failed to dislodge him directly through a leadership election.
He said their tactics included "daily and constant behind-the-scenes non-attributable briefings against Jeremy".

It is understood the article by Mr McDonnell was written before Labour's Copeland by-election loss but posted on the Labour Briefing website on Sunday night.

A spokesman for Mr McDonnell said: "This article was written over a week ago in response to the intervention from Tony Blair.

"It was published in print last week and only went online last night.

"However, as John said yesterday, he wants us all to focus on party unity following last week's by-election results.

"And he is looking to reach out in the coming days to those across all sections of the party and none."
'Scale of task'

Mr Corbyn, from the left of the party, was the overwhelming winner of Labour's leadership election in 2015, despite having the support of only a small number of the party's MPs.

A challenge to him last year led to another vote of all Labour Party members and affiliated supporters, which he again won overwhelmingly.

But many of the party's MPs have continued to be unhappy with his leadership, and the party trails the Conservatives in opinion polls.

On Sunday, Mr Corbyn said Labour's by-election loss showed "the scale of how hard our task is to persuade people of our message".

Jeremy Corbyn: "Now is not the time to run away"

In a speech, he urged his party to "remain united" and not to "give up".

Labour lost the seat of Copeland, in Cumbria, to the Conservatives last week - the first by-election gain by a governing party in 35 years.

However, Labour managed to hold off a challenge from UKIP in a by-election, in Stoke-on-Trent Central, on Thursday.

Questioned about his future after the speech, Mr Corbyn said: "I'm carrying on as leader because I'm determined that we will deliver social justice in this country."

Asked if he would still be in place in 2020, when the next general election is expected to take place, he replied: "I've given you a very, very clear answer - yes."
London Labour (04/01/16)
Recent events suggest that the Labour Party is hurtling back to the 1980s when a small band of activists from London Labour Briefing (LLB) threatened to rule the political roost.
The LLB drew its political inspiration from a highly organised group of activists, largely Trotskyites and their fellow travellers, who were vocal and visible at times
,
but for the most part were restricted to the fringes of the Labour Party.
The new Labour leader Jeremy Corbyn along with key allies like Ken Livingstone, John McDonnell and Diane Abbott could be counted amongst the LLB's numbers over the years.
Fast forward to 2015 and the extent to which the People's Party has lost its way can be measured in the comments of Diane Abbott, Labour's shadow international development secretary, and Ken Livingstone a recently appointed Labour defence spokesperson.

Diane Abbott believes that "on balance Mao did more good than harm" while Ken Livingstone told a BBC Question Time audience that Tony Blair was to blame for the murderous 7/7 bombings in London.
Ken Livingstone: Tony Blair to blame for 7/7 bombing
BBC - UK Politics
Former London Mayor Ken Livingstone has been criticised for suggesting Tony Blair was to blame for the deaths of 52 people in the 7 July London bombings.

Mr Livingstone said on Question Time the then-prime minister ignored a security service warning that invading Iraq would make the UK a terror target.

Labour MP Mike Gapes called the comment "despicable", while Labour backbencher Ian Austindubbed it a "disgrace".

Four suicide bombers targeted London's Underground and a bus on 7 July 2005.

Mr Livingstone said: "When Tony Blair was told by the security services, 'If you go into Iraq, we will be a target for terrorism', and he ignored that advice, and it killed 52 Londoners."

He added: "If we had not invaded Iraq those four men would not have gone out and killed 52 Londoners. We know that."

Comedian and former Labour political advisor Matt Forde challenged Mr Livingstone on his comments, saying: "This idea that you can absolve the people that killed those innocent Londoners by blaming Tony Blair is shameful.

"Blame it on the people who carried out the atrocity."

'Gave their lives'

Mr Livingstone, who was mayor at the time of the 2005 attacks, responded: "Go and look what they put on their website. They did those killings because of our invasion of Iraq.

"They gave their lives, they said what they believed, they took Londoners' lives in protest against our invasion of Iraq.

"And we were lied to by Tony Blair about Iraq, there were no weapons of mass destruction."

Conservative Cabinet Office minister Matt Hancock, who was also on the panel, said Mr Livingstone was letting IS and other violent militant groups "off the hook" and "we should not be giving them excuses".

A number of Labour MPs criticised the comments, John Woodcock tweeting that "no-one has the mandate to side with suicide bombers".
Image copyright - AFP GettyImage caption - The 7 July attacks on a bus and three London underground trains killed 52 people and injured hundreds more

And Mr Gapes said Mr Livingstone had "sunk to a new low", claiming his comments amounted to saying "terrorism is never the fault of perpetrators".

A Downing Street spokesman said it was up to Mr Livingstone to justify his comments, stating that "it almost goes without saying that the prime minister does not agree with them".

Mr Livingstone, who is a member of Labour's ruling National Executive Committee, caused controversy recently when he suggested a Labour MP who had criticised his appointment as co-convenor of the party's defence review needed "psychiatric help".

He subsequently apologised for the comments but only after being told to do so by leader Jeremy Corbyn.

The UK joined the US-led invasion of Iraq in March 2003, despite failing to secure a second UN resolution justifying the use of force.